US Mobile Visit Site
Overview | How US Mobile Works | How to Get Started with US Mobile | Customer Service | App | Pricing | Alternatives | FAQs
Overview
What Is US Mobile?
US Mobile is a prepaid mobile phone provider that does not use its own network to provide cellular service, but instead uses the coverage of other networks like Verizon or T-Mobile to provide service to its users. Because this network piggybacking allows US Mobile to save on operating and maintenance costs, they are able to offer their customers highly affordable plans.
In addition to offering 100 days of free-trial, US Mobile allows its customers to sign up using a contract-free, cancel-anytime (without penalty) service where you only pay for what you want, need, and use.
You can choose which network you'd like to use, and the wide variety of plans means everyone can find an option that works for them. You can even create a custom plan, selecting the amount of data, number of texts, and talk time you require.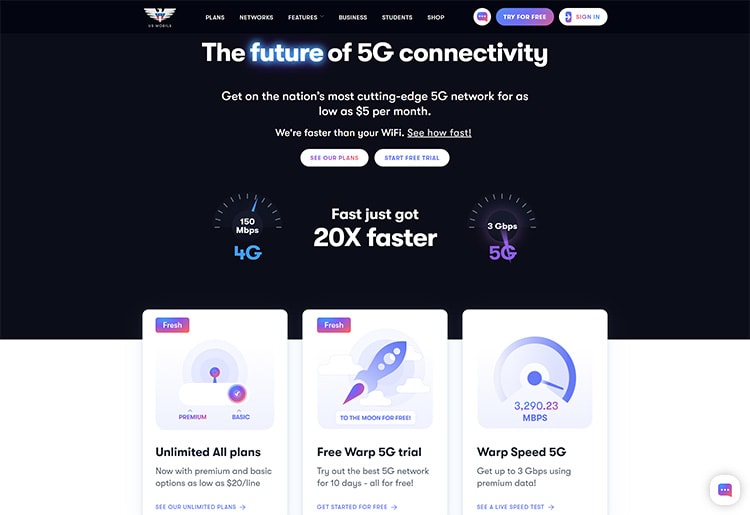 US Mobile Features
All of the features you've come to love are available with US Mobile. From visual voicemail and personal hotspots to multimedia and group texting. Each cell tier offers its own unique features, but those which seem to be standard across multiple plans are: unlimited HD video streaming, voice over LTE (voLTE) wherein your calls are routed through a 4G Long Term Evolution (LTE) network, multimedia messaging service (MMS), and 5G network. There are other features like Super LTE and Global System for Mobile LTE (GSM LTE) that may be available depending on which network you are using.
Is US Mobile Reliable?
US Mobile is very reliable, as it uses both Verizon and T-Mobile networks, two of the most reliable providers nationwide.
How US Mobile Works
US Mobile is a mobile virtual network operator (MVNO) that uses T-Mobile and Verizon networks to provide cell coverage to its customers. Because US Mobile do not have to front the cost of network equipment and its maintenance, saving them money, they are able to offer their customers very affordable limited, unlimited, and customizable plans, all while providing access to two of the most recognizable networks in the mobile arena.
If you have been with your provider for a while, you may have grown attached to your phone number or smartphone. US Mobile allows you to bring your current number and unlocked smartphone along with you to its service, meaning you don't have to sacrifice the things you love.
How to Get Started with US Mobile
Getting started with US Mobile is simple, quick, and straightforward. First, you will create a free account using their online portal. Then, the site will prompt you for information to help uncover if your current smartphone supports an electronic SIM (eSIM) card. This is a digital version of a SIM card which allows a phone to access the 5G mobile network. If your phone does support an eSIM, your service can be activated instantly. If not, a Starter Kit containing a physical SIM card will be shipped to you to begin service. Support is available to you via live chat 24/7 if you have any questions.
Activation Process
You may use your own device or purchase a mobile device from the store. US Mobile states that 99% of all devices will work with its services. If your current device is eSIM capable, your service can start instantly. If you order a new phone from the US Mobile shop, service can be activated upon arrival. Starter Kits containing a physical SIM card (and cell phone, should you have ordered one) can be delivered overnight for a $10 surcharge or arrive for free in four to six business days.
Selection of Phones Available
You can find everything from a standard flip phone to an iPhone or Motorola Galaxy in the US Mobile shop. While US Mobile doesn't offer any promotions or deals on these phones, they have partnered with Affirm so you can pay for your device in small, manageable, interest-free monthly payments.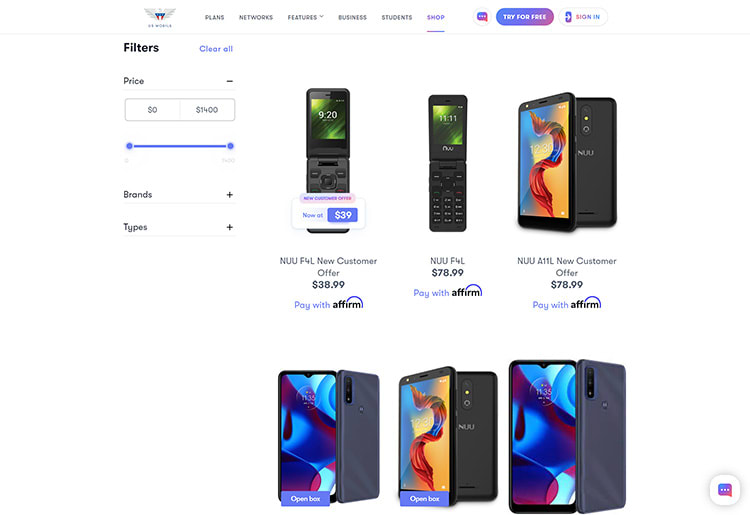 US Mobile Call and Text Performance
US Mobile operates on either the Verizon or T-Mobile network, both of which consistently rank among the top in the nation for reliability, data speeds, and overall performance, according to J.D. Power. This means fewer dropped calls and lightning-fast texting.
US Mobile Data Speeds
Your data speed will depend upon your plan. There are plans that cap data at 500MB while others provide unlimited data. Depending on the amount of data you use monthly—which you can monitor using the US Mobile website—you can always switch to a plan offering more or less data according to your needs. However, if you choose a plan with a data cap, speeds will be significantly slowed once that cap has been reached.
US Mobile Customer Service
Support is available 24/7 via phone by calling (878) 205-0088, by emailing help@usmobile.com, or by using the live chat section of the website or app. Each is manned by live customer service representatives. The wait time for a live rep on the phone was less than five minutes, and chat support was provided almost instantly. In addition, there are robust help and frequently asked questions sections on the site that can guide you through everything from how to activate your services to paying your bill.
How to Cancel or Pause a US Mobile Subscription
US Mobile is 100% contract-free. If you decide to pause or cancel services, all you have to do is log in to your account on the app or website, disable auto-pay, and remove the SIM card from your phone.
Your service will be disconnected at the end of the current billing cycle and will remain so until you decide you want to reactivate the service. You are 100% in control.
Is There a US Mobile App?
The US Mobile app enables you to easily manage your account. From the app, you can activate your line, transfer your existing phone number or get a brand new number, set up autopay, change your plan, view all aspects of your plan usage, get 24/7 access to the support team, place orders, and check your order history.
Customer reviews on the Apple App Store and the Google Play Store report that the app is very user-friendly.
US Mobile Pricing
How Much Does US Mobile Cost?
There are four different types of plans offered by US Mobile. These include data-capped plans, unlimited plans, pooled plans, and customized plans. The data-capped plans group unlimited texts and minutes together with 1GB-18GB of warp-speed data.
Unlimited plans offer both unlimited texts and minutes and 30-100GB of high-speed data. If you activate three or more phone lines under this plan, you will be eligible to have your favorite streaming service added at no extra cost.
Pooled plans allow all lines on your account to share data from the same data pool. If, for example, there is 100GB available and four lines in use, all four lines will unevenly use data from the 100GB on a first come, first served basis.
Finally, customized plans allow you to choose exactly the amount of minutes, texts, and MB or GB of data you will receive monthly.
Individual (Data -Capped) Plans
International Data Roaming
US Mobile's plans offer something for everyone—from the data-only user who requires no voice services, to those who require a lot of monthly data for streaming, calling, and texting. Deciding on what type of users you and your family are will help you pick the best plan for you.
Optional Add-Ons
Warp 5G: Free for all plans

International roaming data: Pricing depends on the country you're traveling to (over 100 countries and rates to choose from)

eSIM: Free if your device supports the feature
US Mobile Alternatives
How Does US Mobile Compare to Other Mobile Plan Providers?
Plan
unlimited, data cap, etc
Unlimited, data cap, pooled, customizable
Unlimited, data cap, customizable

US Mobile Visit Site
US Mobile vs Mint Mobile
US Mobile has better plans, coverage, and more affordable prices than Mint Mobile. However, according to their literature and customer reviews, Mint Mobile boasts better data speeds than US Mobile. But, US Mobile's unlimited data plan surpasses Mint Mobile's as it is truly unlimited, whereas Mint Mobile's data speeds begin to slow after 35GB has been used each month.
US Mobile vs Tello
Both US Mobile and Tello give customers the option to customize their own plans within the T-Mobile network. However, US Mobile takes this a step further, offering the additional network option of Verizon, as well as the ability to make an unlimited plan into a family plan when three or more lines are activated.
US Mobile vs AT&T
With plans starting from just $5 a month, US Mobile is more affordable than AT&T. However, AT&T does not see any reduction in speeds during busy periods, when US Mobile users may experience some slower speeds. Both companies offer access to 4G and 5G LTE. US Mobile is the clear choice if you are looking for affordability and flexibility.
Bottom Line (Is US Mobile Worth It?)
Offering reliable coverage, high-speed data transfers, and highly affordable and customizable plans, US Mobile stands out from the pack and is definitely worth your time. The company offers a ten-day free trial with 15GB Premium 5G data and unlimited talk and text, meaning you can test out the service for yourself before you buy.
While I would personally like to see some phone discounts or reductions added to their shop, US Mobile does offer interest-free monthly payment plans in partnership with Affirm, making any purchase more affordable. And, if you don't want to buy a new phone, you can simply bring over your own device and begin using US Mobile's service. All of this makes US Mobile a premium and affordable service well worth considering.