In a Nutshell
With a unique 5-step process, Wevorce is an Online Divorce service that promises to ensure you don't make any legal missteps during your separation. The platform stands out thanks to its system of expert Private Judges who are ready to guide you during each stage of your divorce. The company has been recommended by notable past clients including Steve Huffman, founder of Reddit. Find out more in this detailed Wevorce review.
pros
Avoid protracted court battles
One-on-one coaching for co-parenting
cons
Much pricier than competitors
Some features are unnecessary

Wevorce Visit Site
What Does Wevorce Provide?
Wevorce is arguably one of the most comprehensive online divorce providers on the market today. Besides enabling you to get divorced from the privacy of your home, the company offers a divorce readiness questionnaire, custom divorce settlement software, and an unbiased settlement review.
At the center of the Wevorce product is a network of Private Judge arbitrators. These are divorce professionals employed by Wevorce who can help you to settle your divorce in just 30-days. Private Judges make the decisions that a regular judge would in court while using their experience to find an outcome that both parties are happy with.
How Does Getting an Online Divorce with Wevorce Work?
Wevorce guides you through divorces with a simple 5-step solution. To kick things off, you'll need to set up an account with the company. To do that, simply enter your contact details, information about where you intend to file your divorce, and the number of minor children in the marriage on Wevorce's sign up page.
After registering, you'll initially be granted access to Wevorce's Self-Guided divorce package for 7 days. The second step is to invite your spouse to join you. Together, you'll complete the third step, which is to complete an online questionnaire. The questionnaire is divided into steps such as signing a peace pact, adding information about yourself, and filling in details about your assets and income.
After that, you'll receive your Parenting Plan and Marital Settlement Agreement. Finally, you'll be able to review your document with one of the platform's certified Private Judges and move forward with your divorce out of court.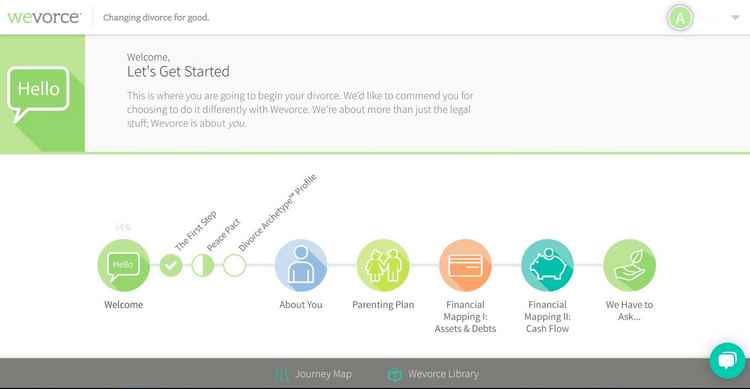 Pricing for Online Divorce
Even though the platform does offer a free 7-day trial, Wevorce is significantly more expensive than the majority of Online Divorce services. Of course, it's also probably cheaper than the expense of reaching a divorce settlement in court.
With the free trial version of the platform, you'll be able to meet with a Private Judge in a one-time consult session. However, to fully settle your divorce through the platform, you'll need to pay for the Wevorce Private Judge 3450 package which costs $3,450. You can come to a settlement that works better for your kids and helps you plan a co-parenting system with the Private Judge 5850 package for $5,850.
Divorce Readiness Assessment
Financial Empowerment Process
One-on-One Financial Coaching
Wevorce Background
Launched as a startup in 2013, Wevorce quickly gained $2 million in funding. Since then, the company has continued to expand. According to Wevorce CEO and founder, Michelle Crosby, Wevorce-administered divorces typically cost around one-third of the average cost of a divorce in the US.
The company currently holds a C+ rating with the Better Business Bureau (BBB), though it hasn't yet been accredited by the service. A few customers have left negative reviews of the service on Wevorce's BBB profile, mostly regarding issues canceling membership fees.
What Customers Say About Wevorce
"Several sites, including Rocket Lawyer, 3 StepDivorce, LegalZoom.com, will help with preparing legal documents to file with the court, but we weren't ready for that. Wevorce helped us come up with a plan for us, our kids, money and stuff." — Christina Wood
"Wevorce changed my life." — Steve Huffman, Founder of Reddit
"These guys wanted us to get along in a way that was healing for everyone in the family so we could move onto our next chapter." — Nora Gibson
Customer Service
Despite the cost of Wevorce's divorce packages, the company offers relatively limited customer support options. No live chat or phone support is available, for example. Instead, if you want any help navigating Wevorce's services, you'll need to fill out an email form and wait for a representative to get in touch with you.
Wevorce FAQs
What makes Wevorce different from other divorce services?
With its system of expert Private Judges, Wevorce attempts to go beyond the do-it-yourself divorce tools on offer from competitors.
Can I get divorced for free using Wevorce?
No, to finalize your divorce paperwork, you'll need to sign up for the platform's paid membership plans. These cost $3,450 or $5,850.
Will Wevorce review the fairness of my divorce arrangement?
A fairness review is only included with the Private Judges 5850 Wevorce plan.

Wevorce Visit Site
Bottom Line
If you want a bespoke divorce service that can keep you and your spouse out of court and ensure a fair outcome, Wevorce is a good option. However, the service isn't without its issues. For one thing, it's several times more expensive than close competitors and a few important features, such as child support planning, are only available through the most expensive Wevorce plan.