In a Nutshell
OnlineDivorce.com offers a simple way to file for a divorce online. Just fill out an online questionnaire and the service will autofill your state's paperwork. Your spouse can also access the files to make signing easy even if you live in different places. OnlineDivorce.com is available in all 50 states and it offers a money-back guarantee if your divorce filing is rejected. The service is inexpensive, but watch out for hidden monthly fees.
pros
Excellent customer support
Very inexpensive
Money-back guarantee
cons
Does not work in Iowa
Not enough information about payment plans
Does not provide legal advice

Online Divorce Visit Site
What Does OnlineDivorce.com Provide?
OnlineDivorce.com is a simple service that helps you fill out your divorce paperwork online. Both you and your spouse can access the paperwork to review details and e-sign. Once your paperwork is finished, you can simply print it out and file it with your local court. OnlineDivorce.com requires that you and your spouse agree on the details of your divorce in order to qualify for the service.
There are very few bells and whistles to OnlineDivorce.com, which helps to keep the price low compared to other online divorce platforms. For example, you won't find an online arbitration center or tools for managing child custody and support payments.
How Does Getting an Online Divorce with OnlineDivorce.com Work?
Getting divorced using OnlineDivorce.com starts off with checking whether you qualify. To use OnlineDivorce.com, you must be in contact with your spouse and you must already agree on how child custody, support payments, major assets like your home, and any debt will be divided between you. You also need to enter your email to check your eligibility.
If you qualify to use OnlineDivorce.com, you'll be taken to a questionnaire. This asks for details about you and your spouse, your marriage, any children you have together, and the assets that will be split up as part of the divorce. You can complete this questionnaire at your own pace and your spouse can create an OnlineDivorce.com account to review the answers remotely.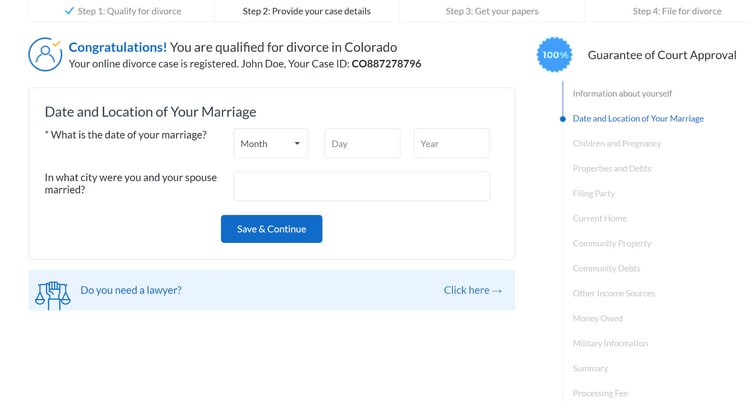 Once the questionnaire is complete, you and your spouse can e-sign them. Before you can download the filled-in paperwork for your state, you'll need to pay for your OnlineDivorce.com account. After that, just print the forms and file them with your local court.
Pricing for Online Divorce
OnlineDivorce.com charges just $159 upfront, making it one of the most affordable services in the online divorce industry. That comes with a 100% money-back guarantee if your forms are rejected by your state's divorce court.
However, beware that OnlineDivorce.com also charges some hidden monthly fees, including a $24.95 per month account fee and another $8.99 per month storage fee. These charges are not made clear when you sign up for the service. You only need to pay these fees as long as you still need access to modify your forms, though, and you can cancel your account online at any time.
OnlineDivorce.com Background
OnlineDivorce.com has been helping couples make an amicable split since 2000. Over the past 20 years, more than 500,000 people have used the service to fill out their divorce paperwork at low cost.
OnlineDivorce.com doesn't have the best reputation, however. It has a C- rating with the Better Business Bureau and a Trustpilot rating of just 3.1. Many of the negative reviews stem from the platform's deceptive monthly fees, which aren't clear when you sign up for OnlineDivorce.com. As a result, many people don't know to cancel their accounts and are charged additional fees.
What Customers Say About OnlineDivorce.com
'Excellent, quick, and easy service made it so much easier to focus on everything else.' - Billy K.
'This service is especially easy for spouses who live in different states. I am thankful that even with COVID-19, I am able to proceed with my divorce.' - Ashlee A.
'After I figured out a few things the process was quite easy. My advice is if you get stuck, call and ask. The representative was very patient and helpful.' - Michelle H.
Customer Service
OnlineDivorce.com offers customer support over the phone from 10am to 8pm Eastern, Monday to Friday. The support team is very knowledgeable about the OnlineDivorce.com platform, although they won't be able to offer legal advice on your divorce. You can also get in touch by email using a support form on the OnlineDivorce.com website.
OnlineDivorce.com FAQs
Can I use OnlineDivorce.com if my spouse is in the military?
Yes, you can use OnlineDivorce.com if you or your spouse is in the military.
Will OnlineDivorce.com mail my divorce paperwork to me or the state court?
Yes, OnlineDivorce.com offers paperwork mailing services for an additional fee.
How long does it take to complete my divorce using OnlineDivorce.com?
Signing up with OnlineDivorce.com and filling out the questionnaire takes less than an hour in most cases. As soon as the questionnaire is completed, you can print out your paperwork and file it to initiate your divorce.
Does OnlineDivorce.com have a mobile app?
OnlineDivorce.com doesn't have a mobile app, but the platform is designed to be mobile responsive. That makes it easy to review or edit your questionnaire responses from any device.

Online Divorce Visit Site
Bottom Line
OnlineDivorce.com is one of the most affordable options for getting the paperwork you need to initiate a divorce. The platform is easy to use and you can get help at any time over the phone. OnlineDivorce.com is an especially good choice if you and your spouse live in different states, as you can each access and sign the divorce paperwork. The only thing to watch out for is OnlineDivorce.com's monthly fees, which are hidden when you sign up for the service.