In a Nutshell
MyDivorcePapers is an online service that helps you file for a divorce, annulment, or legal separation. The service is relatively inexpensive, although there is a monthly fee if you need long-term access to your account. MyDivorcePapers can auto-fill paperwork for any state, and you can download and file the forms as soon as you finish entering your information. You also get a dedicated account manager, so help is available anytime you need it.
pros
Supports divorce, annulment, or legal separation
Inexpensive and includes money-back guarantee
Dedicated account manager
cons
Monthly fee for long-term access
F rating with Better Business Bureau

MyDivorcePapers Visit Site
What Does MyDivorcePapers Provide?
MyDivorcePapers makes it easy to fill out the paperwork needed to file for a divorce in any state, without paying exorbitant legal fees. Simply fill out an online questionnaire and MyDivorcePapers will produce ready-to-file paperwork that you can download and print instantly. This platform also includes a number of useful tools to produce supporting documentation, such as a child support calculator and a parenting planner.
The service can help you properly serve your spouse and enables both of you to sign the divorce paperwork online. MyDivorcePapers can also be used if you're looking for an annulment or legal separation rather than a divorce.
One thing to keep in mind is that in order to use MyDivorcePapers, you and your spouse must agree on the terms of your divorce. If you need mediation over child custody or other issues, you will not qualify for MyDivorcePapers.
How Does Getting an Online Divorce with MyDivorcePapers Work?
To get started with MyDivorcePapers, you can first check to see if you qualify. You must be in agreement with your spouse over the terms of the divorce and you must both be located in the US.
If you qualify, you'll be taken to an online questionnaire. Here, you can enter information about you and your spouse, your children, your assets, and any other information that is relevant to your divorce. The paperwork should specify how you and your spouse are splitting up child custody and assets.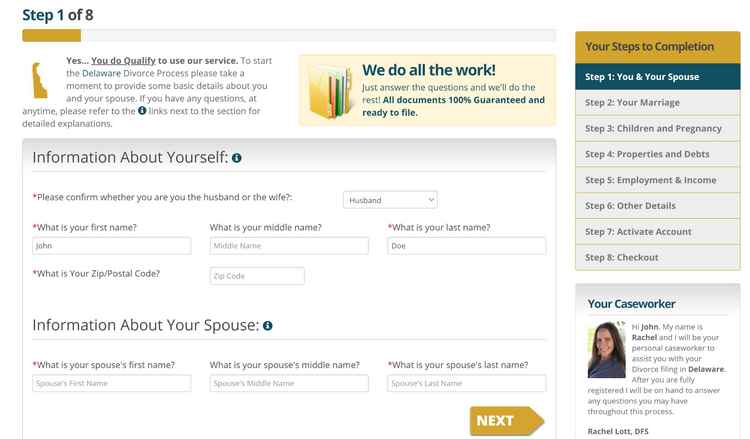 You can take as much time as you need to complete the questionnaire. In addition, it's a good idea to have your spouse make a MyDivorcePapers account so they can review the paperwork and e-sign.
Once the questionnaire is finished and the paperwork is signed, you can download and print your forms immediately. File them at the local courthouse to initiate your divorce proceedings.
Pricing for Online Divorce
MyDivorcePapers charges a one-time fee of $139, plus an additional account fee of $24.84 per month. The company stands behind its service with a 100% money-back guarantee in the event that your paperwork is rejected by your state court. In addition, you can cancel your account online at any time once your paperwork has been completed and filed.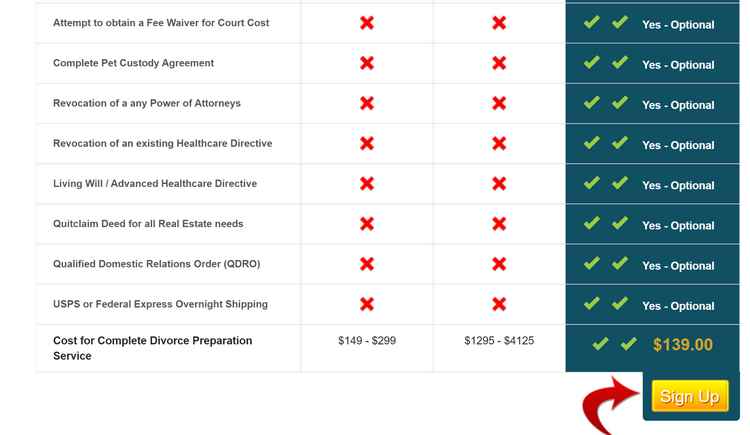 MyDivorcePapers Background
MyDivorcePapers has been helping people file for divorce since 2002. Over that time, the company serviced more than 1.2 million customers.
However, not all of MyDivorcePapers' clients have been equally happy. The company has an F rating with the Better Business Bureau and an abysmal 2.7 stars out of 5 with Trustpilot. Many of the negative reviews point to issues with the company's customer service or delays in receiving paperwork after filling out the online questionnaire. However, the company also has thousands of 5-star reviews that point to the quality of the customer support.
What Customers Say About MyDivorcePapers
'My experience with MyDivorcePapers.com was great and I understood the questions that were asked. Would I refer to a friend, I would.' - De-Nay Brown
'I gratefully give this company a 5 star rating. The process of divorce is a very stressful experience on its own. MyDivorcePapers.com has created a process that is thorough and uncomplicated, making the legal process "not so scary" or too complex for the average person to understand. Thank You so much for your support when I had questions. Your responses were quick and thorough. I recommend this company whole-heartedly!' - Ron Ashmore
Customer Service
MyDivorcePapers offers customer support by phone, email, and live chat from 7am to 4pm Pacific. The live chat is particularly helpful because you can get assistance as you work through the online questionnaire.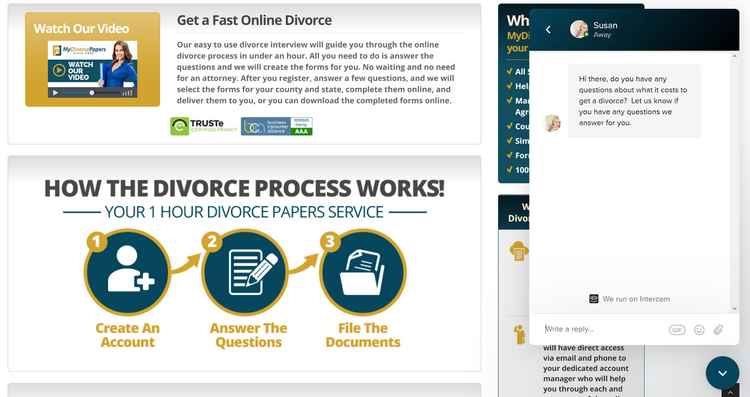 If you use the email support, you can check on the status of your support ticket at any time. MyDivorcePapers typically replies by the next business day.
MyDivorcePapers FAQs
Can MyDivorcePapers help me with mediation?
MyDivorcePapers can only help with uncontested divorces. Some states require mediation prior to finalizing a divorce, but MyDivorcePapers will not be able to assist with this part of the process.
Are there extra costs for getting a divorce?
MyDivorcePapers only charges $139 for the initial processing of the paperwork. If you want the company to store your documents for future use there is a small monthly fee to do so. However, you will likely end up paying several hundred dollars in court fees. Court fees will vary by state and the complexity of your divorce.
How long does it take to file a divorce with MyDivorcePapers?
Your paperwork is available from MyDivorcePapers as soon as you finish the online questionnaire. This typically takes less than an hour. Once your divorce papers are filed, the proceedings can take several weeks to several months.
Can MyDivorcePapers mail me my paperwork?
Yes, MyDivorcePapers can mail you your paperwork via USPS or Fedex. Note that mail service costs extra.

MyDivorcePapers Visit Site
Bottom Line
MyDivorcePapers is a straightforward and affordable option for getting the paperwork you need to file for a divorce. The platform offers helpful tools for managing child support payments and creating a parenting plan to support your divorce filing, plus it enables your spouse to review and sign the paperwork online. While MyDivorcePapers has a history of customer complaints, thousands of 5-star reviews point to the quality of the service and its customer service.