In a Nutshell
You can use JustAnswer to get compassionate advice on your divorce. From general business law to niche topics such as Hawaii Pro Bono law, JustAnswer can connect you with a qualified lawyer quickly and get your legal questions answered fast. First conceived in 2003, JustAnswer is a site designed to connect users with a wide range of experts including vets, lawyers, and mechanics.
pros
Talk to an expert one-on-one
Rigorous expert vetting
cons
Doesn't specialize in divorces specifically
Guidance only, no filing procedures

JustAnswer Visit Site
What Does JustAnswer Provide?
JustAnswer is a platform where you can connect with all manner of experts. On the site, you can find a divorce lawyer or an attorney specializing in another area such as criminal procedure or immigration.
Besides lawyers, through JustAnswer, you can get vehicle maintenance questions answered by expert mechanics or advice on your water pipe emergency resolved by an experienced plumber. Other types of experts available through JustAnswer include vets, financial advisors, and IT repair technicians.
To use JustAnswer, all you need to do is send in a question about the issue you need assistance with. After that, a qualified expert will quickly get in touch to advise you on how to proceed.
Throughout this JustAnswer review, we'll be exploring how the service can help you get an online divorce. When it comes to complex legal procedures such as online divorces, JustAnswer will be able to connect you with a qualified lawyer to advise you on the details of your case. However, that lawyer won't be able to file any paperwork for you.
How Does Getting an Online Divorce with JustAnswer Work?
JustAnswer doesn't provide Online Divorce packages itself. However, you can use the service to talk to a real-life lawyer about the specifics of your case.
To get started, all you need to do is head over to the legal section of the JustAnswer site. Once there, you can describe your issue to an AI chatbot. After you've answered a few straightforward questions, for example about the assets of your case, the automated assistant will send the details of your situation to one of JustAnswer's externally-vetted lawyers.
Before you can discuss the details of your case with that lawyer, you'll need to sign up for a JustAnswer monthly subscription. After you've paid, you'll be connected to the lawyer in an online chat or over the phone.
JustAnswer's lawyers are committed to providing compassionate guidance even on the most sensitive aspects of your divorce proceedings. You can ask them questions about the most likely outcome of your case and what steps you should follow, given your specific living, asset, and family situation.
In past transcripts of divorce questions published on the JustAnswer website, it's clear that divorce lawyers on this site are well-versed in the litigation requirements of individual states and provide detailed, clear answers.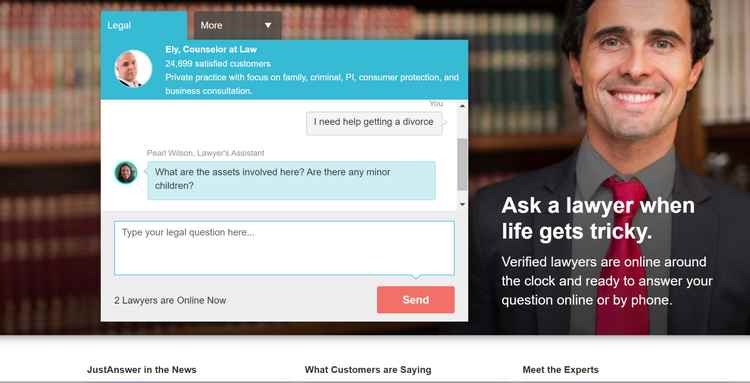 Pricing for Online Divorce
Before you can talk to a divorce lawyer through JustAnswer, you'll need to pay for a membership. JustAnswer accounts cost $46 per month but the first week of service is discounted to just $5. You can pay via PayPal or by adding your credit card information.
It's worth noting that several past JustAnswer customers have reported difficulties in canceling their membership. Some also say they were charged a full month's rate for a single phone call after already paying the initial trial fee. As such, we recommend you only sign up for an account if you think that accessing JustAnswer's network of experts is worth the membership fee over the long term.
JustAnswer Background
Andy Kurtzig, JustAnswer's CEO, first came up with the idea for the platform in 2003 when he struggled to find a doctor who was available to answer questions about his wife's pregnancy outside of fixed appointment times. He launched the site later that year and it has grown significantly since then, adding a phone service in 2015 and an automatic chatbot in 2016.
JustAnswer has been accredited by the Better Business Bureau (BBB) since 2006 and currently holds an A+ rating with the company. Nevertheless, there are several customer complaints on JustAnswer's BBB profile page. For the most part, these concern difficulties in canceling subscriptions to the platform.
What Customers Say About JustAnswer
I was shocked at how quickly my question was answered. Although it wasn't the answer I wanted I was grateful for the accurate information. When dealing with matters of law it is always good to get the right answer even if it's not what you want to hear. - D. Tamewitz
I was happy with the quick response I received. However, I was in a frantic space and thought I was getting help. 7 days later exactly I noticed a $65 charge on my bank account, I went to the website, I hadn't even realized that they automatically sign you up and charge the account! - K. Baltierra
I contacted JustAnswer about a critical question I had about residency status for a U.S. citizen in Mexico… the lawyer referred me to justanswer.es which is its Mexican counterpart. There I was about to get counsel from a Mexican attorney IN Mexico. That's a great service! - S.L.
Customer Service
JustAnswer's experts are available 24/7. If you have any questions about how to use the platform, you can check out the site's help section. If you can't find a relevant answer there, you can get assistance over the phone by calling 1-800-509-5721 or filling out a short email contact form.
It could take up to 24 hours for you to receive a response if you get in touch by email. The company doesn't provide any details about when its phone lines are open.
JustAnswer FAQs
How do I cancel my JustAnswer membership?
Simply hit the Cancel Membership option in the Membership panel of your My Account page.
How do I get notified of an answer to my question?
You will automatically be notified by email. You can also enter your number on your Account Settings page to get SMS alerts.
How long does it take to get an answer?
The average time for the first JustAnswer response is 6 minutes. Questions are normally answered fully in 30 minutes but certain questions may take up to 24 hours to resolve.

JustAnswer Visit Site
Bottom Line
There's no question that JustAnswer offers access to a large and diverse group of experts. However, the service loses points because it can't be used to file for divorces directly and numerous customers seem to have trouble canceling their memberships.