In a Nutshell
CompleteCase streamlines the process of getting a divorce and makes it affordable. All you have to do is fill out an online questionnaire, and CompleteCase will generate the forms you need to sign to file for divorce in any state. CompleteCase includes unlimited support and enables you to make changes to your documents for up to 30 days. Plus, the company provides a money-back guarantee if your filing is rejected by your state's divorce court.
pros
Modify your forms for up to 30 days
Available in every state with money-back guarantee
Unlimited phone and email support
cons
More expensive than comparable services
Long-term account access costs extra

CompleteCase Visit Site
What Does CompleteCase Provide?
CompleteCase is an online divorce service that helps you complete your divorce filing with your state court. To use CompleteCase, you must have an amicable split with your spouse and agree on how child custody, any support payments, and assets will be divided up.
The service is available in all 50 states, and it will generate the forms that you need to file with your local court based on your responses to a simple questionnaire. All you have to do then is print out the forms and file them to initiate your divorce proceedings.
How Does Getting an Online Divorce with CompleteCase Work?
CompleteCase helps you initiate your divorce in 3 simple steps.
First, you have to check your eligibility to use CompleteCase. To qualify, you and your spouse must be located in the US and you must agree on the details of your divorce. If you need to go into arbitration to settle the division of assets or child custody, CompleteCase won't be able to help with that.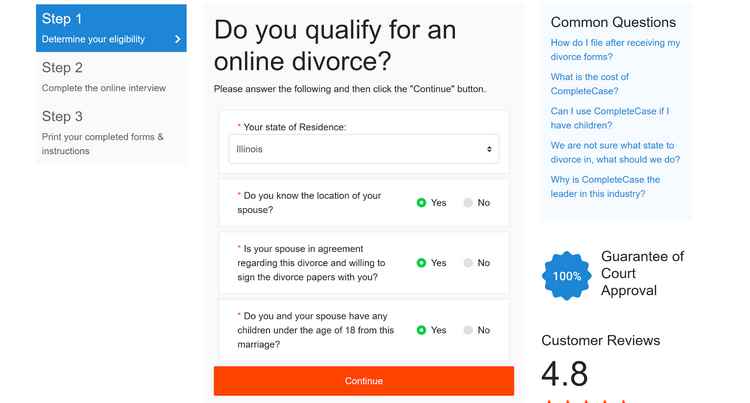 If you qualify, you'll be taken to an online questionnaire that asks you about you, your spouse, and your marriage. The questionnaire will require details about what assets you shared and how they will be divided, along with plans for child custody and support payments. CompleteCase also includes a child support calculator to help you get these details right.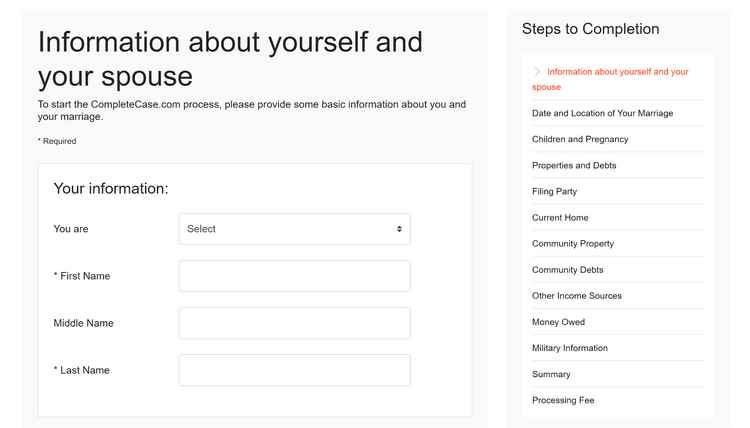 Once the online questionnaire is completed, CompleteCase will prepare the divorce forms for your state within 2 business days. You can download them and print them immediately or opt to have the company mail them to you. Then simply sign your forms and deliver them to your local court to initiate your proceedings.
You can review and modify your paperwork in your online account for free for up to 30 days. You can also have your spouse create an account so you can both review the paperwork online and make any necessary changes.
Pricing for Online Divorce
CompleteCase charges a 1-time fee of $299, which includes all of the costs for preparing your paperwork and account access for 30 days. If you want to keep your account open longer, the company charges an additional $24.99 per month. CompleteCase offers a 100% money-back guarantee if your forms are rejected by your state's court.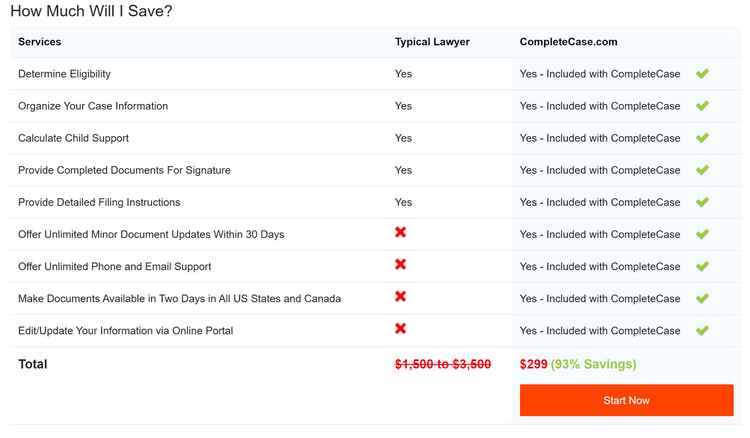 CompleteCase Background
CompleteCase was established in 2000 and has since helped over 700,000 people file for divorce. The company has a much stronger record of customer reviews than some of its cheaper competitors. CompleteCase has an average 4.0 rating on TrustPilot and an A- rating with the Better Business Bureau.
What Customers Say About CompleteCase
'My actual attorney told me to use this company. I couldn't afford even a simple divorce so he told me about this company. Apparently they're the most experienced company and the best, etc. I just wanted it to be easy. Well, it was. I guess they are the best!' - Jay, Pennsylvania
'On the same day I signed up, I was able to fill out the questions and print out the forms and submit them. It was a very easy process that I was worried about, especially having a house and kids. It made it a very positive experience and very inexpensive.' - Rebecca, California
'CompleteCase's longtime experience made me feel very comfortable and their question and answer process was extremely simple. When I needed additional help they were very prompt in responding.' - Chris, Ohio
Customer Service
CompleteCase offers unlimited phone and email support in both English and Spanish. The support team is available from 10am to 8pm Eastern, Monday to Friday. We found that there was rarely a wait time, but you can also request a callback if the lines are busy.
CompleteCase FAQs
Does CompleteCase's pricing include court fees?
CompleteCase does not cover court fees, which vary from state to state. Typically, court fees for divorce cost several hundred dollars.
Can I use CompleteCase if I cannot locate my spouse?
You can use CompleteCase even if you cannot locate or contact your spouse. However, you will need to follow your state court's guidelines around filing for a default after submitting your paperwork.
Can CompleteCase help me serve my spouse with divorce documents?
CompleteCase doesn't serve documents and recommends you use an inexpensive legal courier service for this purpose. However, if you are in contact, your spouse can review documents online before you file them.
What state should I file in when using CompleteCase?
Typically, you should file for divorce in the state where you currently reside. If you and your spouse have children and live in different states, file in the state where the children reside.

CompleteCase Visit Site
Bottom Line
CompleteCase is a trusted and reliable online divorce service that makes it easy to file for divorce. Although it is more expensive than some competitors, CompleteCase doesn't have any hidden fees. We also liked that the customer support is available in both English and Spanish, which isn't the case for other online divorce platforms. CompleteCase's online questionnaire is simple to understand, enables you to make changes for up to 30 days, and even allows you and your spouse to work through your divorce filing together.