In a Nutshell
3StepDivorce makes the process of filing for a divorce simple, fast, and affordable. You can quickly get the right divorce forms for your state, fill them out online, and file them in your local court the same day. 3StepDivorce is available in every state and your account comes with helpful tools like child custody management software. Plus, 3StepDivorce offers excellent support and a money-back guarantee if your divorce filing isn't approved.
pros
Affordable pricing and money-back guarantee
Available in every state
Includes child custody management tools
cons
Requires agreement between you and your spouse
Website feels outdated
3 Step Divorce Visit Site
What Does 3StepDivorce Provide?
3StepDivorce brings the process of applying for a divorce online. The platform has a streamlined questionnaire that you can fill out, and it will auto-fill your answers into the proper paperwork for your state. The whole process takes less than an hour and you can print your forms or have them shipped by USPS Priority Mail to file your divorce quickly.
3StepDivorce also includes a number of ancillary tools to help you manage the divorce process. You get access to an online negotiation center where you can work through issues around the divorce with your soon-to-be ex. You also get software to manage child custody, visitation, and support payments, which can help you in court if child custody issues arise down the road.
How Does Getting an Online Divorce with 3StepDivorce Work?
As the name suggests, the process for filing for a divorce with 3StepsDivorce is split into 3 steps.
The first step is to see if you qualify. Select your state (3StepDivorce is available in every state) and answer a few questions. To qualify in most states, you and your spouse must agree on the broad issues of your divorce. Keep in mind that while only one person needs to fill out the divorce paperwork online, both you and your spouse must agree to the divorce by signing the paperwork.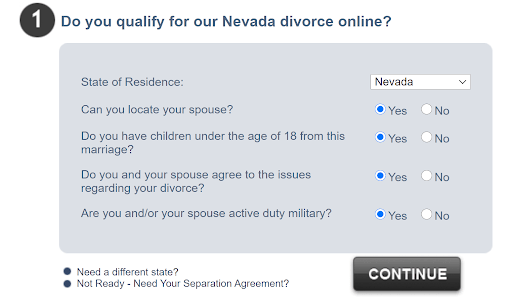 If you qualify, the next step is to fill in the details of your divorce. 3StepDivorce's online questionnaire asks for information about you, your spouse, and any children you have from your marriage. It also asks for details about your home or other shared property, debt, and any support payments that you and your spouse may have agreed to.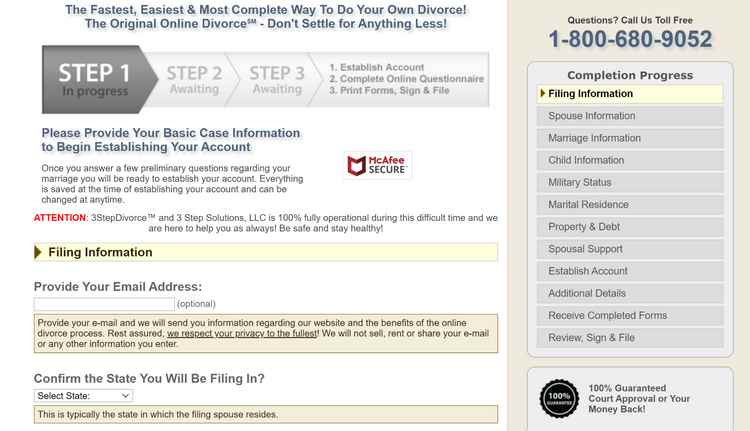 Once the questionnaire is completed, you print out the completed forms for your state and your step-by-step filing procedures. If you don't have access to a printer, 3StepDivorce will mail your divorce paperwork to you at no extra charge. The paperwork is ready to file with your local court after reviewing and signing.
Pricing for Online Divorce
3StepDivorce costs $299, not including court fees that will add to the final cost of your divorce. You can opt to pay in monthly installments, which raises the price slightly.
You can also get a $50 rebate if you file your divorce paperwork by the next business day after you begin the process with 3StepDivorce. You'll need to have the court clerk timestamp a rebate form, which you can find on the service's website, when you file your divorce papers.
Another nice thing about 3StepDivorce is that the service offers a 100% money-back guarantee. If your divorce paperwork isn't accepted by the court, you're eligible for a full refund.
3StepDivorce Background
3StepDivorce prides itself as 'The Original Online Divorce.' The service is a sister company to Divorce Source and has been around since 1997.
3StepDivorce has maintained rave reviews from customers for more than 20 years. The company has an A+ rating with the Better Business Bureau and 4.6/5 rating on Trustpilot. The service has also been featured in the media on sites like CNN, Forbes, and USA Today.
What Customers Say About 3StepDivorce
'I had a very amicable divorce and this website was perfect for our needs. I heard nightmares from my friends on the cost of getting a divorce...The step by step approach made it very easy for me to complete all the necessary forms.' - Stephen S., Pennsylvania
'Great service! Our divorce was very friendly and simple, but we are in different areas of the country, so this was easy to use because both of us could access it and update it. Plus it saved us about $2000! Thanks for providing the service and the help with our questions.' - David H., California
'Your service was wonderful! It was so helpful during a difficult time. The site was intelligent, easy to navigate and the divorce went through flawlessly and easily. The information supplied was well thought out, easy to understand and thorough!' - Lynda V., Michigan
Customer Service
3StepDivorce offers access to a knowledgeable customer support team by phone and email, from 9am to 5pm Eastern, Monday to Friday. The support team can help with questions regarding the software and service, but keep in mind that they cannot offer legal advice. If you are in need of legal advice they recommend that you contact a lawyer.
3StepDivorce FAQs
Is 3StepDivorce secure?
3StepDivorce takes security seriously. The company scans its website daily for malicious intrusions with McAfee Secure and uses Norton to protect your payment and filing data.
How long does 3StepDivorce take?
You can fill out your divorce paperwork in less than an hour with 3StepDivorce. In fact, if you file your paperwork within 1 business day, you qualify for a $50 rebate.
Can my spouse access 3StepDivorce to sign the paperwork?
Yes, you can invite your spouse to your 3StepDivorce account to have them review and/or complete answers to questions before printing and signing.
Can I use 3StepDivorce if I or my spouse is in the military?
Yes, unlike other online divorce services, you can use 3StepDivorce even if you or your spouse are active duty military by waiving your rights to Soldiers' and Sailors' Civil Relief Act of 1940 (SSCRA).
3 Step Divorce Visit Site
Bottom Line
3StepDivorce makes it simple to file for divorce. The service is available in every state and it's highly affordable, especially if you can take advantage of the $50 rebate. 3StepDivorce offers excellent customer service and it has a strong track record based on over 20 years of customer reviews.