In a Nutshell
Catering to all levels of experience, LanguaTalk allows students to find rigorously screened tutors to assist them in their language learning. Through personalized 1-on-1 video sessions, its tutors can develop a learning plan that meets your needs. All tutors charge individual rates and new students can book a free 30-minute taster session. Although the company doesn't offer a mobile app, this is unlikely to be a deal breaker for most learners.
pros
Free 30-minute taster session
Personalized 1-on-1 learning
Free language learning podcasts
cons
Phone support not available
No app
LanguaTalk Visit Site
LanguaTalk Lessons
When you take lessons with a tutor, you can choose to book 1, 5, 10, or 20 lessons, with the price per session being lower when you book a greater number of lessons.
Lessons are available in the following languages:
Spanish
French
Italian
German
Dutch
Swedish
Portuguese
Japanese
Romanian
Before deciding whether you'd like to proceed with a tutor, you can also book a free 30-minute taster session in which you can meet them via a video call.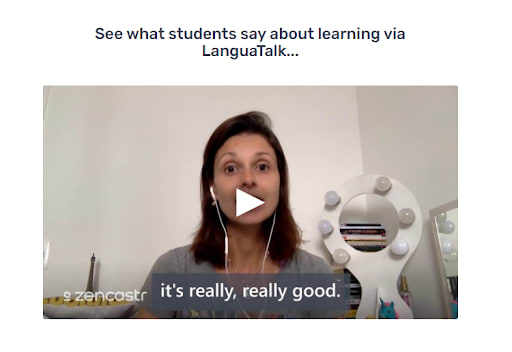 How much does Languatalk cost?
Lesson prices range from $10 to $60 per session. As tutors set their own prices, the cost for your lessons will depend on your teacher's individual rates and the number of sessions you buy. You can find information regarding a tutor's rate on their profile page and the final cost of your sessions will be shown on the payments page when you make your booking.
When we looked for sample quotes, we found the following:
1 lesson: $20.24 per hour
5 lessons: $19.43 per hour
10 lessons: $18.62 per hour
20 lessons: $17.81
1 lesson: $26.19 per hour
5 lessons: $25.14 per hour
10 lessons: $24.10 per hour
20 lessons: $23.05 per hour
1 lesson: $35.71 per hour
5 lessons: £34.29 per hour
10 lessons: $32.86 per hour
20 lessons: $31.43 per hour
1 lesson: $38.10 per hour
5 lessons: $36.57 per hour
10 lessons: $35.05 per hour
20 lessons: $33.52 per hour
1 lesson: $29.76 per hour
5 lessons: $28.57 per hour
10 lessons: $27.38 per hour
20 lessons: $26.19 per hour
Should you change your mind about taking classes, you can receive a refund on the remaining balance for your lessons if you contact LanguaTalk within 30 days of purchase.
If you're not satisfied with your tutor, you can contact the company via its online query form and it will attempt to find you a more suitable match.
The company accepts payment via Visa, MasterCard, American Express, Discover, Diners Club, JCB, and Union Pay.
LanguaTalk only accepts payments in US dollars and the exchange rates on its website are updated hourly, which means prices can fluctuate when displayed in other currencies.
How does LanguaTalk work?
When choosing a tutor, you first need to select your fluency levels, goals, and budget. You'll then be shown a selection of videos and biographies from tutors who may be a good fit for your learning needs.
Sessions last 55 minutes and are conducted as a video call, either through Zoom or Skype. New customers can book a 30-minute training session with their tutor of choice.
If you've already taken a lesson with a tutor, you can book another session via the My Tutors section of your account. Once you've selected the Book Lessons function, you'll see a link to the tutor's calendar so you can check their availability.
Alternatively, you can book a lesson with a new tutor through their profile on LanguaTalk's website.
Once you have made your booking, you can reschedule or cancel the class through your account, although you will be charged for the session if you fail to provide at least 24 hours' notice of a cancelation.
Note, you can't transfer existing bookings to another tutor.
Although the company doesn't currently offer an app, we were extremely impressed by its ease of use and the speed with which we could filter tutors to find a suitable teacher.
One nifty feature is that the site will automatically show your tutor's availability in your time zone, which can help safeguard against any confusion when booking a lesson. If you're concerned about missing a session, you can sync your Google Calendar with LanguaTalk.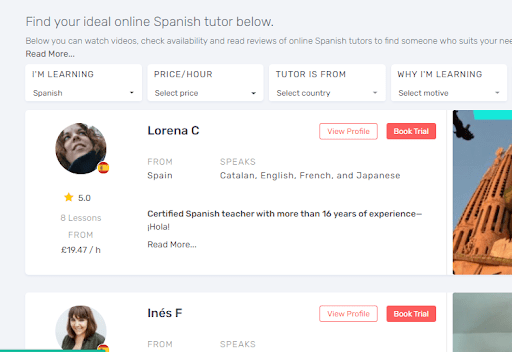 Is LanguaTalk reliable and safe?
Being founded in 2021, LanguaTalk is very new to the market, which means it's yet to have a profile on TrustPilot or the Better Business Bureau. However, information on its website does bode well for its reliability. For example, LanguaTalk will only accept approximately 10% of applications from potential tutors to ensure high-quality teaching. All its tutors must also be native speakers of the language they are teaching and have some prior experience in teaching a language.
We were also reassured to see that all payments made to the company are processed by Stripe, which should also provide additional peace of mind about the safety of your transactions.
What's special about LanguaTalk
When we visited the site, we were especially impressed by its detailed tutor biographies and videos, which provide a real sense of the teacher's level of experience, while the on-site videos also give you an insight into their personalities. Having this information can help you decide if you would work well together.
Likewise, we appreciated the company's emphasis on personalized learning, which means you can find an approach that suits you rather than relying on a one-size-fits-all solution.
And even if you're not a customer, you can also listen to its podcasts, in which experts provide language learning tips alongside an interactive script.
Help and Support
You can contact LanguaTalk via email, social media, or an online query form. However, it does stress that due to the small size of its team, you may not receive an immediate response.
There is also a comprehensive set of FAQs on its website, which answered most of the questions we had about the company and its learning resources.
The company also has a blog, covering topics such as the ultimate guide for learning French or Spanish, as well as more humorous subjects such as a guide to swearing in French.
LanguaTalk Visit Site
Bottom Line
If you're looking to find a language tutor for personalized learning, it's certainly worth checking whether LanguaTalk can match you with a teacher to meet your requirements. While the company doesn't offer an app, we did find the site extremely simple to navigate and found the level of detail available on its tutors very helpful. One point to bear in mind—its tutors charge quite a wide range of prices, so it's worthwhile checking the site thoroughly to find one that suits your budget.
FAQs
How do I contact my tutor?
You'll find your tutor's contact details via the My Tutors section of your account. You can also write to your tutor through Skype or reply to your booking email.
Can I take more than 1 trial lesson?
Yes, although you'll need to pay for your subsequent trial lessons. Any further taster lessons will be charged at 30% of the tutor's standard lesson price.
Does LanguaTalk offer certificates?
As LanguaTalk doesn't offer examinations or a fixed curriculum, it doesn't provide certificates. If you are taking an external exam, however, a tutor may be able to help you prepare.