In a Nutshell
Offering lessons 24 hours a day, Lingoda is an excellent platform for those looking to learn a language from any location and at any time. Students also have the freedom to choose between personalized 1-to-1 and group classes. Although Lingoda doesn't offer homework marking, its cashback offers could make the service ideal for dedicated learners—those who attend 90% of their lessons could potentially receive up to $1,100 in refunds on fees.
pros
24/7 classes
7-day free trial
Up to $1,100 cashback on fees
cons
Homework corrections not available
No phone support
Lingoda Visit Site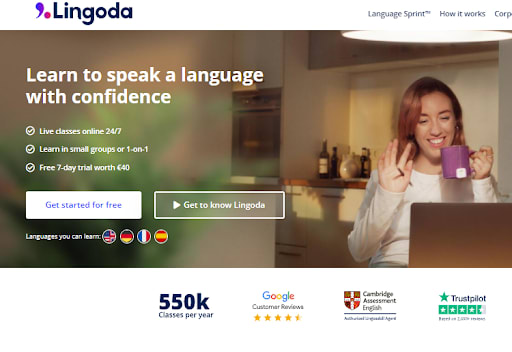 Lingoda Plans
Lingoda offers language courses in:
English
Business English
German
French
Spanish
When you take out a plan, you can choose either a Monthly or Marathon subscription. The Monthly option allows you to renew your subscription on a rolling basis, and you can choose from the following:
Maintain
Best for keeping up skills
Improve
Best for upskilling
Improve a Lot
Best for a significant skills boost
Immersion
Best for intense learning
With Marathon plans, you'll need to commit to taking a certain number of lessons in a set period and can choose from the following:
How much does Lingoda cost?
If you choose a Monthly plan, you'll pay the following every 4 weeks:
Marathon plans have the following prices:
Group: $575
1-to-1: $1,300
Group: $1,050
1-to-1: $2,350
Group: $1,800
1-to-1: $4,100
Group: $775
1-to-1: $1,600
Group: $1,400
1-to-1: $2,850
Group: $2,500
1-to-1: $5,000
Group: $700
1-to-1: $1,500
Group: $1,250
1-to-1: $2,700
Group: $2,200
1-to-1: $4,800
Group: $575
1-to-1: $1,300
Group: $1,050
1-to-1: $2,350
Group: $1,800
1-to-1: $4,100
Group: $575
1-to-1: $1,300
Group: $1050
1-to-1: $2,350
Group: $1800
1-to-1: $4,100
The Quarter Marathon is billed every 3 months, the Half every 6 months, and the Full every 12 months.
If you attend 90% of your Marathon lessons, you'll receive a cashback bonus on your initial fee. The amount of cashback you receive depends on the plan you choose and ranges from $60 to $1,100.
When you buy a course, you'll receive a predetermined number of lesson credits. If you run out of credits, you can buy additional credits via Lingoda's store.
If you're not certain whether Lingoda is right for you, you can sign up for a 7-day free trial. Note, you'll need to cancel your subscription during this period if you don't wish to continue your membership.
Optional Add-Ons
As well as its standard plans, Lingoda offers a 3-month learning challenge, known as Sprint. With the standard Sprint challenge, you'll need to take 15 classes per month, while the Super Sprint requires you to take 30 classes per month. If you attend the required number of classes on the Sprint option, you'll receive a 50% refund on your class fees, while those who complete a Super Sprint receive a 100% refund.
The next Sprint is due to take place in early 2022 and Lingoda recommends you join its waiting list if you'd like to take part. You'll receive further information on pricing when registration opens.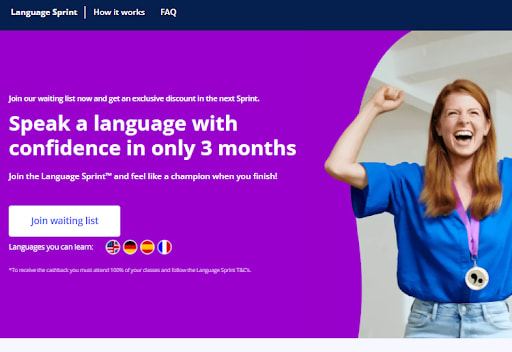 How does Lingoda work?
Classes last 60 minutes and take place over Zoom. You can either take private 1-to-1 lessons or join group sessions, which include 2 to 4 other students.
During group lessons, your teacher will run through lesson materials and encourage you to interact with other students. In addition to core grammar topics, teachers will explore subjects relevant to students' hobbies and careers. If you'd like to book a personalized lesson covering specific topics, you can do so via your online account.
All sessions are based on the Common European Framework of Reference for Languages, which has 6 levels and ranges from A1 for absolute beginners to C2 for advanced learners.
Overall, we found Lingoda's site easy to navigate, although the large number of plans available may make it difficult to select the right membership package for you.
Is Lingoda reliable and safe?
Lingoda has a rating of 4.5 out of 5 on Trustpilot, which is classified as excellent. Many of those giving positive reviews comment enthusiastically on the support of teachers and sense of community with other students. Despite this, a small minority mention having difficulty with the refund process.
We were unable to find any information on ratings or accreditation for Lingoda on the Better Business Bureau's site.
What's special about Lingoda?
One of Lingoda's most distinctive features is its cashback offer for students on Marathon plans who attend more than 90% of their lessons. If you're a dedicated learner, this arrangement could drastically cut your tuition costs.
And, unlike many of its competitors, Lingoda will provide you with a certificate as proof of your participation in the course. All certificates are in accordance with the internationally recognized Common European Framework of Reference for Languages.
Help and Support
You can contact Lingoda via online chat or through its online query form and should receive a response within 24 hours. When we contacted the company, we received an extremely polite and detailed response in under 2 hours.
If your query is more general, you could consult the comprehensive selection of FAQs on Lingoda's website, which provided most of the information we needed about the company.
Lingoda also has a blog, which covers topics such as the benefits of language learning and examples of useful vocabulary in various languages.
Lingoda Visit Site
Bottom Line
If you're eager to learn a new language but are struggling to fit lessons into a busy schedule, Lingoda could provide an ideal solution. As well as allowing you to join interactive sessions with other students, its 1-to-1 sessions offer personalized learning based on your needs.
While its prices may appear high at first glance, its price per lesson is, in fact, extremely competitive when compared with other language learning platforms on the market. In addition, you can benefit from attractive cashback schemes to reduce the cost of your fees if you regularly attend all your booked lessons.
Although the company doesn't offer telephone support, this is not uncommon for language learning platforms. One feature we would like to see Lingoda introduce, however, is the marking of homework, as these corrections can be extremely valuable in the learning process.
FAQs
Can Lingoda make you fluent?
Yes. However, the length of time it takes to become fluent will largely depend on the effort you put into your lessons. If you'd like to improve your skills as quickly as possible, Lingoda recommends that you set a consistent schedule for taking classes.
If you take part in one of Lingoda's accelerated Sprint challenges, the company claims you could learn to speak confidently in your chosen language in just 3 months. See the Optional Add-Ons section above for more details on Sprint.
Can I change my teacher?
You can learn from a different teacher in every lesson or remain with the same tutor for every session.
Will tutors correct my homework?
Although Lingoda provides homework exercises as part of its downloadable course material, it doesn't offer homework correction.