In a Nutshell
Mondly is a fun and motivational way to learn a language. It helps you learn words and phrases in a way that feels like playing a game. You can get 1 daily lesson free or subscribe to work through further modules at your own pace. You can also practice with a chatbot. While it might not be right if you're looking for more challenging material, if you're a busy learner looking for short bursts of study, Mondly could be a great choice.
pros
Free tier
41 languages, with app available in 33 languages
Feels like a game
cons
Free content is limited
Doesn't include more challenging material

Mondly Visit Site
Mondly Plans
You can use Mondly for free, or, to take advantage of the app's full features, you can subscribe. On the free tier, you'll be able to complete the introductory unit, a series of chatbot lessons, and a daily lesson that is updated each day, as well as a weekly and monthly recap. While the free content is useful as an introduction to a language, for most people it won't be enough on its own to enable real progress. More lessons and languages are unlocked with paid tiers, with no restrictions on daily use.
Free (Best for learners on a budget)
Monthly (Best for getting started with one language
Annual (Best for long-term commitment to one language)
Annual (all languages) (Best for language enthusiasts)
Weekly and monthly recaps
Further units (e.g. travel and business)
Recap previous daily lessons
How much does Mondly cost?
Although Mondly does have a free tier, to unlock Mondly's additional units, you will need to subscribe, either on a monthly or annual basis.
Plans are priced according to the length of subscription and the number of languages you want to learn. The annual subscription provides the cheapest monthly rate for a single language, although as of writing (May 2022), you can access all languages for the same price ($4.00/month).
$39.99/month (on sale for $4.00/month)
How does Mondly work?
Mondly can be used on your browser and as an app for iOS or Android. Its interface is designed to feel like a game; you'll be introduced to key vocabulary through images and sounds, and exercises will prompt you to swipe or select the correct answers. You can also take part in simulated chatbot conversations, both text and audio, including speaking your responses. These help embed the vocabulary you've learned.
You can set your level when you sign up to Mondly (beginner, intermediate, or advanced), and the difficulty of your Mondly exercises will increase over time. On the free tier, you'll get one daily lesson to complete, focusing on different topic areas such as hobbies, family, or food. If you complete all lessons for a week, you'll get a weekly recap, and the same if you manage to take your lessons every day for a month. This is a really motivating feature. However, it's worth noting that the free tier lessons only cover vocabulary and basic sentence construction.
With a subscription, you'll unlock further topics that you can progress through at your own rate. These include travel, entertainment, business phrases, and visiting the doctor. Each topic contains about two hours' worth of learning material. Plus, once you're subscribed, you'll gain access to the main Mondly app along with the Mondly Kids and Mondly AR apps.
Mondly Kids includes four topics particularly aimed at youngsters, so you can also get your family involved! Grammar topics are limited, and you'll also pick up some grammar through learning the phrases and sentences, but Mondly doesn't go into great detail on technical points. It also doesn't include more advanced reading or listening material.
Mondly AR (stands for augmented reality) is another app specially-designed to create a more immersive and interactive language learning experience. Besides a subscription, all you'll need to use Mondly AR is your mobile device.
Then there's Mondaly VR, a separate virtual reality app that you can use to explore more technologically advanced learning methods. Apart from the additional charge, Mondly VR requires the right headset to view the material.
Is Mondly reliable and safe?
Mondly has a largely positive rating on Trustpilot, with 54% rating it as "excellent" and only 18% rating it as "bad." Users like the fun and motivating learning method and the bite-sized nature of the short lessons. Some note that it can be difficult to cancel your subscription if you don't want to continue paying.
What's special about Mondly?
Mondly delivers language learning in easy-to-digest chunks, with activities and exercises that feel like games. As such, it's a change from more traditional learning methods. Incentivizing daily practice means it's easy to build a study habit, and it can help you build up your vocabulary and basic grammar.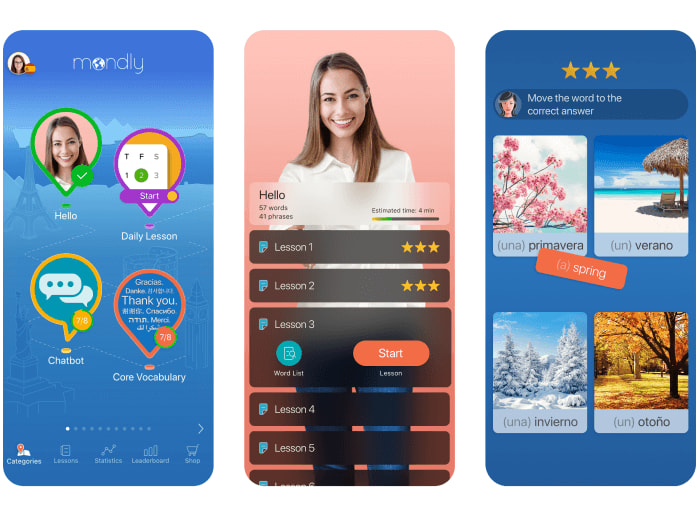 Help and Support
You can submit a support request via a form on the Mondly website, or by raising a ticket through the browser site or app. At this time, Mondly doesn't have phone support available.
Mondly's site is also quite limited in terms of FAQs, as there are only a few questions highlighted when you open support through the app. They do, however, have a blog with helpful language-learning tips.
Bottom Line
Mondly's learning method is fun and motivating, and in just a few minutes a day you can start building your knowledge of words and phrases in your target language. Even on the free tier, daily lessons will help you build a study habit. With a subscription, you'll have access to a range of topics to meet your needs, whether you're looking to learn words for travel or work.
Once you get to a level where you want to be engaging with longer, more in-depth material, Mondly's fast-paced and game-like style may not suit you, as it doesn't progress much beyond phrase and sentence level. But for getting started, or for busy learners who want a language-learning tool that fits into a packed schedule, Mondly is a great choice.

Mondly Visit Site
FAQs
Is Mondly any good?
Mondly has a fun and motivating learning method that will suit people who need smaller chunks of study delivered in a game-like style. For some people, the product may feel limited because once you've learned the basics of the language, you may want more challenging material. In this case, Mondly might be helpful alongside other more advanced tools.
What languages are in Mondly?
If you're a native English speaker, you can learn Afrikaans, Arabic, Bengali, Bulgarian, Catalan, Chinese, Croatian, Czech, Danish, Dutch, Finnish, French, German, Greek, Hebrew, Hindi, Hungarian, Indonesian, Italian, Japanese, Korean, Latvian, Lithuanian, Norwegian, Persian, Polish, Portuguese (European and Brazilian), Romanian, Russian, Slovak, Spanish, Swedish, Tagalog, Thai, Turkish, Ukrainian, Urdu and Vietnamese.
How long does it take to learn a language on Mondly?
Each language on Mondly has over 75 hours' worth of learning content. This can be pursued at your own pace. You'll also be prompted to take a daily lesson, which you'll need just a few minutes to complete. Mondly is therefore ideal if you only have a short amount of time to dedicate to language learning.