In a Nutshell
Like its well known CRM counterpart, Zoho Invoice is a freemium invoicing program primarily targeted at small businesses. It is an affordably priced solution that allows users to create estimates and invoices, log payments received, and compile a catalog of expenses. It's supported by 3 mobile apps—including a version for Windows Mobile. For those in search of a reliable and affordable solution, Zoho Invoice is a good choice.
pros
Affordable. 10 user tier is just $29/month
Branded invoicing on all plans
cons
Does not integrate with Zoho Inventory
Not the slickest UI on the market
Zoho Invoices at a Glance
Best for: Small business on a budge
Price range: Free to $29/month (Premium)
Apps: iOS, Android, Windows Mobile
Features and Add-ons
Customizable Invoice Templates
With Zoho Invoices, users are able to fully customize their invoices to get precisely the look and feel they want to represent their company.
Comments

Users can leave comments on invoices—bridging the gap between invoicing tools and CRMs. Where multiple billing team members are working together to issue invoices, this can provide a useful means of coordinating the effort and ensuring that the right information is annotated. Users are also able to attach documents for internal use only—such as credit term information which is not meant to be client-facing.
Item Library
Although Zoho Inventory doesn't yet integrate with Zoho Invoice—a longstanding point of frustration for many Zoho users—Invoice does contain a basic item manager which would be suitable for companies that simply want to itemize a few common items on invoices, and don't have a need to sync the information up with an ERP. To create entries, users enter an item description, choose a billing unit, and select the applicable level of sales tax.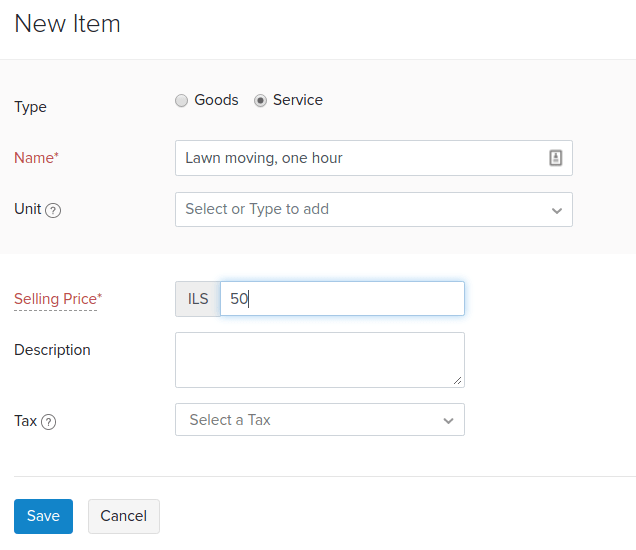 Timesheet Tracking
For those that need to generate invoices based on hourly billing structures, Zoho's implementation is based upon creating a project and then logging hours within it. Once users have done this they are able to decide upon the desired billing method for their project: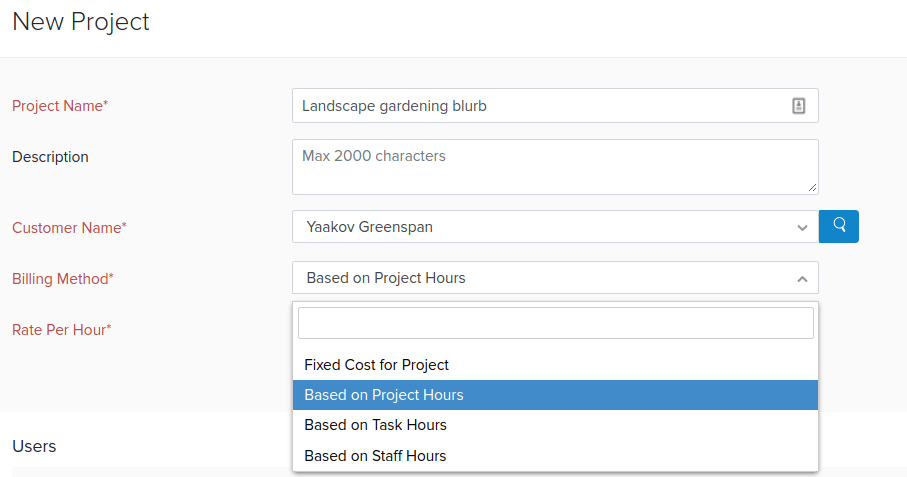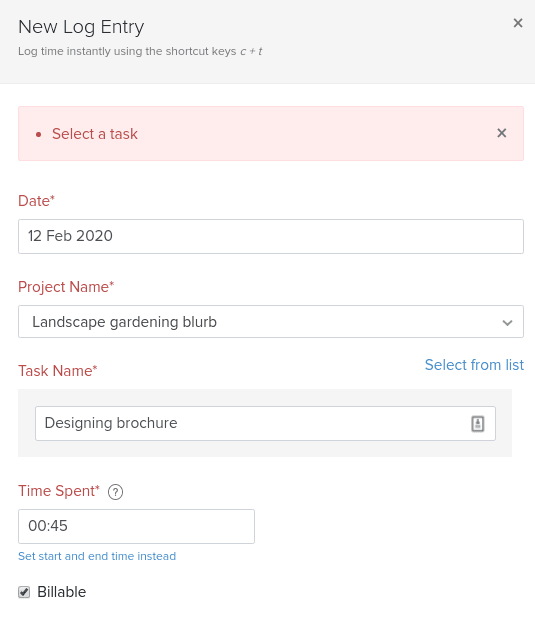 Projects that are task and hours based can be easily logged by using a popup timer that can be accessed from within Zoho Invoices.
Additionally, users can manually capture time entries and select whether it should be recorded as billable hours or not.
Recurring Invoice Creator
Users that are billing their clients on a retainer basis can also easily create these in the backend. To facilitate prompt payment, Zoho Invoice allows users to associate an order number with a certain invoice. Invoices can be set to repeat on a variety of bases ranging from weekly to every 2 weeks to once per business quarter (every 3 months).
Zoho Sign Integration
Invoice forgery is a growing concern for businesses around the world. Zoho Sign integrates seamlessly with Zoho Invoice to give customers the trust they need that the documents they are receiving are truly from the source they claim to be.
Multiple Currency Support
Zoho Invoice can support billing in multiple currencies. This is a must for companies that bill clients around the world.
Automation Builder
Marketing and sales needn't be the only parts of the company that can take advantage of the spread of automation technology. Zoho Invoice includes a Workflow Rule builder which can configure automatic actions that can speed up the client invoicing process.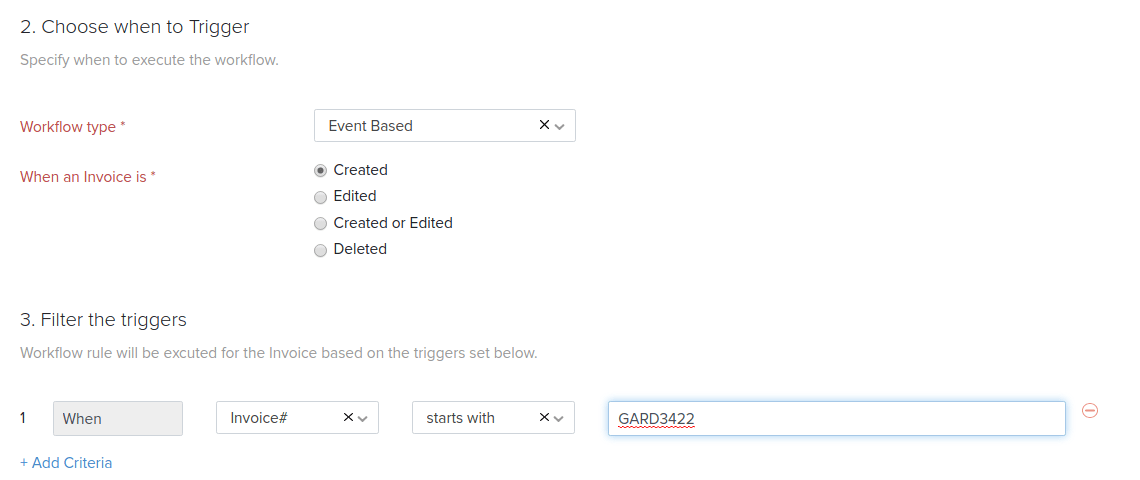 Users can set actions that take automatically when a variety of conditions are reached. These include:
The generation of invoices

Invoice due dates being within a certain number of days

The total invoice value being above or below a certain figure

Payment terms being less than a certain number of days
The actions that can be configured to occur include:
Sending email alerts to system administrators

Updating invoice fields

Calling custom CRM functions

Data Backups
Zoho allows users to back up all data created within Invoice including all outstanding and historical invoices, customer records, and file attachments associated with records.

Payment Options
Zoho Invoice gives users the option to choose from a variety of payments processors to pay for their invoices online.
In fact, relative to the competition, the selection of gateways the system works with is surprisingly large.
Customers can pay with:
Stripe

Paypal

Authorize.net

Paypal Payflow Pro

2Checkout

Worldpay

Forte

Braintree
Zoho is well known for its commitment to supporting users located throughout the world and this is reflected in its choice of payments partners. This includes offering PayPay Payments Pro which gives merchants the ability to build professional grade Ecommerce sites.
Pricing/Costs & Fees
Zoho Invoice can be purchased at 3 paid pricing tiers, and on both a monthly and an annual basis.
Monthly pricing, per organization:
Yearly pricing, per organization:
Free users get basic invoicing functionalities and customized templates.

Basic users get all free features and raise their invoicing limit to up to 50 monthly customers.

Standard users get Zoho Sign integration and can connect to Twilio.

At the top tier, Professional, organizations can connect up to 10 users to the organization.

Zoho Visit Site
Usability
Like most Zoho products, Invoice is very easy to set up and navigate through. Most functions for administrators can be accessed by clicking on the cog wheel at the top right hand corner of the screen.
In the administrators' view, users can create email templates and configure workflow automations. Most users, however, will simply need to use the invoice creation and time logging functionalities, which can be called from the left sidebar menu.
Invoice can also be customized. Users are able to change the look and feel of their invoices and choose from a library of 16 templates.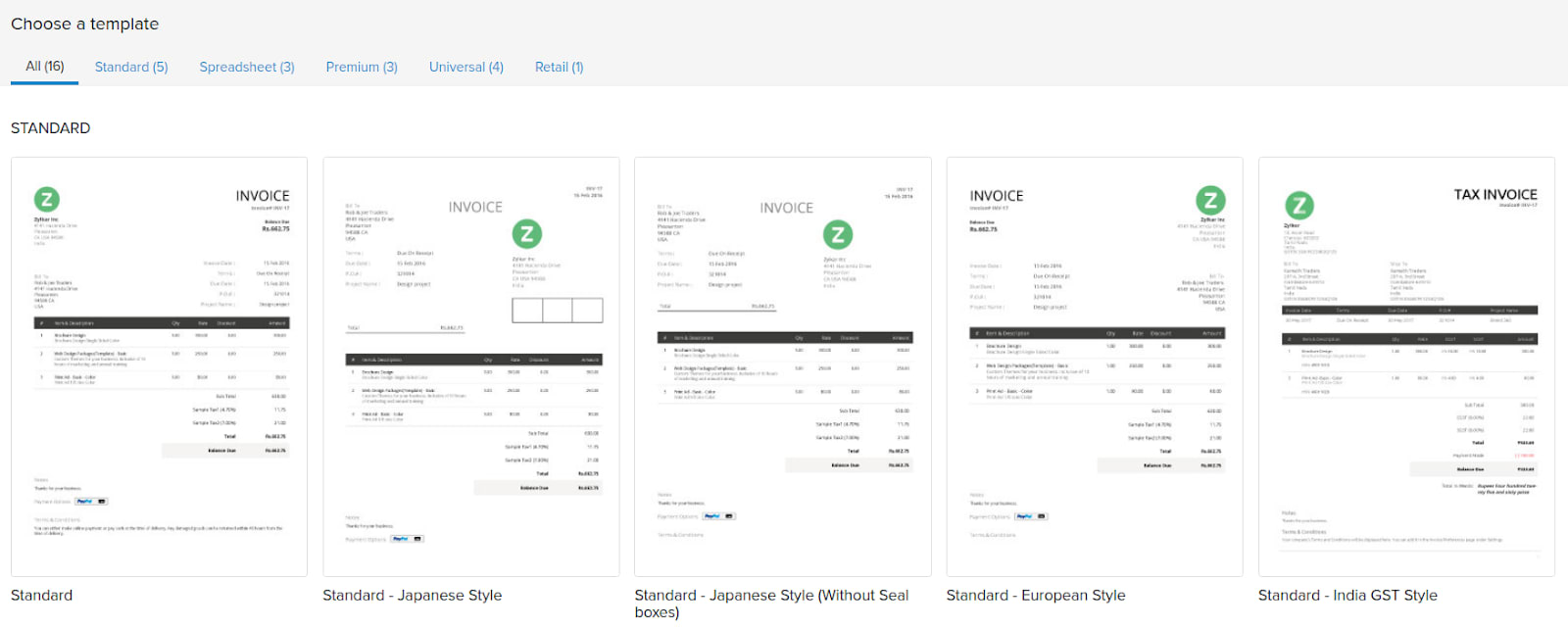 Those that are printing receipts for a thermal printer directly from within the platform can even choose from a pre-formatted receipt type for that paper size and format.
Conclusion
Zoho isn't the Rolls Royce of invoicing solutions, but for small businesses on a budget, this should provide all the necessary functionality. Its strong suit is its automation Workflow Rule builder which allows billing and accounting teams to get their hands on the type of powerful automation engines that have longer been the exclusive preserve of the sales and marketing departments.