In a Nutshell
Sage50cloud is the new name for Sage 50 Accounts. While the branding may have changed slightly, the same focus on usability and effectively compiling invoices for client billing thankfully hasn't. The solution remains a tried and trusted software among enterprise clients looking for a desktop software that connects seamlessly to the cloud—allowing users to effectively enjoy the best of both worlds.
pros
Desktop-based platform that is cloud-connected
Easy dashboard view of accounts receivable
Integrates with mobile apps
cons
Somewhat dated looking appearance
No free version

Sage 50cloud Accounting

Sage 50cloud Accounting Visit Site
Sage50cloud at a Glance
Best for: Enterprise customers and clients that prefer desktop programs
Price range: From $465.95
Apps: Sage Drive for instant access. Sage Tracker for access to key data.
Features and Add-ons
Sage 50cloud Accounting contains the following features:
Easy Order Listing
For accounting teams that need to have quick access to all previous customer invoices, 50cloud Accounting makes it easy to call up a complete list of all invoices and statements associated with a particular account. This integrates directly with the reporting functionality—making it easy for credit control and risk departments to identify customers that have exceeded the business's operational parameters: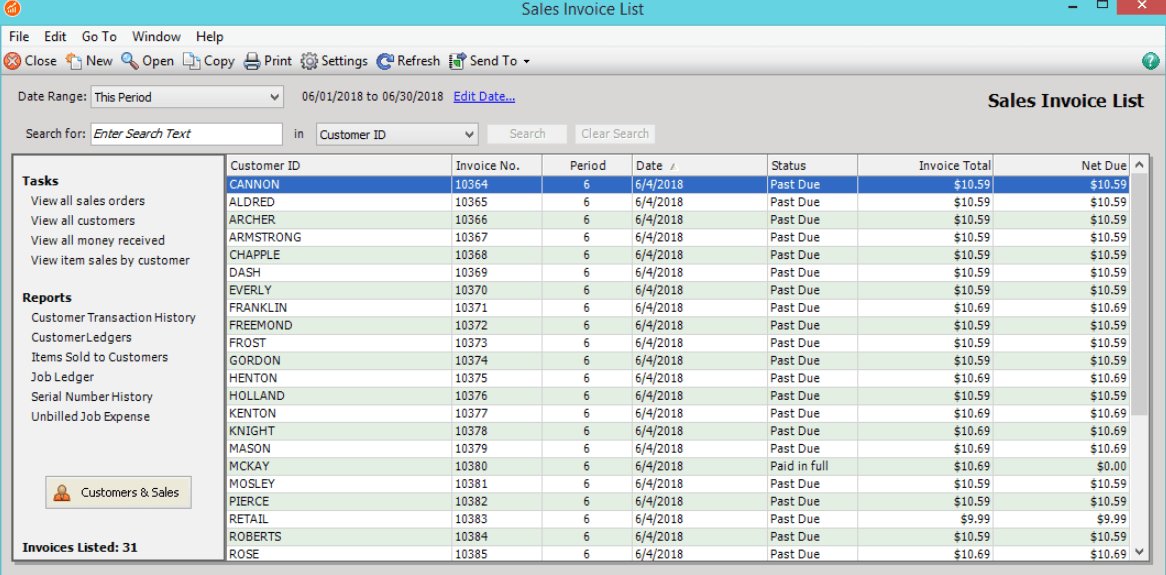 Customers can also call up a Customer Transaction History, as well as other reports, directly from the Sales Invoice List:

Complete Goods and Services Inventory
Regardless of what line of business you are in, manually entering information into invoices is a sure-fire way to waste valuable time and money.
Sage50cloud Accounting includes a very mature system for creating an inventory of all goods and services the company is selling.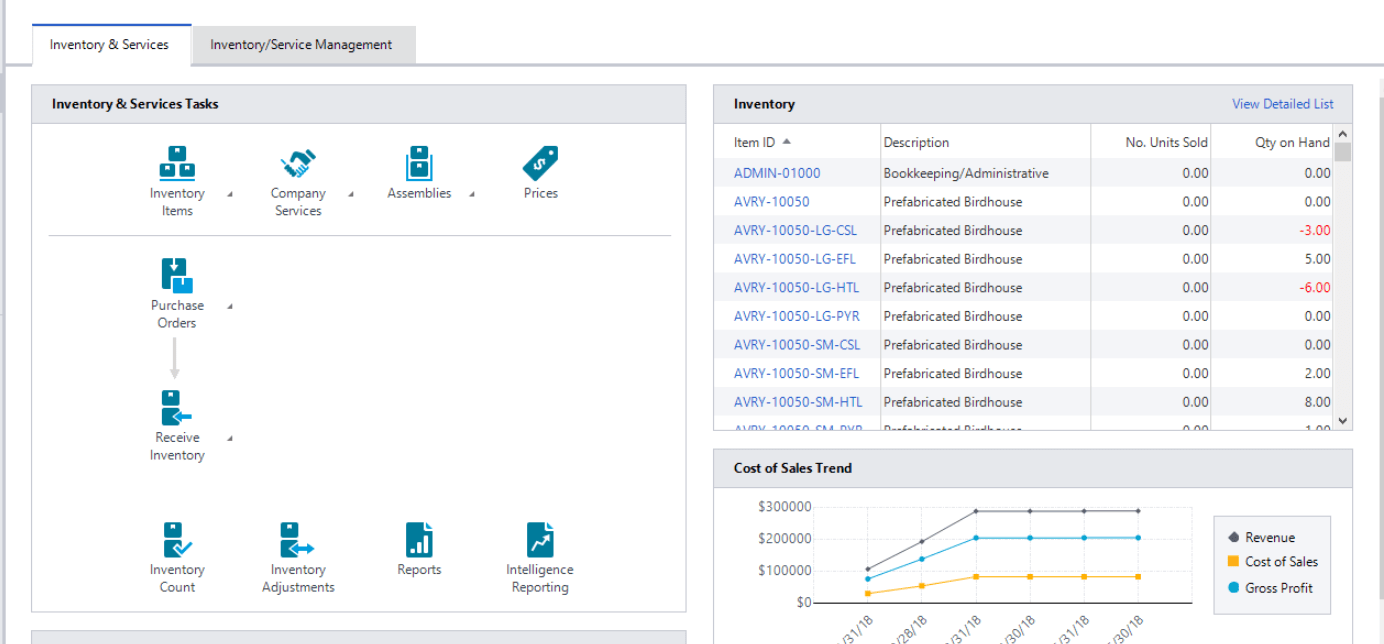 Each good or service is assigned an Item ID and (thanks to the seamless integration with the cloud) price changes made on the desktop version will be pushed out to all users on the account.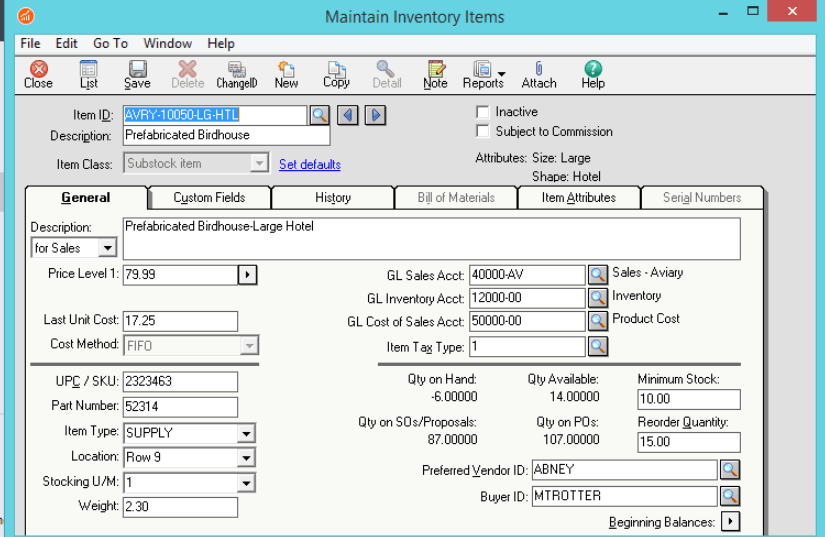 In addition to changing the pricing information, users are able to configure and adjust parameters such as:
Product shipping weights

The Stock Keeping Unit (SKU) associated with the Item ID

The part number
Additionally, users are able to configure custom fields to enable them to track information that is unique to their business.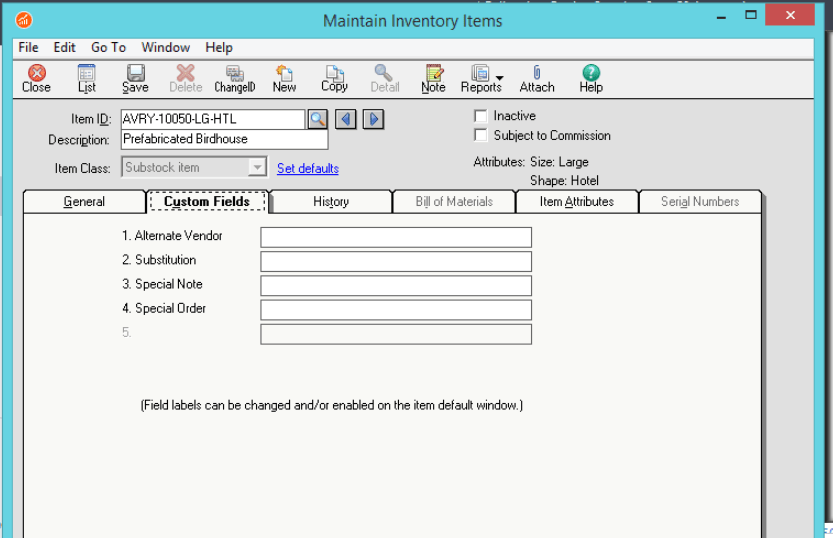 For instance, in our demo account we were able to configure an "alternate vendor" to help guide customers towards alternative selections in the event that it was out of stock in our "business."
Dashboard View
The front page of Sage 50cloud Accounting provides an overview of key business metrics. This is great for financial teams that need a high level overview of their credit control and financial performance.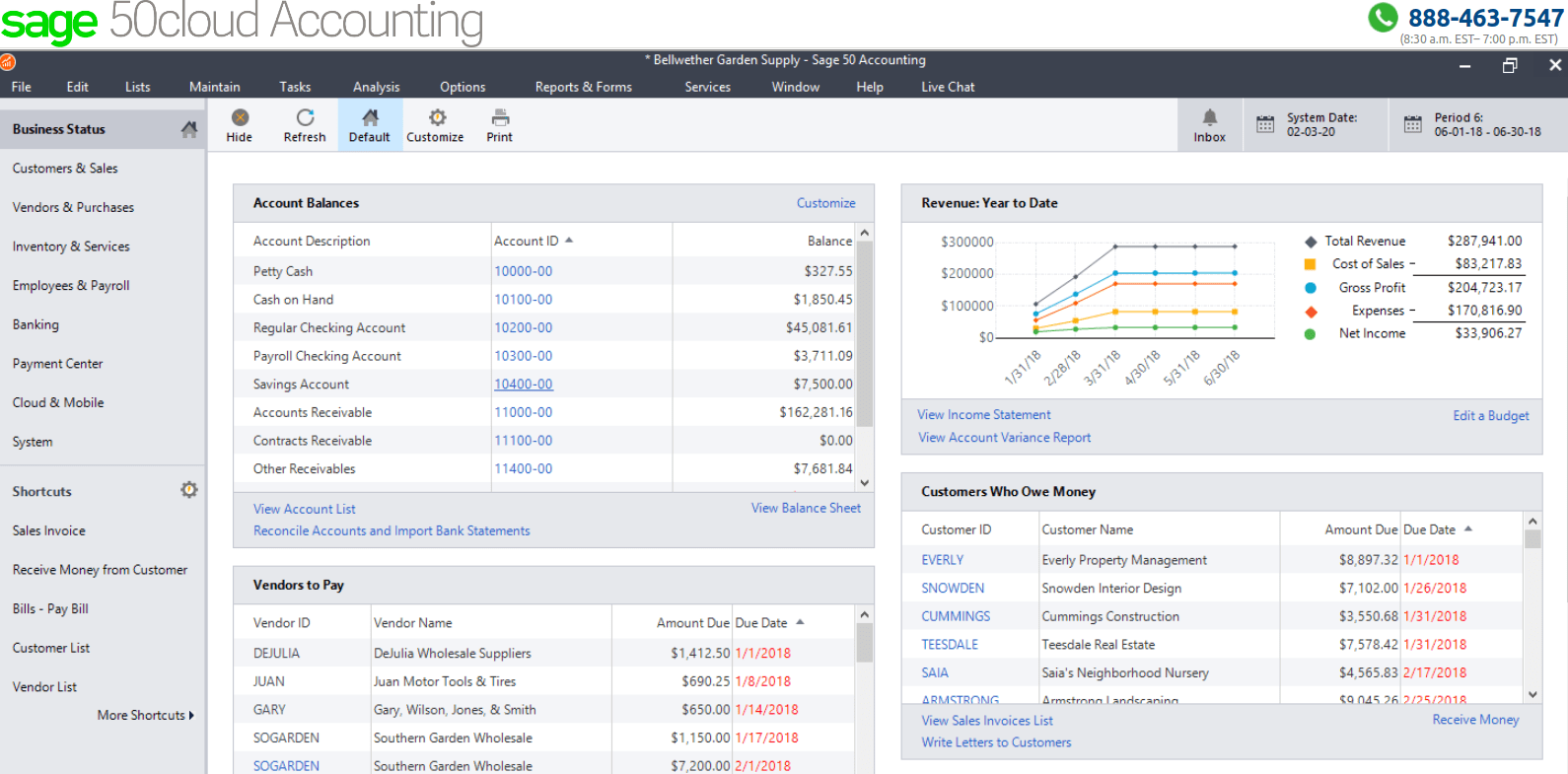 Dashboard widgets can be used to display:
Year-to-date (YTD) revenue

Total value of accounts receivable

Current account balances

Total money owed to vendors

Aged receivables with a pie chart breakdown with days since invoices overdue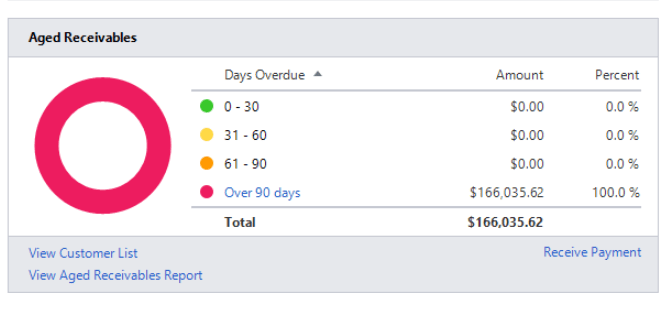 Users are also able to quickly call up any report saved in the system for examination. To do this, users can manipulate 2 drop downs to firstly choose the category the report is nested in and then select the correct report. It can then be either printed or displayed.
Microsoft Office 365 Integration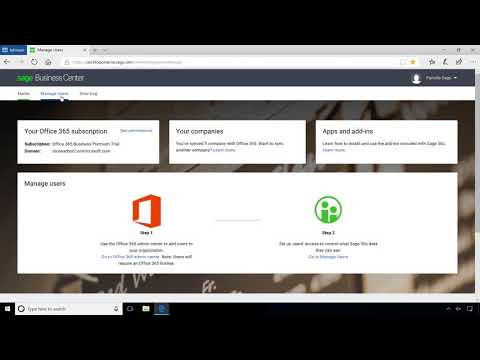 Sage 50cloud also integrates seamlessly with Office 365 making it easy to attach documents stored in cloud storage to invoices. Customer information can also be retrieved from within an Office 365 app—allowing users to craft emails and other client communications while attaching their latest invoices.
Additionally, user-access information for Sage can also be configured directly within the online Office 365 environment. This is a great advantage for organizations that have resources split between the cloud and local computing environments.
Sage 50 Marketplace
To make invoicing clients even easier, Sage 50cloud accounting can also connect with 11 applications from the Sage Marketplace.
These include:
Paya Payment Processing for payment processing and managing cash flow

Stripe for installing pay buttons directly on your invoices
Tax Compliance
Sage is a recognized industry leader in the field of compliance—particularly in working with businesses to ensure that they are ready for the Making Tax Digital (MTD) directive being introduced and implemented in the United Kingdom.
Sage Advice is an online knowledge center that the company has developed to help guide businesses toward staying compliant with a variety of taxation and data governance directives.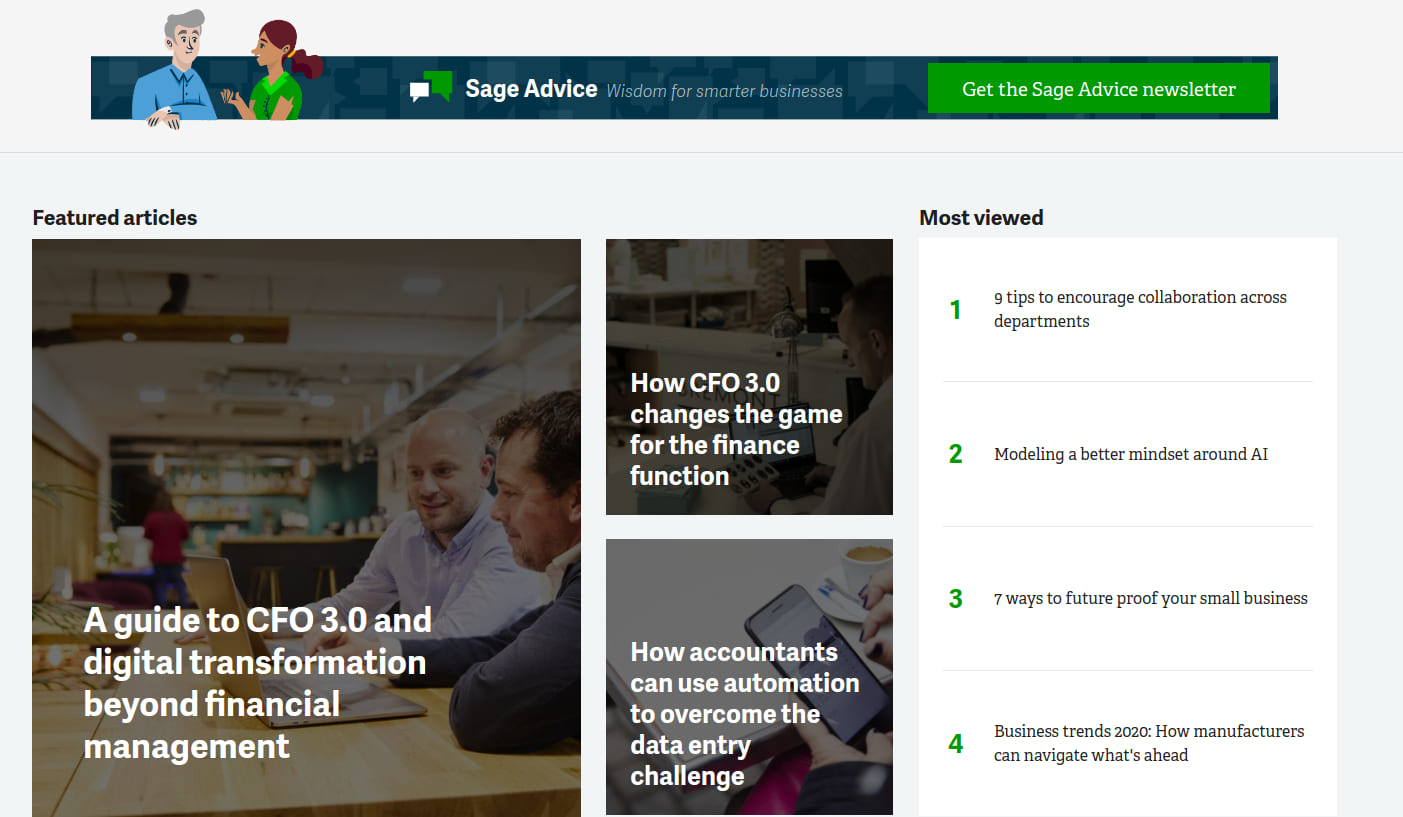 Sage 50cloud accounting customers can get information from the company's advice hub and reach out to Sage customer support to receive help and advice with any taxation and compliance issue.
Payment Options
Sage 50cloud accounting does not have a native payment gateway integration.
However, it does integrate with Stripe and Paypal, making it easy for users to pay their invoices online.
Once users have these integrations set up, customers are able to pay their invoices online through either of these gateways in just a few clicks.
The integration is seamless—so Sage will automatically generate a receipt and update the corresponding invoice as soon as a payment has been received.
All users have to do is click on the 'Pay Now' button which will be added to invoices sent via the system—or by email.
Pricing
Sage 50cloud is priced at 3 tiers: Pro Accounting, Premium Accounting, and Quantum Accounting.
Pro Accounting provides a basic set of remote access and invoicing features.
Those that upgrade to Premium Accounting receive the following extra features:
Job costing by phase and cost level

Transaction tracing

Advanced budgeting tools
Quantum Accounting users also receive:
The ability to manage multiple companies

Role-based security

Sage 50cloud Accounting Visit Site
Usability
The one negative we have to say about Sage 50cloud Accounting is that it isn't the slickest looking product on the market.
While this is to be expected in many tools targeted at serving the Enterprise sector, the look and feel of the desktop application could have been taken from a bygone era in personal computing: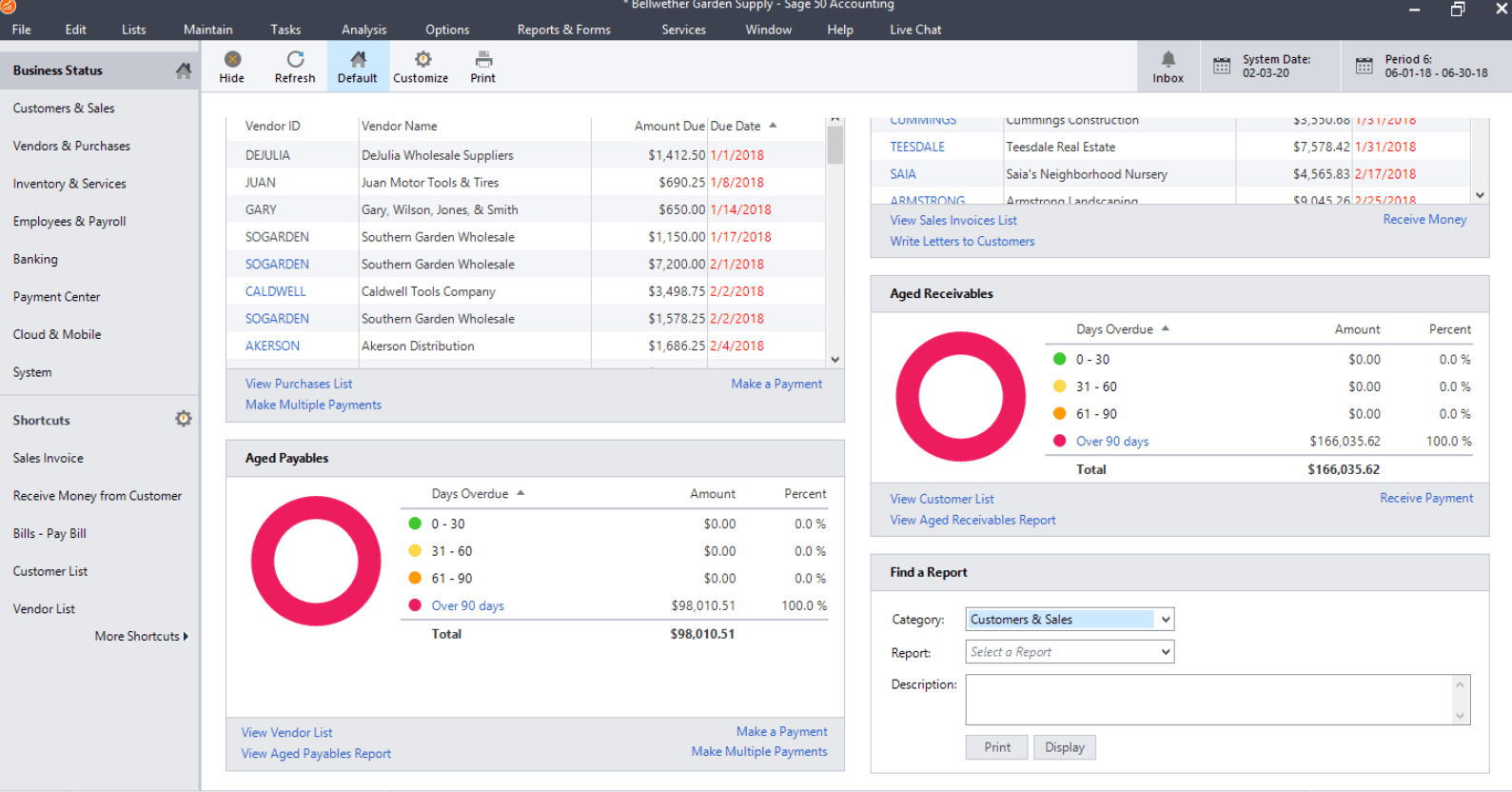 If you can get past the ugly cosmetics, though, there is a world of functionality beneath the hood.
Key functionalities are all embedded in the navigation menu to the left of the main display and modules throughout the program are linked together.
Conclusion
Sage 50cloud Accounting is a mature solution for enterprises that want an invoicing tool that takes advantage of cloud computing—while living within a robust desktop application. The appearance could be a little more polished, but we found abundant functionality which should satisfy the needs of the majority of accounting departments.
Screenshots