In a Nutshell
Connecteam offers a mobile app specifically for deskless teams, which have unique needs compared with office workers. The Connecteam employee management platform is easy to use and allows workplaces to communicate, train, and manage their deskless workers, even those without strong tech backgrounds. Headquartered in Israel, the company was founded in 2016 and today serves over 20,000 companies in more than 79 countries.
pros
All-in-one platform for deskless employees
Intuitive mobile platform
Full 14-day free trial with no credit card needed
cons
No forecasting and few options for reports
Live support only via email or online form

Connecteam Visit Site
Connecteam at a Glance
Best for: Companies with large deskless teams
Price range: Free-$159+ for the first 50 users
Benefits & HR: Integrated with Quickbooks Online for payroll
Automatic tax filing: No
Apps: iOS, Android
Features and Add-Ons
The Connecteam platform helps you foster strong communication between managers and deskless teams, so you can operate, engage, connect, and train through a mobile platform any worker can access, anywhere, anytime. The features of the platform are designed to help deskless employees, and they enable managers to do the following.
Track time in the Operations Hub. Employees can clock in easily and even add in notes, such as the tasks they're working on, while managers can produce digital timesheets.
See who is clocked in, and where, at any time with geolocation and GPS, which allow you to view worker locations on a map display in the app.
Manually update timesheets as needed and lock them when it's time for payroll.
Checklists and forms: Turn jobs into checklists for employees and give employees space to upload forms necessary for specific tasks.
Assign jobs, track progress, and share shift notes and attachments needed for a job with the job scheduling and task management functionality.
Allow employees to request absences from right in the app.
Allow workers to add images, complete reports, or sign forms in the app.
Create single, multiple, or team shifts or upload bulk shifts from an Excel file
Communicate in real-time between employees and management with built-in chat.
Schedule repeat jobs faster with templates.
Get real-time task reminders, notifications, team updates, and work competition updates.
Send push notifications and reminders to workers automatically.
Send company newsletters and communications across the company and track engagement rates so you can improve communications in the Communications Hub.
Look up team members and reach out with multiple communication methods with the organizational directory.
Schedule and track company events, including training, workshops, parties, and more.
Securely share business files with the Knowledge Base.
Publish surveys and polls in seconds to gather employee feedback.
Track employee license statuses and milestones.
Collect and store employee documentation in the HR & People Management Hub.
Create courses and test employee knowledge and compliance with quizzes with the mobile training option.
Offer recognition and celebrate employee milestones with badges, gift cards, and other employee rewards.
Customize the app with API access in the Enterprise Plan.
Get even more features with the Enterprise Plan, which includes a personal account manager, biometric app lock for the mobile app, and the option to privately brand the app.
Tax Compliance
Connecteam does not offer tax filing, but it does allow managers to easily track key employee documents, get detailed information about pay increases, and track hours accurately so they are ready to file taxes.
Payment Options
Connecteam has payroll features that allow you to make sure employees clock in and out and give you the ability to track employee time and get clear timesheets.
Integration with Quickbooks Online (QBO) payroll software allows you to use Connecteam to lock the relevant timesheets, click once to export them, and then wait just a few seconds for the timesheets to be integrated into QBO so you can take care of payroll. Connecteam even lets you easily calculate absences, paid time off, total hours, and overtime.
With QBO, you can pay employees by company-issued checks or personal checks, or you can print paychecks on QuickBooks-compatible paper checks. QBO also lets you pay employees by direct deposit.
Connecteam is currently working to integrate the platform with Gusto and Xero in the future.
Pricing/Costs & Fees
Connecteam offers a free version of their platform, which companies can continue to use indefinitely for up to 50 users, with no additional payment ever needed.
Most paid plans can be paid monthly or yearly, with a set price, while the Enterprise plan is a bespoke solution with custom pricing.
Basic
$47/month (monthly) $39/month (annually)
Advanced
$95/month (monthly) $79/month (annually)
Expert
$191/month (monthly) $159/month (annually)
API access and support for customization
Two-factor authentication for admins
All Connecteam plans are based on 50 users. For the Basic plan, additional users are $0.05/user/month if paying yearly and $0.60/month for each additional user if paying monthly.
For the advanced plan, the cost per additional user is $1.50/month if paying annually or $1.80/month if paying monthly. For the Expert plan, each additional user is $3/month on a yearly payment schedule or $3.60/month on a monthly payment schedule.

Connecteam Visit Site
Usability
Connecteam was started in 2016, when CEO Amir Nehemia, co-founder of MobiLesson, was asked by a manager whether his product could help owners determine how many employees they had. Nehemia realized that companies with many deskless workers faced big challenges with employee engagement, turnover, workers clocking in and out, and even basic communication.
Connecteam was created to help solve these problems, so usability is one of its key features.
The platform has an easy signup process. There is no credit card required, and the signup for a free, basic account or trial takes less than two minutes.
You'll need to input your mobile number, which allows Connecteam to send a text message with the mobile app download, but no other personal information is required. Once you sign up, a detailed walkthrough shows how to use each feature on the platform.
The dashboard is clean and easy to use, with a similar look whether you use Connecteam in your browser or as a mobile app. On the left-hand side of the dashboard you can click on "users" to see team members or "groups" to create or communicate with certain departments or teams. There is a "document" section for storing HR forms and documentation and a "recognitions" section where you can create, customize, and send badges to team members.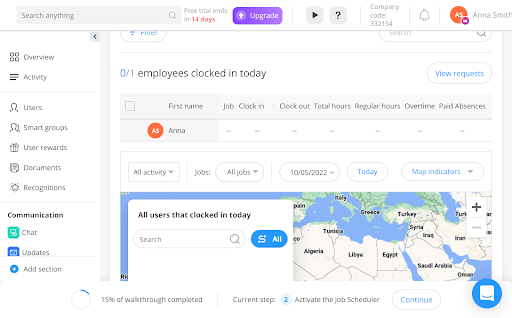 As you scroll down the left-hand side of the screen, you'll see options for "chat," "updates," "directory," "time clock," "forms," "job scheduling," "tasks," "surveys," and more. Clicking on these opens the corresponding Connecteam feature on the main screen, so you can communicate with team members, start a survey, schedule a job or task, and more. Each section can be customized, and you can change the overall dashboard by adding which sections and features appear on the left-hand screen.
There are two views in Connecteam: the admin view and the user's view. The admin view, for managers and owners, allows you to change time clocks and see every team member's work, location, and clocked-in time. However, you can also toggle over to a user's (that is, an employee's) view to see what team members can access.
This is a very clean screen with three main options for communication, operations, and skills. Using these three features, deskless team members can chat with team members, clock in, see their work tasks, and train, all from the same platform.
Conclusion
Connecteam is a feature-rich platform for deskless employees. Its main strength is the ability to easily manage worker time, timesheets, tasks, operations, communications, training, and operations when some workers are not in front of a computer. You can see where employees are and where they are clocking in from, and even send them a text if they've forgotten to clock in. You can customize the platform to build culture, keep track of documents, and more.
As long as deskless employees can access the internet, they can use the Connecteam app to chat, see their schedule and tasks, access work checklists, get recognition, and more, all in real-time.