In a Nutshell
Founded in 2011, Gusto offers cloud-based solutions such as payroll, employee benefits, and time management to more than 200,000 businesses in the US. As well as allowing you to perform unlimited payroll runs, the software can help ensure your business remains compliant with tax laws through automatic filing. Likewise, it can provide access to a wide range of employee benefits such as 401(k) plans and workers' compensation.
pros
1-month free trial
Unlimited payroll runs
Full of useful integrations
cons
24/7 customer support not available
Some features not available in all states

Gusto Visit Site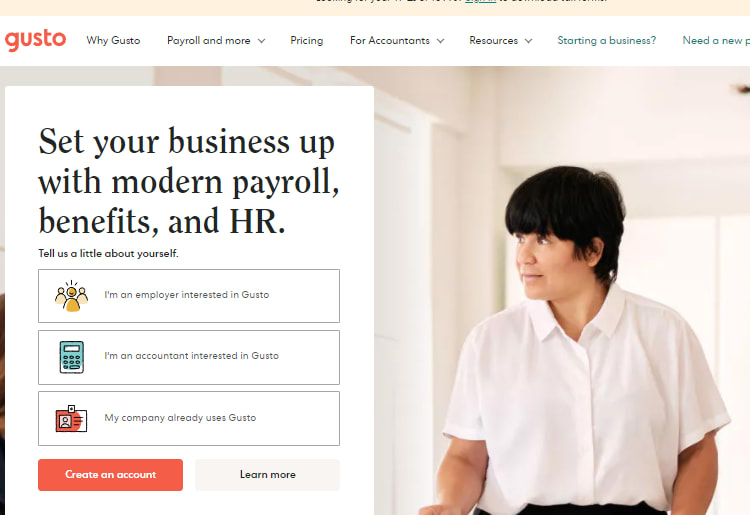 Gusto at a Glance
Best for: SMBs, especially those employing contractors
Price range: $39/month (plus $6/month per person) - $140/month, (plus $12/month per person)
Benefits & HR: 401(k), Workers' compensation, HSA and FSA, Health insurance administration, Dental, Vision, Commuter benefits
Automatic tax filing: Yes
Apps: Employee app on Android and iOS
Features and Add-ons
The software's key features include hiring and onboarding solutions, employee benefits, time-tracking tools, and a payroll management service that allows you to make unlimited runs. Depending on your business's specific needs, you can also apply to add the following to your plan:
Worker's compensation
Commuter benefits
Matching for employee charity donation
A cashout feature that allows employees early access to up to 40% of their paycheck
Certain features, such as cashout, and some health benefits, such as dental and vision, are not available in every state. It's therefore a good idea to check that all the tools you need are available in your region before you sign up.
As well as its service for businesses, Gusto also offers a Pro service that is catered specifically toward accounting professionals.
Tax Compliance
To help ensure you meet all relevant tax regulations, Gusto will automatically calculate, file, and pay all your federal and state taxes through e-file, e-sign, and e-fax technology. Likewise, it will issue and file relevant tax documents to both employees and contractors.
Key tax forms handled by Gusto include the following.
Form W-2
Form 8974
Form 941
Form 940
Form 1099
State and local forms
The software will also make automatic deductions for any pre-tax benefits your employees receive or garnishments such as child support.
Payment Options
If you sign up to Gusto, your options for making payments to employees will depend on the plan you choose. All plans allow you to make payments through paperless or printed checks and prepaid cards. Also known as prepaid debit cards, payroll cards allow employees to receive their funds directly to the card by entering their card's routing number and the account number in their Gusto profile.
Alternatively, you can pay your employees through next-day direct deposits if you choose the Complete, Concierge, or Select plans.
Pricing/Costs & Fees
If you'd like to subscribe to Gusto, you can choose between 4 plan types: Core, Complete, Concierge, and Select.
With bespoke pricing, the Select plan is aimed towards companies with a minimum of 25 employees, and its features will be crafted around your company's requirements.
A free 1-month trial is available for the Core, Complete, and Concierge service.
$39/month, plus $6/month per person
$39/month, plus $12/month per person
$140/month, plus
$12/month per person
Contact company for pricing details
Employee profiles and self-service
Gusto-brokered health insurance administration
Employee health and financial benefits
Time tracking and PTO management
Hiring and onboarding tools
Project tracking and workforce cost reports
Full-service payroll migration
Health insurance broker integration

Gusto Visit Site
Usability
With many users praising its simple and intuitive interface, Gusto could be an especially good choice for small business owners who may not feel particularly confident with new systems and different types of tech. With its use of large fonts and an accessible layout, the site feels friendly and welcoming, which can take some of the stress out of tasks such as payroll and tax compliance.
From an employee perspective, the Gusto Wallet app allows your staff members to manage paychecks, save money, and access funds in the event of an emergency. The app is available from both Google Play and the App Store.
In one of its most user-friendly features, the software has integrations with hundreds of other solutions. Some of the most popular include the following.
Workday
Xero
Zoom
Slack
Dropbox
Jazz HR
Breezy HR
Monday
Microsoft 365
QuickBooks
If you encounter any difficulties with the software, Gusto offers customer support via phone, email, or live chat. Customer service hours are 8AM-5PM (MST), Monday to Friday. Depending on the plan you choose, you could receive access to a dedicated customer team, as well as the company's HR pros, who have relevant HR qualifications and expertise in employment law.
Conclusion
If you're seeking to streamline your payroll and employee benefits, as well as making sure your business is compliant with all relevant tax laws, Gusto has a great deal in its favor. In addition to its full-service payroll solution, it has a sleek and intuitive user interface. Although the company doesn't offer 24/7 customer service, users can benefit from access to a dedicated customer support team who will be familiar with their business's needs.