In a Nutshell
Select Home Warranty is newer to the home warranty world, which makes it all the more impressive that it has such a large following. Select prides itself on fast, quality, and low-cost service, and from what we've seen, it certainly delivers on that promise. Select Home Warranty has lower premiums, higher coverage limits, and lower service fees than most competitors out there today. Let's see how Select HW stacks up in all areas of the job.
pros
High coverage limits
Plans for less than $30/month
2 months free upon signup
cons
Claims must be filed within 3 days
$75 cancellation fee

Select Visit Site
Select Home Warranty at a Glance
Systems, appliances, combo
All but 5 states (NV, NY, WA, WI)
Coverage
Select Home Warranty covers mechanical breakdowns of systems or appliances covered under your plan. Depending which plan you choose, you can get excellent coverage. With $500 for appliances and $2,000 for systems, Select has some of the highest coverage limits anywhere, so you will really be covered in the event of a breakdown. Another great thing about Select Home Warranty coverage is that the limits are per item, not per plan, so if your microwave breaks and so does your dishwasher, Select will cover up to $500 for each one.
Other coverage limitations include pre-existing conditions, mishandling of the item, or natural disasters. This is normal for the industry. One interesting difference between Select and competitors is that this company covers all types of homes (not limited to single-family homes), unlike other home warranty providers.
What Appliances and Systems Does Select Home Warranty Cover?
Select Home Warranty breaks up its coverage in a slightly different way than most home warranty providers. Instead of graduating levels of coverage for higher priced plans, Select separates plans into appliances, systems, or both. We'll discuss these more in the pricing section below, but we will say that this is a nice change that gives everyone the same level of service for the same price.
Aside from the items that are covered by your plan, additional item coverage can be purchased on an individual item basis and ranges from $39.99 to $99.95. These include pool, spa, central vacuum, sump pumps, second A/C, furnace, water heater, lighting fixtures, septic systems, and more.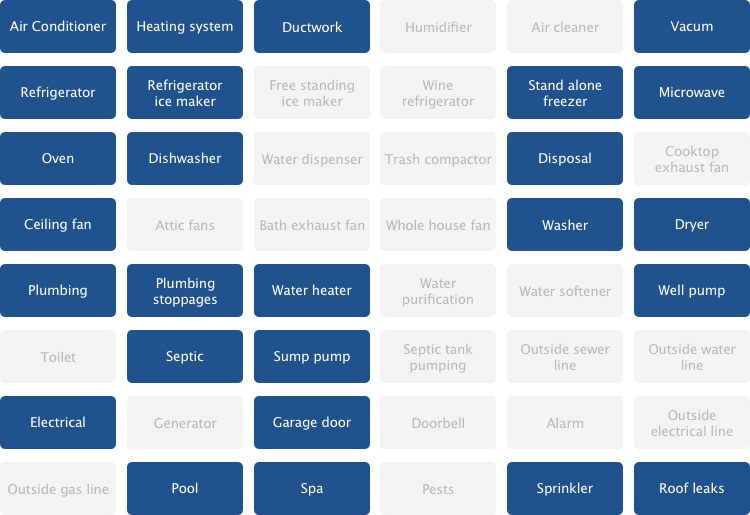 Pricing and Onboarding Deals
*Last updated: May, 2019
Select Home Warranty offers 3 pricing plans. Two of them are the same price, and you only pay more if you want the full coverage package, so you can really pick the one that works best for you. The Bronze Plan is meant to cover home appliances only, while the Gold Plan covers only home systems. If you want both coverages, you can sign up for the Platinum Plan. This is cheaper than buying individual plans. Plus, if you are already spending $379, adding another $70 to get everything covered makes the most sense for most homeowners.
Select plans come in a standard 12-month contract, but if you sign up for multiple year coverage, you will receive a discounted price from the list price. And if you use one of the Select promotional deals, you can get these plans for even less. At the time of this writing, Select was running a big sale that offered $100 off, 2 months free, and free roof leak coverage.
If you are confident in the condition of your home systems, then you can get away with the Bronze Plan. If you want those systems covered though, then the Platinum gives you the most value for your money.
Select lets you cancel your policy within 30 days of registration. This is a nice policy, but it gets even better. If you'd like to cancel after the 30 days, you can do so and will be refunded most of your payment, less $75 for a cancellation fee. This is more flexible and generous than other cancellation policies out there.
Contractors and Service
Select has a large network of contractors, an impressive feat for a relatively new company. You can only use in-network technicians if you want the service to be covered by your plan. When you notice an issue, you need to file the claim with Select. It will then process your claim, dispatch a contractor to assess the situation, and advise you on how to proceed.
Select Home Warranty has emergency services, and you can make claims any time of night or day with the 24/7 customer service. As is typical with this industry, non-emergencies will have a technician at your door within 48 hours on weekdays and within 4 days on holidays and weekends.
One thing we didn't love about Select was that you have to make claims within 3 days of discovering the issue. You must be sure to call a repairman as soon as the issue is found. The fact that you can file online or over the phone makes this feasible, even if it's a bit inconvenient for someone who's very busy.
Select pulls ahead of the competition, though with a low service fee of $60. This is lower than many other competitors, and you can really feel the savings each time you need a repair. Upon filing a claim, you'll need to prove that the item was in good working condition and well maintained before the policy started. Another nice thing about Select Home Warranty is that you aren't required to have a home inspection before you sign up for a plan. Coverage begins 30 days after the policy is confirmed.
How Does Select Home Warranty Compare?
Annual premium (starts at)
Workmanship guarantee (days)
90 for parts, 30 for labor
What Do People Say About Select Home Warranty?
"We just had our first claim experience. Our dryer broke down. I contacted Select the next day, they had the repair approvedwithin hours and the technician contacted me the next day to set up an appointment. No complaints thus far!" - Valerie G. Oct, 2018
"Had a plumbing issue, the online process of the claim was easy, they called me 30 mins later to finish it up. I had an appointment set within 24 hours to fix the issue! Great service!" - Fiona Nov, 2018
"I had to repair garage door opener and it was very smooth transaction. Just paid service fee and all done." - Hemant Jul, 2018

Select Visit Site
Bottom Line
Select Home Warranty has a good name in a difficult industry as far as reputations go. Covering most of the states across America, Select offers low premiums and high coverage limits, making it a great value for money. With a convenient online claims form, lucrative promotions, and flexible coverage plans, Select Home Warranty is one home warranty service that comes highly recommended.
About Select Home Warranty
Winner of the 2018 and 2019 HomeWarrantyReviews Best in Service and Editor's Choice awards, Select Home Warranty has built a solid reputation for itself in the few short years it's been in business. Select is a small company that is making a big impact on homeowners everywhere across the US and currently holds a B rating with the BBB.