In a Nutshell
Choice Home Warranty is a big name in the home warranty industry. It's been servicing homeowners for over 10 years, providing them with full systems and appliance coverage for reasonable rates. In addition to an easy to use claims process, Choice has one of the lowest service fees around. You can choose from 2 pricing plans and even add additional items coverage if you want. But is Choice Home Warranty the best choice for you? Let's find out.
pros
24/7 claims call hotline
No home inspection requirement
30/90 day service guarantee
cons
Not a lot of plan options
Several complaints filed with the BBB

Choice Visit Site
Choice Home Warranty is now offering enhanced coverage during the COVID-19 crisis.
Choice Home Warranty at a Glance
Systems, appliances, combo
48 states covered (except CA, WA)
90 days on parts, 30 days on labor
Coverage
Choice Home Warranty coverage is pretty comprehensive, covering all the major appliances and systems around your home. Coverage begins 30 days after enrollment and remains active for a full 365 days from that date (unless you sign up with one of the Choice Home Warranty deals that offer an extra month of coverage). This only applies if you are starting fresh with Choice Home Warranty. If you have an existing contract with another home warranty provider, Choice will activate your coverage from the day the old contract expires.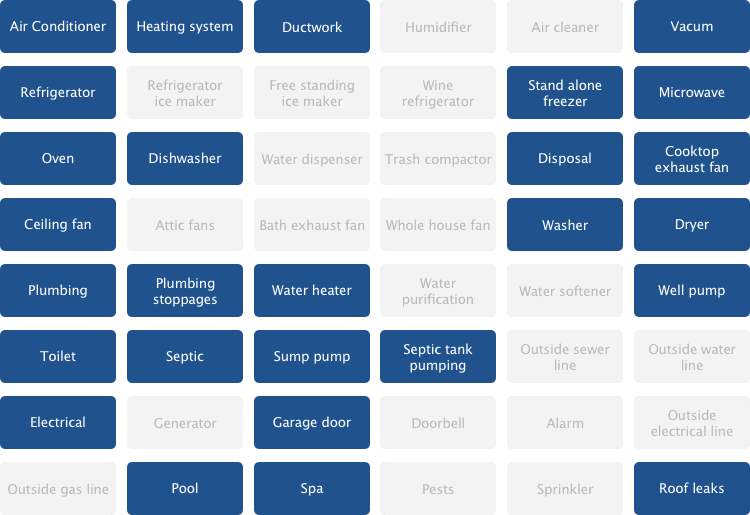 Here are the basics of Choice's coverage:
Choice doesn't cover pre-existing conditions, or misused or abused items, as is the industry standard. Additionally, this service doesn't include certain types of damage, including things like rust or mildew growth. Again, these are industry standards.
Choice Home Warranty covers single family homes, new construction homes, condos, townhouses, and mobile homes.
There are no annual caps on how many claims you can make.
Coverage includes systems such as:
HVAC (with the Total Plan)
Electrical
Plumbing
Plumbing stoppage
Ceiling fans
Ductwork
Sump pumps
Some appliances covered are:
Refrigerator (with TP)
Clothes dryers (with TP)
Washing machines (with TP)
Ranges
Ovens
Built-in microwaves
Garbage disposals
Garage door openers
Water heater
Whirlpool bathtub
Cooktop
Dishwasher
Additionally, you can add optional coverage for items such as pool or spa, second refrigerator, septic system, and standalone freezer.
What Appliances and Systems Does Choice Home Warranty Cover?
Choice Home Warranty covers all of the usual systems and major appliances within the 2 coverage plans. Additionally, you can add on optional coverage for items including:
Pool
Spa
Central vacuum
Well pump
Second refrigerator
Limited roof leak
Standalone freezer
Sump pump
Septic system
Septic tank pumping
Pricing and Onboarding Deals
Choice Home Warranty provides some of the most competitive pricing plans around. The one downside to this company is that it offers only 2 plans, a Basic and a Total. Truthfully, though, you don't really need anything else, and more options would probably just complicate the selection process. Here are the 2 Choice plans you can choose from:
*Includes 13 months. Single payment price. Pricing updated: May, 2019
Both plans come with a free month included in the price. Plus, you can get $50 off your total with the promotional deal that is running right now. Choice Home Warranty often runs promotions so that you can frequently apply discounts to your total.
Before you decide on the package that's right for you, Choice offers potential clients a free online quote. This lets you get an idea of how much your total home warranty will cost. Plus, Choice Home Warranty lets you cancel your contract at any time for the first 30 days for a full refund (minus a $50 administrative fee). This is very reasonable and more flexible than other companies.
Honestly, the Total Plan is the real value for money option. It includes coverage for the really major appliances and systems like refrigerator, washer, dryer, and air conditioning systems. Since these are the items you use most frequently around your home, they're the ones you really want coverage for the most. So, the Total Plan is your best bet.
Contractors and Service
Choice has a huge network of contractors, so it can provide faster service to anywhere in the US. This company doesn't publish an exact number, but clients have testified to always receiving fast service, a sign that there are plenty of workers to go around. What's more, Choice Home Warranty is rigorous about its technician checks and only employs qualified contractors.
Customers can submit a claim 24/7/365, even on holidays. When a claim is made, Choice will send a contractor within 2 business days during normal business hours and within 4 days on weekends and holidays. However, if it is an emergency, Choice will expedite the service.
The service fee is $85 per claim regardless of how much the actual cost of repair is. That's generous, considering appliance repairs can often run several hundreds of dollars. What's more, Choice lets you pay less than the $85 service fee if the parts and repairs total less than that amount. That is a really nice gesture on the part of this company. If an item that needs to be replaced is not available, Choice will reimburse you in cash for the item.
Choice requires you to show some sort of service or maintenance record when submitting a claim, but you do not need to have a home inspection done before you can get a home warranty plan.
How Does Choice Home Warranty Compare?
Workmanship guarantee (days)
90 for parts, 30 for labor
What Do People Say About Choice Home Warranty?
"Professional, courteous and quick service. Service people are knowledgeable, respectful and very professional." Vanessa Davis, March 2019
"My plumbing problem was fixed within 20 minutes ... Couldn't be happier!" Baarbara Spenks, March 2019
"Orlando was phenomenal. Such a professional who knew exactly what to do." Roz Tandy, Feb 2019

Choice Visit Site
Bottom Line
Choice Home Warranty is a well-known name in the industry and has been operating for over a decade. With competitive pricing, a huge network of contractors, and fair coverage, it's easy to see why.
About Choice Home Warranty
Based out of New Jersey, Choice Home Warranty offers home warranty coverage to most areas around the United States. The company nets more than $100m in sales every single year, a testament to how popular this home warranty provider really is. Choice currently holds a B- rating with the Better Business Bureau and strives to continue improving on its service.