In a Nutshell
Singles50 is a dating site for mature singles. It's more expensive than competitors but offers personality inventories, icebreakers, video and instant messaging for paid members, and an iOS app. Paid members may find the personality inventory and icebreakers are helpful for finding compatible matches, but without access to photos or messaging, free members are unlikely to find love.
pros
iOS app
Personality test for matching
Numerous icebreaker options
cons
Most activities require a premium subscription
No photos with free membership
No Android app
Singles50 Visit Site
Best For
Mature relationships
Number of Members
1 million
Favorite Features
Personality test for matching

Video call availability
Video Chat
Yes
How Much Does Singles50 Cost?
While Singles50 offers a free version, the Premium Membership upgrade is required for most of the site's features. Options include Committed, Basic, or Classic options, which vary in price and duration.
Singles50 is higher than the industry average and competitor pricing. Its best-selling membership is the 6-month Classic plan, which has the lowest monthly cost.
What Can You Do with Singles50 for Free?
The free edition of Singles50 gives you 3 algorithm-generated matches each day once you've uploaded an approved photo, which you can either accept or reject. You can like other algorithm-suggested profiles or answer the 3 icebreaker questions they selected. You can also send one of the following emojis: smile, big smile, wink, kiss, wave, or big wave. These actions will automatically send a message to the potential match, but unless you both have a premium membership, you'll be unable to message one another. It's therefore unlikely you'll be able to get a date with a free account.
Premium Features and Upgrades on Singles50
Upgrading to a premium account will enable you to make video calls and send unlimited messages to other premium members. You'll be able to view profile photos and see who's viewed your profile with a paid membership.
How Singles50 Works
Singles50 is designed to help mature singles meet their ideal partner by matchmaking members based on a personality inventory completed during the registration process.
How to Sign Up for Singles50
First, you'll select if you are male or female and if you're interested in meeting a male or female. There is no option available for bisexual or other sexual orientations.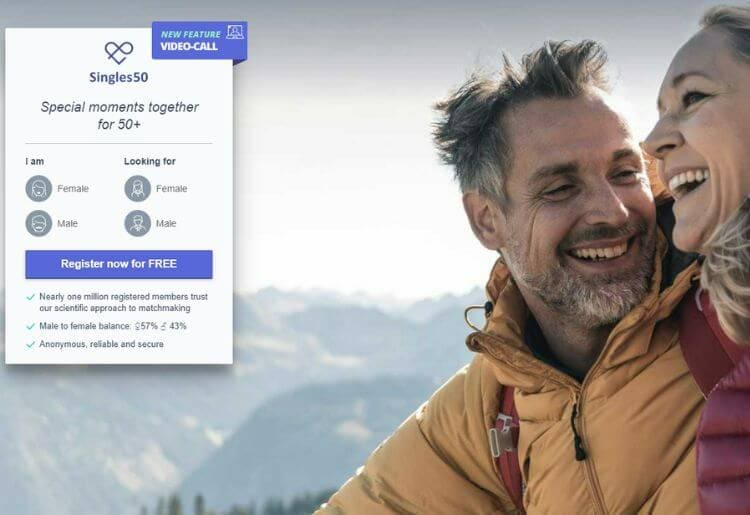 Next, you'll enter your name, followed by your date of birth, and fill out a personality inventory that includes questions such as "Do you seek advice from your friends/family when choosing a partner?"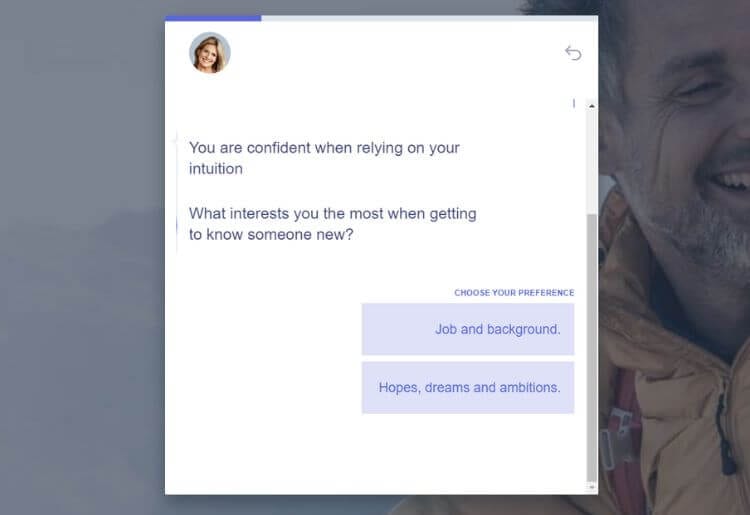 Setting Up Your Profile on Singles50
Setting up your profile on Singles50 is simple. First, you'll choose at least 1 approved JPG or PNG photo up to 10MB. Photos cannot contain explicit content, violence, contact information, children, comics, celebrities, animals, or landscapes. You'll have the option to upload 4 other photos from your computer, but you won't be able to upload from social media.
Next, select your hair color, eye color, height, and body shape followed by up to 3 icebreaker questions from a list.
Then, you may indicate your education, religion, occupation, income, smoking and drinking habits, and whether or not you have children or pets living with you. You can further customize your profile to include your favorite foods, holidays, sports, leisure activities, music, movies, TV shows, and books.
Finally, you'll be able to complete a more in-depth inventory of your preferences and interests. You can answer questions about how you live, the kind of relationships you enjoy with friends and family, and even disclose your goals for the future. The algorithm matches you according to your self-reported lifestyle preferences.
Once you've set up your profile, it's easy to find matches on Singles50.
How to Find Matches on Singles50
The matching process on Singles50 is straightforward and user-friendly. You'll have the choice to review daily matches or to do an independent search of dating profiles.
The information you entered will result in 3 algorithm-selected daily matches. These will show on your homepage on the right hand side of the screen under "Is it love at first like?" These are the matches with the highest level of potential compatibility. To the left, you'll see other suggested matches based on your personality profile screening. It will show a match score of up to 100% as well as how many profile similarities you share.
You can filter matches by age range, height, education, income, location, drinking and smoking habits, children, and religion. To select a match, you'll click on a profile and then complete the icebreakers, send an emoji, or like their profile. When you get a match, you'll be notified under Mailbox on the website as well as by email.
To communicate with matches, you can send them an instant message or set up a video call. However, these options are only available if you're both paid members.
Safety & Security
Singles50 assures you that your data is protected and never sold. The FAQs document states that your personal information is not shared without your express permission, which includes your payment information. This is explained in detail in their Privacy Policy. For instance, payment information is forwarded to an external payment provider using a secure server. However, the site does not address any additional issues for dating safety and security on or offline, and there's no indication that profile photos are verified.
Singles50 App
Singles50 offers a free, user-friendly iOS app that is compatible with iOS 14.0 and later models. An Android app is not currently available.
The app is easy to navigate. Yet, like the website, you won't be able to access profile photos without paying a monthly fee. You'll still be able to read profile information, send likes and emojis, and answer icebreaker questions. However, to get any further, you'll have to commit to a paid plan.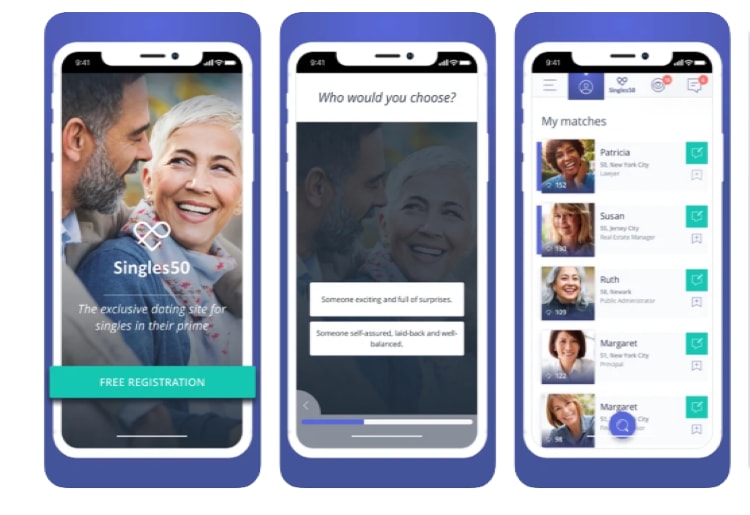 Singles50 Customer Service
Singles50 lists only 1 customer service option. You can email them at customerservice@singles50.com. You'll receive an immediate automated response with a ticket number. This message advises you that emails are responded to in the order that they are received and multiple submissions will move you to the back of the queue. A timeframe is not given for replies.
For more about Singles50's policies and procedures, visit the FAQs page and the Privacy Policy.
How to Cancel or Pause a Singles50 Subscription
You may cancel the service to stop future payments, but refunds are not available. Singles50 states that it may not be possible to immediately cancel your plan during the processing time that follows your enrollment, and you must wait a few days for the records to update. The terms and conditions state that you must cancel at least 14 calendar days before the next billing date.
To delete your profile and cancel your membership, go to Settings and then Manage Your Premium Membership or Delete Your Profile. Note that deleting the app will not delete your profile or cancel your membership. You can also email customer service to stop your membership or delete your profile within the required timeframe.
How Singles50 Compares to Other Dating Sites and Apps
Singles50 vs Ourtime
Singles50 and Ourtime both have around 1 million members, a free app, and are best for mature relationships. However, Ourtime offers Android compatibility, a lower monthly cost, and a page devoted to safety tips.
Singles50 vs SilverSingles
Singles50 and SilverSingles have many similarities including an audience of mature singles and an app. SilverSingles offers Android compatibility, but Singles50 offers a lower rate for a 3-month plan at $39.99 and slightly more members. One advantage to SilverSingles is its blog, which covers dating, lifestyle, and relationship advice.
Singles50 vs Zoosk Seniors
Zoosk Seniors may offer more benefits to mature singles than Singles50. It has over 3 million members, a competitive monthly cost for premium members, and both an iOS and Android app. It also offers video dating, dating and relationship blogs, and safety tips for single seniors.
Does Singles50 Work?
Without a paid membership, you're unlikely to ever get a date on Singles50. You won't be able to see photos or message members. With the paid membership, it's easy to connect to other members online, provided you can find them in your area or are agreeable to a long-distance relationship.
Additionally, Singles50 still lacks Android compatibility and has fewer members compared to other apps for mature singles. The greatest drawback is that you don't get as much value for money as you do with other sites, some of which even allow you to view full profiles without a paid membership.