In a Nutshell
Premier Auto Protect's plans are worth a shot for any driver. The plans come with a number of unique features, including a 30-day money back guarantee, a referral program, and 24-hour roadside assistance. Additionally, Premier Auto Protect's warranties are accepted at any Automotive Service Excellence (ASE)-certified repair facility. Judging from past customer experiences, making a claim with Premier Auto Protect is a smooth process.
pros
30-day money-back guarantee
Accepted at any ASE-certified repair facility
24-hour roadside assistance in case of a breakdown
cons
Not enough reviews online from past customers
Limited information on the company site

Premier Auto Protect Visit Site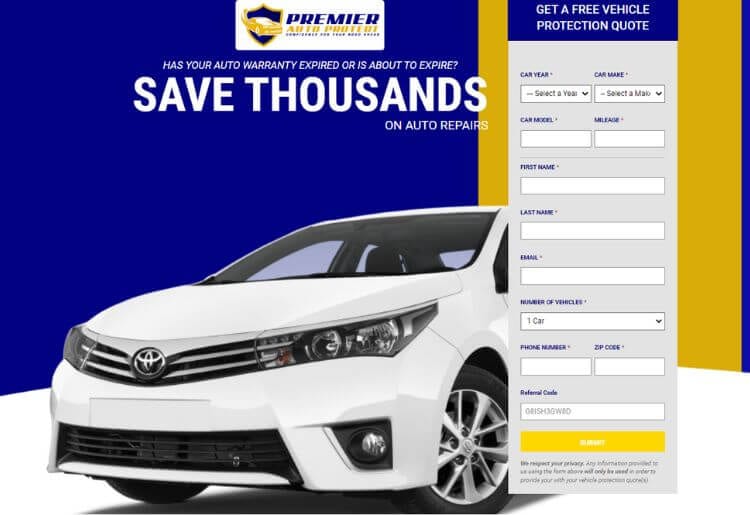 Premier Auto Protect Plans
Premier Auto Protect offers six warranty plans: Premier Basic, Premier Value, Premier Complete, Premier Exclusionary, Premier Superior, and Premier Ultimate. The best plan for you depends on your car's status and personal needs.
The table below details all the plans Premier Auto Protect offers and what they cover.
Premier Basic
(best for drivers on a budget)
Premier Value (best for teen drivers)
Premier Complete (best for drivers looking for affordable full car coverage)
Premier Exclusionary (Suitable for cars up to 8 years or 100k miles)
Premier Superior (best for used cars)
Premier Ultimate (best for luxury car owners)
Steering (Manual or Power)
The exclusionary plan covers more than is listed above, but you would have to speak to customer service to find out what your car qualifies for.
Optional Add-Ons
Premier Auto Protect doesn't offer any optional add-ons on its plans.
Plan Exclusions
Premier Auto Protect's website doesn't state what is excluded from their plans. However, the contract we obtained from requesting a sample quote listed the the following exclusions:
Glass & body parts

Light bulbs

Paint

Batteries (including cables/harness)

Physical damage

Convertible tops

Upholstery (including heaters)

Anti-theft system (not installed by the manufacturer)

Trim or moldings (including interior and exterior trim, body side, and weather strips)

Lenses (including LED)

Sales tax

Manual clutch

Brake rotors and drums

Exhaust system (including catalytic converter)

Shock absorbers (including air shocks or air struts)

Passive restraint systems (including seat belts and airbags)

The maintenance services and parts described in the vehicle's manufacture schedule

All belts

Sealed beams

Rust/corrosion

Throttle body (except injectors)

Cellular telephone and other electronic transmitting devices (not installed by the manufacturer)

Other normal maintenance services and parts including but not limited to: engine tune-up, wheel alignment, wheel balancing, filters, all fluids, spark or diesel, glow plugs, brake pads and shoes, rubber hoses, fuses, and tire pressure sensors.
The above exclusions apply to the Exclusionary Plan. Other plans will have a different set of exclusions.
Premier Auto Protect Plan Pricing
Premier Auto Protect doesn't provide an approximation of their pricing and service fees on their website. To find out what your plan will cost, you should request a quote on the company website. To get a feel for how much Premier Auto Protect warranties cost, we requested a quote for two of the most popular cars on the market: a 2015 Honda Accord with a mileage of 50,000 miles, and a 2018 Ford F-150 with a mileage of 50,000 miles.
This is the response we received from Premier Auto Protect:
2015 Honda Accord, 50,000 miles
2018 Ford F-150, 50,000 miles
How to file a claim with Premier Auto Protect
Filing a claim with Premier Auto Protect is an easy, direct process. Simply bring your car to a repair facility of your choice and present the service professional with your Premier Auto Protect information. Premier Auto Protect will pay for the repairs with the company credit card over the phone and you'll cover the deductibles, if there are any.
Unlike other warranty providers, no paperwork is required to make your claim and there is no need to make a payment that is later reimbursed. Finally, Premier Auto Protect doesn't put a limit on the number of claims you can file.
Is Premier Auto Protect Legit?
Yes, Premier Auto Protect is a legitimate operation. The company has a 3.7 star rating on Trustpilot based on one review, however another user gave it five stars and described Premier Auto Protect as a reliable auto-warranty provider. The reviewer states that they have two warranties with the company and says that making claims is very easy despite living in a small town.
Furthermore, Premier Auto Protect has a Better Business Bureau (BBB) rating of 5 stars. The company has zero complaints filed and one very positive review:
"Quick process. I got the policy in less than two hours. The policy was at a very reasonable price that I could afford. The advisor was also very friendly and patient. I will definitely recommend Premier Auto Protect to my friends."
-Brian R. May, 2022.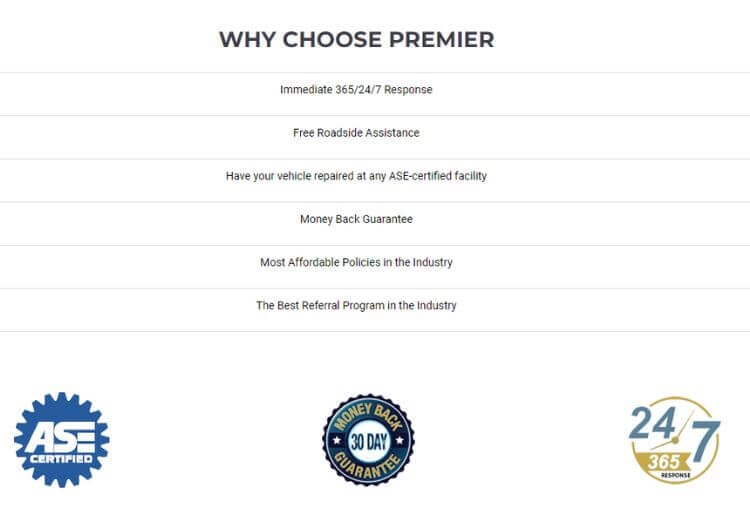 What's Unique About Premier Auto Protect?
The most unique feature about Premier Auto Protect is the 30-day money back guarantee. The company gives you a full month to change your mind about their service and if you do, you get 100% of your payment back.
Another unique aspect of Premier Auto Protect is their availability in all ASE-certified facilities. This makes the warranty acceptable in nearly all repair facilities, since most reputable auto-repair shops are ASE-certified.
Finally, the referral program is another stand-out feature from Premier Auto Protect. For every new customer you refer to Premier Auto Protect, you get back 10% of whichever premium you have paid to date. To refer someone, simply email refer@PremierAutoProtect.com and CC the person you're referring. At this point, your job is done and all you have to do is wait for your referral to sign on to get your refund.
Help and Support
To reach Premier Auto Protect's customer support, call the customer service helpline at 1-888-501-0094 or email info@PremierAutoProtect.com. All calls are toll-free and you should receive a response to your email within 24 to 48 hours.
For frequently asked questions, the company website has a dedicated FAQs page. Overall, the page sufficiently answers the common questions warranty customers have. However, it doesn't cover any specific cases.
If you have a question particular to your situation, you should reach out to the customer service helpline for assistance. No blog pages or other information resources are available on Premier Auto Protect's website.
What about the Premier Auto Protect app?
Unfortunately, Premier Auto Protect doesn't have an app.

Premier Auto Protect Visit Site
Bottom Line
Overall, Premier Auto Protect is a legitimate operation worth your consideration. While the company doesn't have that many reviews, the few that are available all agree that it has a remarkably smooth claims process. In addition to its easy claims process, Premier Auto Protect also has unique offers such as the 30-day money-back guarantee and referral program that make it a favorable warranty provider. The one area the company is lacking in is information resources on its website and third-party review sites. They however make up for this with a quick turnaround time on customer service requests. In our experience with the company, all inquiries were sorted in no more than a day, some as little as 2 hours.
FAQs
Can I choose my own mechanic with Premier Auto Protect?
Yes, you can choose your mechanic with Premier Auto Protect. As long as your mechanic is ASE-certified, they should be able to accept your Premier Auto Protect warranty.
What is Premier Auto Protect's cancellation policy?
Premier Auto Protect's warranties can be canceled at any time. If you cancel within 30 days, you'll get a full refund on your premium. However, if you cancel after 30 days, you get a prorated refund for the unused portion of your policy.
How much does Premier Auto Protect cost a month?
The monthly cost of Premier Auto Protect is dependent on many factors including the plan you choose, car make, model, age and mileage.