In a Nutshell
Car repair is unexpected and expensive, especially after the initial manufacturer's warranty has expired. Elite Auto Protect fills this coverage gap with extended vehicle protection plans. In business for over 15 years, the company offers plans that cover mechanical mishaps and free yearly maintenance. It partners with various repair shops nationwide, making it simple to care for your vehicle.
pros
Roadside assistance
Various add-on options
A+ rating with the Better Business Bureau
cons
Little plan information listed online
Plans can only be used at partnered dealerships
Elite Auto Protect Visit Site
Elite Auto Protect Plans
Elite offers three types of protection plans: Standard, Premium, and Superior. Both the Standard and Superior plans can also be upgraded to a Plus plan with slightly more robust coverage. Let's take a look into what each plan offers.
Standard Coverage Plan
Elite's lowest-tier plan can be added to any vehicle, regardless of mileage. It covers fuel injectors, thermostats and water pumps, any lubricated parts inside the transmission, engines, and four-wheel drive.
If you upgrade to the Standard Plus plan, you'll also receive coverage of the air conditioner (minus recharge), lifted vehicles (i.e., those with oversized tires or those that require a lift kit), the alternator, the fuel pump, and the head gasket, as well as a roadside assistance increase that lasts the duration of the warranty. Diesel vehicles are also covered.
Premium Coverage Plan
The middle-tier plan is best for vehicles that have less than or equal to 120,000 miles. It covers the same components of the standard plan, plus extra coverage.
Transmissions: coverage for vehicles with transaxle design

Four-wheel drive: axle shafts and joints and wheel bearings are covered

Steering: any lubricated parts inside the steering gear housing and power steering are covered

Fuel system: the pressure regulator and pump are covered

Seals and gaskets: head and intake gaskets are covered

Electrical: the voltage regulator, starter, and alternator are covered
You may also choose add-on coverage for lifted vehicles. Coverage of brake parts, other electrical components, and $40 daily for six days of rental car reimbursement is also included. Roadside assistance also lengthens to the duration of the entire contract.
Superior Coverage Plan
The top-tier plan is recommended for cars with 75,000 or fewer miles. This plan upholds everything your vehicle's initial manufacturer warranty would cover, except items needed for tune-ups, routine maintenance, and any body parts. This tier has no other add-ons.
Standard (best for vehicles of any mileage)

Premium (best for vehicles +/- 120,000 miles)

Superior (best for vehicles +/- 75,000 miles)

Option available when you upgrade to the Plus version of the plan.
Optional add-ons
Both the Standard and Premium plans have a number of optional add-ons, including coverage for the following.
Lifted vehicles

Fuel pumps

AC clutches

AC compressors

AC clutch bearings

Cylinder head gaskets

Alternators
In addition, Elite offers other add-on perks such as the following.
Roadside assistance

Road hazard coverage

Flat tire repair (customer must have their own tire in the vehicle)

Gap insurance coverage

Dent repair

Gas delivery (customer will pay for gas out-of-pocket upon delivery)
Plan exclusions
There are only three items that Elite Auto Protect excludes from coverage under any plan: any items that may be necessary for a tune-up, any body parts, and routine maintenance.
Elite Auto Protect Plan Pricing (Plan Pricing, Service Fees)
By reading customer reviews for Elite Auto Protect, I found that on average you can expect a cost as low as $1,700 and as high as $4,000, depending on the length and type of coverage and any add-on services.
While you can get a free quote from the Elite Auto Protect website, it does appear that its extended warranty products are offered exclusively through authorized dealerships. Thus, the total of your contract will be variable based on the dealership you've selected. The variables come down to the vehicle's mileage, age, make, and model, as well as your desired coverage level and contract term, location, and deductible.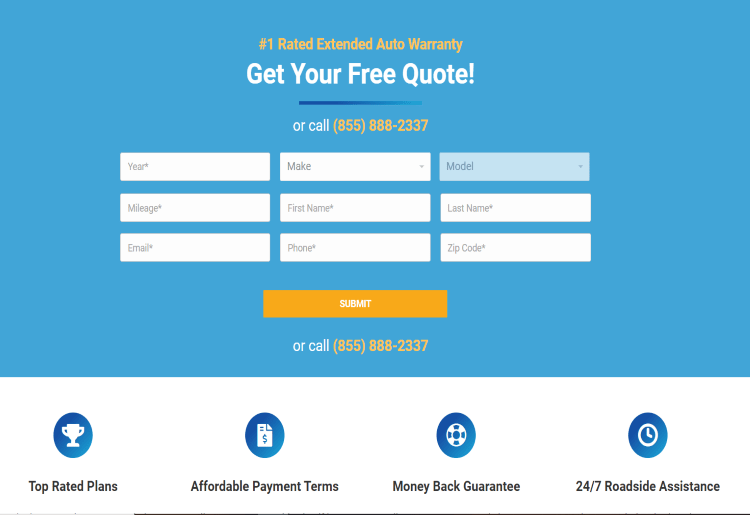 How to File a Claim with Elite Auto Protect
Elite Auto Protect does not provide much information in the way of filing a claim on its website. However, customer data indicated the way the process works.
When you're having an issue, first, get your vehicle to a safe location. If you have roadside assistance, call the number listed on your contract.
Next, Elite will arrange to have your vehicle towed to an authorized shop. The repair shop should contact Elite to authorize any repairs prior to beginning work. Once the work is complete, Elite will pay the shop directly, leaving you responsible only for paying your deductible, if your plan has one, to the shop.
Elite promises to pay for parts and labor for all covered items, and each claim is administered solely by Elite Auto.
Is Elite Auto Protect Legit?
Elite Auto Protect is accredited by the Better Business Bureau with an A+ rating and an average customer review of 4.26 out of 5 stars.
What's Unique About Elite Auto Protect?
While the coverage that Elite offers may be considered the industry standard, what sets it apart from its competitors is that it handles all claims in-house. The management of your claim will never be sold or passed off to a third party to process. Moreover, its exceptional customer service reviews and ratings are a great recommendation.
Help and Support
Elite Auto Protect offers customer service via phone and email 24/7. It can be reached by phone at 855-888-2337, and dealing with complicated menus to reach a representative is not needed. When calling, you are welcomed by the automated answering service that lets you know that you're being connected to the next available Elite representative. In my experience, the connection time took no longer than a minute.
Email support is available as well, via a form on its website or by emailing info@eliteautoprotect.com. I got a response within 30 minutes.
The website's FAQ section includes just five questions, but the questions are answered as thoroughly and directly as possible.
What About the Elite Auto Protect App?
There is no app available.
Elite Auto Protect Visit Site
Bottom Line
Elite Auto Protect has a fantastic online reputation, with hundreds of glowing customer reviews. It offers a 30-day money-back customer satisfaction guarantee to ease your mind, which is quite generous. Its plans are nationally available and apply to most vehicles, including diesel vehicles.
Should you decide to sell your vehicle prior to the expiration of your warranty, Elite allows you to transfer your warranty to the new owner, which is a perk, as it does show an interested buyer that your car has been well maintained under an extended warranty.
While there are other more comprehensive auto warranty companies on the market, Elite stands up nicely against its competitors. I recommended calling or getting a free online quote to see if its pricing and coverage are what you require.
FAQs
Does Elite Auto Protect cover routine maintenance?
No, Elite Auto Protect does not cover any routine maintenance.
Is there a deductible?
Elite Auto Protect offers plans with and without deductibles. It's best to call customer service to pick the perfect plan for your vehicle.