Overview
Answer Lady at a Glance
Answer Lady is an online background check platform, also known as a people search tool. It enables you to get a detailed report on a person based on only their name, phone number, email address, or home address. You can use Answer Lady to look up who's behind an unknown number that called you, find out more about an online date, track down old friends, and more.
I like Answer Lady because it does a nice job of taking snippets of information and turning them into detailed reports. For example, if you only know the address where an old friend used to live, Answer Lady can likely find them and give you their current address.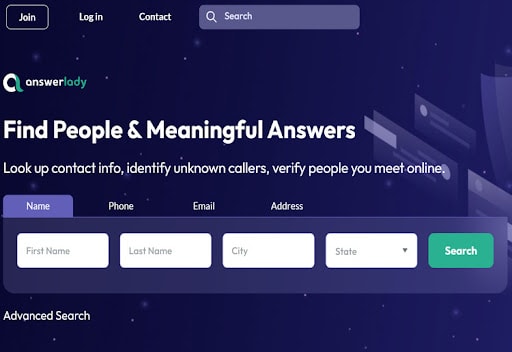 Answer Lady's background reports contain a ton of information, including contact details, financial records, and criminal records. You can view them online or save them as PDF files.
Answer Lady features
Let's take a closer look at some of Answer Lady's key features.
Types of checks
Answer Lady's reports include several types of information:
Personal information, including a subject's full name and birthdate.

Contact information, including known email addresses and phone numbers.

Residence information, including all past addresses and any homes they have owned.

Financial information, including bankruptcies, foreclosures, liens, and evictions.

Relatives of the subject, including the relative's name and contact information.

Criminal records, including a description of charges, the defendant's mugshot, the case number, and how the case was decided.

Traffic violations, including the date of issue, a description of the violation, and the vehicle involved.
When researching a subject's family members, you can also use Answer Lady to run a full background check on any of the relatives you find.
Notably, Answer Lady does not provide education records or information about subjects' social media addresses. You also cannot search for a person based on their social media handles.
Accuracy and completeness
Answer Lady relies on public databases from the federal, state, and local governments. I've found that it does an excellent job of including public data from sources like courthouses, census bureaus, and local property offices. The data is updated regularly and typically appears on Answer Lady within days of appearing in public databases.
Note that Answer Lady does not have access to confidential records, which may include some criminal records that have been expunged.
Data sources
Answer Lady gets the majority of its data from public records, which are collected by government agencies.
However, it goes beyond just aggregating data from public databases. Answer Lady also includes published data from sources like phone directories, social media profiles, and news websites.
The platform also collects data from third parties such as data brokers. Data brokers often collect information from magazine subscriptions, online shopping accounts, sweepstakes entries, and more.
Customization
Answer Lady isn't very customizable. There's an advanced search function that lets you narrow down a name search by including the subject's city or state and age range. However, you can't combine fragments of information, such as part of a phone number and a first name.
There's also no way to specify what types of records you're interested in. The report format is the same for every search and every person.
Turnaround time
Answer Lady turns up results for your search within seconds and displays potential matches. Generating a full report for a subject takes around 15 seconds.
User experience
Answer Lady's user-friendly interface is one of my favorite aspects of this platform. You can log in and immediately begin searching. There are easy-to-navigate tabs to switch between the different search modes. Answer Lady also makes it straightforward to save reports as PDFs, which can be really helpful if you're conducting in-depth research on multiple individuals.
Is Answer Lady Safe and Reliable?
Your searches on Answer Lady are completely confidential and aren't visible to your search targets or to other Answer Lady users. You can view a record of your searches, but this information is only visible to you.
The site uses Secure Sockets Layer (SSL) encryption to protect your information, including your search data and your payment information. You do have to provide your name when creating an Answer Lady account, but the platform never sells your information to third parties. You must create a password to log into your account, but two-factor authentication isn't available.
I like that Answer Lady is upfront about its security and privacy measures. The site's privacy policy is accessible and very easy to read. If you're worried about your personal data, this policy lays out exactly how limited Answer Lady's data sharing is. The site complies with the California Consumer Privacy Act (CCPA) and will delete personal data upon written request.
One important point to note is that Answer Lady is not registered as a Consumer Reporting Agency in the US. This means that you cannot legally use data from the site for purposes protected under the Fair Credit Reporting Act, such as running background checks on potential employees or tenants.
How Answer Lady Works
Answer Lady makes it easy to find information about anyone in the US if you know their name, phone number, email address, or an address associated with them. Just enter the details you know and Answer Lady will show you a list of potential matches. Then you can click on any match to generate a full report on that person.
How To Get Started With Answer Lady
You can start searching with Answer Lady right away, without first signing up for a subscription. Choose the search function that matches the information you know about your subject. Then enter your information and run a search.
Answer Lady will display potential matches, including their name, known cities where they have lived, partial email addresses, and partial phone numbers. If you see a match that you think is the subject you're looking for, the next step is to generate a report.
For that, you'll need to pay. Answer Lady offers a five-day trial for $1 or unlimited plans starting at $12.93 per month. Answer Lady accepts payment by credit card, debit card, or PayPal. Once your payment is processed, you can continue to your subject's full report and run an unlimited number of searches on additional subjects.
Overall, I found Answer Lady to be very easy to use. Once you've set up an account, you can run searches and generate reports in just a few seconds.
Answer Lady Customer Service
Answer Lady offers customer support by phone and email from 7am-6pm (PT) Monday-Friday and 7am-3:30pm on weekends. I called and got in touch with a support agent within two minutes. The company says that email responses take one to two days.
Answer Lady also has an outstanding online knowledge center. It includes details about how to use the search functions, how Answer Lady protects users' privacy, and where the platform's data comes from.
How To Cancel or Pause an Answer Lady Subscription
Answer Lady offers one-month and three-month subscriptions, and these will auto-renew by default. If you want to cancel your subscription, you can turn off auto-renew within your online account settings. You can also cancel by contacting Answer Lady's customer support team.
Answer Lady does not enable you to pause a subscription and does not offer prorated refunds if you decide to cancel your subscription early.
Is There an Answer Lady App?
Answer Lady does not offer an app at this time. However, the website is responsive and you can use it on your smartphone's browser.
Answer Lady Pricing
How Much Does Answer Lady Cost?
Answer Lady offers a single membership tier that includes unlimited searches and reports. You can sign up month-to-month for $19.89 per month or for three months at a time for $12.93 per month. Your subscription auto-renews until canceled.
New users can try out Answer Lady for five days for $1. At the end of the trial period, you'll automatically be billed for a one-month membership unless you cancel.
Public records, phone directories, news websites, data brokers
Public records, phone directories, news websites, data brokers
If you only want to look up a few people, the one-month membership plan is likely sufficient. However, if you like having ongoing access to a background check platform, then the three-month membership offers a lower monthly price. Either way, you get unlimited searches and reports for the duration of your membership.
Compared to other background check platforms, Answer Lady is fairly affordable. In fact, its three-month membership is one of the best deals around for running background checks.
What can you do With Answer Lady for free?
Answer Lady allows you to begin a search for free and view potential matches to your search data. This is helpful because you can see if Answer Lady can help you find the person you're looking for before you pay for a membership. You can see the name, partially redacted phone numbers and email addresses, and all cities of residence for each potential match.
If you want to view the full report for any individual, you'll have to sign up for a membership. The five-day trial for $1 is a good option if you only want to look up one person. Just remember to cancel your trial before it auto-renews.
Optional add-ons
Answer Lady does not offer any optional add-ons at this time.
Answer Lady Alternatives
How Does Answer Lady Compare to Other Background Check Services?
People searches, reverse phone lookup
People searches, reverse phone lookup, social media searches, vehicle lookup
People searches, reverse phone lookup
People searches, reverse phone lookup, dark web scan
Name, phone, email, address
Name, phone, email, address, vehicle, social media handle
Answer Lady vs BeenVerified
BeenVerified is slightly more expensive than Answer Lady, but I think the extra cost is justified for complex searches. BeenVerified offers a wider range of information, including data about a subject's vehicle, their education history, and their social media usernames. It also offers mobile apps for iOS and Android, making it easy to run searches on the go.
Answer Lady vs CheckPeople
Answer Lady is significantly cheaper than CheckPeople for unlimited searches and offers more ways to search for someone. CheckPeople also doesn't provide any details about the security of its users' data, while Answer Lady offers a detailed and transparent privacy policy. For most searches, I prefer Answer Lady.
Answer Lady vs TruthFinder
TruthFinder is more expensive than Answer Lady, and you may have to pay extra for premium reports. However, TruthFinder can be a good option for complex searches because it runs a deep web search in addition to returning data from public records. I use Answer Lady for quick, affordable reporting and TruthFinder for doing a deep dive into someone's life.
Bottom Line
Answer Lady is an affordable background check platform that can help you reconnect with old friends or find out more about someone new in your life. I like that it offers unlimited searches and that it generates reports in seconds, not minutes. The data is fairly comprehensive, although I would like to see Answer Lady include educational records and social media handles in its reports.
Overall, I'd recommend Answer Lady for anyone who wants to run background checks quickly and doesn't need the depth of reporting that some competing platforms offer.