Intego Visit Site
Overview
So, what do you need to know about Intego? Let's take a look.
Intego Highlights
Scored at 100% in anti-malware detection tests - as good as any other competitor
Includes protection against Mac and PC malware
Extensive customer service options
Can support even older Mac operating systems
Why Choose Intego?
Mac
Intego is considered one of the best MacOS cleaners. Intego is a very solid choice if you operate a Mac and you would like an entire toolbox of security measures to protect it from malware and other threats (its Premium Bundle X9 includes the most features). It also offers a number of tools which parents can use to safeguard their children when they're online, and has a very easy-to-use and intuitive dashboard.
Windows
For Windows, the tool is compatible with Windows 7, 8, and 10. It features a variety of scan options for quickly scanning the filesystem including a flexible scan module to minimize the footprint on system resources. It can also run on lightweight systems with only 2 GB of spare RAM capacity.
Package Features
Mac Internet Security X9 (starts at $39.99 for one year on one computer, $74.99 for two years). This option comes with VirusBarrier X9 and NetBarrier X9 apps included, protecting your Mac against Mac and PC malware and keeping you safe from unauthorized access. It also safeguards your Apple mobile devices, and includes firewall home and hotspot network protection, in addition to anti-phishing and real-time scans. There's a real time antivirus scanner that uses Virus Barrier to detect and quarantine threats that have not yet been documented by cybersecurity defense teams. There's also a location-aware firewall that applies different protection settings based on where the computer is being used.
Content Barrier Secure X9 ($59.99 for 1 year, $114.99 for 2), If you have kids at home, this gives you an entire package of parental controls that can block the type of dangerous content you don't want your kids exposed to. It provides anti-predator chat monitoring alongside antivirus, anti-phishing and anti-spyware, and also allows parents to monitor their children's internet use and set limits on time spent online. Additionally parents can create custom profiles for each child profile so that children of different ages can receive different filtering levels.
Washing Machine Secure X9 ($55.99 for 1 year, $99.99 for 2) This package includes VirusBarrier X9 and NetBarrier X9, and also works to clean up and speed up your Mac to help it run better. The software removes duplicate or unnecessary files you never use and helps you organize and access important folders and documents more efficiently. This package also comes with antivirus, anti-phishing and anti-spyware tools, as well as firewall network protection. Washing Machine also includes a deep duplicate scanning engine and can save many megabytes of space by removing these obsolete files.
The Mac Premium Bundle ($69.99 for 1 year, $129.99 for 2) This package is arguably the best value offered by Intego. It combines all of the above packages and throws in personal backup 10.9, a bootable backup for Mac which automatically backs up all essential files.
Intego Antivirus ($29.99 for 1 PC for 1 year): Intego's Windows version provides smart scans that clean your PC in minutes. There's also the opinion to set the scan running automatically so users never have to remember to initiate a scan. Finally, the Windows tool features a potentially unwanted application (PUA) detector. These are often used to carry malware into a computer.
Performance
One of the best things about Intego is that it doesn't slow your Mac or Windows PC down. You can run real-time scans with minimal impact on your computer's performance, meaning that you don't have to choose between staying secure and getting stuff done.
While some users complain that it lacks a web scan tool for malicious URLs, when it comes to blocking on-demand and on-access malware, Intego routinely proves itself to be one of the most powerful options of the market, scoring over 98% in independent tests – blowing much of its competition out of the water.
How Intego Works
Intego's products aren't reserved merely for programmers, and can easily be mastered by novices who just want some extra security for their computer and devices. The company specializes in Apple devices, and this is reflected in the clean, minimalist, user-friendly design of its dashboard. The products are easy to install and you can very simply choose between real-time and scheduled scanning. You can also decide whether or not you'd prefer a display showing a brief overview of threats or a detailed log explaining why this item has raised a red flag.
And not only that, if you do have problems using Intego, you should know that the company has a very extensive knowledge base on its website, as part of an extensive array of customer service options. Getting the Windows version installed is just as easy as it is for Mac. Users just need to download the right installation file and run through the right permissions.
Intego Customer Support
The company features an extensive knowledge base on its website and if you can't find answers there or in the company's blog or forums, you can contact customer service by way of a live chat. This reviewer received an answer from a live representative within less than a minute of writing to them.
There is also a phone help line you can contact at 512-637-0700 from 8:30am to 5:30 pm Central Standard Time.
Intego Pricing
All prices in US dollars for 1 protected Mac
MacWashing Machine Secure X9
Intego Antivirus For Windows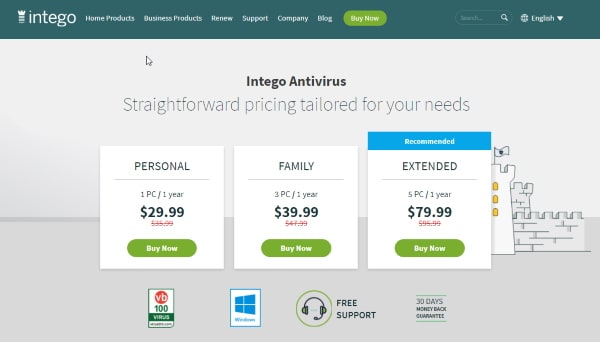 Value For Money
Intego's "bundle" option provides an impressive array of features and high-level performance, but it's not exactly cheap. Coverage for two Mac computers will cost you $129 for two years, although with that you get a very extensive list of features - and some peace of mind. That said, the company doesn't offer a money-back guarantee. The Windows package is actually better value. You can cover 5 PCs for one year for just $79.99.
Also, even if the price is steep for you, there are few options on the market that provide such watertight malware protection for Macs, as well as the other features offered by Intego.

Intego Visit Site
Bottom Line
With two decades of experience, Intego has the level of expertise you'd expect when it comes to protecting Macs. Their Windows program offers many of the same features and for a reasonable price for protection for up to five PCs. The company also provides some of the most extensive tools for protecting children online.
And while the prices can be steep, it's simple to ease, provides a long list of security features, and comes with customer service you can count on.