McAfee Visit Site
Overview
Since 1987, McAfee has been creating antivirus and computer security products. As one of the original pioneers of the antivirus market, antivirus packages such as McAfee Antivirus Plus, McAfee Internet Security and McAfee Total Protection are often packaged with pre-built computer systems from companies such as Dell, Acer and Lenovo.
Today, McAfee Corporation is owned by Intel Corporation and updates their security software packages at their security center in Santa Clara, California.

Operating systems: works on all operating systems
Guarantee: 30-day money-back guarantee
Virus removal: 100% virus removal guarantee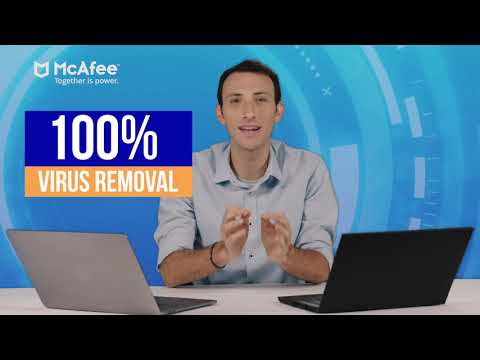 McAfee at a Glance
Features: Full featured protection
Ease of Use: Easiest for users
Reliability: Above average
Value: Average
Money Back Guarantee: 30-day
Best For
Home and business solutions of any size
Multiple devices - licenses include protection for unlimited devices
PC Optimization - free tools include email spam blocking and parental control
What McAfee Offers
Secure VPN
Identity theft protection
Password manager
Email spam blocker
Encryption software
Parental controls
Complete online protection
Free coverage for smartphones and tablets
McAfee Features
McAfee AntiVirus - Includes full antivirus protection with free 24/7 support and built in PC optimization tools for a single device.
McAfee Internet Security - Includes full antivirus protection with free 24/7 support, built in PC optimization tools, parental controls and e-mail and spam blocking for unlimited devices.
McAfee Total Protection - Includes full antivirus protection with free 24/7 support, built in PC optimization tools, parental controls, email spam blocking, hacker and thief firewall protection and social media link protection for unlimited devices. Protect private files with encryption software and safely store your passwords with the True Key app.
Detection Rates and Reliability
When comparing reliability, most antivirus packages need to hold their own in two primary areas of antivirus protection: virus detection through traditional virus scanning and real-time protection as files are saved to the system.
According to AV-Comparatives, a prominent 3rd-party virus testing company, all McAfee antivirus packages are in the top tier for traditional virus file detection. And while not as strong for real-time scanning protection, McAfee still came back with an average score.
How McAfee Works
How to Get Started With McAfee
McAfee Antivirus software is probably the easiest antivirus packages in the market to use. The simplicity of the primary dashboard ensures users know the current state of its operating system protection. Performing both quick and full scans is only a few clicks away, and it's easy to set up auto scans.
This antivirus has all features enabled and pre-configured instantly after installation, without the need for a reboot. Although many antivirus products have a somewhat sketchy past, the current generation of software delivers.
Users can also easily configure parental controls, firewall, anti-spam settings, scheduled virus scans and update settings directly from the user interface. All navigation is laid out in a very intuitive way that walks users through configuring what settings best fits their needs.
McAfee Customer Support
McAfee provides customers with extensive support options, including their Antivirus support website completely dedicated to frequently asked questions and an online knowledge base. Depending on their comfort level, users can use the online chat system, make a phone call or even purchase various support packages.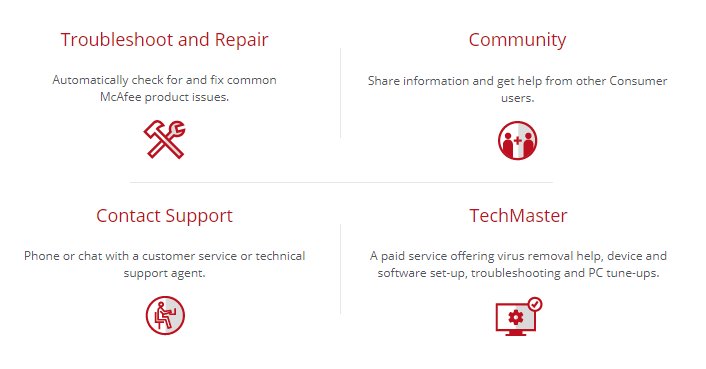 McAfee Pricing
How Much Does McAfee Cost?
Updated: Oct 2021
All McAfee Total Protection subscriptions include:
Protection on any type of device, including PCs, Macs, smartphones, and tablets

Protection from malware, viruses, and all online threats

Multi-factor authentication on all your devices

24/7 technical support

Easy-to-use account management
Value for Money
Overall and compared to its competitors, McAfee offers great packages at a reasonable price. Its antivirus definitely offers a lot in the way of file detection, and there are plenty of extra features even with the most basic packages.
When determining value, it is important to weigh the benefits of ease of use against the costs of performance and detection rates. A great value added is that beyond the basic service, this package includes licenses for unlimited devices.
User Experience
It's important to note that McAfee products tend to use more resources than other antivirus products, which can result in some performance loss on the system. Many users will find that most antivirus software packages that are simple to use tend to use more resources than others.
If you are worried about a slow device, changing the settings in your antivirus package can help, as well a free virus scans that are offered on the McAfee website.

McAfee Visit Site
Bottom Line
McAfee is one of the biggest and most trusted names in antivirus software. McAfee provides secure total protection for your computer and devices. No matter which package you choose you will have access to free 24/7 support, parental controls and a 30-day money-back guarantee.
When you spend a little more for the internet security and total protection packages, you get anti-malware, anti-theft and file protection for any Mac, Windows or Android device. You can also opt for parental controls, anti-spam to block dangerous emails and the True Key app to store your passwords and usernames.