AVG Visit Site
Overview
AVG was founded in Czechoslovakia in 1991, expanded internationally through the 2000s, and has since grown to become an industry leader in the antivirus space. Currently headquartered in Prague (Czech Republic), it offers powerful antivirus and cybersecurity solutions for both home and business users.
In July 2016, AVG was purchased by Avast, another big player in the cybersecurity space. It continues to offer its products under the AVG name. Along with its premium solutions, it offers a free antivirus product that provides excellent protection from modern malware.
Features: Full-featured protection
Ease of Use: Very easy to use
Reliability: Excellent
Value: Below average
Money Back Guarantee: 30 days
Best For
People with limited tech experience
Those looking for bundled add-ons
Reliable and consistent antivirus protection
Anyone who needs a decent free solution
Why Choose AVG
I'd consider AVG as your main antivirus solution for a few reasons. Top of these are its reliability and excellent detection rates. The latter are so good that it has received numerous perfect scores from independent testing labs in the past few years.
I'm also a big fan of the company's extra products. The included VPN, secure browser, and other cybersecurity tools are quite useful, and they come at a minimal extra cost with the high-end antivirus package. It's also one of the most user-friendly antivirus programs I've used, and you don't have to worry about confusing technical terms or a hard-to-navigate interface.
What AVG Offers
AVG offers a suite of cybersecurity products for Windows, Mac, Android, and iOS operating systems. Its antivirus suite is highly rated and equipped to detect and remove everything from simple adware viruses to ransomware and other more harmful types of malware.
Its additional home products include the following:
AVG Secure VPN
AVG AntiTrack
AVG BreachGuard
AVG TuneUP
AVG Drive Updater
There are also a few business-specific products that you might choose to purchase alongside your antivirus subscription.
AVG File Server
AVG Email Server
Patch Management for Windows
Across the board, AVG offers excellent service, user-friendly software, and a long-running history in the cybersecurity industry that few companies can compare with.
Features
AVG offers feature-rich home and business antivirus solutions. All of its packages provide complete protection against known malware, including ransomware, keyloggers, adware, and other viruses. Browser security is also included by default through the AVG Secure Browser, which acts similarly to Google Chrome.
On the home antivirus front, both the base-level AVG Internet Security and high-end AVG Ultimate packages come with WiFi security and protection against phishing websites. AVG Ultimate includes access to the AVG TuneUP program, a secure VPN, and the useful AVG AntiTrack tool, which prevents advertisers from tracking your online activity.
The two business editions include a range of more business-oriented tools such as a powerful firewall, a file shredder, multi-layer protection, SharePoint protection, and a cloud management console. The high-end AVG Internet Security Business Edition plan also comes with exchange server protection and password protection.
AVG provides loads of information about its products on its YouTube channel. For example, you might like to take a look at this video about protecting your family with AVG AntiVirus.
Is AVG Safe and Reliable?
AVG is also renowned for its excellent detection rates and reliable malware protection. It has suffered in this area in the past, but in recent years has received excellent ratings across the board from numerous reviewers and independent testing labs.
For example, AVG has received perfect ratings for both protection and performance since April 2022 from antivirus testing lab av-test.org. The free version didn't perform quite as well, but you can rest assured that both options provide excellent real-time protection against all types of malware.
How AVG Works
One of the things that AVG focuses on—and is renowned for—is its useability. Every part of the antivirus platform is intuitive and easy to understand, even for people with limited computer knowledge.
I particularly liked how easy it was to install the program and run my first antivirus scan. The download took a couple of minutes, and then I was prompted to run a scan immediately. No difficult set-up, and no waiting around for ages before I could use the program.
AVG also provides real-time protection that effectively eliminates the need to run manual scans. You can still run a Smart Scan whenever you want with a click of your mouse button, but this doesn't need to be done very regularly.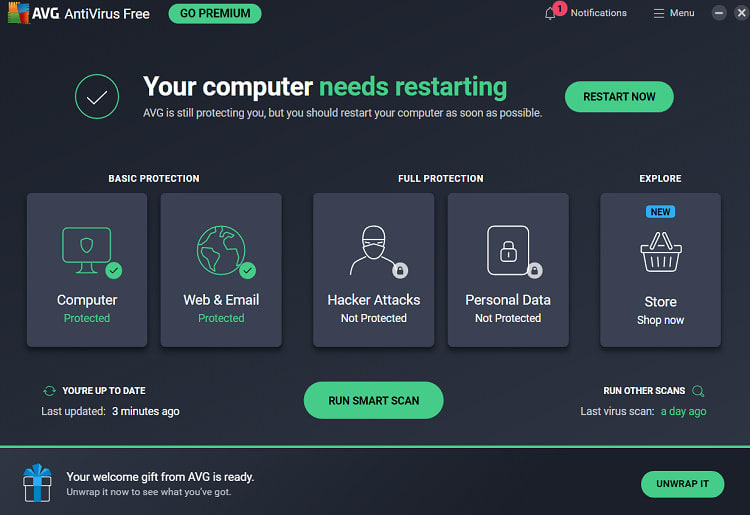 AVG Customer Support
AVG has dedicated business and home support centers, and there are loads of online resources to help you familiarize yourself with the program and troubleshoot any issues you have. These include complete user guides, a range of frequently asked questions, and various articles detailing actions such as installation and starting a new malware scan.
If you need help from a real person, you can connect with the AVG customer service team by submitting an online support ticket. One downside is the lack of live chat or phone support. Support agents respond in a timely manner to support tickets, but it can be frustrating to wait for an answer to a quick, simple question.
AVG Pricing
AVG offers two home cybersecurity and two business packages. The AVG Internet Security and AVG Antivirus Business Edition solutions are base-level options that include antivirus, browser security, and WiFi security, among other things. AVG Ultimate and AVG Internet Security Business Edition add extra useful features.
Along with its antivirus packages, AVG offers a number of smaller products that can be purchased individually. These include AVG Secure VPN (from $3.25/month), AVG TuneUp (From $2.53/year), and AVG Drive Updater ($43.99/year).
There's also a free antivirus product that provides base coverage against most threats. You can access significant introductory discounts, and there's a 30-day money-back guarantee that enables you to get a refund if you're not satisfied with the platform.
AVG Antivirus Business Edition
AVG Internet Security Business Edition
Exchange Server Protection
Value for Money
AVG is a little on the pricey side when compared to some of the alternatives, although it's still worth paying for if ease-of-use is a priority. Some may also be happy to pay higher prices for access to tools like AVG AntiTrack and AVG Secure VPN.
In comparison, Bitdefender—a program often placed among the world's leading antivirus solutions—starts at just $19.99 per month. This does renew at $39.99, but it remains a much more affordable option than AVG's cheapest full-priced plan, which comes in at $99.99 per year.
Other affordable alternatives include Webroot ($39.99 per year), Norton ($19.99 per year), and Trend Micro ($29.95 per year).

AVG Visit Site
Bottom Line
All things considered, AVG stands out as an excellent option if you're looking for reliable antivirus solutions. Both its home and business offerings are highly rated and have performed well in independent testing, and there are numerous add-on products including a secure VPN and a file shredder.
The main downside of AVG is its price. It's significantly more expensive than most alternatives, but it remains a good option if you're looking for a user-friendly antivirus program. There's also a decent free version, and we'd recommend giving it a go if you're willing to pay extra for top-rated antivirus protection that's easy to use.