While the odds of a virus landing on your phone are fairly low, the only way to properly ensure your safety is antivirus software.
The 5 Best Antivirus Apps for Android
Reputation for blocking 100% of viruses
Flexible settings
Easy to set up and manage
Kaspersky is another well-known antivirus provider with a reputation for blocking all viruses. It offers Android users a basic free version with minimal security and privacy features, as well as a paid version with useful tools like anti-phishing, automatic scanning, and call and text filters.
The following features appear in both the free and premium versions: antivirus protection; data protection; manual scanning for malware on apps or devices; support for Android wear; flexible control of security settings; and data protection in the event your device is lost or stolen.
Kaspersky's premium version costs just $19.99 per year, or $9.99 for new customers, although this price restricts the subscriber to just one device.

Kaspersky Visit Site
100% virus-removal guarantee
Save juice with battery optimizer
Set antivirus settings for each app
McAfee is one of the best antiviruses for desktop and smartphone, thanks to its high detection rates and 100% virus-removal guarantee. McAfee Mobile Security for Android is just as highly regarded as its antivirus for PC. Users can try out McAfee's Android app for free or purchase the premium version for $29.99 per year to get the full suite of features.
The paid version includes Antivirus, with protection against viruses, spyware, and malware; Anti-theft, to locate and track a lost or stolen phone (and even photograph the thief); Performance, which boosts your phone with a battery optimizer; and Privacy, which allows you to set up different security profiles for each app.
McAfee for Android is compatible with Android 4.1+, Android One, and Android Wear for smartphones running on Android 4.4+. It supports all the most commonly used Android browsers, including Chrome, Firefox, Samsung Browser, Opera Mini, and even Android stock browser for legacy devices.

McAfee Visit Site
Cheaper than top antivirus competitors
100% money-back guarantee
Free 24/7 support
Like some of its competitors, BullGuard offers a free version with most necessary features, and a premium version with additional tools covering all bases. The premium version comes in at $19.95 per year, at the lower end of the price range for the top antivirus providers.
The free version includes antivirus, anti theft, automatic virus scans, data backup and restoration, call and SMS blocking, SIM protection, and efficient battery usage. The premium version offers usage on up to 5 devices, plus parental control so parents can see who their child is calling and texting, which apps are being downloaded and used, and where their child is at any given time.

BullGuard Visit Site
Easy to install, setup and manage
Multiple mobile devices with one subscription
Check privacy risks before downloading apps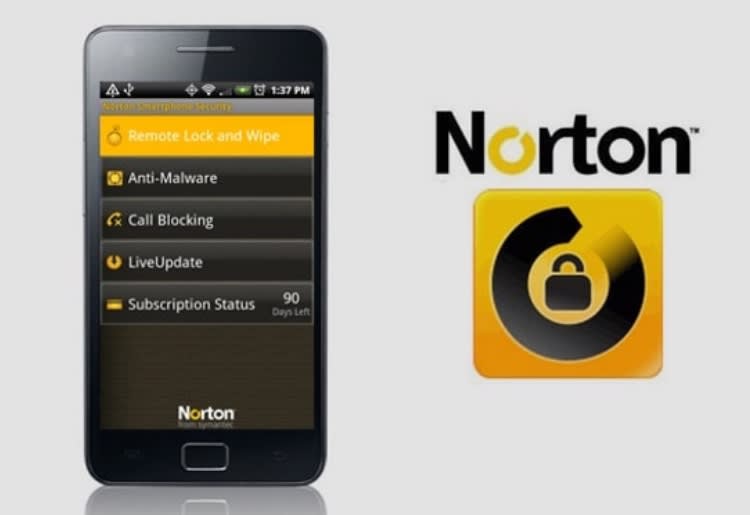 Norton Mobile Security for Android brings customers all the usual protection of Norton's popular antivirus program, plus a bunch of additional features for Android. The Android version is priced at $29.99 per year ($14.99 for the first year), and includes licenses to install and set up the app on multiple Android and iOS devices.
The proactive security features include tools that prevent or notify you of malware and viruses before you download a compromised app from Google Play; an interactive map that shows you where in the world your personal info might be shared; tools that protect you from scam websites and remove apps with viruses and other threats; anti-theft mechanism that tracks your stolen Android or remotely locks and wipes personal info; protection against scam calls; an instant lock if your SIM card is removed; and restoring and sharing of contact information across your devices.
Norton's mobile app is compatible with Android 4.1 or later versions, as well as all the standard browsers associated with Android mobiles.

Norton Visit Site
Free US-based support
Free and paid versions
Secure multiple passwords in one system
Trend Micro offers a two-tiered system. Its free Password Manager secures all account names, passwords, and credentials in one system. Its Mobile Security for Android app costs $29.99 per year and includes the full suite of Trend Micro features for mobile. It's compatible with Android 4.1 or later.
Trend Micro for Android blocks your mobile devices from dangerous websites; protects kids from dangerous or illicit websites; protects your phone from identity theft; protects your privacy on social media sites such as Facebook, LinkedIn, and Twitter; and lets you bank from your mobile with Trend Micro Pay Guard. One subscription package can be applied to up to 10 devices across Android, iOS, PC, and Mac.

Trend Micro Visit Site
Does My Android Really Need Antivirus?
Asking if your Android needs antivirus protection is like asking if your PC needs antivirus or your car needs insurance. The odds of getting a virus are about as low as the odds of getting in a major car accident, but as long as the odds are better than zero it is worth considering protection.
Symantec, the company behind the Norton antivirus brand, reported earlier this year that it had discovered 7 apps on the Google Play store carrying Android.Reputation.1 malware. The apps reappeared on the Play Store under different names and publishers even after they were reported and removed. Each of them promoted themselves as fun apps offering things like emojis, calculators, and call recorders which concealed their bad intentions. Apps originating from sources other than Google Play are even riskier, given that they don't have to pass Android's high standards.
Beyond the risk of malware, every phone is at risk of loss, theft, spam, and data theft. The only way to cover all bases is to install a full-featured antivirus program.
Will a Free App Cut It?
As demonstrated by the above brand reviews, free apps offer some basic antivirus and anti-theft protection but don't cover all the bases. There are a range of free or cheap antivirus providers out there on the market, but as with any decision related to security and protection—buyer beware.
The best antivirus companies are considered the best for a reason. They are better at blocking viruses (at rates of 98%-100%), have more features, and have the means to back up and protect all your data and personal info.
How to Install Antivirus on Your Android
An antivirus for Android works the same as an antivirus for a Windows or Mac computer. You sign up for your selected antivirus provider, download the software to your device, and configure the settings.
For example, to install McAfee antivirus on your Android:
Open the Play Store on your phone
Install the McAfee Mobile Security app
Open the app
Click Find Device or Back Up
Register your email address and click Next
Create account and activate the app
You're done
Protect Your Droid
More than ever before, people are using their phones to access and store personal information such as email, banking, and contacts. Androids are just as vulnerable to attack as other types of devices, and the only way to ensure your device is protected (and to ensure you sleep well at night) is with an antivirus. The top antivirus providers all offer cheap annual coverage with full protection. When you consider that a new Android phone costs $500 to $1,000, the $20 to $30 it costs for top antiviruses like McAfee, Norton, and Kaspersky doesn't seem unreasonable.