In a Nutshell
Angie's List is a directory that features service providers of all kinds, including window repair specialists. You can join Angie's List for free and receive suggestions of several service providers in your area based on the project you want to do. There are also paid options that include additional features. Angie's List features over 12 million verified reviews and all service providers are rated based on consumer experience.
pros
Allows you to compare prices
Includes verified reviews
Will help in case of unsatisfied customers
cons
Phone support only available for Gold membership
Service providers aren't screened

Angie's List Visit Site
Angie's List at a Glance
Specializes in: All types of home-related services
Average price range: Varies by service provider
Warranty: Varies by service provider
Response time: Within 24 hours
Best for: People looking for verified reviews of service providers
Window Types
When you log onto the site and type Window into the prompt, you will be given different options—window cleaning, tinting, treatment, window restoration, installation, lock replacement, and more. Then, once you provide some basic information, you will get a list of relevant service providers in your area.
Part of the basic info that you provide includes what type of windows you have and what type of work you need to be done, so it's almost a sure thing that the service providers you are shown will be able to handle your project. You can always read the provider's description, check their ratings, read the reviews, and contact them to confirm.
Pricing
Each service provider offers his own quote, and that depends on where you're located and the exact service that you need. Location makes a big difference in terms of pricing, and obviously, cleaning windows won't cost as much as installing brand new storm windows. If you search for the service you need, you'll likely get several different service providers, and you can get quotes and compare which one gives the most value.
One cool thing that Angie's List offers is that it gives you a range of prices that you can expect to pay in your area. When you are logged in, go to Manage My Account, then click on Pricing Guide and type in the service you're looking for. For example, if you live in New York, NY and you're searching for clean window treatments, you'll get a graph that looks like this.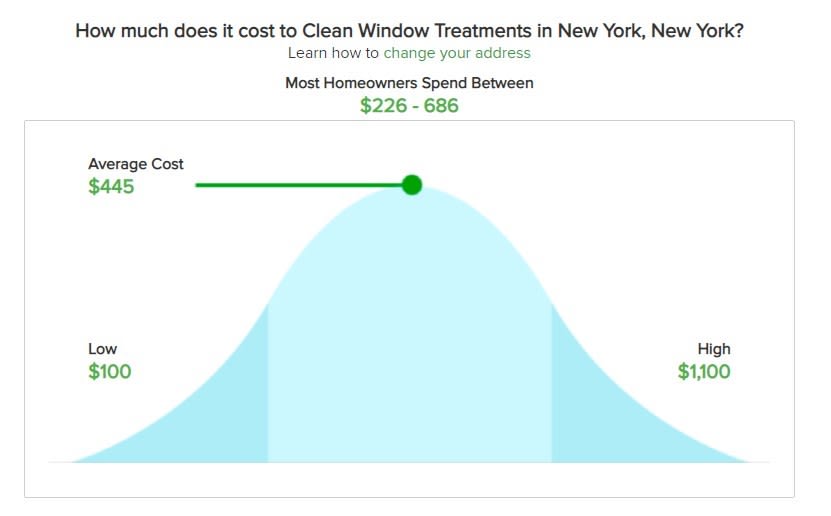 While the range is fairly large, at least you can get some indication of whether the price you're being quoted is fair, on the high end, or a great bargain.
In terms of Angie's List itself, membership is free, but there is also an option to upgrade to 2 types of paid membership: Silver and Gold. Silver membership costs $24.99 per year and Gold costs $99.99 per year.
The paid memberships offer various perks and upgrades, like savings on materials and tech support, a home concierge, complaint resolution, and more.
Testimonials
"Before Angie's List, selecting a service provider was like throwing darts blindfolded. Those who report on Angie's List have helped me make informed, logical, educated decisions. I am truly grateful." - Nancy, St. Paul, MN
"Angie's List took the stress out of a very stressful situation." - Marsha, Strongsville, OH
"When I had a problem with a service provider, Angie stuck up for me, and I got action immediately. I wish I would have called earlier!" - Robert, Columbus
Customer Service and Response Times
Angie's List offers different types of customer support for the 3 different tiers of membership. Green (free) members can email the customer support staff and responses are typically sent within 24 hours. Silver members can email and live chat, while Gold members can live chat and call.
In the case of an unsatisfied customer, Angie's List is quite proactive. If a customer reports a negative experience, Angie's List will contact the service provider and try to resolve the issue. The customer is welcome to leave a negative review, and since most providers don't want to see these kinds of reviews, they genuinely take the time to improve in any areas in which they lack. If the issue is resolved, the negative review is removed and the customer can post an updated review. If any service provider threatens or harasses a customer because of a negative review, they should report it to Angie's List immediately and the staff will take the appropriate action.
Warranty
Angie's List doesn't offer a warranty. Rather, each service provider offers its own warranty, and it is the responsibility of the customer to inquire what it is before contacting the service provider.
Energy Efficiency
Angie's List supports energy audits among customers as ways to help the environment and to save money.
Other Services Offered
Angie's List offers a huge variety of home repair services, including remodeling, plumbing, garage, driveway, and patio renovations, fencing, kitchens, landscaping and much more.

Angie's List Visit Site
Summary
Angie's List is a good way to find trustworthy window repair service providers in your area. Just answer a few basic questions and you will receive several recommendations of relevant providers. Customers can rate and review service providers, and all reviews are verified. Angie's List also provides a typical price range of the services so that you can know whether you are receiving reasonable quotes. There is a free membership option that gives access to the basic search and paid options that include money-saving extras.