In a Nutshell
PrivateVPN is as 'private' as its name suggests, and is currently one of the best mid-range VPNs for securing your private data. The VPN is also best known for: unlocking anything, and protecting everything. PrivateVPN was established back in 2009 and is currently based in Stockholm, Sweden. With professional and helpful customer support, remote setup, and a money-back guarantee, PrivateVPN is making a good case for itself.
pros
Six simultaneous connections
Remote help installation and setup for free
Customer-centric attitude
cons
Not as many servers as other VPNs
Some features only available for desktop app

PrivateVPN Visit Site
PrivateVPN at a Glance
Money-back guarantee: 30 days
Allowed concurrent connections: 6 devices
Supported streaming services: Netflix
No logs policy: Yes
Encryption: 2048-bit Encryption With AES-256
Protocols: OpenVPN, PPTP, L2TP, IKEv2, IPSec
Special features: Kill switch, IPv6 leak protection
Customer support: Email ticketing
Server locations: 60+ countries
Number of servers: 100+ servers
Server Switches: Unlimited
Supported devices & web extensions: Windows, Linux, Mac, macOS, iOS, Android, Amazon Fire TV
VPN legal jurisdiction: Stokholm, Sweden
Price range: $3.82-$7.67
Best for: No bandwidth or data usage limits
Privacy
PrivateVPN is a product of Privat Kommunikation Sverige AB — a Swedish private company. Moreover, regardless of its base of operation being part of the 14-eyes countries, PrivateVPN does not collect your data, and it's stated in their privacy policy.
PrivateVPN uses OpenVPN cipher Blowfish with 128-bit CBC encryption for TAP. What's more, with TUN it'll use AES-256 and SHA256 for HMAC authentication. To top things off, PrivateVPN throws in TLSv1.2, cipher TLSv1/SSLv3 DHE-RSA-AES256-GCM-SHA384, 2048-bit RSA. Translation? Security is rock solid. Oh, and PrivateVPN accepts online payments, so you can remain anonymous from start to finish.
Features
PrivateVPN has over a hundred servers spread across the globe (though most are in Europe, Africa, and the Middle East) from Argentina to Vietnam. This is a fraction of what some other VPN services provide you with, but sometimes, less is more. What we really like about PrivateVPN were the many features that make it stand out.
One thing we really like is that PrivateVPN offers up to 6 device connections at one time. So, no matter how many gadgets you want to surf on, PrivateVPN will keep your activity protected with a single account. Six devices is not only more devices than you'll ever need to connect simultaneously, but it is also more devices than just about any other VPN service offers.
PrivateVPN supports a range of VPN protocols including the most resilient OpenVPN option. You can also choose from PPTP, L2TP, IKEv2, and IPSec to really get the kind of tailored privacy and anonymity you want.
Plus, we were also impressed with some of the other features PrivateVPN had to offer. For example:
IPv6 leak protection and kill switch that keep your identity safe even when you're disconnected from the VPN.
2048-bit encryption with AES 256, the absolute highest level of encryption on the market.
Another perk to using PrivateVPN is the customer service, but we'll talk more about that below.
The Speed Test
There's a common perception that using a VPN will slow down your computer dramatically. And while there can be some slowdowns, we did a quick test to see how big the difference is with PrivateVPN, using the site speedtest.net.
Speed without VPN turned on: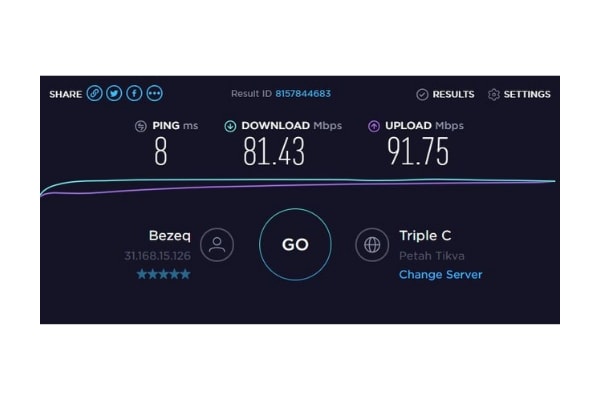 Speed with VPN set to a United States server (in Atlanta)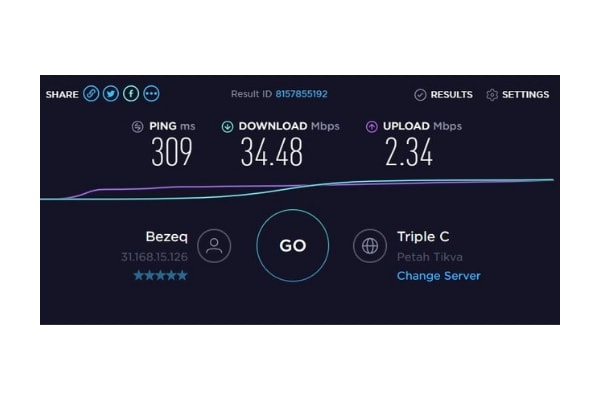 Speed with VPN set to a server in Germany (in Frankfurt):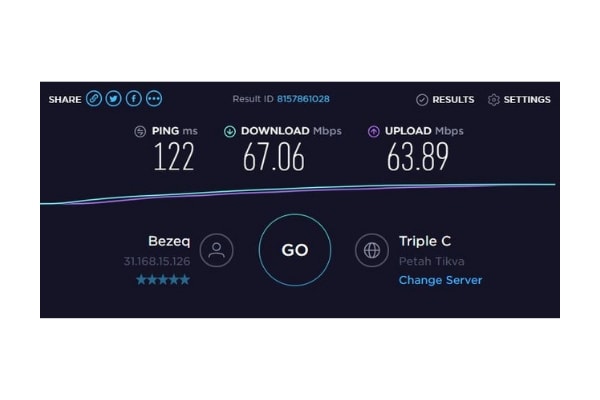 With our server set to the US, the website Fast.com gave our speed as 66Mbps.
You may find that you get faster results by using a server based closer to your location.
Pricing and Deals
PrivateVPN has 3 pricing plans to choose from. You can pay for a single month at a time, but it's much more economical to sign up for a year at a time since you'll save roughly 65% when you do. Check out the pricing structure:
*Extra month for a total of 13 months
As you can see, the year plan offers a deep discount, plus you get a free month thrown into the deal. These prices are very competitive for a VPN service, and there is a 7-day free trial you can use to get a taste for the service.
PrivateVPN also offers members a refer-a-friend reward. You earn points for every friend you sign up, and those points can be used to pay for additional coverage. And don't forget, PrivateVPN plans come with a 30-day no questions asked money-back guarantee. So, try it out, and if you don't like the service, you can cancel anytime without remorse.
Torrents
PrivateVPN not only allows torrenting, but it actually recommends specific servers to get the job done faster and better (at the time of this writing, the best servers for P2P sharing were in Sweden). Even if you don't understand how this works, PrivateVPN support will walk you through the steps.
Netflix
You can unblock your favorite streaming sites like Hulu, Sky, and of course, Netflix using PrivateVPN. The service will highlight which servers to use for this purpose to get faster, clearer streaming too.
Client Setup
PrivateVPN is available for Mac and Windows computers. As an added bonus, PrivateVPN also has a Linux client and supports routers. Considering the fact that many other VPN brands don't offer Linux or router compatibility, if this is you, then PrivateVPN is the perfect fit.
By the way, if you're the type of person who likes to peruse what you're buying before you make the purchase, then you'll appreciate the client view feature on PrivateVPN's website. Visit the page, choose the OS you're interested in, and you can actually see what the client view will look like on your device. This is by no means essential, but it is a really cool feature that most VPN providers don't offer potential customers. We give PrivateVPN points for that nice added touch.
Apps
In addition to the desktop and router options, PrivateVPN also has a mobile app for iOS and Android devices.
How Does PrivateVPN Compare?
Unlimited bandwidth and data usage (and non-techy people)
Customer Support
PrivateVPN offers some of the best customer support out there. That's because rather than shipping this all-important task out to some outsourcing company, PrivateVPN hires professional in-house developers to field your calls. So, when you ask a question, these support reps actually know the answers and can help you troubleshoot quickly, easily, and efficiently.
What really puts this customer support over the top though is the remote help and installation option. PrivateVPN tech will actually install and set up your entire VPN for you remotely with just a few clicks. You don't have to do a thing. Now that's white-glove service.
There's also an online contact form. But why people would use that, we're not really sure with such great live support available.
Ease of Use
PrivateVPN claims to be able to be downloaded and connected to the web in just 60 seconds. Is it true? According to our hands-on testing, yes! We were delighted with how fast and easy it was to set up PrivateVPN on our computer.
PrivateVPN also sports some of the best-designed bespoke clients. The clients' interfaces are customized to offer the most simplified user-experience—often giving you an aesthetically pleasant feel.
FAQs
Q: Which payment methods does PrivateVPN accept?
A: PrivateVPN accepts all major credit cards, PayPal, Payson Direct Bank Transfer, and Stripe.
Q: What is the Connection Guard feature?
A: Connection Guard from PrivateVPN is like an automatic kill switch. It shuts down specified apps if your VPN gets disconnected for any reason. This is to protect your activity and information from being viewed or accessed while your VPN protection is down.
Bottom Line
According to the website, PrivateVPN has protected 15,000TB of data to date. That's a boatload of data, and it's also a great testament to the quality and integrity of this VPN provider. PrivateVPN offers excellent protection with built-in features like DNS leak protection and auto kill switch. A 99.98% uptime rate is impressive, as is the number of supported protocols PrivateVPN has.