In a Nutshell
Neighbor is a peer-to-peer marketplace for storage space. Just like Uber facilitates ride-sharing, cutting out the cab operators, and Airbnb facilitates home-sharing, cutting out the big hotels, Neighbor facilitates space-sharing, cutting out the professional storage facilities. If you have stuff you need to store somewhere, chances are Neighbor has someone in your area with storage space.
pros
Much cheaper than a regular storage unit
$25,000 protection guarantee for your possessions
Search/filter by storage type, size, and price
cons
Requires you to put your trust in someone else
Packing and transportation not available

Neighbor Visit Site
Neighbor at a Glance
Self-storage, car/RV/boat, business storage
What Services Does Neighbor Cover
Neighbor is a platform that connects people who need storage space with people who have storage space. Neighbor is not a professional storage facility, although some professional storage providers do list their facilities on the Neighbor platform.
What this means is that Neighbor is great for storing away everything from a few boxes to a car or RV, but you'll have to do all the work yourself. If you want white-glove service or transportation, then you'll need to use a professional storage service. But if you're looking for a self-storage solution, then Neighbor is a lot cheaper than a traditional, secured storage facility.
Neighbor Facility Features
The Neighbor platform has thousands of listings, with pretty much every type of storage space imaginable. On the Neighbor home page, enter your location to begin searching for listings in your area.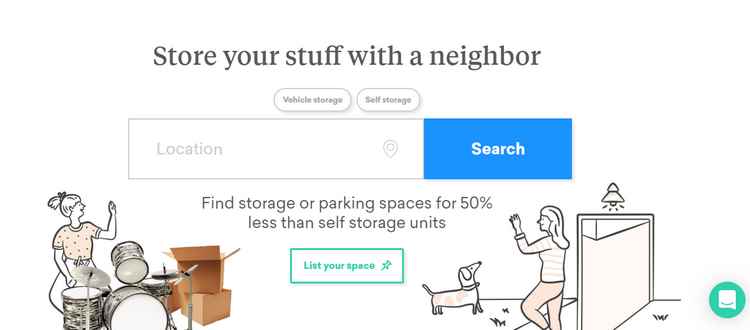 Neighbor Facility Features
Due to the freedom of the platform, Neighbor features range from very basic to more elaborate. For instance, you may find quite a few empty lots but you may also find secure air-conditioned basements.
You can filter by:
Storage type. Self storage or vehicle storage
Size. For self-storage: small (less than 10' x 10'), medium (10x10 to 15x15), and large (15x15 and up). For vehicles: type in width and length.
Price: Use the toggle function to set a minimum and maximum range
Features vary from space to space, and may include things like:
Climate-controlled storage

Drive-up access
First month discount
Click on a storage unit to see details such as:
Size
Height (for vehicles)
Access (e.g. daily, twice a month
Visiting hours (e.g. evening, 24/7)
Neighbor Security
You get what you pay for, and one thing Neighbor doesn't provide is the security of the professional storage facilities. You won't get electronic gates, 24/7 security, or cameras with Neighbor. However, Neighbor's renter guarantee offers you up to $25,000 protection for as long as your stuff is stored away at a qualified Neighbor host.
The renter guarantee protects:
Damage to qualified items or vehicles
Theft of qualified items or vehicles
It does not protect:
Any item that isn't properly disclosed upon reservation
Prohibited items as detailed in the Neighbor terms of service
Cash, securities, jewelry, artwork, and collectibles
Property damage caused by host negligence
Any vehicle that is not properly registered and/or insured according to local laws
Move-in or move-out from the reserved space
Any claims that do not strictly follow Neighbor's resolution process as defined in the terms of service
Other Neighbor security features include:
Vetting and peer-to-peer feedback. All hosts are vetted by Neighbor, and you can see what previous users think of the host by clicking on their profile – just like on Airbnb.
Secure messaging. Messaging through Neighbor's website or mobile apps allows you to communicate with hosts without sharing private contact information – again, just like on Airbnb.
Scam prevention. Neighbor has a multi-layer defense strategy, including photo ID and phone and email verification.
Host guarantee. Neighbor protects its hosts with $1 million of general liability protection.
Neighbor Storage Unit Details
Like any marketplace, Neighbor is only as good as what people are willing to offer on the platform. In big cities like New York, LA, and Chicago, it's quite possible to find dozens or even hundreds of different storage units within a few blocks. In smaller cities, you may have to broaden your search to find a suitable storage space.
Just to give an example of what's available, in a search of Salt Lake City (which we selected because Neighbor is based nearby in Lehi, Utah), we found hundreds of storage spaces ranging from very small (e.g. 4 x 4 room, 10 x 10 attic) to medium (e.g. 15 x 15 room, 12 x 15 shed) to large (e.g. 60 x 85 basement) to spaces for vehicles (e.g. 25 x 10 unpaved lot, 15 x 17 garage, 40 x 10 driveway).

How Much Does Neighbor Cost?
The price of a Neighbor storage unit depends on a range of factors, including the host's location, the size of the storage unit, access hours, and other features such as climate control. Here's a breakdown of the average price per month of Neighbor storage units in a few different locations across the US.
Neighbor Rental and Leasing Options
Like everything with Neighbor, the rental and leasing options vary from host to host. Simply click on a host's profile page to find out all the terms and conditions of using their storage space.
Neighbor Customer Service
Neighbor's customer support team is available via chat, email, or phone. The Neighbor website has an extensive FAQ section where you can find answers to questions on various topics such as security and billing.
Phone: 801-653-0264
Headquarters: 2500 W Executive Pkwy, Suite 150, Lehi, Utah 84043

Neighbor Visit Site
What Are People Saying About Neighbor
"The storage rates are 50% lower than anywhere else I could find, and I was able to reserve my unit weeks in advance." – Lindsey, Provo, Utah
"Going from Idaho to Texas my car broke down. I need it to get back home ASAP and I couldn't take the car with me. I googled storage companies and found Neighbor. I was able to find a safe place to leave my car while I found a way to bring it home. Host was super friendly and helpful. I will definitely use Neighbor if needed." – Alberto Carlos Pérez Escalante
"I had an amazing experience with my host but It sucked that I only wanted the storage for one month. I didn't know you needed to say cancel. As a user it should be clearer in the future for deadlines and dates." – Christie Rechin

Bottom Line
By applying the peer-to-peer marketplace model to storage, Neighbor is making storage units more affordable and more accessible than ever before. Like Uber, Airbnb, and other marketplaces, it may take time for Neighbor to gain widespread acceptance, but once they do this could be a game-changer for the storage unit market.