If you're struggling to think of something special and unique, don't worry! We've compiled a list of the top 10 best Father's Day gift ideas for 2023.
Whether your dad is a tech wiz, a foodie, a wannabe rockstar or an outdoor junkee, we've got you covered.
Our Picks for the Top 10 Best Father's Day Gift Ideas:
1. Cutting-Edge Gadgets
2. Health and Fitness Gifts
3. Tools for The Handyman Dads
4. Get In Touch with His Sentimental Side
5. Food and Drink Ideas
6. Camping Equipment for the Outdoorsmen
7. Plan a Day With The Whole Family
8. A Thoughtful Gift Card
9. Clothing and Fashion Finds
10. All Things Music
1. Cutting-Edge Gadgets
Technology is a popular gift idea for Father's Day, especially for dads who love gadgets and staying up-to-date with the latest tech trends. In 2023, there are so many options out there to choose from. Here are some gift ideas for dads who enjoy technology:
1. Smartphones, Tablets, and Smartwatches
Consider getting your dad a new smartphone or tablet to keep him connected and up-to-date with his emails, social media, and other daily activities. If he's into smartwatches, you can gift him one that has a lot of features including calls, messages, notifications, and fitness tracking.
Some of the popular brands to consider include Apple, Samsung, Google, or Huawei. You can also choose from different price ranges depending on your budget.
2. Gaming Consoles and VR Headsets
For dads who are into gaming, you can gift him a new gaming console along with some controllers or a VR headset for an immersive gaming experience. This can be a great way to bond with your dad and have some fun together.
Some popular gaming consoles include Xbox, PlayStation, and Nintendo Switch. For VR headsets, consider brands like Oculus, HTC Vive, or Sony PlayStation VR.
3. Cameras, Lenses, and Editing Software
If your dad enjoys photography, you can get him a new camera and lenses to help him capture memorable moments. You can also gift him editing software to enhance his photos.
Popular camera brands include Canon, Nikon, Sony and Fujifilm, and you can choose from different price ranges depending on your budget. You can also consider lenses from brands like Tamron, Sigma, or Zeiss.
4. Smart Home Devices
Another great option is a smart home device such as Alexa, Google Home or Apple HomePod. These devices can play music, set reminders and alarms, help manage your dad's schedule, and even order food. Some of them can also control other smart home devices such as lights and thermostats.
5. Portable Power Banks and Bluetooth Speakers
If your dad is always on the go, consider getting him a portable power bank or Bluetooth speaker. These devices can be very handy when traveling, working, or enjoying outdoor activities.
Some popular brands to consider for power banks include Anker, RavPower, or Mophie, while for Bluetooth speakers, you can check out brands such as JBL, Bose, or Sony.
2. Health and Fitness Gifts
Health and fitness gifts are a great way to encourage your dad to maintain an active lifestyle. Here are some ideas that dads who love to stay fit and healthy might appreciate:
1. Home Workout Equipment
If your dad regularly works out at home, you could look into getting him some workout equipment such as a stationary bike, resistance bands or weights.
Some popular options for home workout equipment include Peloton, NordicTrack, or Bowflex. You can also consider wearable fitness technology, like a fitness watch, that tracks steps, heart rate, and the number of calories burned.
2. Running Gear
If your dad enjoys running, you can gift him some running shoes or workout clothes, or a fitness watch that features GPS and other important data.
Some fitness watches include brands like Garmin, Fitbit, or Apple. You can also consider getting him a portable water bottle or some other running gear that he can use while exercising.
3. Personalized Nutrition
For dads who are interested in nutrition, you can gift him with a personalized meal plan or a cookbook filled with healthy recipes. You can also get him some protein powders, bars, or any other healthy snack that he enjoys.
4. Fitness Programs
Some dads might also appreciate the gift of a new workout program. Consider gifting him with a subscription to an online workout program or an app like Aaptiv, Beachbody, or Peloton Digital. These programs offer a variety of fitness categories that will suit his interests.
5. Gym Membership
If your dad is not currently a member of a gym, you could consider paying for his gym membership. This will give him the opportunity to explore different equipment and help motivate him to achieve his fitness goals.
3. Tools for The Handyman Dads
If your dad has a knack for fixing things and loves working with his hands, why not consider a thoughtful gift that aligns with his passion? A new tool can be a fantastic way to support his DIY projects and home improvement endeavors. Here are some ideas to help you find the perfect gift: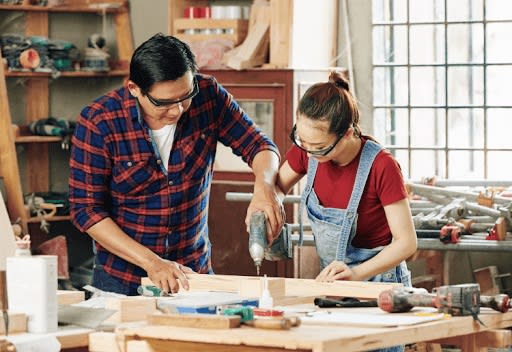 1. Power Tools
Consider gifting a power drill, sawzall, or jigsaw as they are must-have tools in every handyman's toolkit.
While selecting a power tool, research the brand and quality and go through customer reviews to make an informed decision. Look for features like ergonomic design, variable speed, and cordless operation that can enhance his working experience.
2. Woodworking Tools
If your dad is a woodworking enthusiast, think about getting him a new set of chisels or a hand plane. These tools are precious additions to his craft and could help him level up his woodworking skills.
While selecting a tool, understand his interests and the type of projects he enjoys working on. Look for features like sharp blades, comfortable handles, and precise measurements.
3. Safety and Quality
Prioritize safety and quality while choosing a tool, considering potential hazards and recommending safety gear that your dad should wear while operating the tool.
Look for tools with safety features like blade guards, lock-on switches, and anti-vibration technology that can reduce his risk of accidents. Additionally, consider the maintenance requirements like sharpening blades or replacing batteries when selecting a tool.
4. Personal Touch
Add a personal touch to your gift by sharing a memorable experience that you've had with your dad over a DIY project.
You can write a note or a message expressing how much you appreciate his hard work and dedication. This will make your gift more sentimental and meaningful.
4. Get In Touch with His Sentimental Side
Father's Day is a special opportunity to show your dad just how much he means to you. Consider some of these ideas to help express your love and appreciation:
1. Create a Scrapbook
When it comes to personalized gifts, there are a few standout options that are sure to make a lasting impression. One idea is to create a heartfelt scrapbook, filled with cherished pictures and memories that you've shared with your dad.
For a more tech-savvy approach, you could also put together a personalized photo book or a touching video montage, incorporating music and old family footage..
2. A Handmade Gift
If you're searching for a truly personal and meaningful Father's Day gift, consider a custom-made drawing or painting that captures a special moment or reflects your dad's interests. The unique art piece will serve as a constant reminder of your love and thoughtfulness.
Another heartfelt gesture is to write a sincere letter expressing your deep appreciation for him. Take the time to highlight the specific ways in which he has made a positive impact on your life, showing him just how much he means to you.
3. A Personalized Gift Box
Another great way to show your dad how much you appreciate him is by putting together a gift box filled with his favorite things. Get creative and include items like his favorite snacks, a book or magazine he's been wanting to read, a new watch, a personalized mug or keychain, or even a small tool kit.
You can also add some sentimental items like a family photo or a handwritten note expressing your love and gratitude. Make it unique and tailored to his interests, and he will be sure to love it.
5. Greeting Cards
Greeting cards are a classic way to express love and appreciation for your dad. You can choose a pre-made card or even create your own with personal messages and special memories. Add some humor or inside jokes to lighten up the mood or include a heartfelt message that conveys your deepest feelings.
A greeting card is a wonderful way to show your dad that you care, and it serves as a keepsake that he can hold onto for years to come.
5. Food and Drink Ideas
Why not spoil your dad with a delectable assortment of food and beverages this Father's Day? It's a straightforward yet delightful gift that allows you to express your gratitude while sharing in some culinary delights together. Take a look at these diverse ideas for inspiration:
1. Gourmet Treats
Put together a basket of your dad's favorite gourmet snacks and treats. Customize it to his taste by including items like artisanal chocolates, gourmet popcorn, or gourmet beef jerky. If your dad has a dietary restriction like gluten-free or vegan, you can find specialized snack options that cater to his needs.
2. Craft Beer and Wine
If your dad enjoys craft beers, surprise him with a beer-making kit or a subscription to a beer club. This way, he can experiment with different flavors and brews. Similarly, you can gift him with wine, whiskey, or craft spirits. Look for unique blends and limited editions so your dad can try new.
3. Special Meals
Take your dad out for a special meal at his favorite restaurant or book a table for a fancy brunch. Surprise him with his favorite dish or a new fine dining experience.
If your dad loves to cook, get him a new cookbook or a cooking class gift certificate to learn new recipes at home.
If he loves to grill, good-quality meat or a grilling toolset may be an excellent option. This way, he can take his grilling game to the next level.
4. Hot Beverages
For dads who like hot beverages, you can gift him a coffee-making kit or a tea set. Choose high-quality coffee beans or loose-leaf teas and pair them with a French press or a teapot. This will allow him to enjoy his favorite hot beverage in the comfort of his home.
5. Personalization
Add a personal touch to your food and beverage gift. Include a handwritten note or a heartfelt message, telling your dad how much you love and appreciate him. You can also share a memorable experience you've shared over food and drinks. This will make your gift more meaningful and memorable.
6. Camping Equipment for the Outdoorsmen
For dads who love spending time in nature, camping gifts are a perfect choice. Here are some gift ideas to help you create the ultimate camping experience for your dad: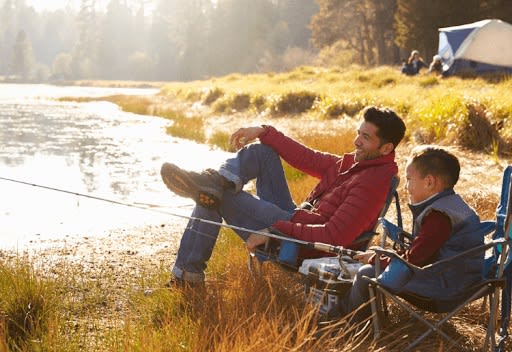 1. Camping Gear and Essentials
Take your dad's camping adventures to the next level by surprising him with reliable and high-quality gear that will enhance his experience.
Start with must-have essentials like a top-notch camping tent or sleeping bag from trusted brands such as North Face, REI, or Kelty ensuring a comfortable and restful nights sleep in the great outdoors.
Consider other practical ideas like a durable backpack, hiking boots, and suitable clothing to withstand the rugged terrain, ensuring he's fully equipped for any camping expedition.
2. Camping Accessories
In addition to the essential gear, consider thoughtful accessories that will further enrich your dad's camping trips. A comfortable camping chair or hammock can provide him with a cozy spot to relax and fully immerse himself in the surrounding nature.
Other handy accessories to enhance his trip include a portable grill for outdoor cooking, reliable water bottles for hydration, a comprehensive first aid kit for safety, a compass for navigation, and a headlamp or flashlight to illuminate his path during nighttime adventures.
3. Camping Trip Organizers
Simplify your dad's camping preparations with practical and thoughtful gifts that prioritize organization. Consider a camping guidebook to provide valuable tips and insights, a camping map of his favorite location to aid navigation, and a camping journal for him to record memorable moments during his adventures.
4. Camping Gift Basket
Create a camping gift basket filled with all the essentials that your dad needs for a great camping experience, like trail mix, s'mores fixings, sunscreen, bug spray, hand sanitizer, and snacks. You can even include a personalized note or a hand-drawn map of his favorite camping location to add a personal and sentimental touch.
5. Camping Experience
Consider organizing a surprise camping trip as a gift for your dad. This can be an opportunity to bond and share some unforgettable moments in nature. Research nearby campsites, hiking trails, and attractions, and make reservations beforehand to create a stress-free experience for your dad.
7. Plan a Day With The Whole Family
The best gift you can give your dad on Father's Day is the gift of quality time with the family. Take the time to plan a fun-filled day that is centered around the activities that he enjoys most. Here are a few ideas to make his day unforgettable:
1. Outdoor Activities
If your dad loves the outdoors, plan a scenic bike ride or hike.You could also go on a fishing trip or plan a game of basketball in the park. Whatever activity you choose, it's essential to involve the entire family and make the experience enjoyable and memorable.
2. Specialty Restaurants and Food
Take your dad out to his favorite restaurant for lunch or dinner, or surprise him with a unique dining experience that he's been wanting to try. It can be a great opportunity to bond and catch up over delicious food and drinks.
3. Museums, Zoos, or Aquariums
If your dad is interested in history, art, or science, plan a trip to a museum or an aquarium. You can also check out zoos, wildlife parks, or botanical gardens. This way, you can learn something new together while enjoying each other's company.
4. Family Games and Activities
Dust off some of your old board games and bring the family together for a night of friendly competition. If your dad prefers the outdoors, you can play a game of volleyball, cornhole or even find the closest course for a family golf tournament.
5. Family Photos and Videos
Capture the memories of this special day by taking family photos and videos. Hire a professional photographer to take some candid shots of your dad and the family or assign a family member to take photos throughout the day.
8. A Thoughtful Gift Card
Gift cards are a great way to show how much you love and appreciate your dad. If you're not sure what your dad wants or needs, a gift card can be a perfect solution. Here's how you can create the best gift card experience for your dad:
1. Personalize your gift card: Make a list of your dad's hobbies and activities he enjoys doing in his free time and choose a gift card that aligns with his interests. Suppose your dad is a sports enthusiast. In that case, you can surprise him with gift cards for his favorite sports store, an online sports retailer, or tickets to a sports event.
2. Read the terms and conditions: Before choosing a gift card, be sure to read the terms and conditions carefully. Some gift cards have expiration dates or certain restrictions that may affect the convenience of redemption. You want to ensure that your dad can redeem the gift card at his own convenience.
3. Add a heartfelt message or a thoughtful note: A personalized message can add a unique touch to the gift card and make your dad feel loved and appreciated. You can write a short note expressing your love and how much he means to you, or even recall a memorable moment you shared together.
4. Customize your gift card: Many stores allow customization options for gift cards. You could include a favorite family photo or select a fun design that showcases your dad's personality.
5. Encourage your dad to use the gift card: If your dad tends to forget about gift cards, you can send him a reminder to encourage him to use it. Share some gift ideas with him or suggest a fun activity that both of you can enjoy together.
9. Clothing and Fashion Finds
Clothing and fashion accessories can be a great gift choice, especially if your dad is stylish and looking to update his wardrobe. Consider his style preferences and choose a clothing item that he will enjoy wearing. Here are some clothing and accessory gift ideas for Father's Day:
1. Update His Wardrobe
Think of getting your dad some new shirts, pants or even a jacket that matches his style and interests. Consider his favorite colors and designs, and opt for high-quality brands such as Levi's, Calvin Klein, or Tommy Hilfiger. You can also choose seasonal apparel that can be apt for the weather during father's day.
check out these top 10 best online clothing stores for men's.
2. A New Pair of Kicks
If your dad wants to show off his style from head to toe, consider getting him a new pair of shoes. Sneakers, loafers, or leather boots are some great options that he can wear to work, events, or for a night out.
3. Add New Accessories
Consider fashion accessories like funky socks, cufflinks, belts, or pocket squares to complement your dad's look. You can choose from a variety of styles and designs that suit his taste and are in trend. You can also think of fashion-oriented gifts such as smart backpacks or briefcases.
4. Subscription box
If your dad is into fashion and loves surprises, consider a subscription box from a men's clothing club. These clubs deliver monthly boxes filled with new clothes, socks, cufflinks, and other accessories that would suit his style. You can check out popular subscription boxes like Stitch Fix, Trunk Club, or Menlo Club.
5. Customized Fashion
Consider a watch, a bracelet, or a necklace with his initials or a meaningful symbol. Or, choose a pair of personalized cufflinks that he can wear to a special occasion. You can even customize jewelry with a personal message to show your dad how much you care.
10. All Things Music
For dads who love music, there are plenty of gift ideas that can help them enjoy and appreciate their favorite tunes even more. Here are a few gift ideas to consider: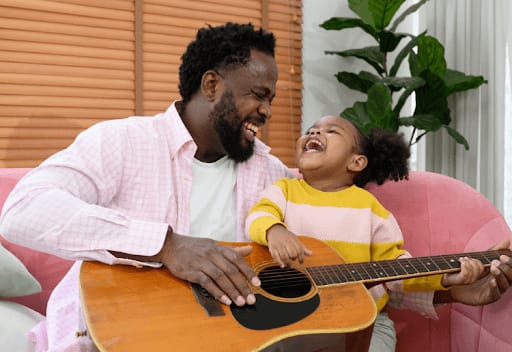 1. Headphones and Portable Speakers
A new pair of high-quality headphones or a portable Bluetooth speaker can be an excellent gift for someone who loves music. You can choose from different brands and models, depending on your budget and your dad's preferences.
Some popular brands for headphones include Bose, Sony, and Sennheiser, while for portable speakers, you can check out brands such as JBL, UE, or Sonos.
2. Record Player and Vinyl Records
If your dad has a collection of vinyl records, consider gifting him with a new record player to play them on. You can also get him some of his favorite vinyl discs to add to his collection.
Some popular brands to consider for record players include Audio-Technica, Pro-Ject, and Rega. For vinyl records, choose from artists that your dad loves and enjoys listening to.
3. Concert Tickets
Surprise your dad with a concert ticket to see his favorite band or orchestra live. It can be an excellent opportunity for him to enjoy his favorite music and create memories that will last a lifetime. You can also consider buying tickets to a music festival where he can see multiple artists in one day.
4. Musical Instruments and Accessories
If your dad is a musician himself, consider getting him a new instrument or some equipment and accessories that he needs. For instance, you could buy him a new guitar, keyboard, or drum set.
You can also consider buying him accessories he needs, such as tuners, stands, straps, or pedals. Make sure to consult with him about which instrument or accessories he needs, and do some research to find the best brands and models.
5. Music Lessons
Another great idea is to gift your dad music lessons. Whether he wants to learn a new instrument or improve his skills, music lessons can be an excellent way for him to explore his passion for music further.
You can arrange private lessons with a music instructor, or you can find online courses or apps that can help him learn at his own pace. Either way, music lessons can be a thoughtful and practical gift for any music-loving dad.
Find The Perfect Gift for Your Dad This Year
This Father's Day, go the extra mile to celebrate and honor your dad. Choose a gift that creates lasting memories and will make him feel cherished and loved.
No matter what you choose to get him, make sure your gift speaks from the heart. Plan special experiences aligned with his interests, consider personalized and sentimental gifts, and above all, express your appreciation. Let this year be a Father's Day he'll never forget.