Birthday scheduled for right around Corona time? Before you sink into a bout of depression (read: tub of Ben & Jerry's and sweats), there might be a solution. Whether it's for you, a good friend, or a tiny person you've been entrusted to care for for life, here are a few ways to celebrate a birthday during COVID that'll have the birthday guy or gal smiling all year long.
Ideas for Younger Kids
Younger kids are the easiest because they don't have such high expectations. A cake, some balloons, presents, and they are good to go! If you want to get creative, though, here are a few ideas for creating an unforgettable birthday, with or without a pandemic raging:
1. Through a Themed Party
Themed parties are always fun, and they're fairly simple to do regardless of current restrictions. Pick a theme, it could be safari, Barbie, sports, trains-planes-and-automobiles, pirates, western, or anything else that your kid loves. Then it's time to have some fun. Order paper goods, party favors, banners, and other decorations to fit the theme. You can also create a menu that fits the theme (popcorn and cotton candy for a circus theme, hotdogs and peanuts for a baseball theme, etc.). Throw in a few themed activities, and you have yourself a birthday party your kid will never forget!
2. Go on an Awesome Virtual Tour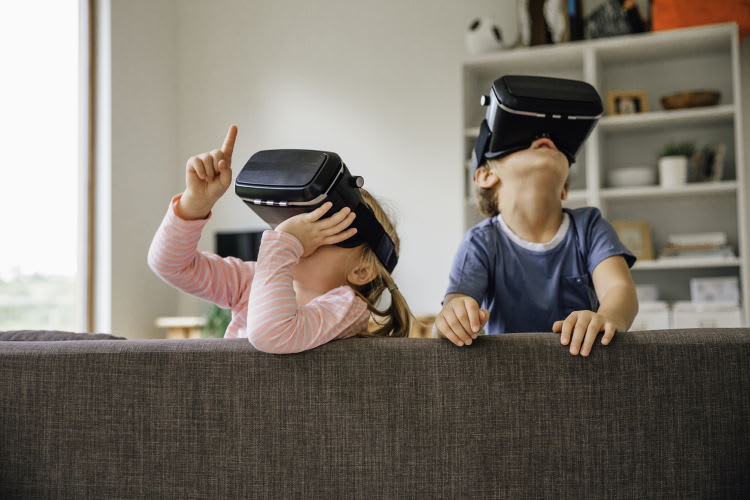 Virtual tours abound, and they're becoming even more prevalent thanks to Corona (silver lining). From Colonial Williamsburg to the National Baseball Hall of Fame, most museums offer virtual tours these days. There are also zoos, aquariums, farms, and interesting landmarks like Buckingham Palace and the White House that'll let you stroll through their premises, well virtually at least. For kids who love to experience the world around them, this will make a fabulous birthday party. You can take the tour with just your family or have a few close friends join (social distancing permitted, of course). Then buy a few fun party foods, make their favorite to-go meal, and settle down for an exciting adventure through a safari, into the world of Harry Potter, across the solar system, or anywhere else your child will find most thrilling.
One rule. You have to let the birthday kid choose the virtual tour. Because in case you haven't noticed, just because you think something is fascinating or fun, it doesn't mean your child will agree!
3. Make a Scavenger Hunt
Scavenger hunts are always fun, and what a great way to celebrate your birthday with a few close friends or family. Take some time to think about clues if you want to have a more involved hunt. Then you can hide items and clues that need to be found throughout the neighborhood or house. You can also just print out a list of items that need to be spotted if you're looking for a fun game in a pinch.
If you really want to go all out, you can ask neighbors to get involved by placing items in a clearly visible spot. Then walk your kid down the street and have them check items off their scavenger hunt list as you go by.
Kids are usually just happy to know you've thought of them. So even if you don't have the budget or time to spend tremendously, you can still throw an amazing kids' birthday party that they'll talk about for years. Here are some more great COVID birthday party ideas for kids:
Set up various carnival games, booths, and food stands in your house or backyard
Create a massive ball pit, they'll have a ball (pun intended!)
Make a tremendous yard sign that's fun and loud and full of glitter!
Gift hunt
Ideas for Teens
Teenagers are a lot harder to please, and it's not just because they're basically bags of hormones with legs right now. Social interaction is extremely important during adolescence. It contributes to their verbal development, enhances their social skills, and improves their emotional health. So social distancing and lockdowns are even harder for this age group than the rest of us. And not having their friends around to celebrate b-day? Well, that's enough to send them into a month-long bout of moodiness that nobody wants to go near. Which is why you need to put in even more effort to make sure their birthdays are totally off the wall. Here are a few of our top picks that we think your teenager is going to love:
4. Dance Party
Good music and food is the basis for just about any epic party. So a dance party is an easy way to make just about any birthday bash an instant success. Create a fun dance mix, share the playlist with your friends, and then dial it up on Zoom. You can also rent or buy a strobe light to make things even more exciting. Then turn up the music, and let your feet do the rest!
Helpful suggestion: Have a specific start and end time for the dance party. That way, your child's friends are standing around awkwardly wondering when they should sign off the zoom meeting. They'll stand around awkwardly for other reasons. But at least you'll have the timing right.
5. Stream a Movie With Friends
Having a movie marathon with friends is a fun way to kill a few hours. But with Corona around, it's been hard to make those types of evenings happen. So for your teen's birthday, make this fun experience a reality. Decide which movies you're going to let them binge on, send out a Zoom link (or Google Hangouts, or Facetime, or whichever video chat platform you want to use), and then get out of the way. Let your kid have fun making fun of the movies, screaming along with their friends, and generally being goofy teens without their parents helicoptering over them.
Oh, and don't forget the refreshments. Now you can leave.
6. Throw a Spa Day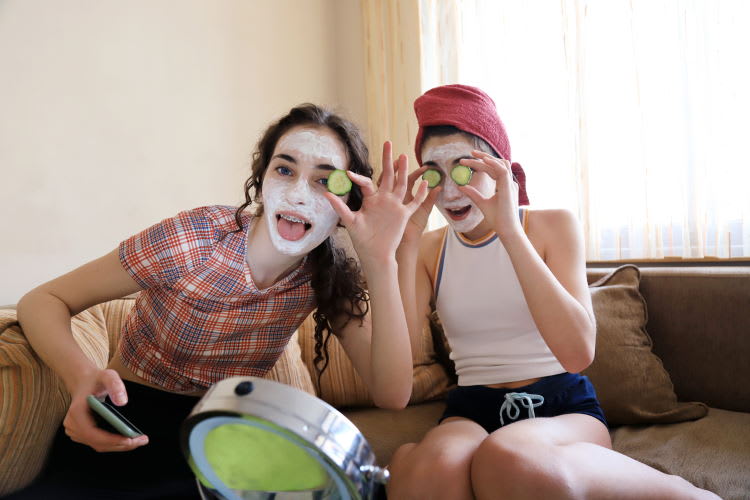 Who doesn't love the spa? To really pamper your teenager this birthday, create an at-home spa. And really go all out. Include things like deep conditioning hair masks, face sheets, manicures, pedicures, and the like. And have spa-themed decor and party favors. Also, buy scented candles to set the tone.
Teens aren't as bad as we make them out to be. They just need lots of love and space (and patience and space). Here are a few other ideas for giving your teenager the birthday they'll thank you for (when their friends aren't around and they've grown up enough to be appreciative, that is):
King or queen of the house for a day gives them full bragging rights to ask for anything they want from anyone
Backyard campout, complete with smores! Epic!
Ideas for Adults
Adults are a lot like little kids: we really don't need much more than snacks and nap time to make us happy. If you've got a friend that needs a pick-me-up (and yes, that friend can be you), then try out one of these entertaining ideas for a great birthday bash in their honor.
7. Host a Virtual Birthday Party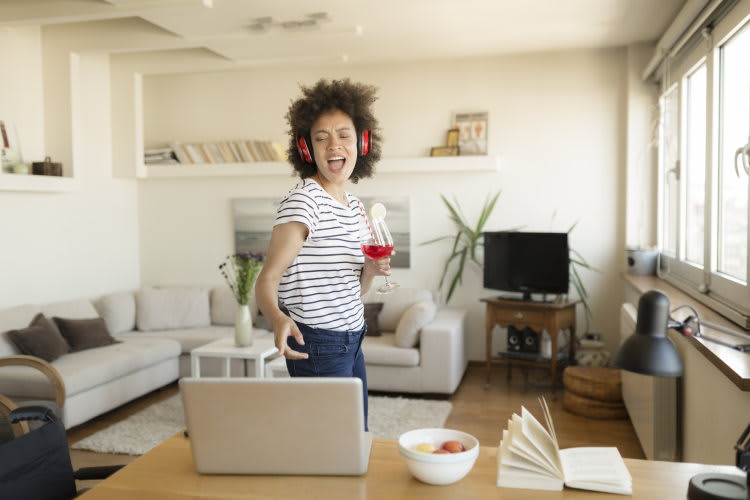 Make your own party and then invite them in virtually. Extra points for guests who play along. You can create a playlist and share it with friends, so everyone is jamming to the same tunes. In terms of entertainment, connect to one of these group trivia game apps like Fibbage, Jackbox, or virtual Cards Against Humanity. Everyone will be playing and laughing together, even if you're miles apart.
FYI this can work for kids as well. Just make it much shorter. A virtual birthday bash for ten year olds might include a fun Lego challenge or a creative arts and crafts project that you send out for everyone to do on screen together.
8. Stock the Bar Parade
This is an awesome idea for friends who like drinking (read: everyone). Arrange for friends to drive by the birthday guy or gal's house at a specific time. Each friend should hand a present through the window. The gift must be something appropriate for stocking the bar. This can be a nice set of glasses, a choice bottle of alcohol, or an engraved decanter. Whatever you want. Then you can share a drink virtually!
9. Host a Gift a Day Event
Doesn't the sound of this sound epic?! The idea is simple. For a week or a month or anytime frame you decide, have a gift delivered to the birthday person. It can (and should) be something small most days. But save a really awesome gift for the last day. It's a little way to say I'm thinking of you and I wish we could be together.
Virtual scrapbook or other crafts project
Throw a surprise reunion
Have a family wisdom hour (particularly cherished by seniors)
Subscriptions
Backyard movie theater
10. Have a Romantic Dinner Date
Just because you can't go out for dinner with a loved one doesn't mean you can't celebrate an intimate meal together in style. Explore different recipes and plan a dynamite menu that you and your beloved can cook up together.
Cooking the meal is half the fun; eating it is the other! So, you have a fun evening of enjoyable activities you can do together. And it'll cost you only a fraction of what a restaurant dinner would. As it's your birthday you can make sure to dress up the house for the occasion so you feel the celebratory atmosphere.
It's Your Birthday: Live it Up!
COVID sucks, plain and simple. But that doesn't mean we have to let the regulations drag us down. Especially during your birthday, there's reason to strum up some excitement by changing things up and doing something outside of the norm. Considering that for most of us, going to the supermarket is out of the norm, these ideas are downright risque! Let your Corona birthday bash be the bright light, the fond memory you can look back on during this bleak time. And here's to life returning to normal.
You may also like:
Best Meal Delivery Services for No-Hassle Healthy Meals at Home