In a Nutshell
Each PlushBeds mattress is hand-made in house, which is why they all come with an incredible 25-year warranty, guaranteeing you'll be sleeping well for the next quarter of a century. What's more, every mattress from this brand comes with a GreenGuard Gold certification. That means PlushBeds products are free from harmful chemicals that could be released during your slumber.
pros
Sustainable choice thanks to eco-friendly materials
Lengthy warranty
100-night risk-free trial
cons
Few options for memory foam mattress firmness
Technical descriptions make it hard to choose a mattress

PlushBeds Visit Site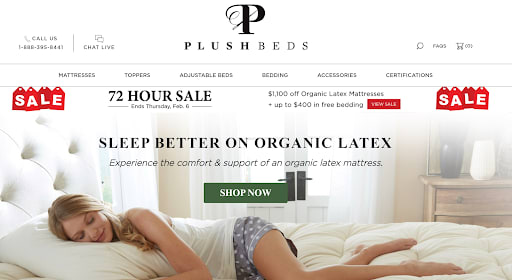 Free drop-off and return collection.
Allow up to 14 business days for delivery.
Soft, Medium-Soft, Medium, Medium-Firm, Firm
What Type of Sleeper Is It Best For?
Allergy sufferers and people easily irritated by dust mites
Side sleepers
Restless couples
Sleepers who need additional support for sore joints
Back sleepers
Restless sleepers
Combination sleepers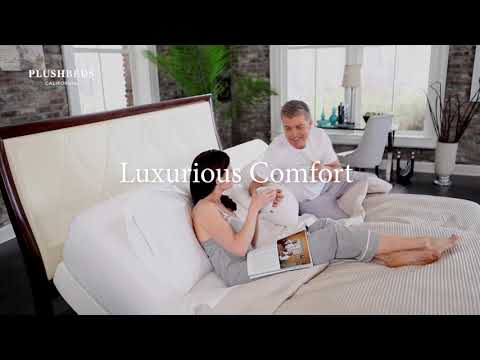 How it Works
Getting hold off a PlushBeds mattress isn't hard. However, before placing an order you'll need to find a model that fits your sleep style, and that means choosing between memory foam and natural latex construction for your new mattress. PlushBeds is best known for its natural latex options that are more supportive and responsive to movement than traditional memory foam. After picking a material, all you need to do is customize size and firmness.
It should take no more than 16 business days for your mattress to arrive after the order is placed, and delivery is totally free. If you need assistance setting-up your new mattress or getting rid of your old one, for a small fee, PlushBeds will forward you the contact details of qualified movers in your area. Most PlushBeds mattresses don't need any assembly after delivery, so in most cases, this option won't be necessary.
PlushBeds is known for its high-quality mattresses and states that less than 2% of its orders are returned. In the unfortunate case that you aren't satisfied with your purchase, you can return it free of charge up to 100 days after you receive your order.
The only condition is that PlushBeds requires you to sleep on the mattress for 30-nights prior to making a decision and the product must be in good condition and wrapped carefully. If you don't make it through that 30-day window, you'll have to pay $99 for your return. To request a return, all you need to do is call the PlushBeds phoneline and a collection will be scheduled.
Mattress Models
Organic cotton, New Zealand wool, organic latex
Luxury Bliss Premium Coil Mattress with Natural Latex
Organic cotton, natural latex
Natural Bliss Latex Mattress
Wool free, all-natural latex
Soft, Medium, Medium-Firm
Botanical Bliss
Best for pain relief and deep sleepers
The PlushBeds Botanical Bliss mattress contains 3 layers of organic Dunlop Latex. This has a dense feel, but the firmness and order of each layer can be customized to your demands. Above the latex layer, you'll find a temperature regulating 10lbs of certified organic wool that's organically-sourced from New Zealand. And, on top, a breathable cotton cover.
Thanks to the purity of the Hevea brasiliensis tree sap used to create the latex layer, Botanical Bliss mattresses get rid of microbes and are mold and mildew proof. This makes them hypoallergenic and capable of inducing a buoyant, restful sleep.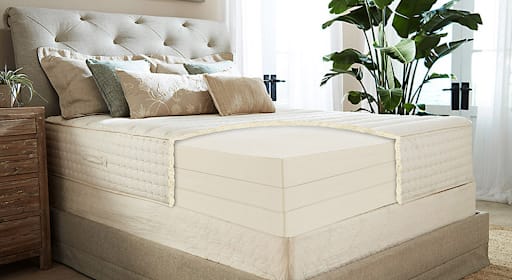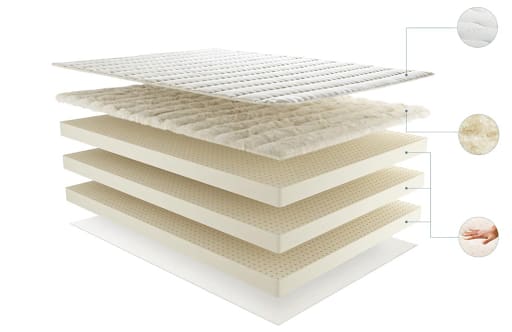 Luxury Bliss Premium Spring Mattress with Natural Latex
Best for side sleepers
This mattress contains both isolating coils and organic latex. Thanks to this combination, it's sure to keep your spine in a comforting position that encourages a restorative slumber. The level of support provided by the springs also makes this an excellent choice if you are sharing a bed with a partner.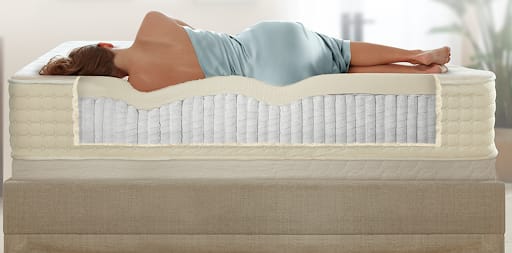 Natural Bliss Latex Mattress
Best for light sleepers
The Natural Bliss Latex mattress is constructed from saps extracted from live rubber trees. This makes it completely vegan, and also more sustainable and durable than most latex mattresses which are normally based on petrochemical compounds.
If you select this particular mattress, you'll find that the organic cotton cover passes all the benefits of the natural latex to you, ensuring a restful sleep. Below the cover is a plant fiber-based fire barrier. Depending on the thickness you select, at the core of the mattress you'll find up to 10" of that all-important natural latex.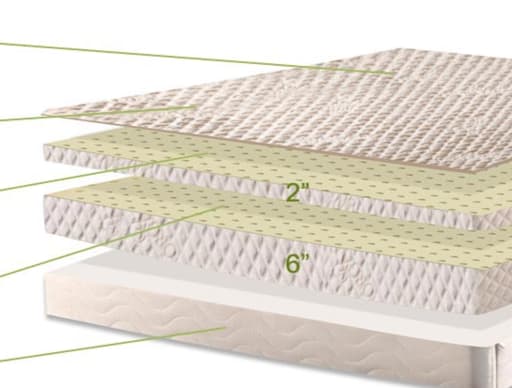 Cool Bliss
Best for sleepers who overheat
Built from 5 comfort layers including 3" of cooling gel and 2" of Natural Latex, the Cool Bliss mattress is designed to produce the ideal conditions for a good night's sleep. A high-density polyurethane core prevents the sagging that's typically associated with memory foam mattresses, while PlushBed's patented gel foam creates an airflow to keep you cool and dry.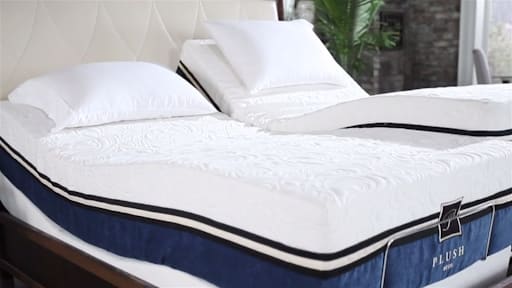 Ocean Mist
Best for couples
With 3" of Cool Bliss Gel Memory Foam, you can rest assured that the Ocean Mist mattress will keep you cool throughout the night. Meanwhile, a 4-way stretch cover will spread your weight and can be removed for spot cleaning with a simple zipper.
The PlushBeds Ocean Mist mattress also provides superior support through a combination of pressure-relieving memory foam and natural latex. With this option, you'll get near-zero motion transfer which is ideal if you sleep with a restless partner.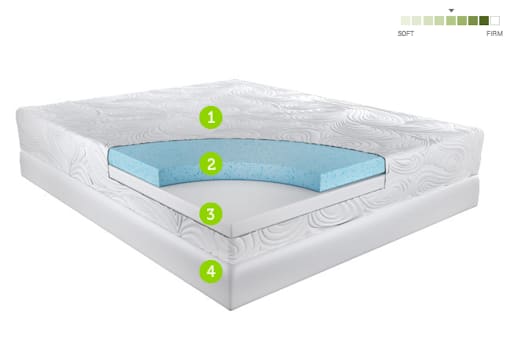 Posture Plus
Best for back and stomach sleepers
Atop this mattress is a stretch cover with antimicrobial properties that's perfect for any allergy sufferers. Hidden below you'll find a supportive core, airflow layer, natural latex and 3" of memory foam.
With a jaw-dropping 6 layers of composite materials, the Posture Plus mattress is designed to satisfy anyone who loves the feeling of memory foam but needs something that won't deform through the night. Thanks to the advanced technology used to design this mattress, you don't need to worry about its well-balanced firmness leading to stiff joints or aches.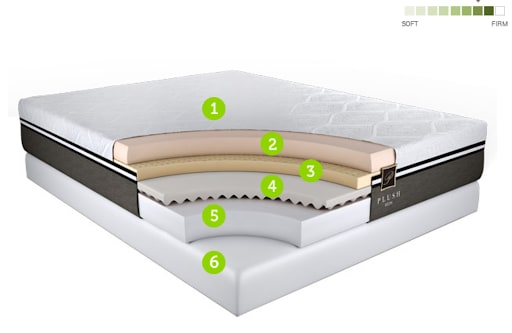 Delivery
Once PlushBeds gets your order, you'll need to wait a few days for your mattress to be manufactured. This process takes 7 to 9 business days and ends with a detailed quality control evaluation. Once completed, your mattress will be shipped. This can take another 7 days depending on how many other customers are purchasing PlushBeds mattresses at the same time.
Testimonials
"The first thing I noticed about my first night on my mattress was a very vivid dream from deep REM sleep. I hardly ever dream, but now I dream every night!"
"Very, very comfortable. It looked odd coming out of the box but was instantly comfortable. Best I have ever had"
"The bed is very comfortable. I love the idea of switching the foam to make it harder or softer. My daughter loves sleeping on it, even though it wasn't purchased for her."
Bottom Line
PlushBeds stands out for its extensive range of different mattress designs. Each is created for a different kind of sleeper and many contain patented technology that will keep you cool, support your joints, or eradicate irritating microbe particles.

PlushBeds Visit Site
About PlushBeds
PlushBeds is a mattress supplier that makes each one of their products in-house before shipping. With a focus on innovation and comfort, this company is also known for keeping its products free from harmful chemicals.