In a Nutshell
Drops is an engaging new way of learning languages through games and memory techniques, helping students associate words with their meanings. It features 50+ languages and can help turn study into an exciting daily experience. Though the free trial is only 7 days, Drops is fairly inexpensive, and you can use it seamlessly on desktop or mobile. Users will find it a fun tool to learn vocabulary or supplement other language-learning platforms.
pros
50+ languages available on the platform
Fun, gamified learning style for building vocabulary
Affordable plans with occasional offers and discounts
cons
Free trial requires PayPal or credit card details
Companion app Scripts needed for character-based languages

Drops Visit Site
Drops Subscription Plans
The Drops app comes with monthly, annual, and lifetime subscription offers, with an initial free trial period for users to test out the program. You'll have to input your payment details to access the 7-day free trial offer. Premium subscriptions are available on devices or online, and you may find one-off discounts and promotions.
Here are the subscription options at a glance.
Free Plan
(best for beginners and testers)
Premium Plan
(best for basic and advanced learners)
Limited to 5 minutes every 10 hours
Unlock topics one by one through gameplay
Select any topic at any time
Additional Items
Here are some additional options available:
Thousands of words available
The Dojo—a word memorization algorithm—unlocked after learning 50 words
Drops words visual dictionary
Listening tests (only for premium users)
Hide or unhide words feature
How much does drops cost?
The Drops app is available for $8.49 per month for the monthly plan or $5.84 per month for the yearly plan. There are also occasional promotional offers for as much as 50% off the price for the annual plan, bringing it to just $2.92 per month. The lifetime plan is a one-time purchase of $149.99.
All the premium plans provide an ad-free experience with unlimited access to features, such as word previews, collection, and search. Unfortunately, it currently does not have family sharing options, As both Google and Apple's app stores do not allow some apps with in-app purchases to be shared.
How does Drops work?
To get started with Drops, access it online or download the mobile app to your iOS or Android-powered device. You have to create an account and log in with the email address you've registered with. Once inside, click the Profile menu and select from one of the 50+ languages on the platform. Change the learning language from the same menu option to match your preferred or native tongue.
The app uses short, engaging games to cover 150+ selected language topics that you can use in your daily life. It is expected that you'll understand 80 percent of what you hear in the new lingo after gaining about 3000 words. This vocabulary growth makes the user comfortable when traveling to foreign destinations.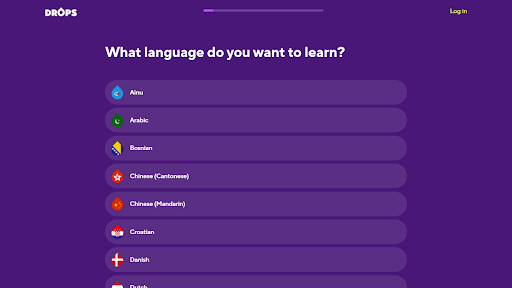 Drops is very easy to use and can form part of your daily commute, with just 5 minutes a day building a stable language foundation for the learner. Some of the handy features include an achievements board, a daily streak to keep the student engaged, word-management options, vibration, and a user-friendly interface. It uses visual and audio tools, but if you want text-based learning for languages whose characters are unfamiliar, you will have to pair Drops with its companion app, Scripts.
Is Drops reliable and safe?
Drops does not have a page on Trustpilot or BBB, but it is rated 4/5 stars by 229,000 users on Google Play. Users found the free trial's limitations restrictive but the platform overall engaging and fun. However, the Drops website doesn't make any security policies about user information easy to find.
The 7-day free trial registration may put off interested users due to the requirement to input credit card or PayPal details to gain access. Although the app has a money-back guarantee, you might incur costs if you fail to cancel the billing after the trial ends.
What's special about DROPS?
The Drops method is meant to gamify the learning experience, making it enjoyable for the student. In order to learn words, you'll play a variety of mini-games. You can store and search for learned words and unlock new ones when you raise the level in the menu option from Beginner to Intermediate. Furthermore, Drops uses a Spaced Repetition System (SRS) algorithm to predict the proper time to introduce a word to you so that you can remember it.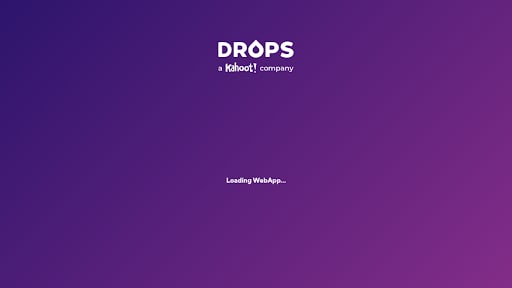 With its focus on vocabulary, Drops can be a great supplemental language-learning tool. It complements other learning tools by enabling you to memorize vocabulary better and combine it with any language skills you've acquired from additional platforms.
Help and Support
Customer service is available directly through the app's Help section. The support team is on hand from Monday to Friday from 9am to 5pm. You can also contact them via Messenger and chat with them on Facebook. Other social media sites, such as Twitter and Instagram, have Language Drops accounts as well.
Frequently asked question (FAQ) pages are also available on the website, offering users detailed explanations to address their concerns. The Support page addresses customer questions, plans and subscriptions, and troubleshoots common problems. In addition, a blog is available, covering language learning, writing, travel, phrases, memorization skills, and more.

Drops Visit Site
Bottom Line
With many language-training options available, it doesn't hurt to try an innovative option that promises to improve your vocabulary through engaging games. Using Drops requires only a 5-minute commitment every day, although to gain fluency faster you'll likely have to practice more frequently. As it is fairly inexpensive, you can try it for a week to see if it suits your style instead of making a long-term commitment prematurely. For users looking to supplement other language-learning experiences, or those who find a classroom-style approach to learning language unengaging, Drops could be a great choice.
FAQs
Is Drops good for language learning?
Yes. It offers many common languages, plus other languages with fewer speakers, such as Ainu. Its visual and gamified learning experience improves word recollection, thereby enhancing a speaker's vocabulary. It also has listening tests to improve pronunciation and confirm a learner's progress in the language.
What languages does Drops offer?
More than 50 languages are available on the Drops platform, from those rarely spoken to popular languages like English, Russian, Spanish, and French.
Can I learn multiple languages on Drops?
Yes. There are no restrictions on how many languages you can select and learn simultaneously. While it can be better to focus on one at a time, the key is to find what works for you.