This is where technology like the lululemon Studio Mirror can help. With over 50 class types, you are sure to find the right workout for you. Whether your goal is to build muscle or lose weight, you'll find workouts to meet your requirements.
Formerly known as MIRROR, this smart fitness device is now rebranded as part of lululemon Studio, which provides a range of other benefits including 10% off lululemon purchases and 20% off fitness classes at lululemon's partner studios. You'll also have the advantage of the lululemon Studio trainers at your side—experts who can help you achieve your fitness goals.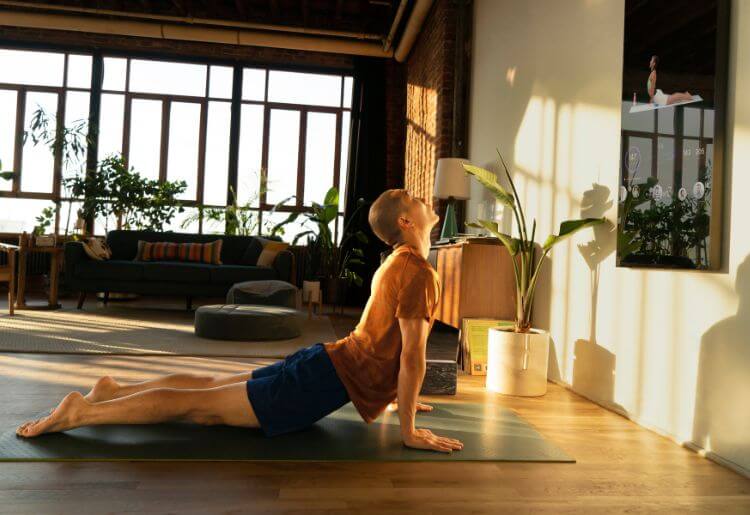 In this article, lululemon Studio trainers answer some of the most frequently asked fitness questions about working out and the lululemon Studio Mirror.
1. How Often Should People Work Out?
One of the first questions when planning a workout routine is: how often should I be working out? While there are CDC guidelines around exercise, the answer often depends on individual training preferences. Some people prefer the routine of working out every day, while others prefer having rest days in their week. lululemon trainers recommend exercising at least 3-4 days a week.
Lance Parker, founding instructor for lululemon Studio, says "84% of Americans fail to meet the World Health Organization Physical Activity (PA) Guidelines of 150 minutes a week of moderate-vigorous PA plus 2x a week of resistance training (Zhao 2020). This is associated with both a reduction in lifespan and healthspan."
Christina Jensen, lululemon Studio Core Trainer and NASM-certified trainer believes that the focus should be on health. "Being healthy is the most important goal," she says, and adds - "The goal is to work out more than none."
While following these guidelines is important, keeping active doesn't necessarily mean working out in the traditional sense. "For general health, you should be moving and getting your heart rate elevated at least 5 times a week for 30 minutes or more," says lululemon trainer and professional dancer Lonnie Poupard. "But that could be anything! A brisk walk, dancing, strength training, or playing with your kids outside are all really great options."
2. Is There a Best Time of the Day to Work Out?
The best time of day to work out is the time that you can actually commit to exercising. Some trainers recommend starting in the mornings. Rachel Nicks, a founding Fitness Instructor at lululemon Studio, says, "I believe working out in the morning helps you to set the tone for your day and energizes you."
Working out in the morning is common, especially as life can get busy after work. "Generally speaking, you have fewer excuses or distractions from working out earlier in your day," says trainer Armond Jordan, "But you always want to be realistic and stick with a time when you'll be the most consistent."
While some prefer morning workouts, others advise that the best time is the time you stick to. "The best time is determined by YOU," says trainer and health coach Pilin Anice. "It's an individual choice decided by your body's rhythm, schedule, lifestyle, etc. Some people thrive with early morning workouts, while others prefer after lunch or work. Decide how long you want to spend working out then find where you can fit it into your schedule and start there."
3. Why Is it Important for People to Stay Fit?
There's no doubt in mind that staying in shape has plenty of health-related benefits. lululemon Studio trainer and founder of Mile High Run Club, Hollis Tuttle, says, "It is important to stay fit and healthy because it increases your chance of living a longer—and higher quality—life. Remaining fit can also reduce your risk of experiencing heart disease, stroke, high blood pressure, type 2 diabetes, osteoporosis, and many types of cancer."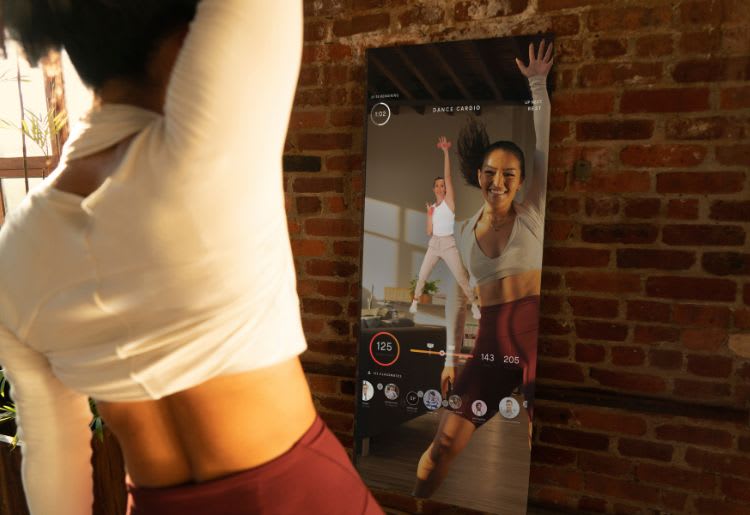 But staying fit doesn't only help your physical health. There are also significant mental health benefits to exercise, as well. "Studies show that regular exercise has a profoundly positive effect on mental health," states yoga instructor Patricia Sabulis. "It relieves stress, improves memory, and boosts your overall mood."
4. When do People Start Seeing Results?
It will take time to see changes in your body. Weight loss or muscle gain doesn't occur overnight, but that doesn't mean change isn't happening. According to TRX trainer Ashtain Rothchild, "A lot of this is dependent on an individual's discipline, consistency, and genetics. Universally, I say within 30 days most people will start to see some transformation."
But just because you aren't seeing immediate results, that doesn't mean you aren't feeling them. "You should feel endorphins immediately; while physical results could take several weeks," says the Mirror founding trainer Chris Ryan.
5. What Are Some Tips on How to Stay Motivated?
There are always ups and downs when working towards your fitness goals, and staying motivated will help you stick to your program during those downs. There are plenty of tips on how to stay motivated when exercising, but here are some of the best ones from the lululemon Studio trainers:
Parker suggests choosing a type of training that you enjoy. "If you like what you're doing you'll be more inclined to continue training. If it ever becomes stagnant, don't be afraid to shift your focus to something more enjoyable."
Tuttle speaks about motivation, suggesting that everyone is motivated differently. "The key is finding what motivates you," she says. "A few common means of staying motivated include finding an accountability buddy, scheduling workouts in your calendar, and creating a fun challenge."
Nicks adds that you should "find an instructor that inspires, challenges, and motivates you."
6. Why Is Perfecting Form Important?
Good form is necessary for both safety and performance. You want to ensure that you are completing exercises safely and that you're also completing them with a full range of motion.
The Mirror allows trainers to advise you on your form, ensuring that you train effectively. "Good form is important to avoid injuries and combat the poor habits—especially postural—that we have in our day-to-day lives," says Poupard. "This is one of the many reasons I love the Mirror. Our coaches are world-class, they know how to predict the form corrections you need and offer great modifications when necessary. The Mirror itself will also give you alternative exercises to do if you have a limitation or injury."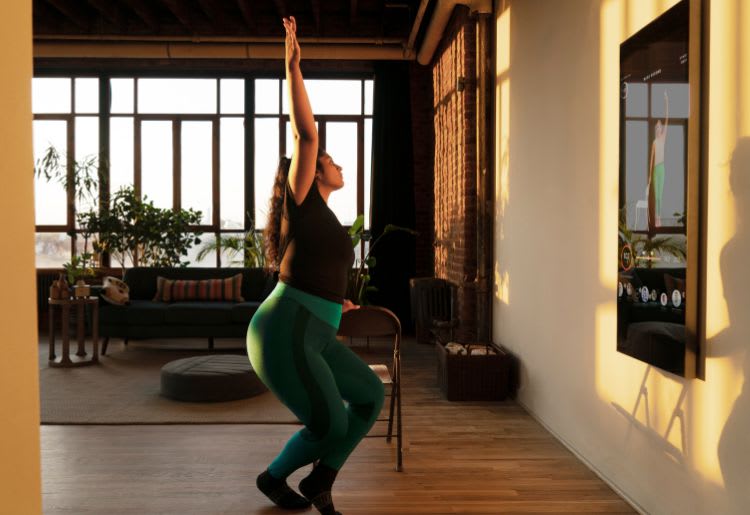 In kickboxing, for example—one of the many types of classes the Mirror has to offer—form and movements are significant aspects of the sport. Kickboxing trainer Deja Riley says "form and technique are key components in kickboxing. Learning to throw your strikes accurately, keep your stance and strike form tight, and learn footwork and weight distribution is key to finding a flow and getting the most out of your training."
7. How Do People Know What Workout Is Best for Them?
We've already touched on the idea that doing a workout is more important than when and how often you do it. As Poupard says, "The best workout for you is the one you will stick to. Obviously, if you have specific goals you may need to tailor your training to align with them. But that's the cool thing about Mirror. We have literally 10,000+ workouts to choose from and over 50 types of workouts."
Even if you prefer a specific type of exercise, it is worth adding some variety to your routine. For example, if you are focusing on strength training to build lean muscle and reduce body fat, it can be worth adding in some cardio to raise your heart rate and get that calorie burn going.
Anice recommends exploring Mirror's workouts: "Try shorter classes and find what resonates with you. Think about creating balance—for example, a cardio strength class followed by gentle yoga."
With accessories such as smart weights and resistance bands available for use with the lululemon Studio app, there are plenty of options to try.
8. How Do I Know What the Right Level of Challenge Is?
With so many experienced coaches and four different levels to train at, you are bound to find the right level of workout to challenge you. Geren Liles, a founding trainer for lululemon Studio, recommends that you "consider your level of experience with working out to decide a starting point! Mirror has four levels—beginner, intermediate, advanced, and expert—so sample classes that feel on par with your capability. Then you can progress or regress as needed."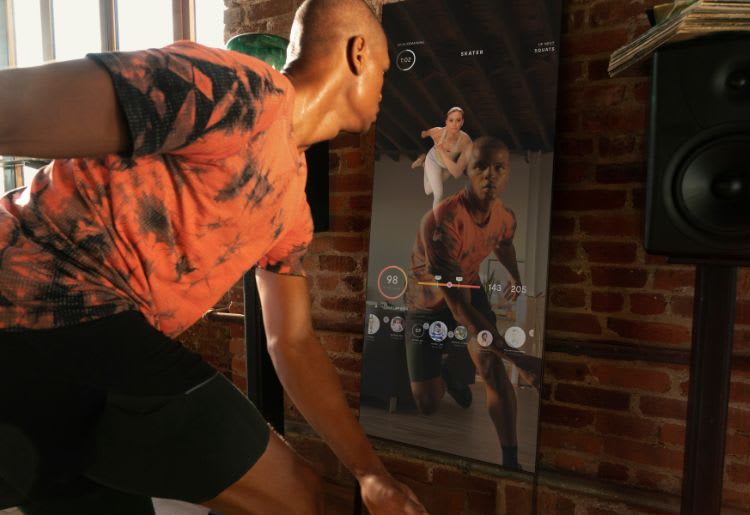 You're not locked into any specific level, so if one level of difficulty doesn't work for you, then you can try another. "You can expect classes for all fitness levels, styles, genres, niches, and more," says Christina Jensen. "We also accommodate classes for injuries, pre- or post-natal, all seated, no impact, you name it."
9. How Do People Make Sure They Don't Hurt Themselves?
Warming up and stretching are necessary to reduce the risk of injury. Try dynamic stretching at the start of a workout or performing static stretches at the end. If you are lifting weights, the amount of weight you choose is important. It is better to start slowly by picking a weight that is too easy and progressing to heavier weights, than being too ambitious.
"I encourage people to be patient with their exercises and goals," says Armond Jordan. "This will decrease the chance of injury. Starting on a solid foundation is not only important to your body's adaptation to exercise, but it also decreases your chances of having a setback."
Rothchild says it's all about rest and recovery. "The time you spend helping your body to recover—using a foam roll, stretches, massage, etc—is equally if not more important than the work you do."
Of course, one of the benefits of the Mirror is that the trainers can see you and offer advice.
"I highly recommend taking classes with your Mirror camera on and turning on your lights. This allows trainers to see you and offer form cues and ensure that you are moving correctly," Tuttle says. "I also stress the importance of listening to your body—if something is painful, please don't continue to do it."
10. What Do You Think the Most Important Health Metrics Are?
While many people look to the scales when thinking about health, Lance Parker reminds us that this isn't what we should be looking at. Scientifically there are far more important metrics to take into account: "NOT Bodyweight! Rather cellular health—mitochondrial density, size, flexibility, capillarization, VO2peak, and body fat percentage."
For simplicity, a good metric to track is your heart rate. Christina Jensen explains that "our heart rate can tell us so much about how we feel, how hard our body is working, or how much more we need to push to get into a particular training zone. Heart rate zone customization is a feature we offer on Mirror, and this tool will help guide you into the exact zone/ exertion goal you'll need to be in for every moment of every class."
But aside from your physical health, it's also important to remember other aspects of health. "I believe the most important health metric is lifestyle," says movement master Amanda Robinson. "This encompasses a full scope of your medical, mental, physical, and spiritual well-being to ensure you are working towards living your best life."
Don't miss out on this special offerThe lululemon Studio Mirror has 10,000+ workouts so anyone can find a workout they enjoy.

Visit Site
Conclusion
Working out is imperative to your health, no matter which workout you choose and how often you do it. Smart fitness machines such as the lululemon Studio Mirror offer an innovative way of working out and staying fit, especially if you're struggling with your goals.
When we reviewed the lululemon Studio Mirror, we ranked it as one of the top fitness machines on the market right now. With 10,000 classes to explore and expert instructors available to answer your fitness questions, the Mirror is definitely worth investigating if you want to exercise at home using intelligently planned workouts.
lululemon also offers packages on their website, which include smart weights, fitness bands, and heart rate monitors. These allow you to get the most out of the Mirror, but you can buy accessories separately as needed.