In a Nutshell
Offering AI-powered strength training and personalized workout routines, Tonal's home gym is an attractive option for those seeking a high-end fitness solution. With a 24" inch screen, its technology allows users to follow full-body adaptive workouts and join live interactive classes. Overall, Tonal is great for committed gym fans, but its price tag could mean it isn't ideal for those looking for a low-cost workout.
pros
Free 90-day trial
Live workouts
Full-body strength assessment
cons
Cheaper options available
Minimum 12-month membership required

Tonal Visit Site
About Tonal
Based in San Francisco and founded in 2015, Tonal aims to revolutionize home fitness through intelligent strength training. Unlike many of its competitors, it focuses on weights, rather than cardio training. Endorsed by sporting legend LeBron James and earning a Luxury Lifestyle Award in 2020, its wall-mounted digital weight system works for both upper and lower body workouts, with its AI-powered technology setting personalized goals based on your fitness levels.
Tonal Products
Strength training has enormous benefits for weight loss and overall fitness levels, so installing weight training equipment in your home could prove a convenient alternative to having a gym membership. Read on to get our in-depth take on Tonal's at-home strength training machine, which is its sole product.
Tonal Home Strength Fitness Machines
Without traditional metal plates, dumbbells, and bars, Tonal's digital weight technology is based around the use of magnets and electricity. By making thousands of calculations per second, it can deliver up to 200 pounds of resistance training through a device smaller than a flatscreen TV.
Adjustable arms support upper- and lower-body movements, from chest compresses to squats, while its integrated 24-inch displays allow you to train alongside Tonal's coaches.
At $3,495 Tonal uses smart technology to mimic a human personal trainer as its built-in intelligence tracks your range of motion, positioning, and pace. It also uses up to 17 sensors to provide real-time feedback on your progress and increases weights in 1-pound increments.
In addition, Tonal has recently introduced live interactive workouts, which are broadcast from its studio in Los Angeles.
As well as connecting to your Apple playlist, you can tune your Tonal radio to your station of choice and stream this music to your audio device.
You can also purchase a smart accessories bundle for a price of $495, which includes:
Smart handles
Smart bar
Rope
Bench
Roller
Workout mat
Overall, this machine would be an excellent fit for those willing to invest in high-end and high-tech equipment that adapts to their fitness levels.
Watch this video to learn more.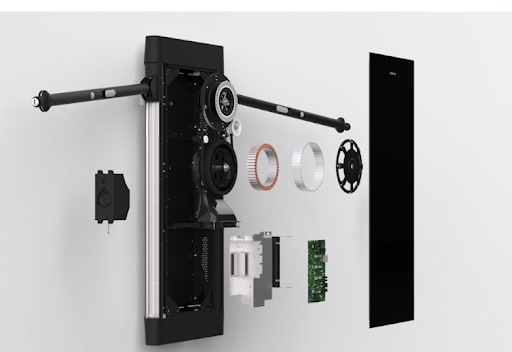 Tonal Training App
Tonal's free companion app is available for download from the Apple Store or Google Play, and it also integrates with the Apple Watch. The app enables you to do the following.
Browse Tonal's workouts and guided programs
Review metrics from every workout
Track your progress over time
Create detailed workouts
You can also create a profile, which allows you to follow your friends and encourage one another in your exercise goals.
Many app users praise its easy-to-navigate interface, while others are impressed by the speed at which the company updates the functionality of the app based on customer feedback.
Pricing & Special Offers
You can purchase Tonal online or in person at more than 40 Nordstrom retailers. These locations are listed by state on the Tonal website. If you're curious about the product, you can schedule a live one-on-one video demo.
Tonal's equipment is priced as follows.
Strength training fitness machine
Shipping and installation costs an additional $250, which increases to $300 if you live in Hawaii or Alaska.
Before you can set up your equipment, you'll also need to purchase a membership with Tonal for a minimum of 12 months. Costing $49 per month, it includes thousands of on-demand workouts, dynamic weight loads, personalized weight suggestions, and heart rate tracking.
Overall, Tonal's prices are higher than many of its competitors, although it is difficult to draw direct comparisons, as Tonal's product is unique. Perhaps one of its closest competitors, Mirror, offers a functional smart fitness mirror with a suite of built-in workouts and live classes. Mirror's prices range from $1,495 to $1,845.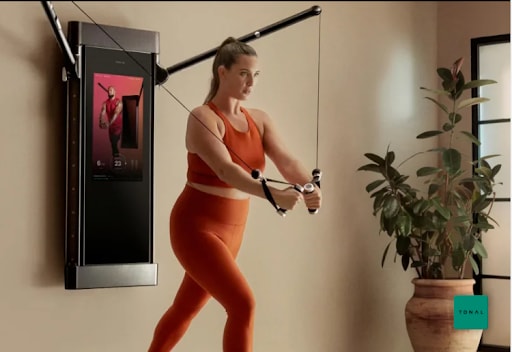 Tonal Payment Options
For those who want to pay for their purchase upfront, Tonal accepts Visa, American Express, MasterCard, and Discover cards.
Alternatively, its financing plan, offered by Affirm, allows you to spread payments over 24, 36, or 48 months. These plans carry a 0% APR and are subject to a credit check.
Tonal offers limited warranties for the following periods.
Trainer, including touch screen
1 year for parts and labor
2 additional years for parts only
The remainder of the original warranty period on that part, or 45 days, whichever is longer
Your coverage includes defects on materials and workmanship as long as you purchased your equipment from an authorized retailer. You can see a full list of warranty exclusions on the company's website.
Tonal also offers a 90-day free trial, which means you can return your equipment within this period and receive a full refund if you're not satisfied.
Service and Support
You can contact Tonal over the phone, social media, or live chat between 8am and 12pm (ET). Alternatively, you can submit a request via its online ticketing system or visit its online forums.
When we contacted Tonal via Twitter, we received an extremely polite and detailed response in less than an hour.
The website also has a detailed selection of FAQs, which answered most of the questions we had about the company and its products.
As well as offering a blog on a range of fitness topics, Tonal has plenty of articles on its support forums, which provide guidance on purchasing, installing, and using its equipment.

Tonal Visit Site
Bottom Line
With AI-powered tech offering personalized workout programs, Tonal has a great deal to offer fitness fans. We were particularly impressed by its streamlined design, which allows the equipment to be easily incorporated into your home.
One point to bear in mind: purchasing this equipment does require a significant financial commitment, and cheaper alternatives are available. As well as the initial outlay for the equipment, you'll face a $49 membership fee for a minimum of a year. That said, you may find the equipment is worthwhile, as it could replace the cost of an expensive gym membership.
FAQs
Can I install Tonal myself?
No. For safety reasons, the product should be installed by professionals. As well as mounting your equipment to the wall, the delivery personnel will connect you to Tonal's wi-fi, pair your Bluetooth accessories, and set up your account.
How long will Tonal take to arrive?
As soon as your order has been confirmed, you'll receive a pre-installation survey. Once this is complete, your equipment will be shipped within 1 to 3 weeks.
How many accounts can I add to my Tonal?
Your membership includes unlimited accounts.