In a Nutshell
The Mirror is a highly functional smart fitness mirror. It's designed to help you optimize your workouts in a small space. It comes with a suite of built-in workouts, along with access to live classes, mobile connectivity, and more. The MIRROR can be used by up to 6 members of your household. It boasts Bluetooth connectivity so you can link devices such as smartwatches, and it can be used to track your health and fitness goals and progress.
pros
Very competitively priced
Free delivery and installation
Provides access to live classes and workouts
cons
Limited to use as a fitness mirror
Only credit card payments available

lululemon Studio Visit Site
About lululemon Studio Mirror
The Mirror is a smart fitness mirror designed to help you achieve your health and fitness goals. A lululemon Studio Membership comes with access to numerous workout programs and live classes, and every user can create their own profile to track their goals and progress.
MIRROR was recently acquired by lululemon, a well-known fitness brand. It's quite affordable compared to many of the alternatives, and it's poised to make a big mark in the fitness world.
lululemon Studio Mirror Review
lululemon Studio's smart mirror is designed to help you achieve your health and fitness goals by providing access to guided workouts, fitness tracking, and various other features. It's quite a compact device, coming in at 70 pounds and 56" by 22.4". It can be mounted on a wall or set up with the included stand.
A wide range of Bluetooth devices can be connected to the Mirror to help you track things like your heart rate and workout intensity. There's an Android and iOS app that you can use to complete workouts when away from your Mirror, and you can even stream workouts to your TV.
The Mirror device is also quite easy to use. It can be used by up to 6 members of your household, and it comes with a number of built-in workout playlists. You can also connect to Apple Music to stream your own tunes.
There are thousands of workouts available, including a selection of live classes. Some packages come with a number of lululemon fitness accessories, and these are excellent for those looking to add to their workouts.
Overall, the lululemon Studio smart mirror presents as an excellent option for those looking for a simple yet highly functional fitness mirror.
Pricing & Special Offers
The lululemon Studio smart mirror can be purchased online through the company website. You will have to purchase the hardware and then pay for an ongoing membership. There are 3 hardware packages available.
The cheapest lululemon Studio Mirror Basic package ($1,495) includes a mirror, mirror stand, standard warranty, and lens cap. The lululemon Studio Mirror Essentials package ($1,695) adds a heart rate monitor, a fitness band pack, and a selection of lululemon fitness products. The lululemon Studio Mirror Family package ($1,845) adds more lululemon products.
Once you've purchased your hardware, you will need a lululemon Studio Membership to access any fitness classes. This costs $39 per month and includes personalized access for up to 6 people. Delivery and installation usually cost $250, but were free at the time of writing. An extended warranty can be added for $149 (1 year), $225 (2 years), or $299 (4 years).
lululemon Studio's prices are quite competitive. It's not quite the cheapest option available, but it's far from the most expensive.
lululemon Studio Mirror Accessories
The Mirror also offers a range of smart accessories that you can use to enhance your workout. As of now, these include the lululemon Studio Ankle Weights and lululemon Studio Weights, a set of smart dumbbells.
lululemon Studio Weights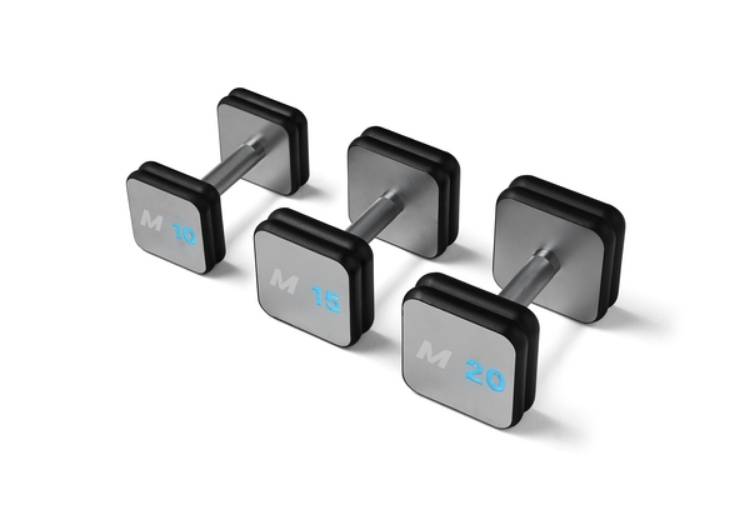 lululemon Studio Weights are ergonomically designed connected weights that are available from 1lb pairs all the way up to 35lb pairs. While they are not cheap (prices range from $50 for a 1lb pair to $200 for a 35lb pair) they pair seamlessly to your Mirror and let you take your workouts to the next level. Each dumbbell comes in a matte chrome finish and has a non-slip grip.
lululemon Studio Ankle Weights
lululemon Studio Ankle Weights are available in pairs of 1lb or 2lb and cost between $80-$95 per pair. Like the lululemon Studio Weights, they pair seamlessly via Bluetooth to your Mirror and add comfortable resistance to all your workouts.
lululemon Studio Mirror Payment Options
The only up-front payment option is a credit or debit card. Payment plans are available to qualifying buyers through Affirm. These start from as low as $31.15 per month for a 48-month plan. 12-month and 24-month options are also available. Interest can range from 0 to 30% APR depending on your credit rating and eligibility. Note that you may be charged sales tax on top of the advertised price, but this depends on your location.
A 30-day risk-free trial is available. With this, you can return the Mirror for a full refund within the first 30 days after delivery. Simply contact the customer service team and follow their instructions.
Service and Support
Live support is available via email, phone, and business hours live chat (10 am to 6 pm ET). There's a large FAQ page, along with a fully searchable knowledge base. Here, you will find information about everything from setting up your device to ordering, creating a membership, and more.

lululemon Studio Visit Site
Bottom Line
All things considered, lululemon Studio Mirror presents as a leader in the smart fitness mirror space. It's affordable, includes delivery and installation, and can be used by up to 6 people. It comes with thousands of workouts and access to live classes, and it features a selection of health and fitness tracking tools. Overall, we'd recommend checking lululemon Studio Mirror out if you're looking for a device to kickstart your journey to a more active life.
FAQs
Does lululemon Studio Mirror require a subscription?
Yes, you will be required to pay $39 per month for a lululemon Studio Membership before you can take advantage of the device.
How much is the MIRROR app?
The lululemon Studio app is free to download and use, although you will need to have a lululemon Studio Membership.
Can the lululemon Studio Trainer see you in lululemon Studio Mirror?
If you're participating in a personal training session, you can make your video available to your Trainer so they can provide feedback. At other times, you can turn your camera off or cover it with the lens cap.
Does the Mirror come with a heart rate monitor?
Yes, all except for the basic Mirror package come with a heart rate monitor that features Bluetooth connectivity.
Is there a free trial?
All lululemon Studio Mirror purchases come with a 30-day risk-free trial. If you're not satisfied, reach out to the Mirror team for a full refund.