In a Nutshell
MYXfitness offers an at-home spin bike with a 21.5-inch display that swivels 360 degrees. You can stream bike workouts with the integrated OpenFit training app, as well as strength and yoga workouts. The MYXfitness bike is comparably priced to a Peloton bike, so the choice largely depends on whether you want off-bike workouts. MYXfitness offers a 30-day trial, and you can test out the OpenFit app before you buy a bike.
pros
LCD display swivels 360 degrees
Training apps include workouts off the bike
Up to 5 user profiles per membership
cons
Only compatible with OpenFit and BODi apps
1-year warranty on most bike components

Myx Fitness Visit Site
About MYXfitness
MYXfitness launched in 2017 as a competitor to Peloton. In 2021, the company was acquired by Beachbody, which owns the OpenFit and BODi workout apps.
MYXfitness offers a single spin bike model that integrates with the OpenFit and BODi apps to give you access to live and on-demand cycling, strength, and yoga workouts. Since the MYXfitness bike is about the same price as a Peloton—it's less than $100 cheaper—the choice between the two ultimately comes down to whether you want workouts off the bike. For those on a budget, it's possible to purchase a less expensive spin bike and use the OpenFit and BODi apps without an integrated display.
MYXfitness Stationary Bike Review
The MYXfitness bike, the MYX II, starts at $1,399. That price includes a Polar OH1 heart rate monitor. You'll also need to pay for an MYX digital subscription, which costs $29 per month, to activate the display on your bike.
The bike itself is fairly basic and has all the features that you'd expect from a mid-level spin bike. You can adjust the handlebar height, seat height, and seat position. The flywheel resistance can be controlled easily using a knob on the handlebars.
The pedals have clips on one side and toe baskets on the other, so it's up to you whether you want to use SPD bike shoes. The bike is rated to hold riders up to 350 pounds and to accommodate people from 4'11" to 6'8" tall.
What's unique about the MYX II is its 21.5-inch touchscreen display. Instead of being fixed in place, the display is designed to swivel 360 degrees in front of the bike. So, you can use the display to watch workouts whether you're on the bike or on the floor doing a yoga workout. In addition, the display has an integrated camera so trainers can see you and provide feedback during live workouts.
MYXfitness Training App
Much of the value of the MYXfitness bike comes from the OpenFit training app. This app is free to try for 14 days but requires an MYX digital subscription for $29 per month after that.
The OpenFit app offers thousands of live and pre-recorded workouts that you can stream right on the MYX II display. You can have up to 5 user profiles with a single membership, so everyone in your house can track their own stats and save their favorite workouts. The OpenFit app includes workouts for cycling, strength training, high-intensity interval training, yoga, pilates, and more.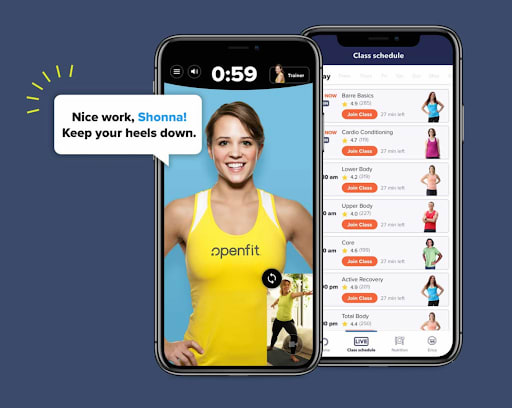 The MYX II display is also compatible with the BODi training app, although this requires a separate $19.95 per month membership in addition to the MYX digital subscription. The BODi app has a different set of trainers from the OpenFit app but similarly offers live and recorded workouts for cycling, strength, and yoga.
Pricing & Special Offers
You can purchase the MYX II through the MYXfitness website for $1,399. The MYX II Plus bundle, which includes an exercise mat, a set of weights, and a foam roller, costs $1,599. On top of that, you'll need to purchase a MYX digital subscription for an additional $29 per month.
MYXfitness doesn't have physical stores or retail partners, so buying online is your only option. Shipping is free and typically takes 2-4 weeks from when you place your order.
The MYX II is a premium bike, especially compared to competing options. It's around $100 cheaper than Peloton's bike but nearly double the price of a similar spin bike from Horizon Fitness. The MYX digital subscription price is comparable to what other streaming workout platforms charge, although you only have access to OpenFit and not other streaming apps.
MYX digital subscription (includes OpenFit)
MYXfitness Payment Options
MYXfitness accepts debit and credit cards for payment. You can also set up a "buy now, pay later" plan through Affirm with as low as 0% APR.
You can try out the MYX II for 30 days risk-free. If you're not happy, there's no charge to return the bike, and MYXfitness will arrange to pick it up from your home.
Most components of the MYX II, including the display, come with a 1-year warranty against workmanship and material defects. The bike's frame comes with a 5-year warranty.
Service and Support
MYXfitness offers customer support through an email form only. The company typically responds within 24 hours during weekdays. Unfortunately, MYXfitness's online help center isn't searchable, and the help topics aren't well-organized.
Bottom Line
MYXfitness is a premium at-home cycling brand that competes closely with Peloton. It offers a single spin bike, the MYX II, and live and on-demand workouts through the OpenFit app.
What makes MYXfitness stand out is that it's designed to help you train both on and off the bike. The integrated display swivels 360 degrees so you can use it to watch yoga and strength workouts and spin classes. You can also buy the MYX II bike with weights and yoga equipment as a bundle.
Overall, MYXfitness can be worthwhile if you're looking for alternatives to Peloton that fall in the same price range. If you want a more budget-friendly spin bike and streaming platform, you may want to look elsewhere.

Myx Fitness Visit Site
FAQs
Can I stream Peloton classes on the MYXfitness bike?
No, the MYXfitness bike display is only compatible with the OpenFit and BODi training apps.
Does the MYXfitness bike have Bluetooth?
The MYXfitness bike is Bluetooth-enabled and is compatible with most Bluetooth headphones and heart rate monitors.
Does the MYXfitness bike automatically change resistance?
The MYXfitness bike includes auto-follow resistance programs. So, the bike can change resistance automatically to follow an OpenFit or BODi workout.
Does MYXfitness have live classes?
MYXfitness integrates with the OpenFit and BODi workout apps, both of which offer live and on-demand spin classes and strength workouts.