In a Nutshell
Hydrow is a smart, at-home rowing machine that aims to give you the closest possible experience to being on the water. This rowing machine is pricey, but it's designed to be comfortable for extended workouts and is built to last. What makes Hydrow particularly attractive is its 22-inch display, on which you can stream live and pre-recorded rowing workouts. Hydrow offers a 30-day free trial and payment plans are available.
pros
22-inch HD display
Live workouts led by Olympic rowers
30-day trial with financing available
cons
Expensive after membership
Cannot play your own music

Hydrow Visit Site
About Hydrow
Hydrow launched in 2017 with the introduction of a premium, at-home smart rowing machine. Hydrow also offers a set of live and pre-recorded rowing, yoga, and strength workouts that are intended to be paired with the rowing machine. The workouts are led by professional rowers, including members of the US National Rowing team, and the company is funded in part by rowing Olympian Richard Cashin.
At this time, Hydrow only has a single rowing machine model. You can also purchase a Hydrow digital membership to access workouts even if you have a non-smart rowing machine.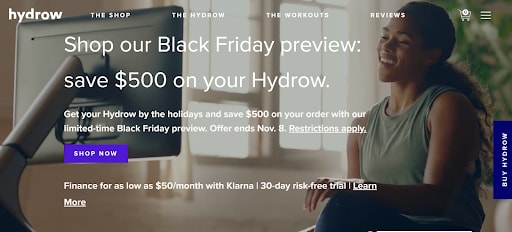 Hydrow Rower Review
One of the main reasons to opt for the Hydrow rowing machine over other types of exercise equipment is that rowing provides a full-body workout. According to Hydrow, its rower works 86% of the muscles in your body, including your upper body and core.
Therefore, you might choose a Hydrow over—or in addition to—a treadmill, stationary bike, or elliptical. But what makes this rower different from others?
To start, the Hydrow is built to provide a workout experience that's unmatched in feel. The rower uses a 10-roller seat, so the machine is silent as you pull and offers effortless glide. Compared to other rowers, the Hydrow offers a feeling that's more like actually being on the water. In addition, the drag mechanism uses electromagnetic resistance and computer controls to perfectly tailor the intensity of your workout.
Another thing that's great about the Hydrow is its integrated 22-inch LCD screen. The HD display has vibrant colors, which is perfect for the watery scenes that provide the backdrop for most Hydrow workouts. The system is Bluetooth compatible, so you can listen to workouts using headphones and connect any Bluetooth-enabled heart rate monitor. The Hydrow display has built-in speakers, so you can listen to a workout playlist without headphones if you want. Do note, though, that you can't connect any music apps, like Spotify, so you have to listen to the music provided with each workout when using the Hydrow.
One other touch that we like about the Hydrow is that you can store it vertically if you purchase Hydrow's upright storage kit. That's a big plus for apartment dwellers with a premium on floor space.
Hydrow Training App
The Hydrow is meant to be used in conjunction with Hydrow's digital training subscription. The subscription includes access to daily live workouts led by Olympians and professional rowers, and you don't have to sign up ahead of time to join. You also get access to an on-demand library that includes hundreds of rowing workouts, yoga and pilates sessions, and stretching and strength workouts. The workouts can be streamed right from the Hydrow display or any iOS or Android device with the free Hydrow mobile app.
A digital Hydrow subscription costs $38 per month. You can set up an unlimited number of user profiles with one subscription, so everyone in your household can track their own stats and progress.
Pricing & Special Offers
You can purchase the Hydrow through the company's website. The rowing machine itself costs $2,295, although the company is offering $500 off for Black Friday at the time of writing. You can also purchase add-ons such as a mat, heart rate monitor, headphones, and foam roller.
Shipping is included in the cost, although you can purchase in-home delivery and setup for an additional fee. Shipping typically takes 2-3 weeks from when you order your Hydrow.
Notably, the Hydrow is pricier than many other smart rowers. The NordicTrack RW900 smart rower costs $1,700, and a corresponding iFIT subscription costs $180 per year for one person. However, the RW900 isn't as quiet, and iFIT doesn't have professional rowers leading its workouts.
Hydrow digital subscription
Hydrow Payment Options
Hydrow accepts credit cards and debit cards for payment. You can also set up a payment plan with Klarna.
All Hydrow machines come with a 30-day money-back guarantee. You can also cancel your order anytime before shipment for a full refund. There's no fee for returns, and Hydrow will arrange to pick up the machine from inside your home.
Hydrow offers a 1-year warranty on all electronic components and a 5-year warranty on the rowing machine itself.
Service and Support
Hydrow offers customer support by email and live chat from 9am-9pm (ET), 7 days a week. You can also find answers to commonly asked questions in its online knowledge base. Hydrow's blog has details about the live workout schedule and feature updates.

Hydrow Visit Site
The Bottom Line
Hydrow is a premium at-home rowing machine that in our opinion, is worth the cost. While the Hydrow is pricey, it offers an incredibly smooth workout experience that mimics the feel of being on the water. The company is so confident in the quality of its machine that it offers a 30-day risk-free trial and a 5-year warranty on the rower's non-electronic components.
We also love Hydrow's training subscription. Everyone in your household can have their own profile to track their progress and save their favorite workouts. Hydrow is also unique in offering live workouts from Olympic rowers every day of the week, which anyone can join without signing up ahead of time.
Overall, we think that the Hydrow justifies its steep price tag and is worth a try if you want a full-body rowing workout.
FAQs
How much does Hydrow cost?
The Hydrow smart rowing machine costs $2,295, with an additional $38 per month for a digital subscription.
Is Hydrow better than the NordicTrack rower?
We think that the Hydrow is better than the NordicTrack RW900 smart rower if money isn't an obstacle. The Hydrow is quieter and offers live workouts from Olympic rowers.
Does Hyrow connect to Strava?
Yes, Hydrow has a Strava integration for Android and iOS devices.
Can I watch TV and movies on Hydrow's screen?
No, the Hydrow's display can only be used to stream workouts. You cannot use it with third-party platforms like Spotify or Netflix.