In a Nutshell
Horizon Fitness offers a variety of indoor treadmills, bicycles, ellipticals, and rowing machines. The company focuses on making high-quality equipment at a price that's impressively budget-friendly. For example, the base treadmill model starts at just $849. Plus, you can stream fitness classes from platforms like Peloton, Studio, and more. Overall, Horizon Fitness is great if you want at-home workouts at a price that won't break the bank.
pros
Mid-range price point for high-end equipment
Integrates with most streaming fitness services
Financing plans available
cons
Not all machines offer Bluetooth heart rate compatibility
Integrated displays are relatively basic
Horizon Fitness Visit Site
About Horizon Fitness
Horizon Fitness has been making exercise equipment for in-home use and gyms since 1998. It's one of the largest personal fitness providers in the world and its machines have received accolades from Runner's World, Men's Health, and Wirecutter. Today, Horizon Fitness offers a wide range of indoor treadmills, spin bicycles, ellipticals, and rowing machines.
This company is a great option for anyone on a tight budget, since the equipment is offered at a relatively modest price point. Even better, you don't need a subscription to use your equipment. If you want streaming workouts, though, you're free to stream live and on-demand workouts from Peloton, Studio, and more than a dozen other platforms using the integrated FitU app.
Horizon Fitness Treadmills Review
Horizon Fitness offers 6 different treadmill models. Here, we'll take a look at 2 of the most popular models: the GO Series T303 and the Studio Series 7.0 AT.
Horizon Fitness GO Series T303 treadmill review
The T303 treadmill is the highest-tier model in Horizon Fitness's GO Series, which includes budget-friendly treadmills without integrated streaming capabilities.
At $1,099, the treadmill comes with a 60-inch cushioned deck and is capable of inclining up to 12%. It also features modern touches like Bluetooth-enabled speakers, compatibility with Bluetooth heart rate monitors (not available on lower-tier models), and an integrated interval timer.
The treadmill's display is somewhat small, as it's mainly intended to display your workout progress. However, custom hotkeys let you quickly jump to pre-programmed speed and incline settings for your workout.
Horizon Fitness Studio Series 7.0 AT treadmill review
The 7.0 AT treadmill is the base model in the Studio Series, which includes treadmills that are compatible with the FitU streaming app.
At $999, the 7.0 AT has a 7-inch LCD display, an integrated USB port for charging your devices, and Bluetooth speakers. Below the display, a series of LCD panels helps you track your workout progress and allows you to set your speed and incline up to 15%. The treadmill is built with a 60-inch cushioned deck and the same 3-horsepower motor found in the T303 treadmill.
The 7.0 AT is one of the best smart treadmills for the price. It's well-built and relatively quiet while you're running. The fact that you can stream running workouts from platforms like Peloton is also a major plus.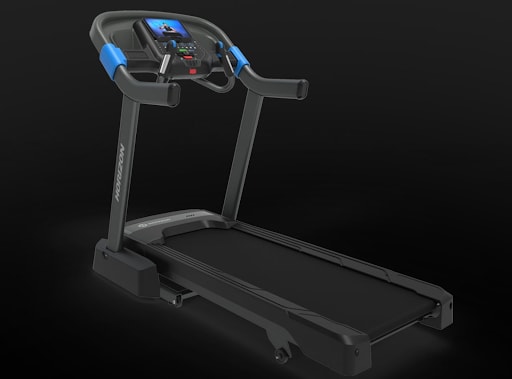 Horizon Fitness Stationary Bikes Review
Stationary bikes allow you to get a fast-paced cardio workout in your home without putting stress on your knees. Let's take a closer look at 2 of Horizon Fitness's most popular cycle models: the IC7.9 spin bike and the Comfort R recumbent bike.
IC7.9 bike review
The IC7.9 spin bike is Horizon Fitness's newest spin bike, retailing for $699. The bike is designed to be compatible with the FitU streaming fitness app and has an integrated 5-inch LCD display. However, it doesn't include Bluetooth compatibility to connect a heart rate monitor, and it doesn't measure your power output.
The bike comes with a precision resistance lever that allows you to set your resistance exactly, and you can monitor your speed, cadence, and distance on the included display. The clip-in pedals offer toe cages, so you're not obligated to use dedicated cycling shoes.
On the whole, the IC7.9 is a great choice for first-time cyclists who want to be able to join Peloton and Zwift workouts, but don't want to pay for the Peloton bike's premium price tag.
Comfort R recumbent bike review
The Comfort R is Horizon Fitness's most popular recumbent bike. With a recumbent bike, the pedals are out in front of you rather than under you, so there's less stress on your knees and joints.
The Comfort R costs $799 and comes with a number of features for comfort, including an oversized seat and backrest with lumbar support. It includes 10 workout programs and lets you choose from 16 different resistance levels.
You can't connect the FitU app to stream workouts with this bike, but the 5.5-inch LCD display does measure your progress and can be connected with any Bluetooth-enabled heart rate monitor. There is also an integrated heart rate monitor in the bike's handles.
Horizon Fitness Ellipticals Review
Ellipticals offer a full-body workout that can be as gentle or intense as you want. We'll review the 2 most popular Horizon Fitness ellipticals: the 7.0 AE and the Evolve 5.
Horizon Fitness 7.0 AE elliptical review
The 7.0 AE elliptical is a smart elliptical that comes with a built-in app to control your workout. The 7-inch LCD display lets you precisely control your incline and resistance across 20 levels or set up a pre-programmed workout that changes the resistance automatically.
This elliptical has several features to make your workout more fun, including integrated Bluetooth-compatible speakers and a holder for your tablet or smartphone so you can play your music, watch TV, or stream a workout. When you're finished with your workout, all your stats can be automatically uploaded to fitness apps like Fitbit and Map my Fitness by Under Armour.
At $999, the 7.0 AE is relatively budget-friendly. It comes with a lifetime warranty on the frame and brake, plus a 1-year warranty on the resistance unit.
Horizon Fitness Evolve 5 elliptical review
The Evolve 5 is Horizon Fitness's most advanced elliptical. It features a 6.25-inch backlit LCD screen that connects to a wide variety of fitness streaming apps through FitU. The Evolve 5 also includes built-in speakers, although they're not Bluetooth compatible. So, you can only play the music that's provided as part of your streaming workouts.
The Evolve 5 is built with a 23-pound electromagnetic flywheel that offers extremely smooth motion. It comes with 20 resistance levels, and the elliptical frame can be folded up for storage after you're done with your workout.
The Evolve 5 costs $1,499 and comes with a lifetime warranty on the frame, but no warranty on the flywheel.
Horizon Fitness Rowers Review
Rowing machines enable you to work your upper body in addition to your legs while making you feel as if you're out on the water. Horizon Fitness makes 2 rowing machine models: the Oxford 3 and the Oxford 6.
Horizon Fitness Oxford 3 review
The Oxford 3 is Horizon Fitness's entry-level rowing machine and it costs $799. It features a contoured seat and a sturdy aluminum rail that can accommodate up to a 36-inch inseam.
The Oxford 3 comes with a 5.4-inch black-and-white LCD display. You can monitor your progress on the display, but adjusting your intensity or switching between screens requires using a series of buttons below the screen. The rower comes with 5 built-in programs and is not Bluetooth compatible.
For the price, the Oxford 3 provides a high-quality workout. It's a great option for those who don't need many structured workouts or streaming workout classes.
Horizon Fitness Oxford 6 review
The Oxford 6 is a more advanced version of the Oxford 3, selling for $999. It features the same construction and resistance unit, but offers 12 built-in programs including several interval workouts.
The key upgrade to the Oxford 6 is the display. It's the same size as on the Oxford 3 rower, but offers a blue backlight and a more user-friendly set of buttons. The machine is also compatible with Bluetooth heart rate monitors.
Horizon Fitness Training App
Horizon Fitness uses the third-party FitU training app for machines that offer streaming workouts. What's neat about this approach is that FitU enables you to stream workouts from nearly all the major fitness companies. That includes Peloton, Studio, Zwift, Apple Fitness+, Treadmill TV, and more.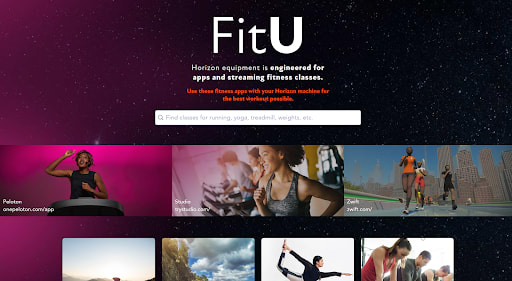 The FitU app is free, but you will need to pay for a digital subscription to whatever streaming service you want to use. If you purchase a Horizon Fitness machine that doesn't have a FitU-compatible display, you can still use the FitU app to stream workouts on your phone.
Pricing and Special Offers
Horizon Fitness's exercise equipment is offered at modest prices compared to similar machines from Peloton, Hydrow, and other new fitness companies. Plus, it can be easier to purchase in some cases.
Horizon Fitness enables you to buy online through the company's website or through any of thousands of partner fitness stores across the US. The Horizon Fitness website has a store locator to help you find local shops.
If you order online, economy shipping is free for most exercise equipment. You can also choose in-home or white-glove delivery options for an additional fee.
Here's a recap of the prices for all the Horizon Fitness models we reviewed.
Studio Series 7.0 AT treadmill
Horizon Fitness Payment Options
Horizon Fitness accepts online payment with debit and credit cards. You can also set up a payment plan through Citizens Bank or Genesis Credit. These are personal loans rather than buy-now pay-later plans, but you may qualify for 0% APR.
You can return any Horizon Fitness equipment within 30 days of receiving it. Returns are completely free if you opt for any paid delivery method.
The warranty on Horizon Fitness equipment varies by model.
Service and Support
Horizon Fitness offers customer support by phone and email from 8AM-8PM (CT) Monday-Friday. The company has detailed FAQs pages online where you can find more information about ordering, returns, and specific fitness equipment models.
Horizon Fitness Visit Site
The Bottom Line
Horizon Fitness offers a wide variety of at-home fitness equipment at moderate prices. You can choose from budget-friendly base models or more expensive equipment with Bluetooth compatibility, built-in speakers, and FitU integration. The company also offers financing options and free returns within 30 days if you're not happy with your equipment.
Unlike other fitness companies. Horizon Fitness doesn't have its own streaming workout platform. However, many of the company's treadmill, spin bike, and elliptical models include displays that can stream workouts from Peloton, Zwift, Studio, and other platforms.
Overall, Horizon Fitness is worth a look if you want high-quality exercise equipment at a price that won't break the bank.
FAQs
Where is Horizon Fitness equipment made?
Horizon Fitness is based in Taiwan and manufactures much of its equipment there.
Do I have to pay for a Horizon Fitness workout subscription?
Horizon Fitness machines can be used with or without a streaming workout subscription. You can use the FitU app to purchase a subscription from Peloton, Zwift, Studio, and dozens of other platforms.
How long does it take to receive a Horizon Fitness treadmill?
Horizon Fitness equipment typically arrives 7-10 days after you place an order. You can also choose to pay for expedited shipping.