In a Nutshell
The Ergatta is a premium rowing machine that offers touches you won't find on traditional rowers. It's made from beautiful cherrywood and offers a 17.3-inch touchscreen display. Ergatta uses gamified workouts rather than trainer-led classes, so it's a good fit for anyone who likes to compete or push themselves harder. While the Ergatta is pricier than competing rowers, its elegant design and unique take on workouts make it worth a look.
pros
Beautiful wooden construction
Touchscreen display with gamified workouts
At least 5 new workouts per week
cons
Much more expensive than other rowers
No instructor-led classes

Ergatta Visit Site
About Ergatta
Ergatta launched in March 2020, right at the start of the COVID-19 pandemic. As a result, the company's rowing machine quickly gained attention and was praised by outlets like the Wall Street Journal, Forbes, Men's Health, and The Verge.
Besides its unique appearance, the Ergatta is different from other rowing machines in large part thanks to its virtual workout environment. You can compete against other Ergatta users or build a personalized program to improve your fitness. Overall, the Ergatta is best for people who want to use the gamified workout environment to push themselves harder and who don't mind this rowing machine's steep price tag.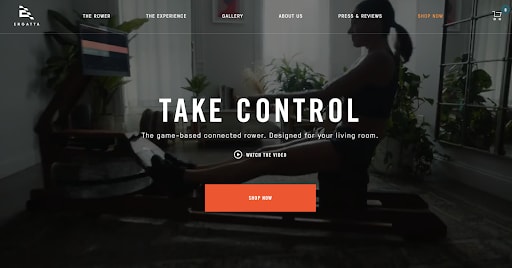 Ergatta Rower Review
Indoor rowers like the Ergatta offer a full-body workout that targets your upper body, legs, and core. Let's take a detailed look at what makes the Ergatta rower stand out so you can learn whether it might work for you.
The first thing that's unique about the Ergatta rowing machine is its construction. The Ergatta is made of stained cherrywood rather than steel or aluminum. It gives the machine a traditional aesthetic and makes it feel like it's part of your home's style rather than just another workout tool.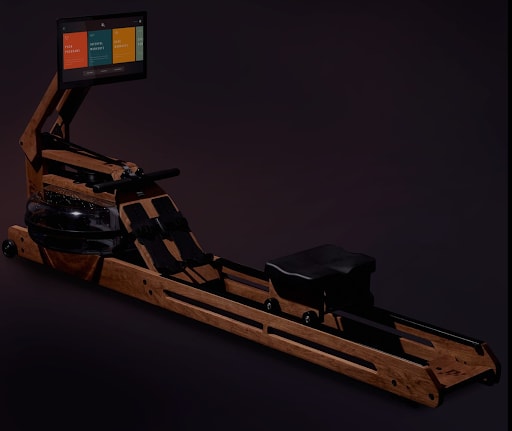 The Ergatta is also unusual in how it generates resistance. Instead of a magnetic resistance unit or fan, the Ergatta has a cylinder filled with water at the front of the frame so that the resistance automatically adapts to your rowing effort. Plus, you can hear the water sloshing around as you row, which adds to the sense of being out on a river or lake.
The rowing machine also includes a 17.3-inch touchscreen display, which is what you'll use to control your workouts and monitor your progress. The display is bright and colorful, which is perfect for Ergatta's gamified workout experiences. At the bottom of the screen, you can see your distance, power, pace, and heart rate. The unit is compatible with both Bluetooth and ANT+ heart rate monitors.
One thing to note about the display is that it doesn't have speakers and doesn't support playing music. This makes some sense given that there's no trainer to listen to. However, it does mean you'll have to supply your own soundtrack for workouts.
Ergatta Training App
The Ergatta forgoes live trainer-led classes or analog workout programs in favor of a gamified and personalized workout experience. Workouts are meant to be viewed on the Ergatta's built-in display, but the company also has a mobile app for iOS and Android you can use.
When you first turn on the Ergatta, you'll do a fitness test that lasts for around 12 minutes. Based on this test, the Ergatta will determine your personal intensity zones and tailor the workouts on the platform to suit your zones. Every few weeks, the Ergatta will recalibrate your zones based on your workout performance, so your training gets progressively harder as you advance.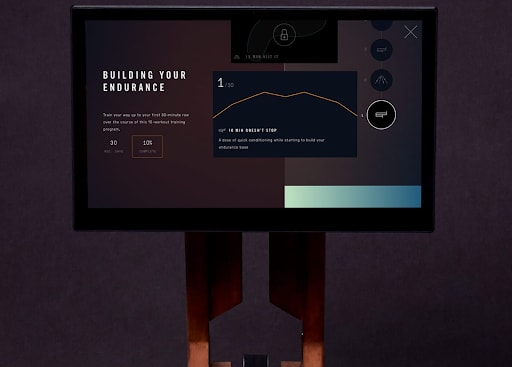 After your initial fitness test, you can choose from 4 different workout programs: push programs, interval workouts, race workouts, or open & scenic rows.
Push programs are multi-workout training plans designed to help you increase your rowing fitness. At the end of each push program, you'll have a final challenge workout to test your progress.
Interval workouts offer high-intensity interval training and endurance training. The interval durations and intensities are based on your personalized intensity zones.
Race workouts let you race against 8 other Ergatta users. These races aren't live, but you can see virtual rowers around you whose performance is based on their past race data. The platform uses your workout results to match you with other users so that you're challenged, but not left in the dust.
Open & scenic rows are more relaxed workouts based on time or distance. For these workouts, the display takes you on a virtual tour of scenic waterways around the world.
Notably, Ergatta adds at least 5 new workouts to its platform each week, as well as a new push program and community challenge each month.
Pricing & Special Offers
The Ergatta costs $2,199, making it one of the more expensive rowing machines on the market. In addition, there's a $199 shipping and delivery charge and a $29/month charge for a digital subscription to access workouts. The Ergatta is only available for purchase online through the company's website.
The Ergatta is slightly cheaper than the Hydrow rower, which costs $2,295 and requires a $38/month digital membership. However, the NordicTrack RW900 rower costs only $1,599 and offers a larger touchscreen display and live classes with the iFit training app. So, the Ergatta's price makes the most sense if you prefer the gamified workout experience or want a more aesthetically pleasing rower.
$2,199 (plus $199 shipping)
Ergatta digital membership
Ergatta Payment Options
Ergatta accepts credit and debit cards for online payment. The company offers payment plans through Klarna, with payments starting as low as $62/month for 36 months.
You can return the Ergatta within 30 days of delivery for a full refund, including the shipping charge. All Ergatta rowers come with a warranty of 5 years on the frame, 3 years on parts, and 1 year on the display.
Service and Support
Ergatta's customer support team is available by phone and email from 9am-5pm Monday-Friday. The company's website also has detailed FAQs pages for both prospective customers and current users.

Ergatta Visit Site
The Bottom Line
The Ergatta is a premium rowing machine that offers an appealing aesthetic and a unique workout experience. Gamified workouts allow you to train for a goal, compete against other Ergatta users, or simply go for a relaxed row while taking a virtual tour of global rowing destinations. Importantly, these workouts adjust to your personal fitness so that you can improve over time.
The Ergatta is very expensive and doesn't offer instructor-led workouts, so it won't be right for everyone. However, if you can use the virtual workouts and personalized intensity zones to become stronger, then the Ergatta may be well worth the money.
FAQs
Can I use the Ergatta rower without a subscription?
You can still use the Ergatta without a subscription, but you won't be able to access workouts. The display will only show your current workout statistics.
How loud is the Ergatta rower?
The Ergatta is nearly silent, except for the quiet sound of swishing water in the resistance unit.
How long does it take to receive the Ergatta?
Ergatta takes 2-4 weeks from order to delivery.