In a Nutshell
Assault Fitness makes manual treadmills, air-powered spin bikes, and a rowing machine. The company's equipment doesn't have features like integrated speakers or big LCD displays for streaming workouts. However, everything is well-made, and the manual treadmill offers a very distinct workout compared to other treadmills. Assault Fitness is best if you want a manual treadmill or air bike and don't mind the lack of streaming workouts.
pros
Unique manual treadmill design
Built-in workout programs
Free daily workout ideas
cons
No streaming workouts
20% restocking fee for returns

Assault Fitness Visit Site
About Assault Fitness
Assault Fitness is a gym and at-home fitness equipment brand from fitness giant LifeCore Fitness. Assault Fitness makes manual treadmills, air bikes, and a rowing machine, and its products are ubiquitous at gyms around the country. In addition, the company has been endorsed by Joe Rogan, Men's Fitness, UFC, and Spartan Race.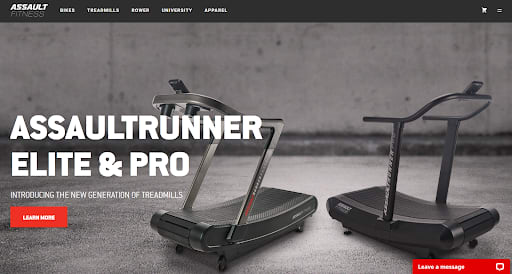 Assault Fitness Treadmills Review
Manual treadmills are distinct from electric treadmills in that the belt is curved and powered by the motion of running rather than by an electric drive. Read on to find out details about Assault Fitness's 2 manual treadmill models: the AssaultRunner Pro and the AssaultRunner Elite.
Assault Fitness AssaultRunner Pro Review
The AssaultRunner Pro is Assault Fitness's base treadmill model. It's a manual treadmill, which forces you to have better form and a steady pace to continue running. So, it's ideal for runners who are looking to actively improve and build the stabilizer muscles required for fast running. If you're more interested in long-distance, low-intensity running, you may not like the AssaultRunner Pro as much as an electric treadmill.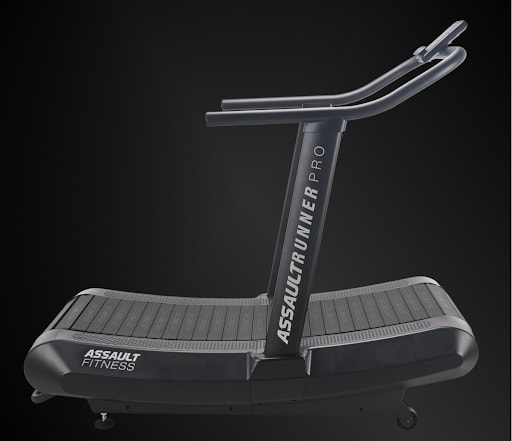 The AssaultRunner Pro includes a basic console that lets you track your progress and choose from several built-in workout programs. It's Bluetooth- and ANT+-compatible, so you can connect most heart rate monitors.
The treadmill comes with a lifetime warranty on the frame and a 150,000-mile warranty on the belt. It costs $2,999.
Assault Fitness AssaultRunner Elite Review
The AssaultRunner Elite is a slightly upgraded version of the AssaultRunner Pro. The basic design is the same, but it comes with 2 water bottle holders, sweat-resistant grips, and a slightly brighter display. The AssaultRunner Elite also includes a lifetime warranty on the treadmill belt and a 10-year warranty on the frame.
Other than that, the two treadmills are identical. They share the same belt, the same frame construction, and the same workout programs. The AssaultRunner Elite costs $3,499.
Assault Fitness Stationary Bikes Review
Assault Fitness makes 3 models of air bikes, which use a fan resistance unit and have arm handles similar to an elliptical to give you a full-body workout. Read on for more details about 2 of the most popular air bikes from Assault Fitness: the AssaultBike Pro and the AssaultBike Elite.
Assault Fitness AssaultBike Pro Review
The AssaultBike Pro is Assault Fitness's mid-tier air bike. At $799, it's a good option if you want a spin workout that incorporates your upper body, but it lacks some of the features of a true spin bike. For example, the pedals don't have clips or toe baskets. Since the bike uses a fan resistance unit, the only way to change the resistance is to pedal easier or harder.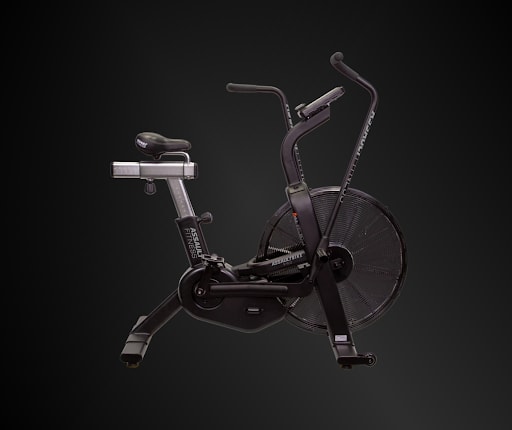 Given this construction, the AssaultBike Pro is best for high intensity interval training or for incorporating into circuit workouts. It's not as suitable as standard spin bikes if you want a long, easy ride.
The AssaultBike Pro includes a high-contrast, backlit display that's similar to the one found on the AssaultRunner treadmills. It's compatible with ANT+ and Bluetooth heart rate monitors. Compared to the more basic AssaultBike Classic, the Pro has more material protecting the drivetrain and comes with a slightly longer warranty.
Assault Fitness AssaultBike Elite Review
The AssaultBike Elite is an upgraded version of the AssaultBike Pro. At $1,299, it's built with slightly sturdier construction that enables it to handle riders up to 350 pounds up from 300 pounds for the Pro. The seat height and position are also more freely adjustable.
Otherwise, the main feature you get for the added price is a longer warranty. The AssaultBike Elite comes with a 10-year warranty on the frame, compared to 7 years for the AssaultBike Pro.
Assault Fitness Rowers Review
Rowing offers a full-body workout as you push off with your legs and pull with your upper body. Assault Fitness makes a single model of rowing machine: the AssaultRower Elite, which you'll learn about below.
Assault Fitness AssaultRower Elite Review
The AssaultRower Elite is the only rowing machine made by Assault Fitness, and it costs $999. It uses a fan resistance unit similar to that found on the AssaultBike. So, the resistance isn't controlled by the display, but rather, it increases and decreases according to the rate at which you pull. That means this rower is better suited for high-intensity workouts.
The display offers several workout programs and enables you to easily track your workout. It's also compatible with most ANT+ and Bluetooth heart rate monitors.
The AssaultRower is made with a steel frame and comes with a 10-year warranty.
Assault Fitness Training App
Assault Fitness launched a free training app in 2021 where you can find daily workouts and save your workout data from Assault Fitness machines. However, it's not a streaming workout platform. In fact, none of the Assault Fitness machines offer displays that support streaming, or even include a holder for your phone so you could easily watch workouts from another service.
Pricing & Special Offers
You can purchase Assault Fitness equipment on the company's website or on Amazon. Shipping for most equipment is free.
It's difficult to compare Assault Fitness's pricing to similar brands because the machines are slightly different. For example, the AssaultRunner Pro seems pricey for a treadmill, but there are few competitors making manual treadmills for at-home use. The Woodway Curve, one of the most comparable treadmills on the market, costs nearly twice as much.
That said, it is nice that Assault Fitness doesn't require you to purchase a digital subscription to use your equipment. Once you buy a machine, there are no ongoing costs.
Assault Fitness Payment Options
Assault Fitness accepts credit and debit cards for online payment. The company doesn't offer payment plans at this time.
You can return Assault Fitness equipment within 30 days of delivery, but returns aren't free. The company charges a 20% restocking fee—which can be hundreds of dollars.
All Assault Fitness equipment includes warranties on the machine frame, components, and labor, though warranty length varies by machine.
Service and Support
Assault Fitness offers customer support by phone, email, and live chat from 8AM-6PM (PT) Monday-Friday. The company also has an FAQs page that answers common questions about shipping, returns, and getting started with your equipment.

Assault Fitness Visit Site
Bottom Line
Assault Fitness is a great brand for anyone who wants a manual treadmill or air bike. These machines aren't for everyone, and it's important to understand how they differ from electric treadmills and traditional spin bikes. Unfortunately, Assault Fitness doesn't offer free returns, so there's no easy way to try out the equipment before committing to it.
You can't stream workouts with Assault Fitness, but that also means there's no ongoing subscription fee after you purchase your equipment. The company does offer daily workouts through its apps, and you can program workouts with all Assault Fitness exercise machines.
Overall, there's a lot to like about Assault Fitness, although the company's products won't appeal to everyone. If you want to work on your running form or make your bike workout more intense, Assault Fitness equipment is perfect. If you want long, steady aerobic efforts or precise control over your speed and resistance, then you may find Assault Fitness machines to be lacking.
FAQs
How does the AssaultRunner work?
The AssaultRunner uses a curved running surface so that your own motion propels the belt as you run. The faster you run, the faster the belt moves. So, your effort controls the treadmill's speed.
Can I walk on an AssaultRunner?
Yes, you can walk or jog on the AssaultRunner treadmill. The belt automatically adjusts to your speed, no matter how fast or slow you want to go.
Does Assault Fitness accept returns?
Assault Fitness accepts returns within 30 days of delivery. However, the company charges a 20% restocking fee for all equipment once it's been taken off the delivery pallet.