BullGuard Visit site
Overview
When it comes to virus protection, BullGuard offers great products. If you are looking for an antivirus company that you can feel safe and protected with, then BullGuard is your antivirus!
BullGuard at a Glance
Easy for Beginners: One of the easiest antivirus softwares to install and use
Multi-device Protection: Keep all of your devices secure with a single license
Support: 24/7 customer support in multiple languages
Why Choose BullGuard?
Features: Full Featured Protection
Ease of Use: Easiest For Users
Reliability: Average
Value: Average
Money Back Guarantee: 30-Day
Package Features and Highlights
BullGuard AntiVirus - Includes full antivirus protection for a single computer.
BullGuard Internet Security - Includes full antivirus protection, firewall protection, parental controls, email and spam blocking and 5 GB online backup storage for up to 3 computers.
BullGuard Premium Protection - Includes full antivirus protection, firewall protection, identity and financial protection, parental controls, email and spam blocking, password manager, PC optimization tools and 25 GB online backup storage for up to 3 computers.
More Reasons to Choose BullGuard
When compared, most antivirus packages need to hold their own in two primary areas of antivirus protection: virus detection through traditional virus scanning and real time protection as files are saved to the system.
According to AV-Comparatives, a prominent 3rd party virus testing company, the BullGuard antivirus package included in BullGuard Antivirus, BullGuard Internet Security and BullGuard Premium Protection was in the top class for traditional virus file detection. For real time scanning protection, however, they came in above average.
It's also important to note that BullGuard uses more than average resources than other antivirus products. This means users will experience more system slowdown due to installed protection utilities.
How BullGuard Works
BullGuard Antivirus software is definitely on par with Kaspersky and McAfee as one of the easiest antivirus software packages to use. The dashboard lets users determine the security and vulnerability of their machine at a glance. With just a few clicks, users can perform vulnerability scans, quick scans or full scans of their system.
It is also probably one of the quickest installations of all the available antivirus software packages available. Fast installation and a smaller application size do not offset the performance hit that comes with BullGuard antivirus as one of the less efficient antivirus products on the market.
The dashboard also allows users to easily run antivirus scans, firewall settings, online backups, vulnerability scans, spam filters, social media protection, PC tune ups, identity theft protection and parental controls. The dashboard is definitely more intuitive than many other antivirus packages out there.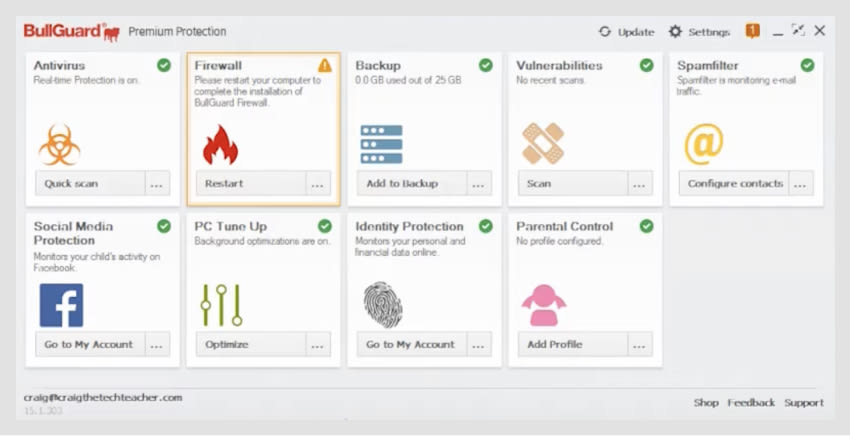 BullGuard Customer Support
BullGuard offers customer support via live chat. English customer representatives are available 24 hours a day, seven days a week. You can also communicate in Swedish, Danish, German, Dutch, and French. However, live support in these languages is only available between 9:00 a.m. and 5:00 p.m. Central European Time, albeit also seven days a week.
You can also get in touch with customer representatives by sending an email (the website promises a reply within 24 hours). In addition, BullGuard's Twitter and Facebook accounts are quite active and you can usually expect a reply within a few hours at most.
Of course, BullGuard's antivirus support website is second to none. The knowledge-base isn't limited to frequently asked questions. You'll also gain access to comprehensive product and troubleshooting guides written in clear, easy-to-follow language. There's also an active community forum you can call on for help as well as a regularly updated blog with industry news, information about the latest scams, and tips and tricks on getting the most out of your antivirus software.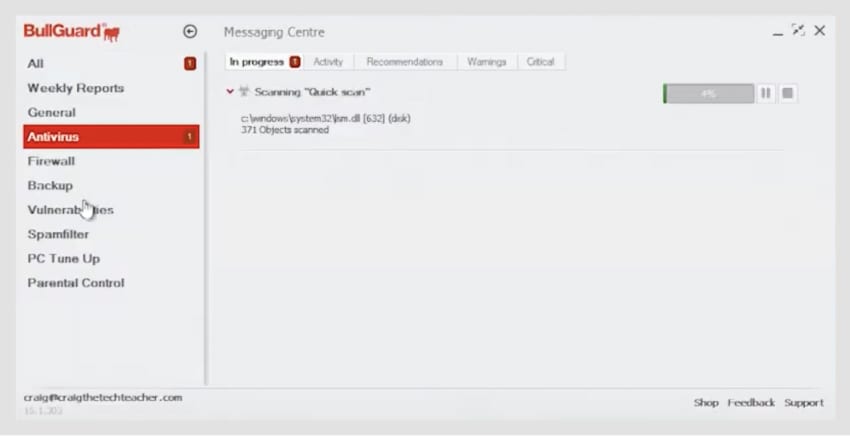 BullGuard Pricing
BullGuard offers a comprehensive range of products that are packaged at very reasonable prices compared to other antivirus software providers we've reviewed.
The antivirus-only package will set you back $29.95 a year and comes with a free 15-day trial - cheaper than many other premium antivirus providers. The internet security package, which includes advanced protection against spyware, malware, and ransomware is priced at $59.95 a year with a free 60-day trial.
BullGuard's most comprehensive package, the premium protection package, is priced at $99.95 per year with a 30-day trial. Given that the package is an antivirus and internet security suite plus a comprehensive identity protection package designed to ensure you don't fall victim to identity theft - a rare find on the antivirus market - this is truly unbeatable value.
All in all, BullGuard antivirus' solid detection rates coupled with its signature speed and efficiency make it a great choice for users hungry for protection with little loss to PC performance.

BullGuard Visit site
Bottom Line
BullGuard antivirus protection is one of the best options available today. They offer a complete range of products, all at competitive prices and have great customer support if you have any questions. While it might not be the most well-known antivirus brand, BullGuard certainly competes with the biggest names in antivirus.