You don't have to be a millionaire collector that flies around the world to auctions and exclusive showrooms to find cool art. There are now a host of affordable online art sites that will give you tasteful design and gift ideas at prices that are well within your budget.
Which websites are best for finding the kind of art you're looking for at the right price? We've scoured the internet for "best of" lists from the world's top online newspapers, and magazines, from Architectural Digest to Good Housekeeping, to bring you the ultimate top 10 affordable online art sites superlist. Our top site, 20X200, was mentioned in 21 of the 32 publications we checked. See the graph below for the rest of the numbers.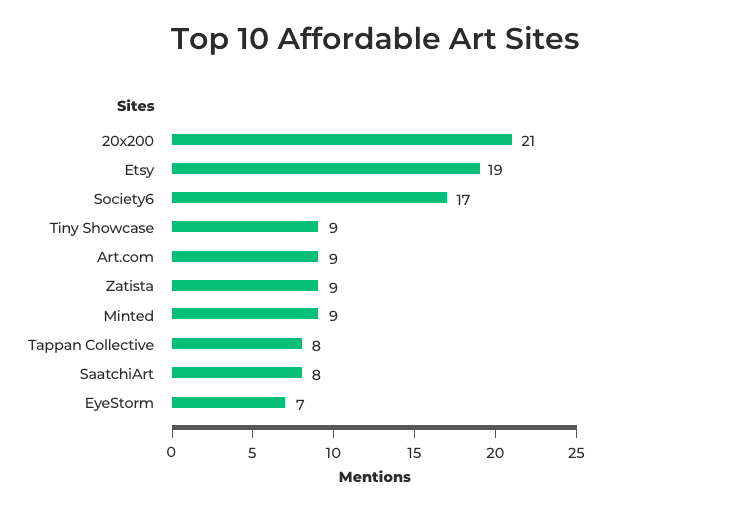 Checking such a wide swath of publications gives us the best unbiased consensus of the top affordable online art sites possible. Whether you're looking for tasteful artwork for your home, cool paintings for your lost apartment, or the best wall art for office or study, these online art sites allow you to class up your space without draining your account. Read on for more information on what each of these sites has to offer.
1. 20X200
Best for: Making beginners look like savvy art experts
Prices range from $24-$10,000
Art ships in 1-5 days
Specializes in limited edition prints
20X200 collaborates with artists to create limited edition fine art prints, photography prints, and other artist-created objects with which to adorn your home.
20x200's tagline is 'art for everyone' and the extremely affordable prices are a real attraction. With over 300 independent artists, 20x200 produces art and helps support the people who create it.
Each museum-quality, carefully packaged piece comes with an artist-signed and numbered certificate of authenticity, and for prints as low as $24, the site is truly impressive.
What the experts say: "Quality standards are excellent, and a lower price is often just indicative of how many prints are in the series." -Vogue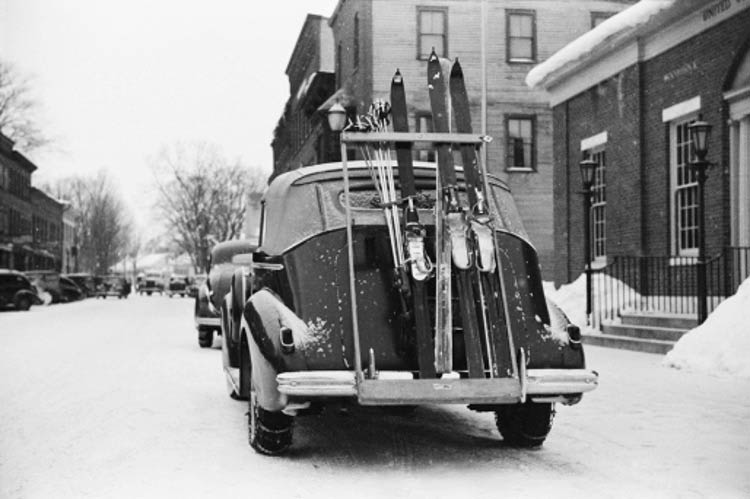 Woodstock, Vermont by Marion Post Wolcott. $24 for an 8"x10" on 20X200

20X200 Visit Site
2. Etsy
Best for: Lovers of arts and crafts
Prices range from $1-$50,000
Shipping times vary, depending on seller
Features over a million independent seller
Etsy is the world's foremost marketplace for independent sellers of handcrafted goods of every type imaginable.
The site is well known for featuring a massive amount of artwork—you might find yourself spending an entire day filtering through bad arts and crafts, but once you push through, you'll find an incredible array of art ranging from photography to illustrations, for as little as $10.
Etsy is especially good for finding cool, cheap art. Its eclectic style and DIY ethos makes it a worthy destination for those who don't want to break the bank but still prefer artwork that won't be found in every other home or apartment on the block.
What the experts say: "Etsy can actually be a great source for affordable, original art. Plus, you're buying directly from the artists, so there's no middle man." -Apartment Therapy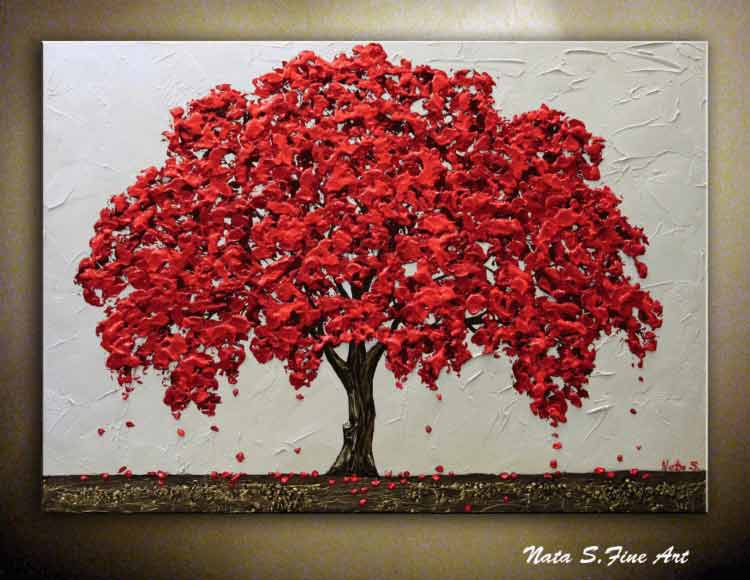 Fall Tree Painting by Nata. $476 for 24"x36" on Etsy

Etsy Visit Site
3. Society6
Best for: Everything from prints to throw blankets with artists' designs
Price range from $16-$85
Products ship in 4-14 days
Features designs from artists that upload their work
Society6 is another excellent site to search for finding affordable art prints and support emerging artists while you're at it. Hundreds of thousands of artists from around the world showcase their designs on the site.
Anybody can upload their artwork to the site, and if the consumer likes what they see, they can buy the print in anything from a poster to an iPhone case. In fact, the designs can be printed on more than 30 different kinds of consumer goods.
Prices can start from as low as $15 for a print, and they are known for having great sales. It's a great place to find an affordable, yet thoughtful, gift for a family member or a friend.
What the experts say: "You literally won't be able to stop scrolling through the site's endless selection of fine works from renowned artists across the globe." -Refinery29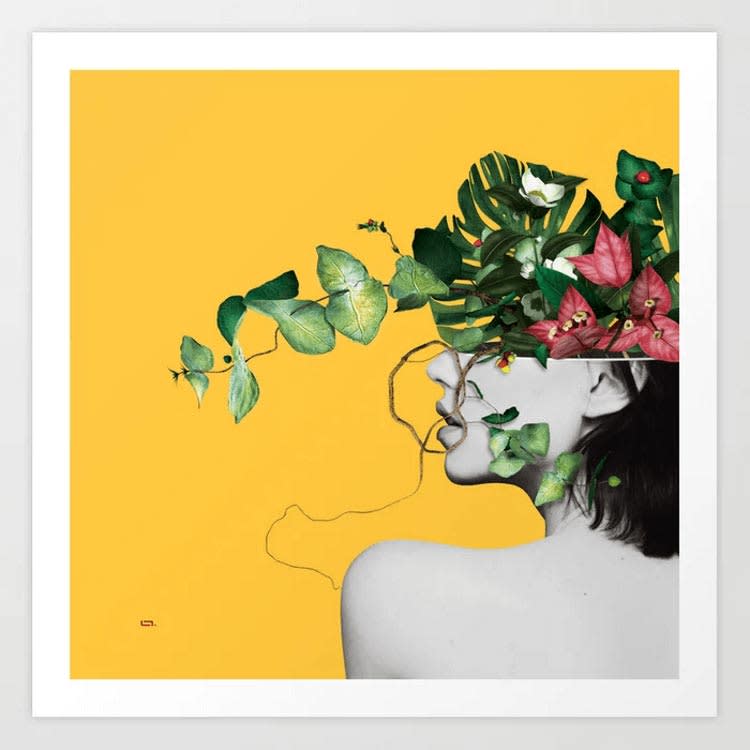 Lady Flowers Art Print by linco. 7n $53.99 for 28"x28" on Society 6

Society6 Visit Site
4. Tiny Showcase
Best for: Budget-minded collectors who want limited edition prints
Prices range from $20-$100
Products ship in 7-14 days
Features a new limited edition print each week
Every Tuesday, Tiny Showcase's curators choose a piece of art and turn it into a limited edition print run that they release for sale on their site.
Since launching the site in 2004, Jon Buonaccorsi and Shea'la Finch have expanded their repertoire to include a number of other items, including calendars, posters, sculptures and hats.
Not only does the site support emerging artists, but a percentage of the proceeds of every sale goes to a charity chosen by the artist.
What the experts say: "Shop affordable art for your home and feel good about it!" -Better Homes & Gardens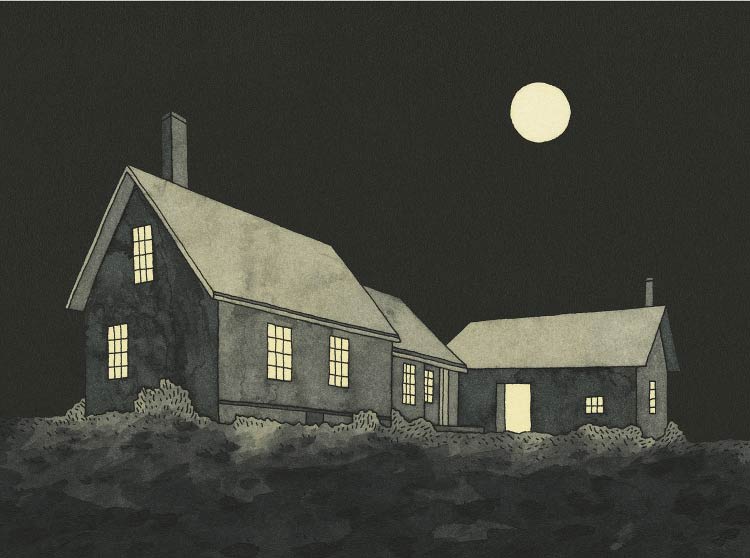 Quiet Americans By Ian Dingman. $20 for 4.5"x6" on Tiny Showcase

Tiny Showcase Visit Site
5. Art.com
Best for: Browsing a huge selection of prints and original works
Prices range from $8-$2,100
Art ships in 1-7 days
Features exclusive works and reproductions of classics
One of the best places to buy art prints, Art.com sells reprints from the most famous artists of all time, such as Pablo Picasso, Vincent Van Gogh and Andy Warhol, as well as original works by emerging artists.
Not only are there millions of pieces of art to choose from, you can also decide if, and how you want your art framed.
Art.com also features a cutting-edge app that uses augmented reality to show you how a particular work of art would look on your wall, or how a particular frame would look with a certain painting or print.
What the experts say: "Too good to be true? Nope. It's easy to use and it works." -Architectural Digest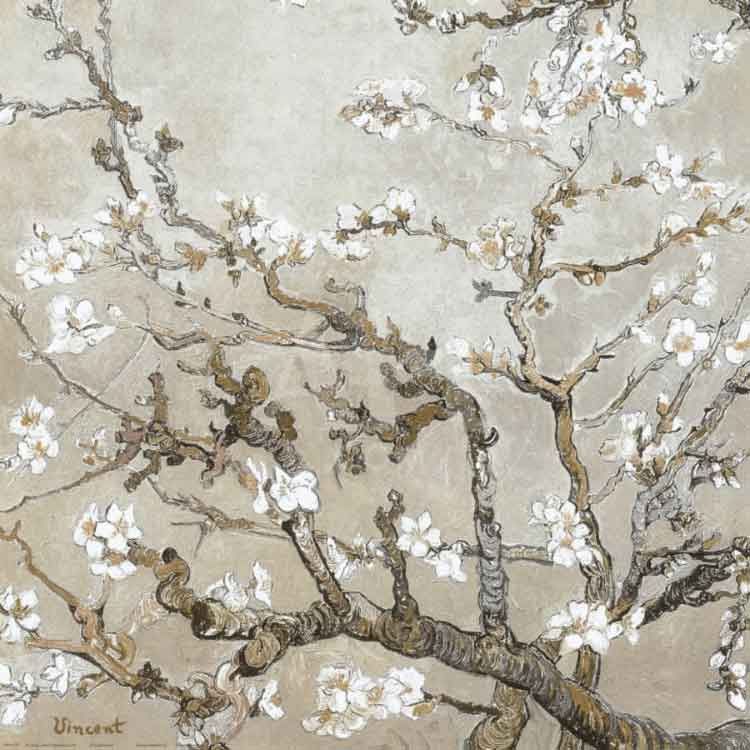 Almond Branches in Bloom, San Remy, c.1890 by Vincent Van Gogh. $14.49 for 20x20 on Art.com

Art.com Visit Site
6. Zatista
Best for: People who want the art gallery experience without leaving the house
Prices range from $99-$5,000+
Art ships in 5 days
Features original art from hand-selected artists and galleries
Started by veterans of eBay, Zatista is the online equivalent of a brick and mortar art gallery, but with lower artist commission rates and therefore lower prices.
It serves as a showcase for original works of art by hand-selected artists. You can browse through some incredible art according to style, medium, size and of course price.
The site also features a nice Art 101 section that teaches you how to pick art, and how to frame prints.
What the experts say: "A site that houses a massive database of 100 percent original artwork." -StyleCaster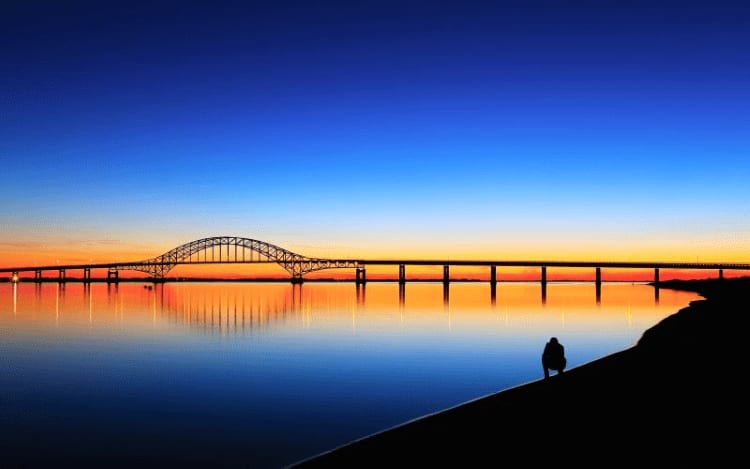 Fire Island Inlet Bridge at Sunset by Alison Perry. $180 for 13.5"x21.5" on Zatista

Zatista Visit Site
7. Minted
Best for: Lovers of inventive and unique stationery and art
Prices range from $21-$860+
Art ships in 5-9 days
Features unique prints from international artists
If you're looking for a unique range of artwork for your stationery, or your kid's room, look no further than Minted.
Born as a site that aims to spread the work of independent artists worldwide, Minted sells limited edition prints, photography, drawings and wall murals sourced from independent artists.
Prices can begin from as low as $21 for an unframed piece of art. It's a great place to discover and support new emerging artists, with bios and links to their profiles.
What the experts say: "The MintedArt section of the site offers a wide selection of modestly priced art prints." -Elle Decor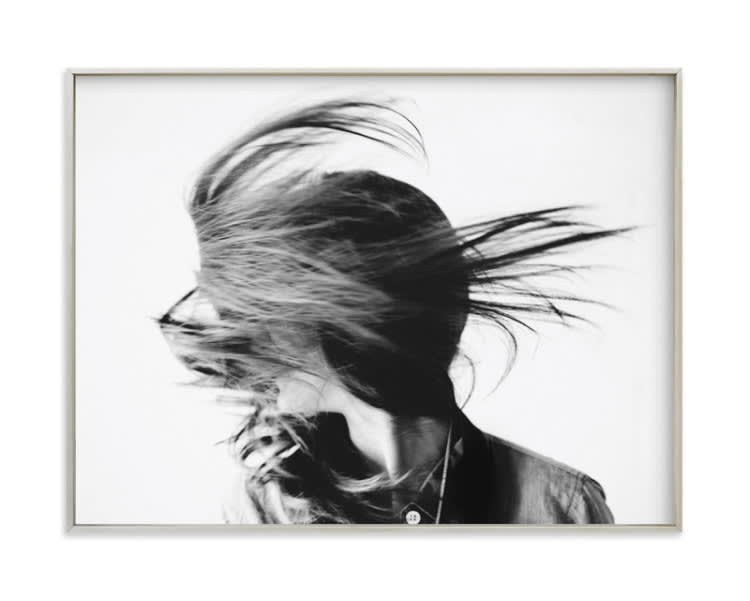 Movement by Kaitie Bryant. $100 for a 24"x18" on Minted

Minted Visit Site
8. Tappan Collective
Best for: Price-conscious lovers of art from emerging artists
Prices range from $50-$3,000
Art ships in 5-10 Days
Features original art, and commissioned works
This site prides itself on bringing art from emerging artists across the world to the masses. This is original artwork, so you won't find prices as low as sites that offer reproductions, but you can find something stunning under $500.
Tappan also offers personalized guidance for those who are looking for art for an institution, or individuals who want to get involved in art investment and collection.
The site also has a range of framing option to ensure that your art is ready to hang when it lands on your doorstep.
What the experts say: "Thanks to Chelsea Neman Nassib and Tappan, collecting and selling art doesn't have to be a daunting experience." -Girlboss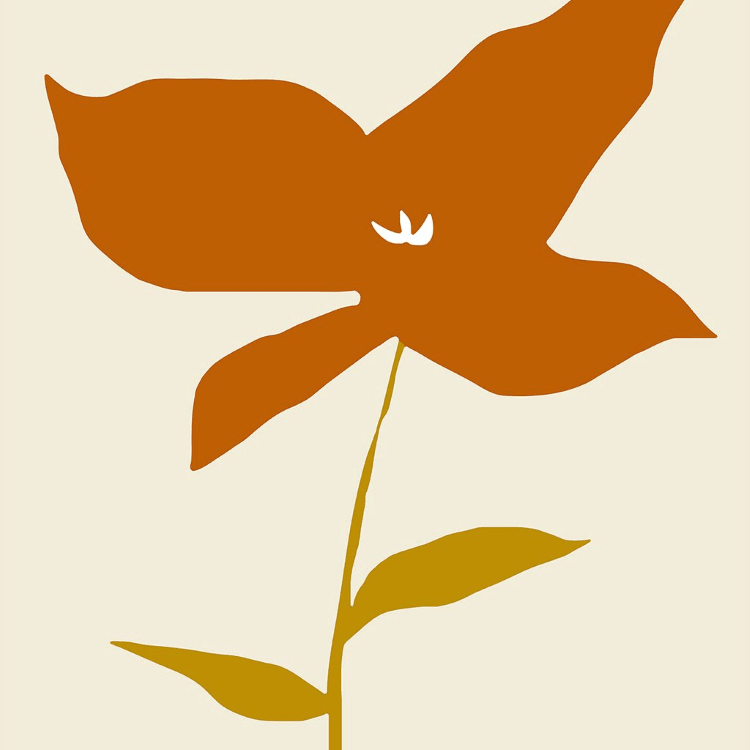 Number 16 by Marleigh Culver. $140 for 14"x11" on Tappan Collective

Tappan Collective Visit Site
9. SaatchiArt
Best for: Museum-quality original works of art
Prices range from $130-$10,000
Art ships in 3-14 days
Features original art on the upper tier of the affordable art scale
If you're a real collector and are looking for some seriously unique online artwork, check out Saatchiart.
Saving you a trip to the museum, Saatchiart offers artists the chance to sell their gallery work to a huge audience online. The site is nicely divided into different sections so you can easily browse for your perfect piece.
The prices range from an affordable $200 and can easily run into the thousands of dollars.
What the experts say: "Whether your budget is three figures or six, there's art for you." -Huffington Post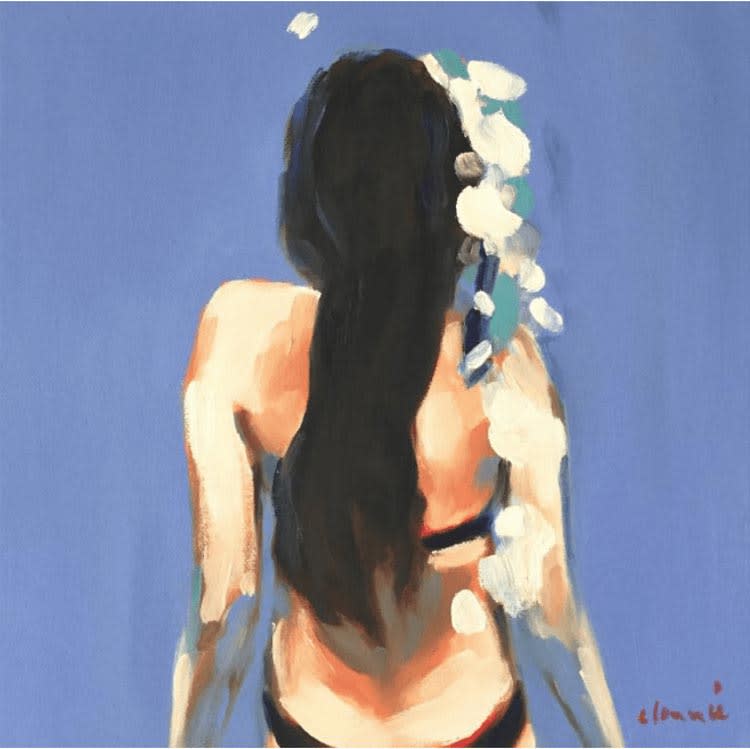 Ali in Bali by Elizabeth Lennie. $440 for 12"x12" on SaatchiArt

SaatchiArt Visit Site
10. EyeStorm
Best for: Those seeking an access point to the cutting edge of contemporary art
Prices range from $400-$14,000
Art ships in 2-5 days
Features limited edition contemporary art
Eyestorm is an online gallery for collectors, featuring signed artwork from well-known artists in a wide variety of genres.
They also sell limited edition works by emerging contemporary artists and serve as an access point for those seeking entry into the world of trendy art.
The pieces on the site are beautiful and well worth the price if you have at least several hundred dollars to spend.
What the experts say: "Head to Eye Storm for high quality work across a number of genres, including abstract, erotic, urban, and still life." -Elle Decor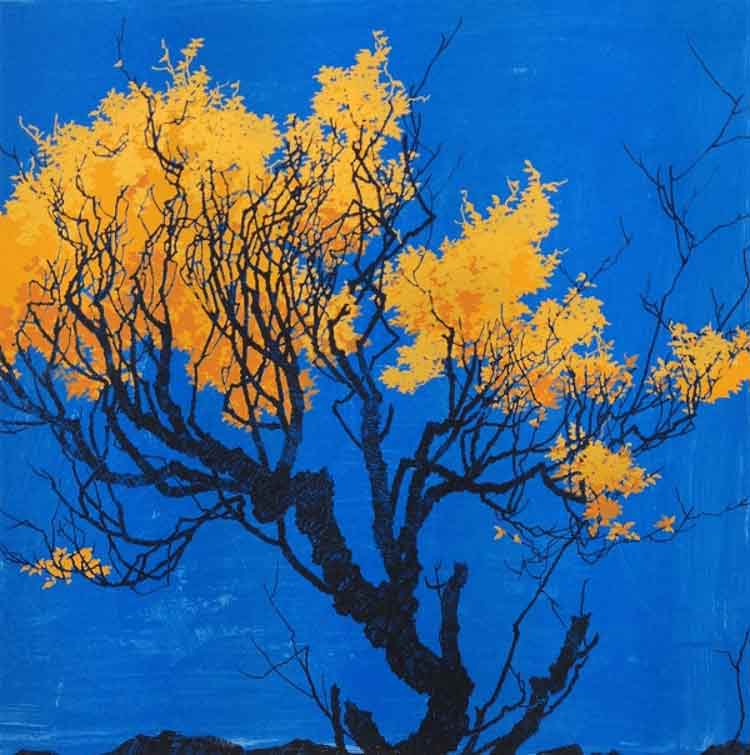 Blue Sloe by Henrik Simonsen. $785 for 29.5"x29.5" on EyeStorm

EyeStorm Visit Site
Start Your Art Collection Today
No matter where your artwork comes from, you should really love it and it should speak to you personally. Don't worry about matching, choose a piece that stands out as a conversation starter. If you're living in an open space don't be afraid of choosing a really large piece that takes up the room. So what are you waiting for? Start browsing affordable art online!