Tried and Tested: What's the Best Weather App in 2023?
Obsessed with getting weather updates? Looking for the most accurate weather app? You're not alone. According to the latest numbers, 'weather' is the sixth-most popular Google search query in the United States and the only one in the top 10 that isn't the name of something (like Facebook or YouTube).
The most amazing thing about this statistic is that it doesn't even count people who get their forecasts from sources other than Google – like weather apps. You may have already tried some free weather apps but found they didn't meet your expectations. Here we'll give you our list of the 10 best apps for weather – including the best free and most reliable weather apps and best weather apps that cost money.
Before we reveal the top 10, a word of note about data protection. Breaches of privacy by weather apps have been in the news a lot lately. Obviously, the best way to not have a weather app collect your data is to not download their app in the first place – but then you wouldn't have the convenience of real-time weather forecasting.

The best way to protect your data when using a weather app is to (a) read the privacy policy; and (b) go into the app setting, block the provider's access to your location, and then manually add all your cities to the app.
2023's Top 10 Most Accurate Weather Apps Forecasting:
1. The Weather Channel – Best Free Weather App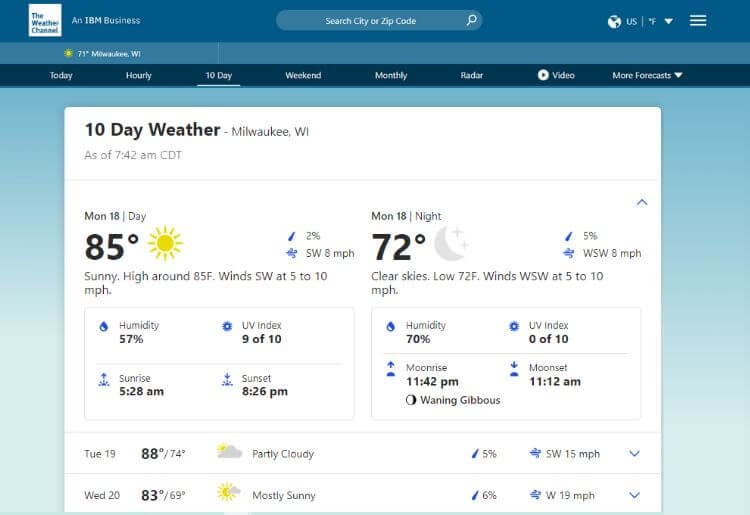 Compatible Platforms: Android and iOS
The Weather Channel is the most-downloaded weather app – and with good reason. It's free, it lays out everything you need in a forecast (including hourly forecasts, daily reports, and 10-day view), and it displays the latest weather conditions and news. It even has social sharing features where you can upload and view photos and videos. An annual $3.99 subscription removes the ads, but there are better paid weather apps.
The Weather Channel app is owned by The Weather Company (a subsidiary of IBM), who also own the Weather Underground.
The Weather Channel app is best used as originally intended: as a free weather app that does all the basics well.
2. AccuWeather – Most Accurate Weather App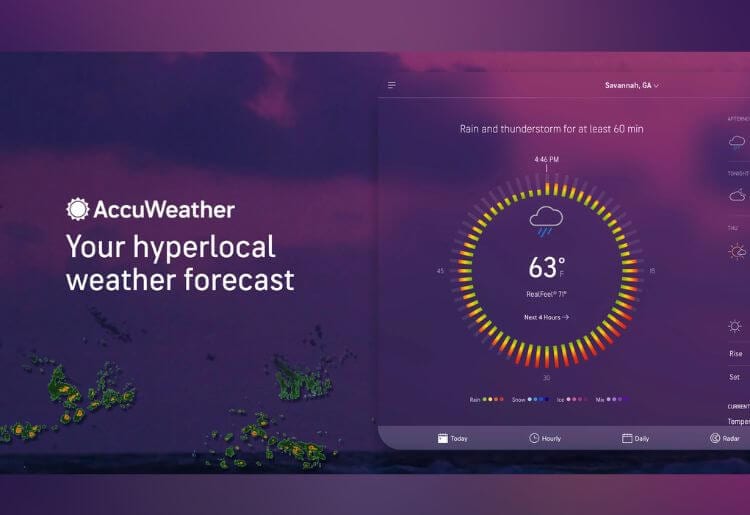 Compatible Platforms: Android and iOS
It's official: AccuWeather is the most accurate local and global weather app. In a study of 25 million weather forecasts in more than 1,000 locations globally from January 2018 to June 2019, independent industry tracker ForecastWatch found that AccuWeather had the lowest absolute error rate, performing 7.6 percent better than its nearest rival. For the weather junkies, it offers a detailed minute-by-minute breakdown of the next two hours, alongside hourly and daily forecasts, as well as 15-day views.
3. WeatherBug – Best App for Free Weather Alerts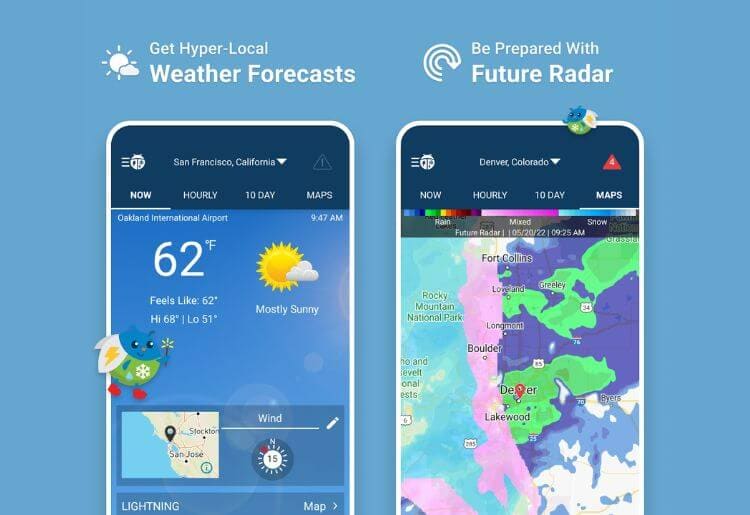 Compatible Platforms: Android and iOS
WeatherBug is a solid mobile weather app, but it's best used for getting instant alerts. Download the app for free and then go to the app settings to turn on notifications. There are severe weather alerts from WeatherBug, the National Weather Service, and the National Oceanic and Atmospheric Administration. There are also Spark Lightning Alerts, special notifications when dangerous thunderstorms are approaching your area.
4. Dark Sky - Best Weather App for iPhone
Compatible Platforms: iOS
Ask a weather obsessive to name their favorite weather app, and the most likely answer will be Dark Sky. This app is loved by people all over the world for its detailed local weather forecasts, advanced radar maps, weather stations and high level of accuracy. Dark Sky has its own hyperlocal forecasting system backed by radar data from the NOAA. In fact, Dark Sky's own forecasts are used by some of the other weather apps on this list.
Dark Sky shut down its Android and Wear OS apps on August 1, 2020 (after it was bought by Apple), but the iOS app continues to be a favorite of iPhone, iPad and Apple Watch users.
5. Shadow Weather – Best Weather App for Android
Compatible Platforms: Android and iOS
Of all the Android apps still using the Dark Sky API, Shadow Weather is probably most similar to the actual Dark Sky app in terms of user interface and experience. Like Dark Sky, Shadow Weather offers detailed real-time radar imagery and weather maps against a sleek black background. Another thing the two apps have in common is calendar integration. It's not from the same makers as Dark Sky, but Shadow Weather is sure to catch on among weather-obsessed Android users.
6. FlowX – Most Interactive Weather App
Compatible Platforms: Android and iOS
If they were giving out titles for weather apps, FlowX would be 'the people's app'. Its interactive features include finger sweeping to control the forecast animation over time, as well as a choice of multiple data layers to display on the weather map. The great thing about FlowX is you don't have to pay to get rid of ads. The only reason to pay is if you want access to additional features like 3-day 'hindcast' and customized graphs and maps.
7. RadarScope – Best Weather Radar App
Compatible Platforms: Android and iOS
RadarScope is the best weather radar app for people who really need (as opposed to want) accurate real-time weather alerts. An iOS/Android subscription gets you advanced radar interrogation, true radial NEXRAD data, Apple Watch/Android Weather integration, and 24/7 live support. RadarScope is used by bikers and hikers to get extreme weather warnings and wind speed, and by roofing and trucking businesses to be notified about events that affect business operations.
8. Tommorow.io - Best for Weather Forecast on Your Block
Compatible Platforms: Android and iOS
ClimaCell, also known as Tomorrow, is a weather-tech startup trying to disrupt the traditional players. Backed by more than $100 million in venture capital funding, it gathers weather details from millions of connected devices such as cell phones, connected vehicles, street cameras, airplanes, and drones. To give a basic example, if a connected vehicle turns on a windshield wiper, Tomorrow knows it's raining. Tomorrow is focused mainly on expanding its business, but it has launched a useful consumer app which it claims can predict the weather patterns accurately down to your precise location.
9. AIR by Plume Labs – Best App for Viewing Air Quality
Compatible Platforms: Android and iOS
For people living in big cities, it's not enough knowing about the weather; you also need to know about air quality and UV index. AIR by Plume Labs is the best app for real-time air pollution levels in your area and around the globe. It offers live weather maps, detailed data (live, historical, and forecast) and clean-air coaching. And best of all – it's free!
10. CARROT Weather – Best App for Having Fun with the Weather
Compatible Platforms: Android and iOS
The folks at CARROT Weather call their creation 'the crazy-powerful weather app', with emphasis on 'crazy'. This app is for smartphone users who want their weather to be entertaining, not just informative. It includes fun games like secret treasure hunts on an interactive map of the world. It even lets you customize CARROT's personality to match yours.
More Apps
Now that you have the most accurate weather app on your phone, it's time to see what other wonderful apps are out there. If you use these forecasting apps before going on vacation, then these travel apps and allergy apps will come in handy too!