Why Use Online Pet Stores?
The ability to shop, research, and compare pet supplies from the comfort of your home is one of the biggest reasons that pet parents flock to online pet stores. After all, the internet is available for shopping 24 hours a day, 7 days a week. This means that using online pet supply stores can be ultra-convenient.
If you're looking to get the best pet supplies delivered to your home, using a pet supply site can be a great way to access a great range of pet food, toys, and treatments. Here's a breakdown of some of the best places to order pet supplies online.
Which Pet Supply Site is Right for You and Your Pet?
Ordering pet supplies online can save you time and money. Want to start saving but aren't sure which site to use?
Whether it's for clothing, school supplies, household cleaning products, or fresh produce, everything is being bought online today. You know the drill: go to the store's website or mobile app, select what you want, purchase, and boom, it's at your door. Pet supplies, including food and toys, are no different. There are tons of online pet supply sites out there all offering different things. So which is right for you?
The 10 Best Places to Order Pet Supplies Online
1. Puracy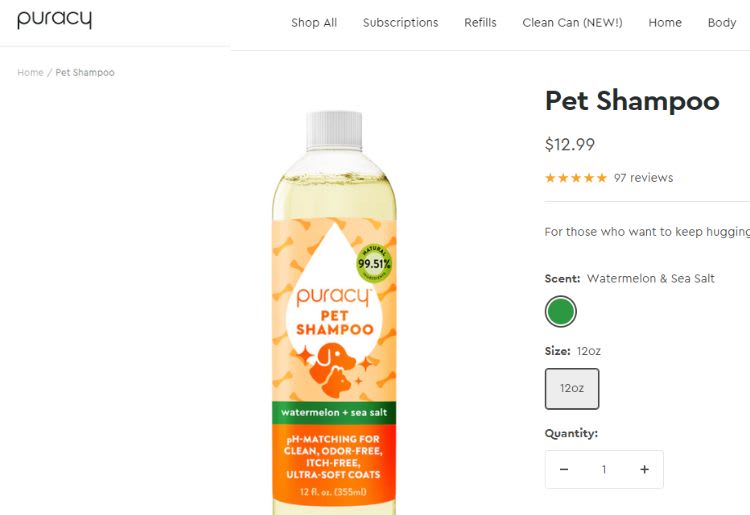 Puracy's pet supplies are a game-changer for pet owners who want to cuddle, pet, or sleep with their furry companions without the matted fur or stinky smells. Puracy's pet supplies are plant-derived, hypoallergenic, gluten-free, biodegradable, and proudly made in America.
The plant-powered cleanser, moisturizer, and pet stain & odor remover are human-grade and human-tested, ensuring your pet's safe and healthy experience. The product boasts 99% plant-powered ingredients, making it an excellent option for pet owners looking for a natural and healthier alternative for their pets.
2. PetSmart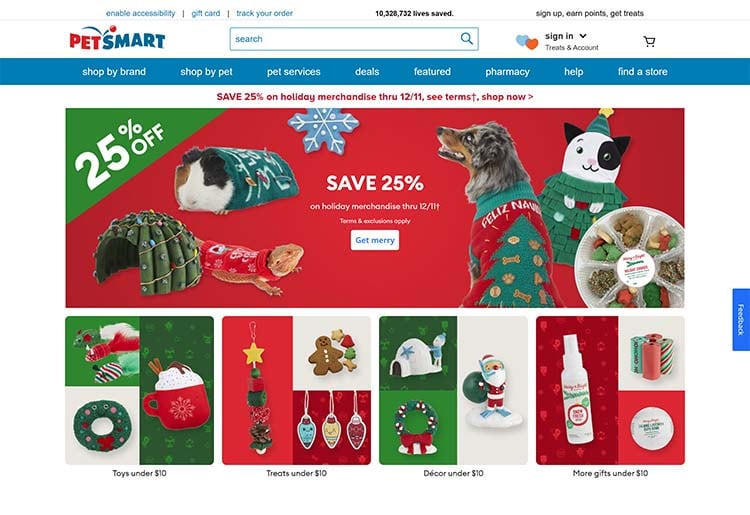 PetSmart offers deals online that may be as good, if not better, than the ones offered in-store. If you need something within the day, you can order it online and pick it up in the store for free, or pay $5 for same-day delivery. It offers a lot of different options to keep its consumers happy.
3. Chewy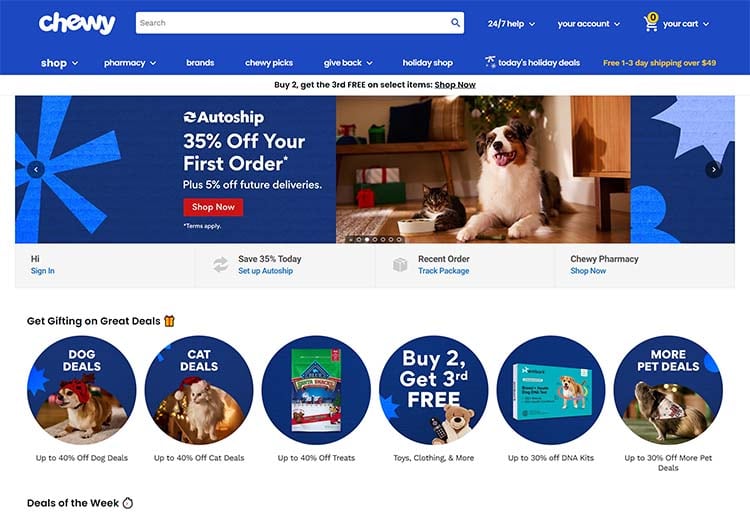 A top choice for dog or cat owners that are looking for affordable food options, is Chewy. The site is backed by PetSmart, stocks over 1,000 brands, has videos about pet diets and other useful topics, and offers you tons of ways to save. For one, you can save 20% on your first auto-ship. Chewy also offers discounts as big as 50% on certain brands, and there's no sales tax for anyone living out of Florida, Nevada, or Pennsylvania.
4. ValuePetSupplies
ValuePetSupplies is a family-run business specializing in bully sticks, natural dog treats, dog diapers, and puppy pads. It also offers a selection of discount pet supplies for reptiles, fish, and other small pets. With free shipping across the contiguous 48 states, bulk buy discounts on collagen dog chews, and frequent seasonal deals, you're bound to find a bargain at ValuePetSupplies.
5. Wag
If you find yourself running just to keep up with life, you're probably in need of a simple and quick solution for pet supplies. If so, you'll love Wag.
Wag sits on Amazon, which everyone is familiar with. Just look up what you want, purchase, and your order is set.
6. Petflow
Petflow offers reduced prices for auto-shipping, and has a referral program that pays you $10 per referral, which can add up to quite a bit. The best part about Petflow is that it's more than just a store, it's a store that does good. For every order it ships, it donates a bowl of food to a pet in need, so you feel good about your purchase.
7. Petco
Petco offers products for birds, fish, cats, and dogs, and offers free shipping for orders over $49. Its site offers a convenient way to shop by pet. Just click an option, say "dog," and everything you could possibly need for your dog gets shown to you. Petco also has a repeat delivery service, which aims to save you time and hassle. You just choose your products and schedule time, and the products will be delivered to you automatically. No more 12am pet-food-runs.
8. Dog.com
Though it's called "Dog," Dog.com offers products for cats as well. It often has promotions that can get you as much as 75% off, has a large clearance section, and offers free shipping on orders over $69.
9. 1800PetSupplies
If you're short on time, make sure to do one thing: save 1800PetSupplies in your phone's contacts. You can use its site, or call the number to place an order. It offers 20% off of your first order, 30% off of orders over $69, and even more deals that'll have you coming back. If your day's jammed and you don't have time to get online and place an order, just dial the number and consider it done.
10. Only Natural Pet
Luckily there's a pet supply site dedicated to the conscious pet owners out there. Only Natural Pet, as its name suggests, sells natural, holistic, and eco-friendly pet products that range from food and vitamins, to toys and shampoo. It has different products that aren't sold in mainstream shops like its paleo inspired powerfood line for dogs. Its site also has insightful articles and videos like "Natural Flea & Tick Prevention," and "Dog Chews for Better Health." Though it's not the cheapest option out there, it's great for all-natural pet foods. It has a wide selection of holistic puppy, adult, and senior dog foods. If you're looking to order from a pet supply site that has organic and healthy options for your pet, Only Natural Pet will not disappoint.
How to Compare Online Pet Stores and Save Money?
Not all online pet stores are the same. Some may specialize in products for specific animals—such as dogs or cats—while others may have a niche offering of pet items like treats and toys.
When comparing pet stores for the most cost-effective options there are a few things to take into account. Value for money is likely going to be a top priority.
Deciding to buy from one primary online pet store could mean that you benefit from reward programs, earned points, cash back, gift cards, auto ship orders or subscription options, and more. There may even be sales, coupons, and other perks available only to loyal customers.
Consider selection when comparing stores. If you have multiple pets, browse each online pet store's catalog to ensure that they can be a one-stop shop. This could save you money on shipping fees, as you won't have to buy the supplies you need from multiple online pet stores.
Here are some other things to look for when comparing which online store to buy from.:
Value

Quality

Terms and conditions of sale

Refund and return policies

Guarantees

Medical supplies and options for your pet

Specialized luxury items

Types of pets offered

Types of pets serviced

Animal training support
A Happy You and a Happy Pet
Shopping for your pet can take time. You have to drive to the store, find the product, check out, and drive home. Lucky for you there are great pet supply sites that can make pet supply shopping a no-hassle deal. Do it from work, on-the-go, or from the treadmill, and you'll discover a happier you and a happier pet!