In a Nutshell
Famed for its iconic logo, Ray-Ban is a global brand selling its eyeglasses and sunglasses both online and via a network of approved retailers. As well as choosing from a wide selection of existing frames, you can customize your glasses according to your lens, frame, or preferred engraving.
pros
Virtual try-ons available
Ability to customize your glasses
60-day return policy
cons
No clear pricing structure on design-your-own glasses
More expensive than some competitors

Ray-Ban Visit Site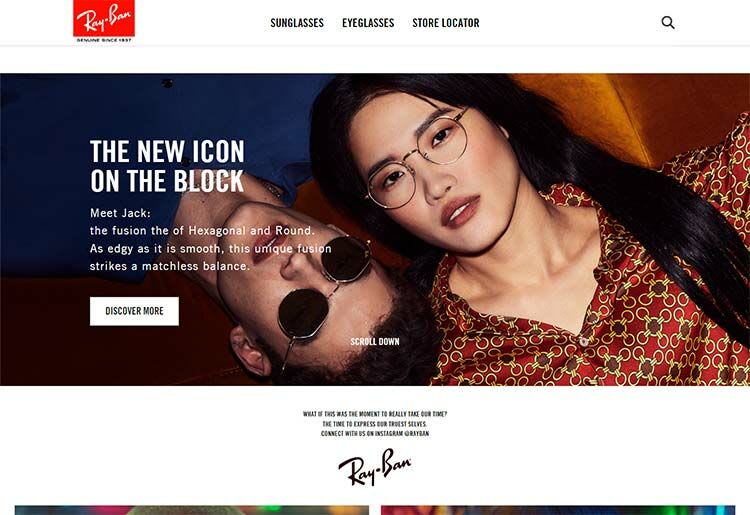 Ray-Ban at a Glance
Price range: Starting at $70
Types of glasses: Reading glasses, sunglasses, polarized lenses
Virtual try-on: Yes
Shipping: Free
Money back guarantee: 60 days
Best For
Ray-Ban products are especially suited for fans of the iconic brand who are keen to sport a pair of glasses with its famed logo on the frames. However, these products could also be ideal for:
Those will vision insurance

Shoppers keen to customize their glasses
How Does it Work?
Ray-Ban breaks its products down according to glasses type, face shape, frame color, and frame fit. For those looking for a unique product, there is also a design-your-own option, allowing you to customize your glasses.
If you're shopping for eyeglasses, you'll need to submit your prescription details once you've chosen your frames. You'll need to do this within 6 days by sharing a photo or scan via text, email, or upload.
Once you've picked out your frames, you can use the website's virtual try-on service, which allows you to check how they'll look by activating the webcam on your device.
If you're using vision insurance, you can apply both FSA and HSA benefits to your purchase. As insurance plans vary, you'll need to consult your policy before making a purchase.
As well as selling glasses online, the company has a network of shops worldwide. If you'd like to buy your glasses in store, the first step is to enter your zip code into an online tool to find the nearest location to you.
If you're shopping online,
Pricing
At present, the company has glasses in the following price ranges, although these may be subject to change depending on availability and new items coming into stock.
$70 (reduced from $140)-$383
$64 (reduced from $128)-$1,012
Up to 50%
50% on prescription lenses alongside purchase of frames
Up to 50%
50% on prescription lenses alongside purchase of frames
Ray-Ban's aftercare plan allows you to split the cost of your glasses into four interest-free instalments. Be aware, though, that you may face charges if you miss a payment.
Types of Glasses
The company breaks its products down into the following categories:
Eyeglasses
With approximately 250 products available, you can shop for glasses according to features such as frame shape, frame color, and face shape.
Sunglasses
As well as adding a prescription to your glasses, you can also choose from a selection of polarized lenses, which enable you to add a tint to your glasses. You can also opt for lenses that change color according to the light.
Design your own
You can create personalized glasses by choosing your desired frames, lenses, and temples. You'll then have the option to add an engraving to your glasses.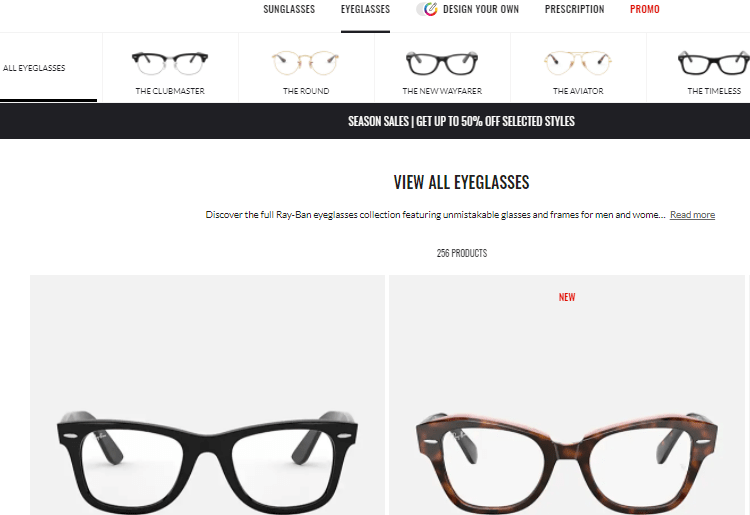 Refunds and Returns
Ray-Ban has extended its return policy to 60 days. Once the company has processed your refund, you'll receive an email notification. Refunds normally arrive within 15 days.
If you're returning a faulty product, the company will send you a replacement when the product has been received and processed at its warehouse.
However, if you purchased your glasses through an authorized retailer, you'll need to return it directly to the retailer.
Customer Service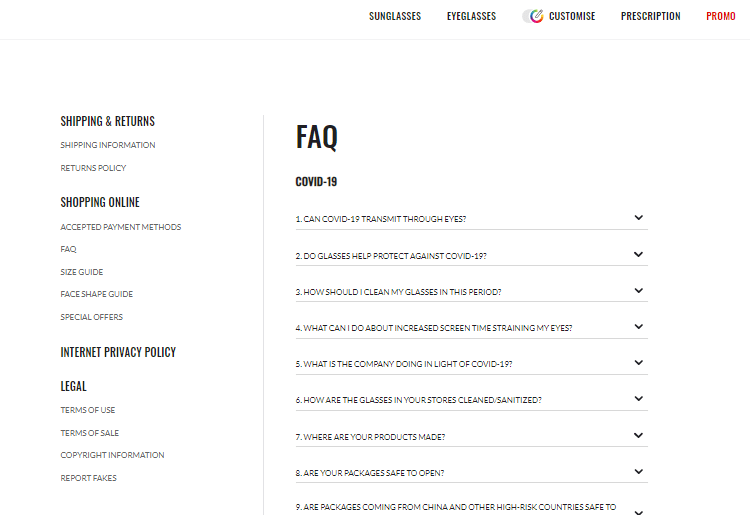 The company's customer service staff is available over the phone and through live chat. It's hours are between 8.30am and 5.30pm on Mondays to Fridays and 9am to 5pm on Saturdays.
If your query is more general, the company's website contains an FAQ section, which is broken down by the following categories: COVID-19, product range, shipping and returns, sunglass prescription lenses, and customer service.
If you're a diehard fan of the brand, you could consider joining its loyalty program, The Ones. By doing so, you'll have access to events such as concerts and receive fast-track access to VIP products.

Ray-Ban Visit Site
Testimonials
"You guys did a great job with my new sunglasses. You nailed it on the first try with the progressive lenses and I am very happy with them. Keep up the good work!" Mitch K
"These sunglasses are seriously the best I have ever owned. I have to admit the price tag on them made me hesitant, but after I received them and put them on, I was immediately enthused about them! They fit great, and feel amazing, it's almost like you aren't wearing glasses at all." K Ricca
Bottom Line
Established in 1937, Ray-Ban products are best suited for shoppers who love the brand and would be willing to pay a little extra for a pair of specs with its internationally recognized logo. Its major plus points include the ability to design your own glasses and make use of vision insurance on your purchase.