In a Nutshell
With a focus on sport and performance products, Oakley sells a range of eyeglasses, sunglasses, goggles, and shields catered towards those who enjoy a high-energy lifestyle. Offering free shipping and a 100-day return policy, the company markets its products both in store and online.
pros
100-day return policy
Customizable option available
Free shipping
cons
Virtual try-on not available
Prescription option not available on all products

Oakley Visit Site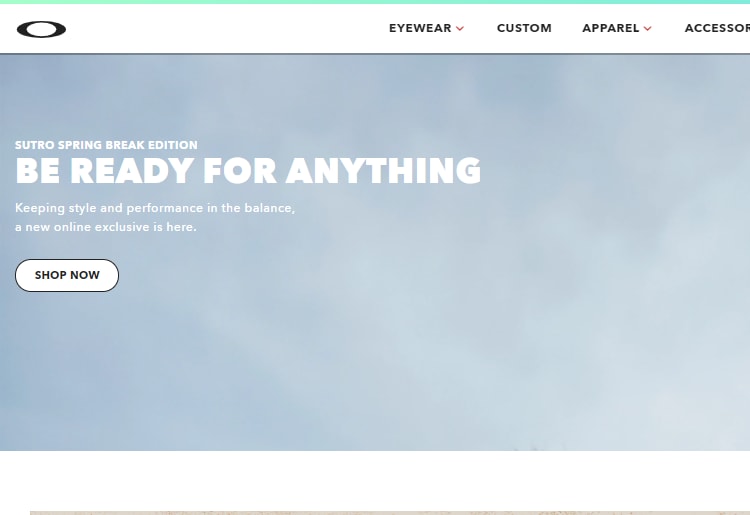 Oakley at a Glance
Price range: Moderate
Types of glasses: Sunglasses, eyeglasses, prescription, goggles, shields
Virtual try-on: No
Shipping: Free, $9.95 for same-day/next-day delivery
Money back guarantee: 100 days
Best For
While the company's eyewear products should be suitable for any situation, Oakley's glasses could be ideal for those who enjoy the following:
Athletics

Outdoor activities

Watersports

Hockey

Football

Snowboarding

Skiing

Video gaming
How Does it Work?
You can purchase Oakley's products both in store and online. To find your nearest store, you'll need to enter your zip code into the company's online tool. Depending on the location you choose, you may need to book an appointment to visit the store.
If, however, you'd prefer to shop online, you can break your search down according to factors such as rim type, fit, and lens type. Should you wish to add a prescription to your purchase, you'll be asked to enter these details at the checkout.
If you'd like to receive your order through the mail, the company offers free shipping on its products, though you'll need to pay $9.95 for next- or same-day delivery. You can also choose to pick your glasses up in store, with the majority of items being available within two hours. If you're ordering a customizable product, your item will take approximately 7 business days to assemble before being shipped to you.
Once you've received your glasses, you'll have 100 days to return your purchase if you're not satisfied. Be aware, you won't be able to return customizable items simply because you're unhappy with the appearance.
Pricing
At present, the company has glasses in the following price ranges, although these may be subject to change depending on availability and new items coming into stock.
$51.50 (reduced from £103) - $328
Minimum $253 (reduced from $353) - Minimum $474 (reduced from $586)
$68 (reduced from $136) - $406
Oakley MUZM Series 1875 X Metal Edition: $14,000
Hockey: $65-79
Football: $60-70
Discount: 50% on selected frames
Discount:
30%/50% on selected frames
Discount:
25%/50% on selected products
If you're shopping for prescription eyewear, these details are only a guide: the actual price will depend on the frames you choose and the specifications of your prescription.
By joining Oakley's MVP loyalty scheme, you can receive benefits such as 50% off on replacement sunglasses.
Types of Glasses
Eyeglasses
The company sells eyeglasses in two categories: performance lifestyle and sports performance. If you're a gamer, the company sells prizm lenses, which include blue filtration lighting. It's important to note you won't be able to add a prescription to all frames.
Sunglasses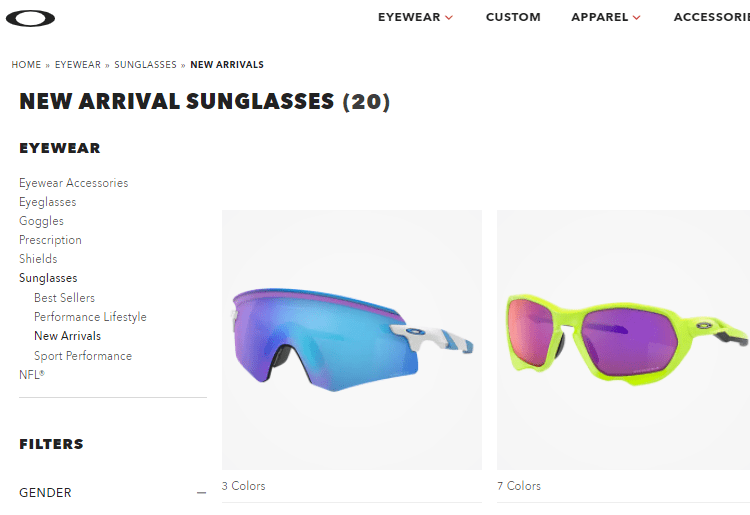 As well as its standard products, the company specializes in various types of lens technology, such as:
Photochromatic: these darken when exposed to certain types of light

Polarized: these are designed to reduce glare

Prism: these bend light in order to compensate for eye muscle weakness
Again, you won't be able to add a prescription to all frames.
Goggles
If you're seeking protective eyewear for sporting activities, the company provides MX and snow goggles. You can also search according to the weather type in which you'll be using your goggles.
Shields
For sports enthusiasts, the company sells hockey shields, hockey straight shields, and football shields.
Customizable
You can create your own unique glasses by choosing your frames and then selecting details to etch on your lenses.
Refunds and Returns
If you're not happy with your glasses, you can return the product within 100 days and your refund should arrive within 5 business days of your return being processed.
If you purchased your product through one of the company's approved retailers, you should first contact the retailer to discuss your return options.
The company offers free shipping on all its products, which can take between 5 and 14 business days. If you choose same-day delivery, you'll pay a fee of $9.95.
Customer Service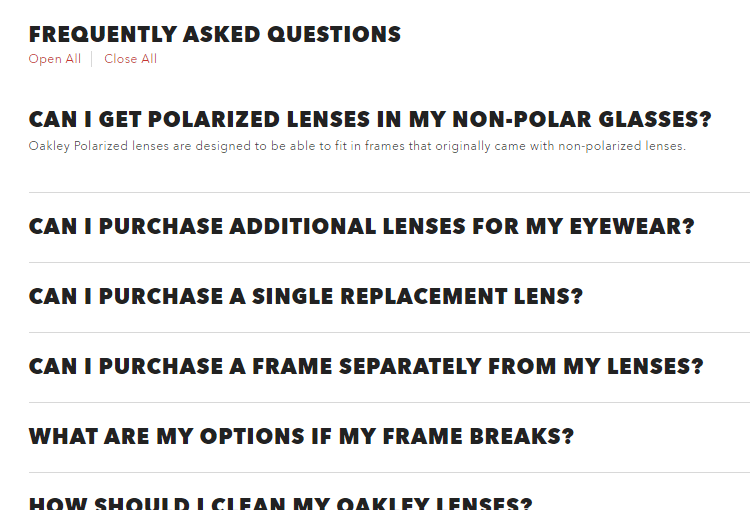 If you have a question regarding your glasses, you can contact the company over the phone or via online chat. Its customer service hours are between 8.30am and 5.30pm on Mondays to Fridays.
Oakley's website also contains FAQs, which provide information on topics such as purchasing additional lenses, cleaning your lenses, and spotting counterfeits.

Oakley Visit Site
Testimonials
"Oakley is a great company. I have purchased glasses from them on many occasions and am always happy with the product." Joe
"My fairly expensive sunglasses, 6 months old broke due to my carelessness and I contacted the company through its website, took pictures of the problem and filled out their form. The next day, I got approval for a replacement. I then mailed the old pair in and one week later, got a brand new pair delivered. Outstanding customer service. Great product. Great company." Lorne
Bottom Line
By offering products catered towards the sports enthusiast market, Oakley differentiates itself from other eyewear retailers on the market. Although you may not be able to try your glasses on virtually, the company has a generous 100-day return policy.