In a Nutshell
With 1-to-1 tutoring, Rype is an attractive option for those who'd like to learn a language online without attending a language school. You can choose the number of lessons that you'd like to receive per month, and it also provides customized learning plans. Phone support isn't available, but this is a relatively minor issue for most learners, who will likely appreciate Rype's other features, such as the ability to pause and resume a membership.
pros
Private 1-to-1 lessons
Excellent Trustpilot rating
Lesson plans for every session
cons
Phone support not available
Not accredited by the Better Business Bureau

Rype Visit Site
Rype Plans
Rype is a subscription-based service that enables you to receive private lessons in:
Spanish
French
English
German
Italian
Russian
Mandarin
Japanese
Arabic
Portuguese
When you become a member, you can specify the number of hours of 1-to-1 tuition that you'd like to receive, with the available options being 4, 6, or 10 hours per month. You can also choose whether you would like to pay in monthly installments or prepay for 6 months of lessons.
If you choose the prepay option, you can pause your subscription for 1, 2, or 4 weeks to accommodate any holidays or periods during which you won't be able to take your lessons.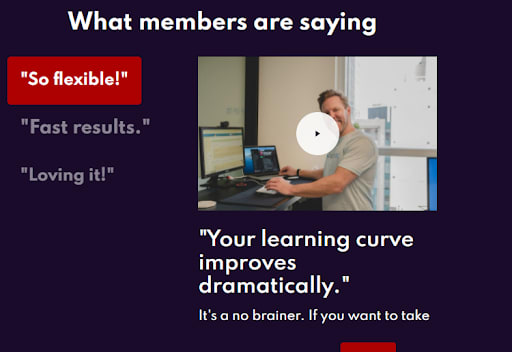 How much does Rype cost?
The cost of your membership will depend on the number of hours of private tuition that you receive and the payment model that you choose.
4 hours of 1-to-1 tuition per month
6 hours of 1-to-1 tuition per month
10 hours of 1-to-1 tuition per month
Billing operates on a monthly cycle. However, if you select the 6-month prepaid option, you'll be billed up front for that period.
All plans will automatically renew until you cancel, which you can do at any time through the Plans and Billing section of your membership portal. Be aware that the company doesn't offer refunds on its memberships, which means on a prepaid plan, you won't get your money back if you decide to stop your lessons during the 6-month period.
If your first lesson doesn't take place or you're not satisfied with your teacher, Rype will provide you with a full refund credit to book another lesson with a different teacher.
Once you've created your account, you can set up a free lesson with the teacher of your choice. If you are unsure whether Rype is right for you, you can take two taster lessons for $5 per session before being prompted to set up a subscription.
How does Rype work?
Rype offers live 1-to-1 teaching sessions through Skype, and each lasts 1 hour. If you'd like to gain a flavor of the service first, you can sign up for a 30-minute trial lesson with one of its tutors. This session will enable you to test your rapport with a potential teacher and in turn, allow them to assess your needs so they can understand how to customize your learning.
Once you become a member, you can book your lessons up to 7 days in advance. You'll then receive two reminders before your lesson begins: one 24 hours in advance and another 2 hours before your lesson is due to start.
If you have a prepaid 6-monthly plan, you can pause your subscription for 1, 2, or 4 weeks to accommodate any holidays or periods during which you won't be able to take your lessons.
Before each session, you'll receive a lesson plan, which your tutor will tailor to your personal language goals and proficiency levels.
To get the most out of your lessons, Rype recommends that you have:
A webcam
A headset
A mic
Google Docs (to access your personalized feedback documents)
Skype app on your phone (if you'd like to take your lessons on the go)
Although Rype does not have an app itself, its sister service, Jumpspeak, has an app that enables you to learn Spanish through AI-powered conversations.
For more information on how Rype works, watch this video.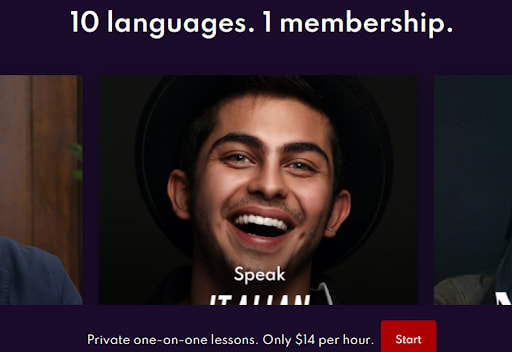 Is Rype reliable and safe?
The company has a rating of 4.4 out of 5 on Trustpilot, which is classified as excellent. Many reviewers praise their tutors' professionalism and teaching style. Others speak enthusiastically about Rype's customer service and the platform's ease of use.
Do note, however, that the company is not accredited by the Better Business Bureau.
What's special about Rype?
Rype's founder created the business to address the problems that they encountered when learning a new language as a busy professional. They claim that their service typically works out at less than a quarter of the price of attending a language school in person.
The company also states that the recruitment process for its tutors is especially robust compared to its competitors. All of Rype's tutors have professional teaching experience, and it vets these individuals to verify their experience and teaching style.
Help and Support
You can contact Rype through email or an online query form, and the company will respond within 24 hours, Monday to Friday. Telephone support isn't available, though this is not unusual for this type of language learning company.
When we contacted the company by email, we received an extremely polite and detailed response within the 24-hour time period,
Alternatively, you could consult Rype's FAQs or knowledge base, which provide a great deal of information on the business, its methods, and its teachers.
There is also a blog on the company's website, with its posts often being broken down according to specific languages.

Rype Visit Site
Bottom Line
If you believe that personalized tuition is the key to learning a new skill, Rype's model may be right for you. The company only recruits teachers with previous experiences, and it claims to put applicants through an especially rigorous recruitment process to verify all the information that they provide about their teaching style and background. We are also impressed by the flexibility of Rype's membership, with students being able to pause their lessons and select their preferred payment model.
FAQs
How long does learning through Rype take?
The answer to this will obviously vary on a case-by-case basis. However, Rype has found that the average student spends less than 2 hours a week learning, which breaks down into daily 15-minute sessions.
Does Rype work for beginners?
Rype's teaching is designed to fit learners of all experience levels, and the company states that 85% of its members are beginners. Once you begin your 1-to-1 sessions, your tutor will personalize your lessons based on your proficiency levels and goals.
My teacher isn't available at the start of my lesson. What should I do?
Although Rype stresses that this happens only in extremely rare cases, it does state that these instances could be due to technical issues or scheduling errors. Should this happen, you can report the issue online and receive a full refund.