In a Nutshell
With more than 60 million learners worldwide, video-based language learning platform Memrirse offers both free content and paid plans that feature over 50,000 videos of native speakers in 23 languages. Although it doesn't provide live classes, the platform could be an excellent choice for those who prefer the convenience of learning at a pace that suits them, while its thriving online community is ideal for group learning.
pros
More than 50,000 videos of native speakers
10% discount on monthly paid plans
30-day money-back guarantee
cons
Phone support not available
No live teaching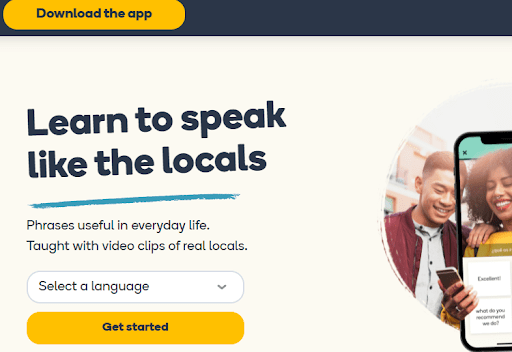 Memrise Visit Site
Memrise Plans
Memrise offers courses in the following languages:
Chinese
Danish
Dutch
French
German
Icelandic
Italian
Japanese
Korean
Mongolian
Norwegian
Polish
Portuguese
Russian
Slovenian
Spanish
Swedish
Turkish
Yoruba
As well as limited access to free content, the company offers paid Pro plans with monthly, annual, or lifetime options.
While the free version will provide you with access to some features on a few levels of every course, its paid plans include access to all features on all official courses.
As your membership will allow you access to all official Memrise courses, you can learn as many languages as you choose via the platform.
How much does Memrise cost?
If you'd like to access Memrise's more advanced features, you'll need to upgrade to a Pro plan, which is available through the following payment models:
At present, Memrise is offering a 10% discount on monthly plans for customers who subscribe via this link before Saturday, April 30.
If you sign up for a monthly or an annual plan, your subscription will automatically renew unless you cancel it at least 24 hours before your next payment is due.
The company also operates a money-back guarantee on its annual and lifetime plans, which will allow you to receive a refund within 30 days of taking out a subscription if you're not satisfied with the service.
How does Memrise work?
Memrise's language courses are based around video flashcards and interactive quizzes to facilitate memory retention.
As well as offering a web-based version of its services, the platform is available as both an Android and iOS app.
If you'd like to take a course, the first step is to select the language you currently speak and the language you'd like to learn before indicating your level of experience. You can then create your account and see a selection of courses that suit your requirements.
As soon as you've chosen the course you'd like to take, you'll see a list of all the features—or learning modes—available for the relevant language on the device you're using.
One of Memrise's most attractive features is its Learn With Locals mode, which allows you to learn from more than 50,000 videos of native speakers. After you've completed a season, the Speed Review function allows you to test yourself on the new vocabulary.
You can also access a selection of video phrasebooks, which contain clips of native speakers pronouncing commonly used words and phrases.
Perhaps one of Memrise's most interesting features is that it allows learners to create their courses, which they can then share with other users.
Overall, we found the free German-language content we accessed online extremely engaging and enjoyed taking part in an interactive quiz designed to boost vocabulary.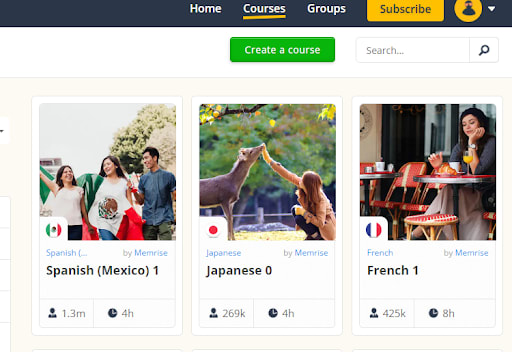 Is Memrise reliable and safe?
Memrise currently has a rating of 3 out of 5 on Trustpilot, which is classified as average. While positive reviewers praise the platform for its user-friendly content, less satisfied customers complain that its customer service representatives are slow to respond.
When we searched for the company on the Better Business Bureau, we were unable to find any information on ratings or accreditation.
What's special about Memrise?
Memrise's approach to language learning is built on a unique teaching philosophy, which its creators describe as "easy language immersion."
At the core of this philosophy is a belief that people will automatically remember content that is imaginative or shocking. Thus, Memrise's material focuses on scenarios that are designed to hold learners' attention, such as teaching you how to win an argument in a foreign language or how to hold a conversation on social media.
Its creators also believe that immersion is key to acquiring new language skills and that such immersion can only be achieved by "living and breathing language." To put this into practice, Memrise's creators embarked on a bus tour around Europe and collected more than 50,000 videos of native speakers, which then formed the basis of the material available on its platform.
Watch this video here to learn more.
Help and Support
You can contact Memrise via its online query form or social media channels. Although the company doesn't offer telephone support, it's worth noting that this isn't unusual for this type of service.
If you contact the company, you should receive a response within 3 to 5 working days, although we received an almost immediate reply to our query over Twitter.
Alternatively, you can access unofficial advice through Memrise's online community. As well as hosting general discussions, the forum acts as a space where you can request features you'd like to see added to the platform and discuss any bugs or technical issues.
Memrise has an extensive selection of FAQs on its website and, although these answered most of our questions about the company, we did occasionally feel that some of the answers could be explained more clearly.
Memrise also has an active blog on its website that reinforces its philosophy of learning through engaging content. Recent topics include a run-down of "cool" Japanese words not taught in textbooks and details of a Squid Game-themed competition.

Memrise Visit Site
Bottom Line
Whether Memrise is right for you will ultimately depend on your preferred learning method. If you flourish in a conventional classroom environment and benefit from textbook learning, you may want to look elsewhere. If, however, you prefer less formal remote learning geared towards everyday use, Memrise is likely an attractive option.
Although the company doesn't offer telephone support, its active online community could prove invaluable if you have questions or prefer to learn in a group environment.
There's no doubt that Memrise is a useful learning tool. But to decide whether it's right for you, you should probably sample its free service and then upgrade to a paid plan if you'd like to continue.
FAQs
Does Memrise work for beginners?
Yes. When you sign up for a course, you can select your proficiency: beginner, intermediate, or advanced.
What are groups?
These are classes or study groups created by Memrise members. As well as learning together, members can compete against one another to complete course material in the fastest time and earn a place on the leaderboard. As groups aren't public, their creators will need to invite members to join.
How do I switch to a different plan?
If you'd like to change to a new plan, you'll first need to cancel your current plan or wait for it to expire and then switch to a new subscription model.