In a Nutshell
Offering online lessons and personalized feedback from tutors, LinguaLift is an excellent platform for those seeking a hybrid between interactive tuition and independent study. Although the company isn't accredited by the Better Business Bureau, it has a number of other attractive features in its favor, such as the ability to contact tutors 24/7 through in-app messaging and teaching methods based on research from elite colleges.
pros
24/7 tutor support
Customized study plans
Techniques based on study from Oxford, Harvard, and Stanford
cons
Live lessons not available
Grammatical explanations in English only

LinguaLift Visit Site
LinguaLift plans
If you sign up to LinguaLift, you can take online lessons in five languages.
Russian
Spanish
French
Japanese
Hebrew
Each session is broken down into bite-sized chunks which should take between 10 and 15 minutes to complete. If you decide to do so, you can study multiple languages through a single subscription.
Although you will learn independently, all plans offer dedicated tutors to guide you through your course material and answer any questions you may have.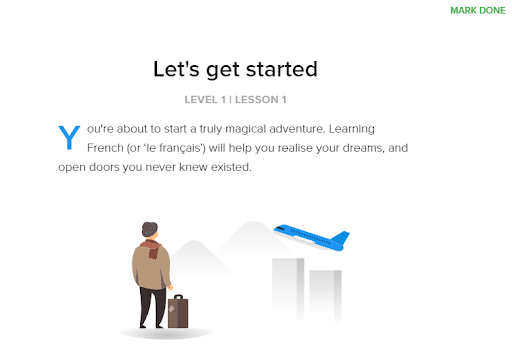 How much does LinguaLift cost?
You can choose from 4 payment plans for LinguaLift.
$16.99 per month
(Billed as $50.97 every 3 months)
$14.99 per month
(Billed as $89.94 every 6 months)
$12.99 per month
(Billed as $155.88 every 12 months)
All plans offer:
Access to dedicated tutors through live chat
Customized study plans
Clearly explained grammar tips
Simulations of real-life conversations
Before you purchase a plan, you can also sign up for a free trial, which will give you access to several lessons for each language course.
If you're not satisfied with your plan during the first 30 days for any reason, LinguaLift will offer you a full refund, which it claims is the most generous guarantee in the industry.
Once you have joined LinguaLift, you won't be locked into a contract and can cancel at any time.
How does LinguaLift work?
If you're considering taking out a subscription, your first step will be to create an account and take a free lesson, which you can do by entering your email address or logging in via Facebook or Google.
To ensure future lessons meet your specific language goals and proficiency levels, you can create a customized study plan—referred to as your "road map to fluency"—by providing information such as:
Your current fluency level
Your reason for language learning
The level of fluency you'd like to achieve
Your timeframe for learning
Your study habits
Details about the tech you use
Once you have entered this information, your plan will be emailed to you directly.
During your lessons, you'll hear audio from native speakers, which will teach you correct pronunciation through the shadowing technique in which you listen to samples of speech and then repeat what you've heard.
The lessons will also provide you with information on local customs, which is designed to help you interact in real-life social situations.
Once you've finished your lesson, you can complete an interactive quiz to ensure you have understood the material.
If you have any questions, you can contact one of LinguaLift's tutors via in-app messaging. Tutors will provide clarification on points relating to your course material and the principles of the language.
Unlike some other language programs, LinguaLift will provide you with optional homework. Once you have completed these exercises, you can send them to your tutor, who will provide you with feedback.
LinguaLift also has a mobile app, which is available from the App Store or Google Play.
Overall, we found the process of signing up to LinguaLift very straightforward and enjoyed the free lesson we took, with its interactive features providing a clear aid to learning.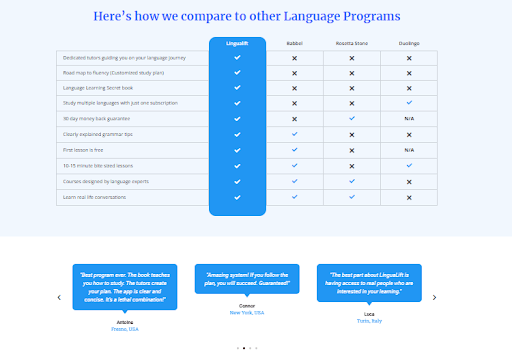 Is LinguaLift reliable and safe?
LinguaLift has a rating of 2.6 out of 5 on Trustpilot, although this may not be the best indicator of reliability as it is based on just 4 reviews. When we searched for the company on the Better Business Bureau, we were unable to find any reviews or information about accreditation.
What's special about LinguaLift?
All LinguaLift's lessons are based on its specially designed HILL system, which stands for hybrid innovative language learning.
The company claims its teaching method is the product of more than 6 years of research by experts from Harvard, Stanford, and Oxford universities. The research looked at more than a million data points relating to students who had started to learn a language but given up midway through the process.
After contacting those who had abandoned their language education, speaking with language experts, and looking at other programs, the researchers created The LinguaLift method, which is based around three concepts.
Clarity of organization: LinguaLift structures its software so that users can understand the next step they will be taking in their learning.
Clarity of explanation: The wording of its lessons is designed to be accessible, with all points explained in plain English.
Clarity of example: The curriculum prioritizes teaching in context, which means you'll learn vocabulary and phrasing through examples of real-life conversations.
Help and support
You can contact LinguaLift by phone or email, and, if you decide to learn a language, you can live chat with one of its tutors.
Although tutors are available 24/7, you may experience a slight delay in receiving a response due to the volume of students learning with the platform. When we contacted the company over live chat during the weekend, we received a very detailed and helpful response within half a day.
If your query is more general, you could also consult the FAQs on the company's website, which mainly provided all the information we needed on the service. Or you could check its blog, which is a valuable resource and contains posts on topics such as the psychology of language learning.
Finally, as a LinguaLift member, you can also join its Facebook group or download its Language Learning Secrets PDF, which provides tips on achieving fluency in another language.

LinguaLift Visit Site
Bottom Line
If you're looking for personalized language learning but would prefer the freedom to study independently, LinguaLift could be the right choice for you. With methods based on studies from some of the world's most prestigious universities, there is clearly a great deal of research behind its methodology. The platform's fees are at the mid-to-lower end of the language learning market and become even more competitive if you opt for a longer subscription.
The biggest downside we identified is that all explanations for its course material are in English, which means the platform may not be suitable for learners who are not already proficient in this language. As with many language programs, determining the true value of LinguaLift will ultimately depend on whether you are willing to put in the time and effort to make the most of the resources available. For this reason, it's certainly worth investigating the free trial option to find out if LinguaLift is a good match for you.
FAQs
Is LinguaLift suitable for beginners?
Yes; all courses start with the assumption that learners do not have any knowledge of the language at all. However, content for intermediate and advanced learners is also available.
Does LinguaLift offer any discounts?
No, the standard price for its plans is the best available.
Who are LinguaLift's tutors?
If you'd like to learn more about your tutors, you can read their bios here.