In a Nutshell
WordPress is the world's most popular content management system (CMS) and has had a major impact on the online world. WordPress runs over 75 million blogs and over 20% of the world's top 100 websites, cornering more than half of the CMS market.
pros
Affordable, easy to install and use
Numerous security plugins to keep your site safe
cons
No drag-and-drop editor
Some editing and design work may require coding
WordPress.com Visit Site
Standout Features
Versatility and simplicity are 2 of the key components of WordPress, and a major reason why the CMS powers such a significant chunk of the web. Keep in mind, while there is a wide variety of features on WordPress, what really makes this CMS stand out are the thousands of plugins that you can add to your site, making the customization options virtually limitless.
Search engine optimization (SEO) tools
Available in more than 70 languages
Easy to install, edit and upgrade
Preview themes for your site without activating them
Image editing features to edit images you upload directly on WordPress
Wide range of keyboard shortcuts to save time
The world's largest community of users, with many handy user forums
User accounts with various levels of access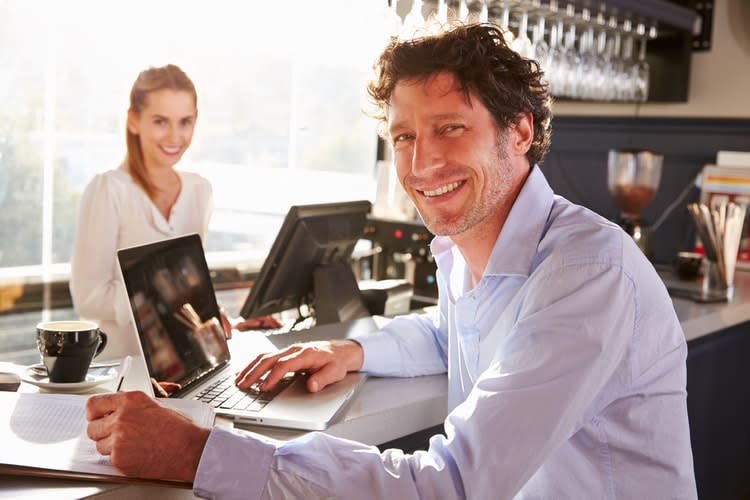 Ease of Use
Some CMS providers are more straightforward and intuitive than WordPress, but you still don't need to be a programmer to figure out how to edit and operate your WordPress site. Even a web design novice should be able to master the system after watching a tutorial video or 2 online. Because you can preview anything you design before posting, you can take your time, watch a couple of tutorial videos, and play around with the editing on your site until you feel comfortable that you have the swing of things.
A WordPress account doesn't come with web hosting included, so after you've purchased a domain name you'll need to secure a hosting company for your site. After signing up, simply install your WordPress site on the web hosting service, and you're good to go.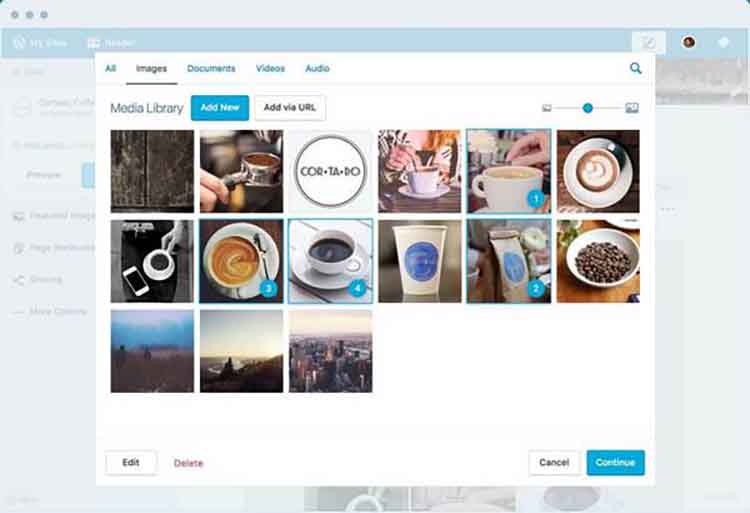 With WordPress it's easy to tool around and learn the system on your own. When logged in as admin, create a post by clicking "posts" – add new. You'll be taken to a blank template with space for the head, body and tags, as well as media like photos or videos. Again, you can take some time here to try your hand at creating a post, just to get a feel for it.
The bottom line is that while some systems are easier or more intuitive, millions of people from all levels of web design experience have designed and run brilliant WordPress sites, and there is an extensive array of online tutorials to walk you through the process step-by-step.
Pricing
Monthly price, billed annually
*Prices last updated April 2018
You can sign up for WordPress for free, but you'll be limited to a WordPress.com subdomain, 3GB storage, and WordPress.com ads will appear on your site. You will also be limited to basic design customization and hundreds – rather than thousands – of themes.
With the personal plan at $4 per month, the ads are removed and you get a custom domain name, as well as 6GB storage, email, and live chat support. The premium package runs for $8 per month, and is designed for entrepreneurs and freelancers. You get 13GB of storage space, unlimited themes, advanced customization, and also the ability to monetize your site. The most expensive plan is the business package, which includes unlimited storage space, monetization options, Google analytics integration, and other features.
One thing to keep in mind is that even though WordPress has a free option, you will still need to pay for hosting, which you can purchase through WordPress for as little as $2.99/month, or try out other affordable options such as Bluehost, GoDaddy, or HostGator.
Templates
There are currently 293 templates featured on the WordPress website, 92 of which are free of charge.
The premium options really run the gamut of website needs, with tailored templates for fashion designers, small eateries, musicians, and much, much more. Some are as cheap as $5.50 for a small business blog and $20 for the minimalist "Shrake" template. On the other end of the scale, you can pay $185 for the creative portfolio and entrepreneur templates, which are built with very particular needs in mind.
Typically the more high-end templates are for users such as photographers, who need a highly-specialized, brilliantly attractive template because they work mainly in images. These templates often come with features like sliding photo galleries and wrap-around images that wash over the reader as they scroll. For a simple WordPress blog, you can probably get by with a free template just fine.
The free options also cover a wide range of websites and user needs, and with both the free and premium templates you can watch a live demo so you can make up your mind after seeing how it all works.
Ecommerce/Online Store
The most popular Ecommerce plug in on the market today is WooCommerce, the Ecommerce extension of WordPress. WooCommerce is currently on more than 170,000 websites and is estimated to run almost a third of all Ecommerce sites on the web. It is also free, and easy to use.
To set up your WordPress site for Ecommerce, simply go to the dashboard and click on "Add New Plugin" to install and activate WooCommerce.
There are a number of other Ecommerce plugins and extensions you can install on WordPress, including Easy Digital Downloads, Ecwid, Jigoshop, iThemes Exchange, Cart66 Lite, WP Ecommerce, and MarketPress.
Take some time to consider what type of online store you'd like to run, what you're selling, and about your image and identity. Then you can determine if there is a specific Ecommerce tool that is best for your company. In addition, you should make sure to have a theme and template that are well-matched to your company and highlight what you offer.
WordPress.com Visit Site
Customer Service
With more users than any other CMS, WordPress has a very extensive list of forums to post questions and/or find answers that others have posted already.
If you can't find an answer, you can submit a question on the contact support form and wait for an answer by email.
Once you've paid for a premium package, the support options improve. If you have the personal, premium, or business plan you can speak by live chat to customer service representatives, and with the business plan you can schedule a 1-on-1 screen share meeting with a customer service representative.
WordPress does not offer phone support.
Conclusion
WordPress has had a tremendous impact on what we see on the internet and how millions of people present their art, businesses, thoughts and dreams online. It has become an online phenomenon and the world's leading CMS for good reason - it's affordable, easy to use, and loaded with features, plugins, and templates that can make any website shine like the best of them.
And while some other platforms may be easier to learn for a novice, WordPress really shouldn't give you any headaches after you've taken a short while to read some tutorials or watch some videos online.
It is a highly versatile and customizable platform, and no matter what your needs, you should be able to find an answer and a great platform with WordPress.