In a Nutshell
Wix is one of the world's most popular website builders and it comes with free web hosting included. Wix also includes 4 levels of paid, premium website hosting to choose from, as well as 3 levels of business and Ecommerce hosting, all of which combine with the intuitive Wix site builder and rich templates to help you create your unique web presence.
pros
Unlimited bandwidth
Premium support
Access to Google Analytics for your site
cons
More expensive than some competitors
Can't change template in existing website

Wix Visit Site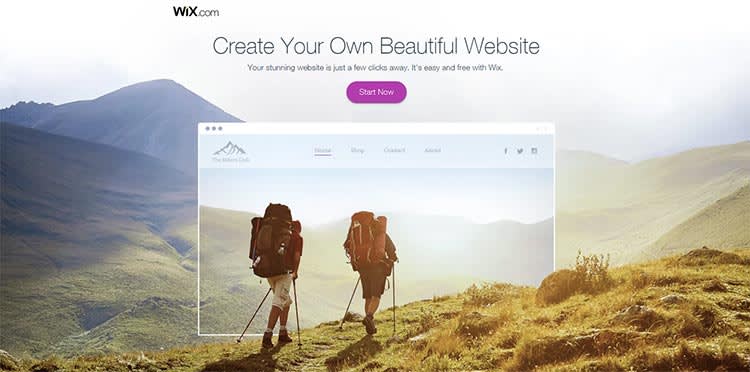 Ideal for
Wix is an ideal website hosting option if you want to have an all-in-one option that combines an intuitive drag-and-drop website builder and beautifully-crafted templates, along with hosting that comes along with the package. Wix is tailor-made for people who perhaps don't have much experience building websites or working with code, but still want a site of their own that looks like it was crafted by a pro.
Features
Unlimited bandwidth (on VIP, Unlimited, Business VIP, Business Unlimited, and Business Basic plans)
Connect your domain (on all but the Connect Domain plan)
Free domain for 1 year (VIP, Unlimited, Combo, and business plans)
$75 ad vouchers (VIP, Unlimited, Combo, and business plans)
Priority response (VIP and Business VIP plans)
VIP support (VIP and Business VIP plans)
100% commission free (On business/Ecommerce plans)
Google Analytics (On business/Ecommerce plans)
Accept online payments (On business/Ecommerce plans)
Social media logo files (Business VIP and Business Unlimited)
Video hours (10 with Business Unlimited, 5 with Business Basic, 2 with VIP, 1 with Unlimited, 30 minutes on Combo, Unlimited video hours with Business VIP)
Site booster app (on all Business plans, VIP and Unlimited)
No matter which plan you pick, you'll be able to make use of hundreds of customizable templates, as well as a drag-and-drop builder that is easy for anybody to use, and doesn't require any knowledge of coding or web design.
With even the entry level Connect plan you get 500MB of storage and 1GB bandwidth, and can use your own domain. If you want to get unlimited bandwidth, you'll need to upgrade to the Unlimited plan, which comes with 10GB of storage. Upgrading to at least the Combo plan is necessary if you'd like to remove Wix Ads.
With the VIP plans you can enjoy priority response and VIP customer support, as well as visitor analytics and the Site Booster app, both of which also come included with the business and Ecommerce plans, which enable you to run your own commission-free online stores. These plans also allow you to use Google Analytics to run your site better through the use of sophisticated data.
Pricing
Part of the draw of Wix is that it includes hosting in the price. At only $4.50/month you can build and host your own website with 1GB bandwidth and 500MB of storage, though you will still have Wix ads on your site. As you move up the pricing ladder, you'll receive more storage and unlimited bandwidth, as well as access to sophisticated analytics metrics and VIP customer support. The 3 business website plans give you a well-oiled online store for as little as $20 per month, all of it commission-free with unlimited bandwidth.
Wix Features
Wix Website Plans
Wix Business Plans
Every paid Wix plan comes with hosting included, as well as the ability to connect your domain
Technology
Sites run by Wix load fast and give readers an easy and enjoyable experience. One of the technological features that Wix is proud of is the use of Parallax scrolling, an immersive web design effect that creates a separate background and foreground. The 2 sections move at different speeds as the user scrolls, creating an in-depth and truly enriching experience.
Wix also uses an Artificial Design Intelligence (ADI) feature that it has described as its "biggest innovation to date." It uses an algorithm to build a website automatically, after asking you a few questions to gauge what you're interested in for your site. You can choose to use ADI to build your website, or Wix's drag-and-drop editor, which you can use to customize a template of your choice.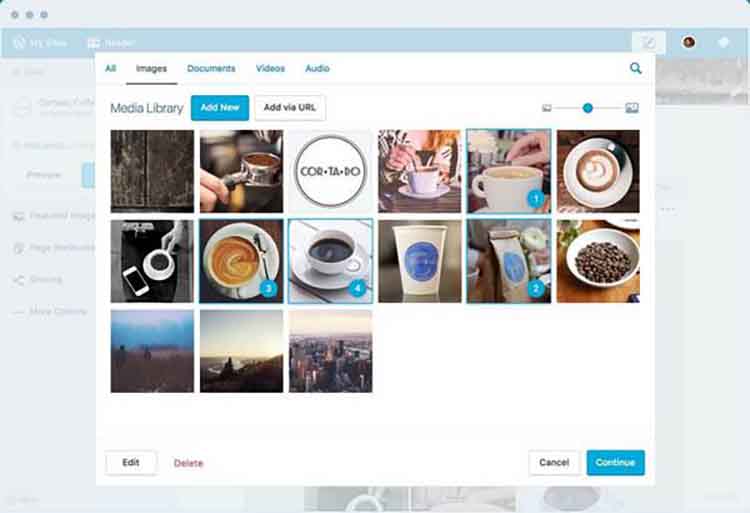 Wix also uses "multiple layer security architecture" to protect your site and your data, as well as HTTPS/TLS encryption, which is good for your website's security.
Ease of Use
Wix is one of the easiest website builders on the market, so when you sign up for your hosting with Wix, you won't have to worry about setting up your site. The Wix drag-and-drop interface should only take you a few minutes to master, and doesn't require any sort of familiarity with web design or coding. Simply pick a template that you like and then start playing around with it. It's intuitive and visually based, and you can constantly see how the site will look while you're working on it.
When it comes to web hosting, things are made easier by the very extensive online knowledge base on the Wix website as well as a large number of how-to videos online. In addition, depending on what plan you have, you can make use of priority support, and even the regular plans give you access to Wix customer service.
Wix is made easier just simply due to the fact that the web hosting is built into the system—it's not a separate system that you need to set up and manage with an outside company.
Website Builder Features
Wix's do-it-yourself website builder is among the best in the industry for those who want to build a beautiful and highly functional website without having to know how to code. The aforementioned ADI function will build a website for you, based on your answers to just a couple of questions about your design preference, or you can opt to pick one of more than 400 templates and customize it yourself with Wix's drag-and-drop editor. With the editor, you can change colors, fonts, and switch around sections of your page with ease. You can upload your own pictures to use, or use free pictures from Wix's searchable library. You can literally have a nice looking site up and running in less than an hour, without having to worry about signing up seperately for a hosting company.
You can also get your site seen on search engines with Wix's SEO wizard, and you can add a large number of features, such as a form builder for collecting leads, social buttons and a chat box, through Wix's app market. Some of these apps are free, while others are available for a fee.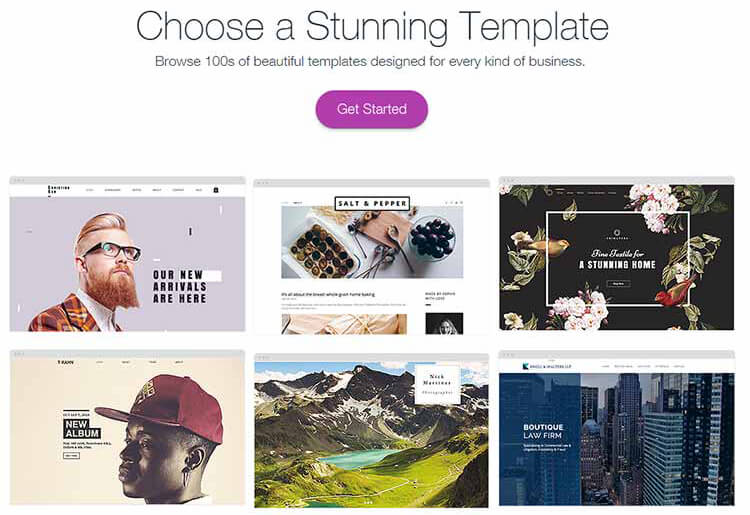 Free Offers
Wix has a free option that is a good option if you'd like to try out the site before committing to a paid plan. With your free site, you'll get a Wix domain and Wix ads will appear on the site. Nonetheless, you'll also receive up to 500MB of storage and 500 MB of bandwidth, as well as access to Wix customer support. You'll also be able to use the same simple drag and drop web builder.
The Wix market also includes more than 80 free apps that you can use to really take your site to the next level, running the gamut from Wix Podcast Player to Wix File Share to Wix Blog and Wix Pro Gallery (to showcase your photos) and much more.
Hosting Options
With Wix you don't need to decide between VPS, Shared, or Cloud hosting, all of the sites run by Wix are hosted on the company's cloud. You won't have as much control of the hosting as you would with a dedicated hosting service, but at the same time, the prices are cheaper and all of the heavy lifting is taken care of by Wix.
Email
With Wix you can receive a domain-based email for your website, and you can also set up a G Suite mailbox to run with your Wix site. In addition, there are other third party email mailboxes that you can set up to run with your Wix site.

Wix Visit Site
Conclusion
Neither website building nor hosting need to be too challenging, and this is an approach that Wix has taken to heart. The company has a website builder that makes designing a site very straightforward and simple, and the hosting is included in the cost of your site. All issues involved in running the site and/or troubleshooting are taken care of by Wix, one of the most trusted names in the industry.
About
Founded in 2006, Wix is a cloud-based website platform that allows people with all levels of design proficiency to craft Wix sites that look good and provide a great user experience. With Wix you can run all types of websites, from a simple photography website, to a music blog or an online store. It's your vision, and with Wix it's easy to make it all come together.